(The image was taken from Google)
After two weeks ago, I have read all blogs about Social Good and Sports, finally I found the good blog about NBA Cares written by Jean-Beltran by the titled "NBA Cares for the World: A Survey of Three Point Shot!". She wrote the blog very well. Therefore, she got five stars on the blog. The first time I have written a blog about the Social Good and Sports, but my blog was not good and only got three stars. Therefore, I gave up wrote a blog about the Social Good and Sports. However, after I read the blog of my friend, Jein-Beltran, I was inspired to write a blog and more about NBA Cares. I learn more from Jein-Beltran blog's, for that I say many thank for Jean-Beltran. I hope this blog will be better than ever.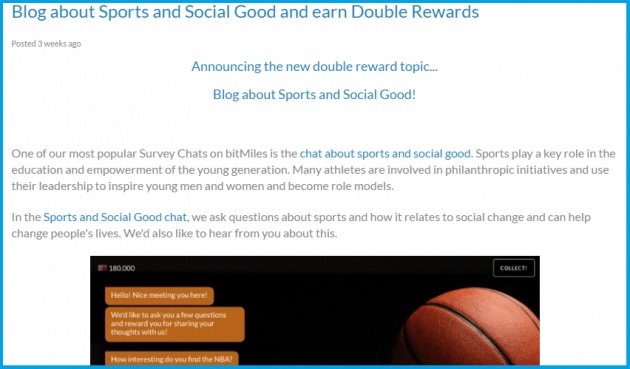 As information, on May 16th until June 16th, 2016 there is a double reward event by writing a blog on the theme Sports and Social Good. So that, if you want getting more earnings in bitLanders please write blogs about it. However if you do not have interested to write blog about it, you can write another blog with the theme of Gelato and Our Survey Chat, this topic also got double reward and the event will end on June 17th, 2016.
Micky has announced a blog about Social Good and Sports.
I am interested in writing a blog about Sports, because I am a sportsman and sports fan, so this topic is very beneficial for me.
Interaction :

Giving Question and Answer
As usual before answering questions from the Survey on the bit-miles or bitLanders site, we would have been welcomed with the words "Hello! Nice to meeting you here! We'd like to ask you a few questions and reward you for sharing your thoughts with us". This message always appears on our screen when taking a survey. After the greeting, we will be given some questions related with many themes, including Sports. To join the survey about Social Good and Sports you can click the link Chat Basketball. I have taken the survey about Social Good and Sports, some of the questions is.....

1.What is your favorite sport?
Among the three options given that Football, Cricket and Basket ball, I was thinking about basketball because of the three sport's options, only basketball that I understand how to play and I've played. Besides that, Cricket and Football Sports is not famous in Indonesia.
2. How often do you play basketball?
Although I am a fan of basketball, but in this statement I answered "I Just Watch it" Because when I was at Senior High School, I often played basketball. However when an accident happened to me when playing Basketball, I had to stop playing basketball for a long time. And until now I just watch it since my house near the Basketball court and I watch it every evening.
3. How long have you been watching basketball?
I already know about Basketball when I was 5 years old. My father was a basketball player. However, I started playing basketball when I was in high school it was about four years ago. Basketball is a sport that is most attractive for all student when I was in High School. At first I was not interested in playing basketball but when I found out that women love men who are good at playing basketball so I decided to join the school's basketball team.
4. Who do you think was the best basketball player?
From the three options given I just think about Michael Jordan. Who is not familiar with Michael Jordan? Basketball players at the same time a successful American businessman who became the inspiration of young basketball players. The player who was the captain of the team the Chicago Bulls in 1984-1998 and won six NBA championships. I learned from the story of Michael Jordan. He said that:
I can accept the failure, everyone fails at something. But I can't accept not trying again
the sentence became the motivation of my life that when I get my failures should not give up and always try. As I wrote earlier blog only gets three stars. However, I am trying to write a blog again to get five stars.

5. Have you ever played a smart phone basketball game?
Upsss! I am not so interested to play games in my smart phone because I was busy working on a task. However, if there is free time I used to download a few games on my smartphone. When completing the Chat survey in bitLanders they suggest us to play basketball games which you can access through the following links NBA 2015-2016 game application. Maybe I will try to play a basketball game immediately.
6. Have you ever seen a Basketball game in person?
Of course Yes. As a basketball player. Watch a basketball game is important to learn the movements and the formation of the team. As I said in my answer on point number two. There is a basketball court near my house, of course I spent my free time to watch the basketball match in the afternoon.
However if talking extensively about watching NBA basketball matches directly of course I haven't. I hope someday I can watch it directly.
7. How interesting do you find the NBA?
Of course I answer Interesting. Every match that I've watched in NBA basketball on my television is very impressive. Especially when my favorite basketball team of Chicago Bulls compete. I have to watch it until it is finished. Although sometimes the game can become bored when against a team that is not strong.
8. Have you ever heard of NBA Cares?
At first I did not know about NBA Cares. However, after I read the blog of my friend Jean-Beltran, I am a little bit knowing that in addition to playing basketball the NBA has turned out many social care programs. I am very interested in this topic, so I decided to make a blog about NBA Cares for Humanity.
For this question I hit the "Yes" button.


9. How can a sport star give back to his community?
In fact in any sport has benefited from the three options given on this question. However on this question I give the answer to EDUCATION. As I have said in point number four. The basketball player like Michael Jordan could motivate many people including me, words of wisdom which he said was giving to me.
10. Do you know about NBA Cares programs for youths?
I hit the "Yes" button , because I have been reading the blog of Jean-Beltran. In her blog she discusses topics about NBA Cares. Maybe I am not so familiar with this program would be, but I will find out more about this program on the official website of the NBA Cares.
Here's my video when I complete the Survey Chat about Social Good and Sports
(Video Source: Create by myself)
INTRODUCTION about

NBA Cares
(The image was taken from Google)
Maybe a lot of people are asking what is the NBA Cares?
At first I wondered what exactly is the NBA Cares and what the purpose of their activities. Finally, I read through the official website of NBA Cares and they give an explanation about NBA Cares.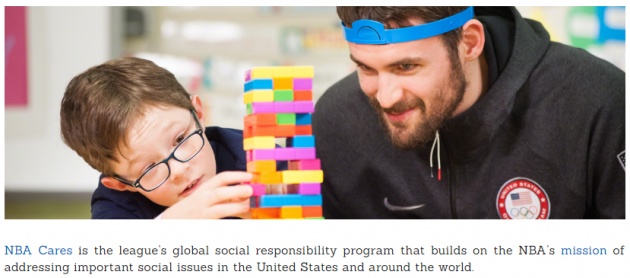 (The Image was Screen-shot from NBA Cares official Website)
Since the program's launch in 2005, the team and the League of the NBA has donated $ 270 million for charitable activities. This program has been recognized internationally that supports educational activities and development of the child. This program has a mission would provide 1000 places to play and learn children in 2025.
Disclaimer: All of information above are coming from the NBA Cares official website.
I hope this social activity may have the support of various parties. I also gave the highest possible appreciation to the bitLanders who have supported these activities.
(The Video was taken from Youtube of NBA Cares)
NBA Cares

Programs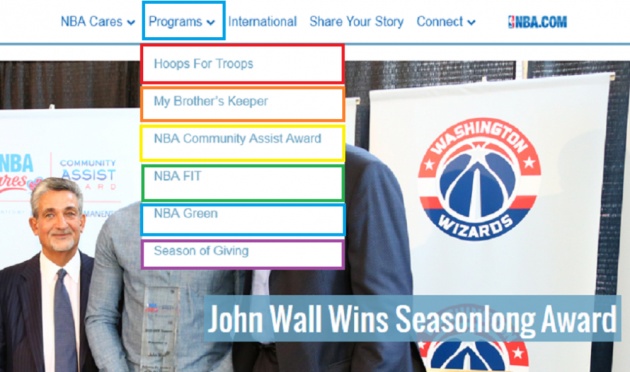 (The Image was Screen-shot from cares.nba.com and edited by me)
Hoops For Troops
This event is a collaboration between the NBA player with the Department of Defense, US to honor members who are active or retired service men and women include their families.
My Brother's Keeper
This activity invites young children have Mentors who are experts and can guide them. NBA Cares has been collaborating with a mentor to help young people raise awareness about the importance of mentors in the community. For having a great mentor in hope will help shape the future of young people.
NBA Community Assist Award
Each month the NBA gave the award to a player from the NBA league. The award was given on the spirit and hard work of a player in the communities.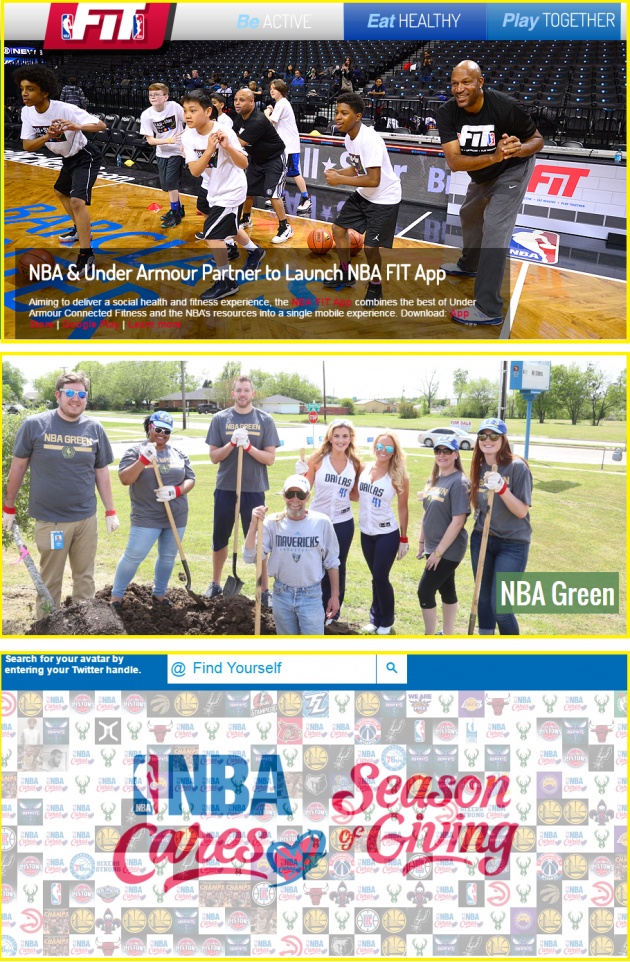 NBA FIT
This program shows how a player stay fit and healthy. In this program, they are taught to children in order to take care of their bodies with regular exercise and eating healthy foods.
NBA Green
NBA Cares has collaborated with Green Sports Alliance to raise awareness of the human race and raise fund for safeguarding the environment remain green. The players held a socializing to the community in order to reduce the impact of environmental damage through community outreach programs.

Season of Giving
This program gives the opportunity to the audience to help the NBA Cares program by giving, share, and how we inspire people to give.
(The Image was screen-shot from NBA Cares official website and edited by me)
Disclaimer: maybe some words above is almost similar to the explanation on the website cares.nba.com because I just tried to summarize it.
Thanks for all my friend, especially to Jean-Beltran. The blog you made very inspire me.
Best Regards