Metropolis Factory recently held an event celebrating The Artisans of the Metropolis at it's location on Edwin Avenue in Toronto.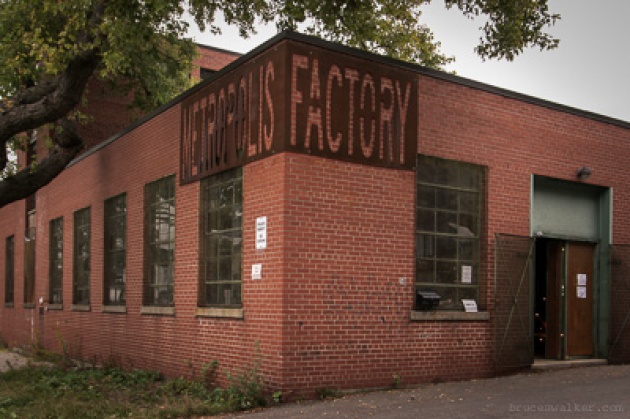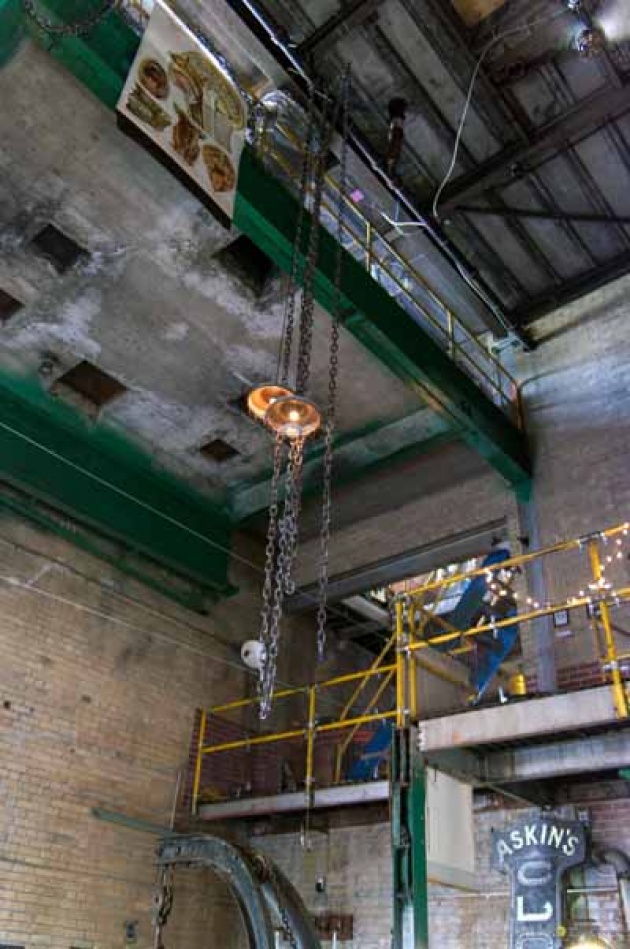 Photo by Bruce M. Walker

There were an assortment of vendors there from visual artists to jewellery makers, and a slew of interesting artifacts belonging to Metropolis Factory itself.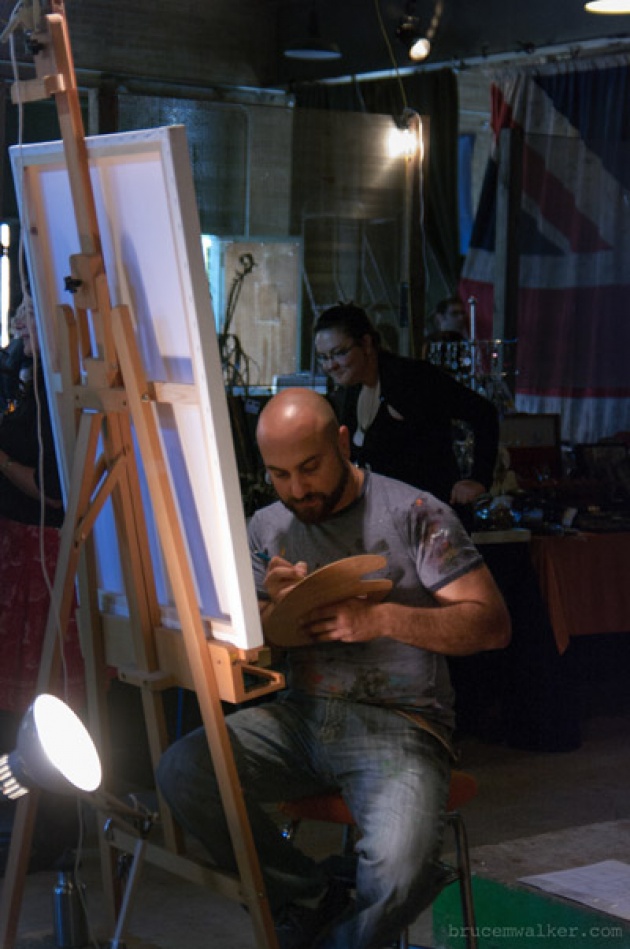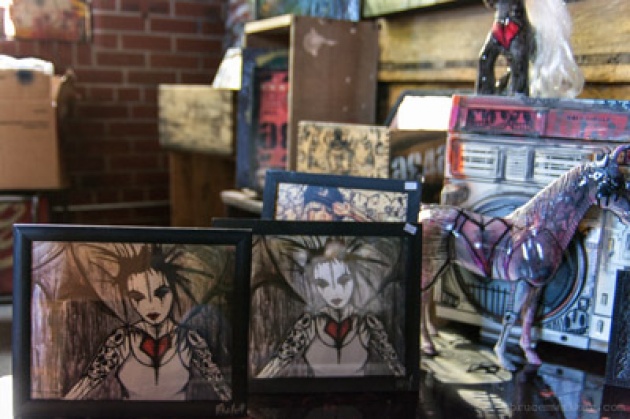 Photo by Bruce M. Walker

While poking around the various displays, my attention was caught by a table with a pile of what appeared to be colourful fabric, but turned out to be long fingerless gloves, fabric chokers, and pins with beautiful rouched fabric, to resemble flowers.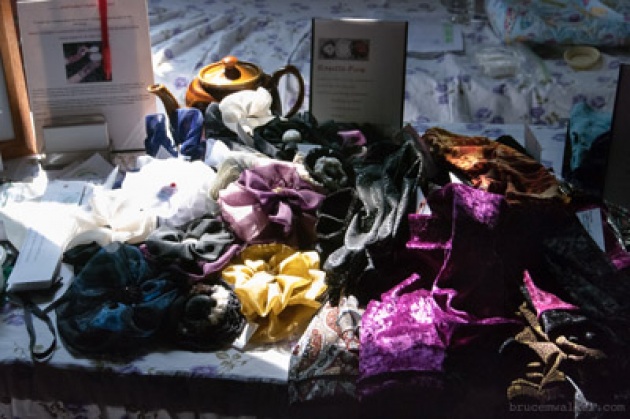 In front and to the left of this table was a manniquin displaying a beautiful Victorian style outfit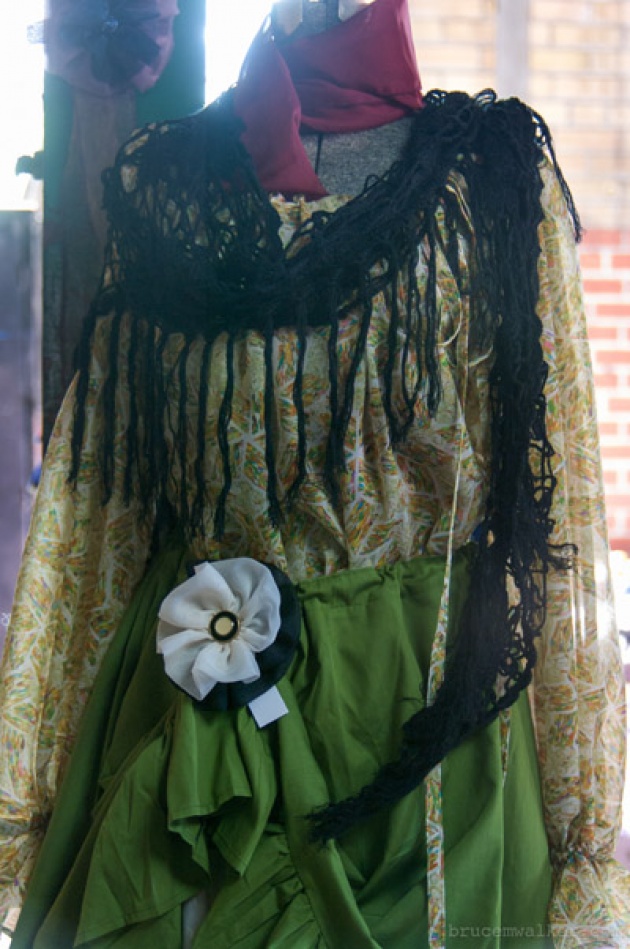 ,
and in the adjacent display area, was a range of beautiful jewellery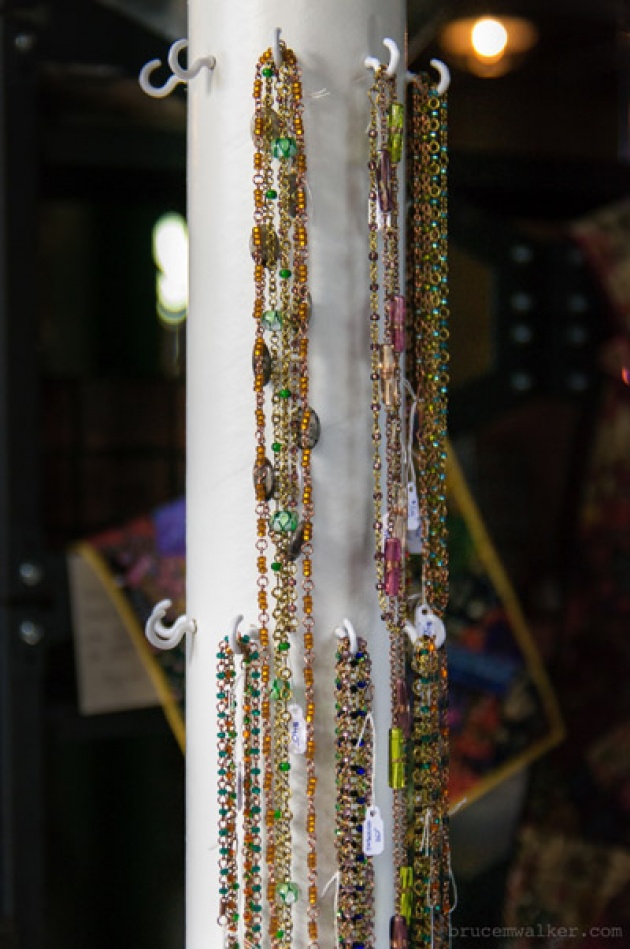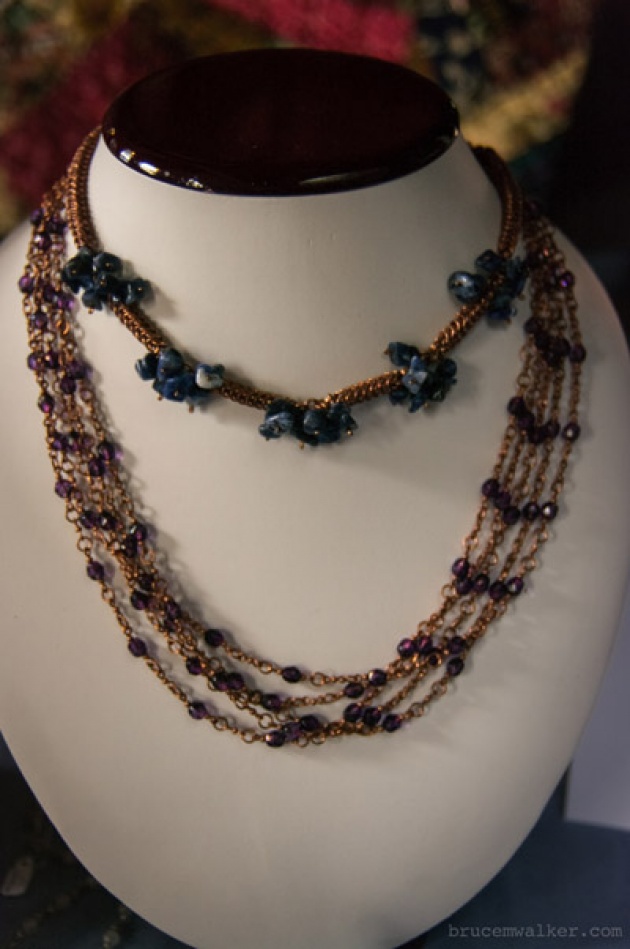 Photo by Bruce M. Walker

As I peered at this intriguing collection, the owner of the jewellery display stepped up to greet me. Her name is Victoria and she is the owner/operator of a jewellery line called Before Dark 30.

Victoria designs and makes everything that she has for sale. She has been designing and making jewellery since she was 16 and her passion for jewellery-making was inspired by her Grandmother who gave her a book from 1951 all about making jewellery from wire and beads.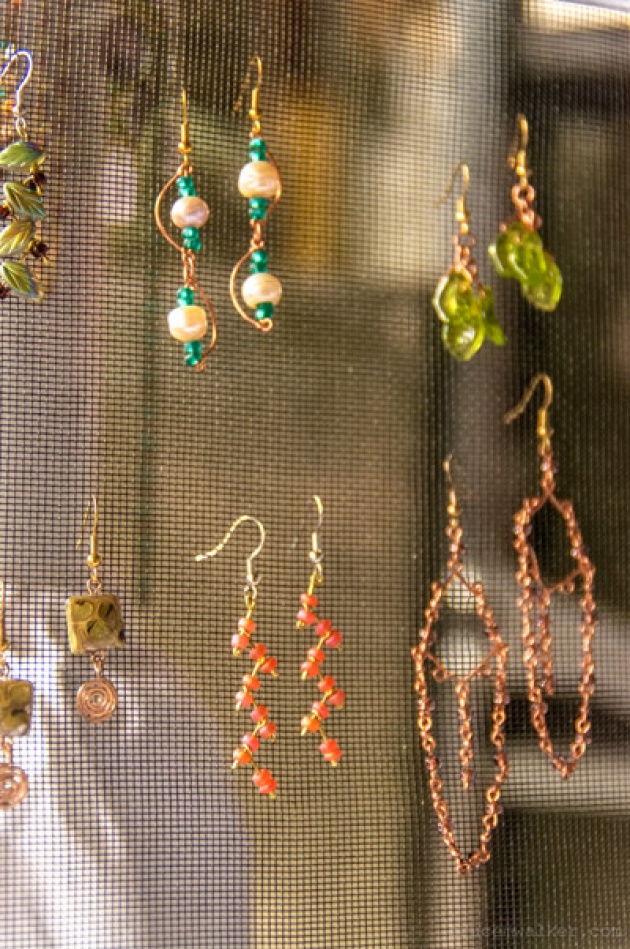 Photo by Bruce M. Walker

She credit her father, who was a blacksmith with getting her into manipulating metals, and her mother with instilling in her the art of form, and blending fun with functionality. She is currently attending Georgian College in their Jewelry and Metalsmithing diploma program.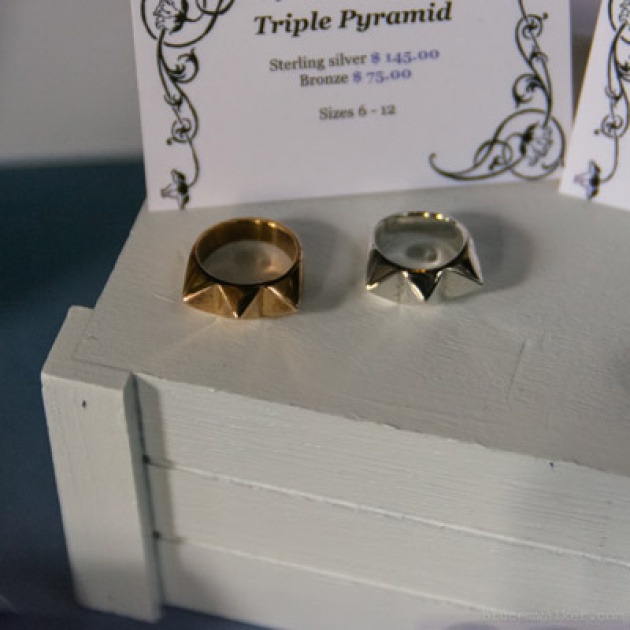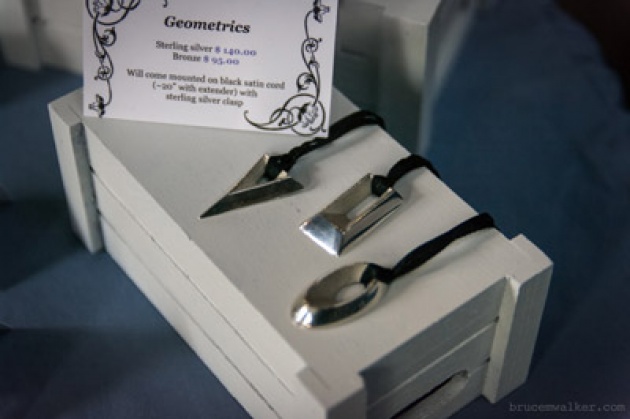 Photo by Bruce M. Walker

In addition, she is a member of the Society for North American Goldsmiths (SNAG), the Metal Arts Guild of Canada (MAG), and the Ontario Crafts Council (OCC).

Victoria says " The key to all of my designs is durability, practicality, and a simple, stylish elegance combined with an Old World charm." She takes much of her inspiration from historical pieces and the natural world around her.

Her relaxation often takes place in the worlds of live-action role-playing. In the Steampunk
community she is known as Amelia Beale, and in the Society of Creative Anachronism (SCA, Inc.) is known as Sunniva Isensmiðesdohtor.

You can find out more about Victoria's work at her website http://www.beforedark30.com/

Victoria is sharing the display space with her mother, Anne Marie, who is the mastermind behind Balmy Attic Art. Anne Marie designs and makes the various pieces on display.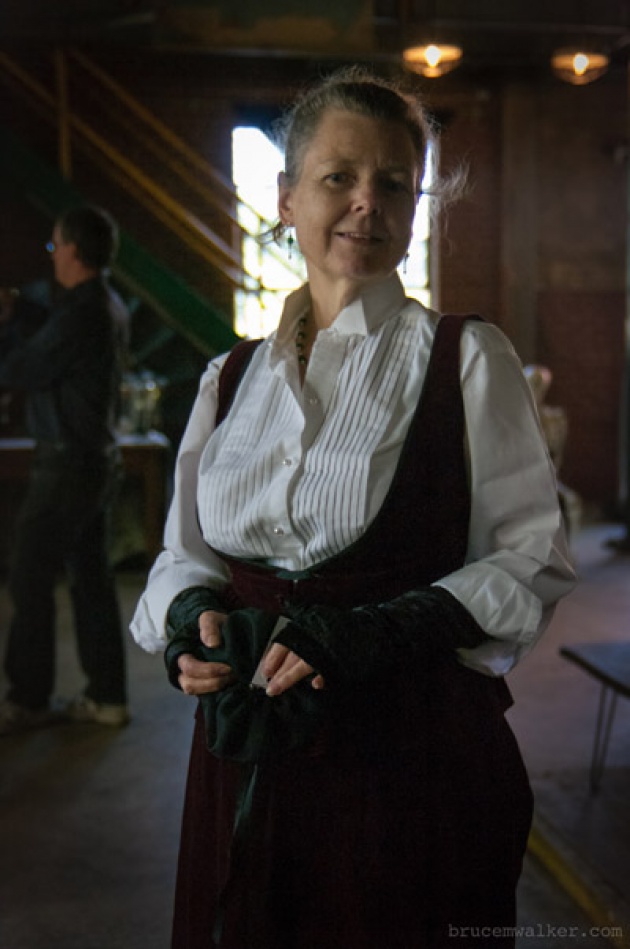 she tells me that she is a seamstress by trade, and has been for many years.

Anne Marie tells me "I have designed and sewn for as long as I can remember. Sewing was a family tradition. My great, great grandfather was an Englishman's bespoke tailor." She loves sewing, and is very detail oriented. When we examine the garments on display it is clear that these are no badly finished off, cheap junk! Every hem is carefully finished with practically invisible stitching. Binding is attached around outer edges with perfection, and no sign of bunching or uneven stitching. Anne Marie believes in devoting attention to detail, which is why people love to come to her for custom outfits and costumes.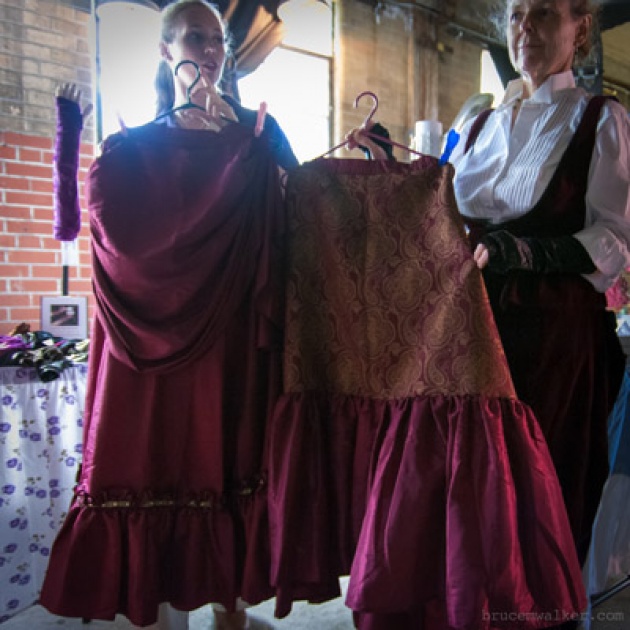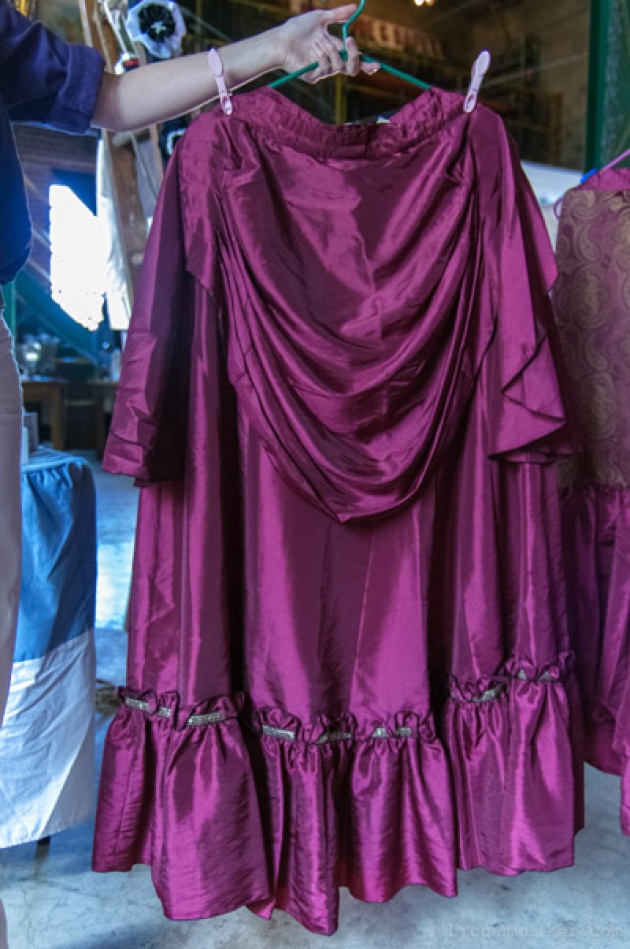 Photo by Bruce M. Walker

She gave up being a seamstress for a period of time, but has recently gotten back into it with renewed vigour. And it seems that the services of a custom seamstress are sufficiently in demand for Anne Marie to start up a new business, and hire some people to help her.

Both she and Victoria are devotees of Steam Punk and both attend various events with this theme. Anne MarieAnne Marie's outfits are a fanciful cross of Victorian with Steam Punk blended in.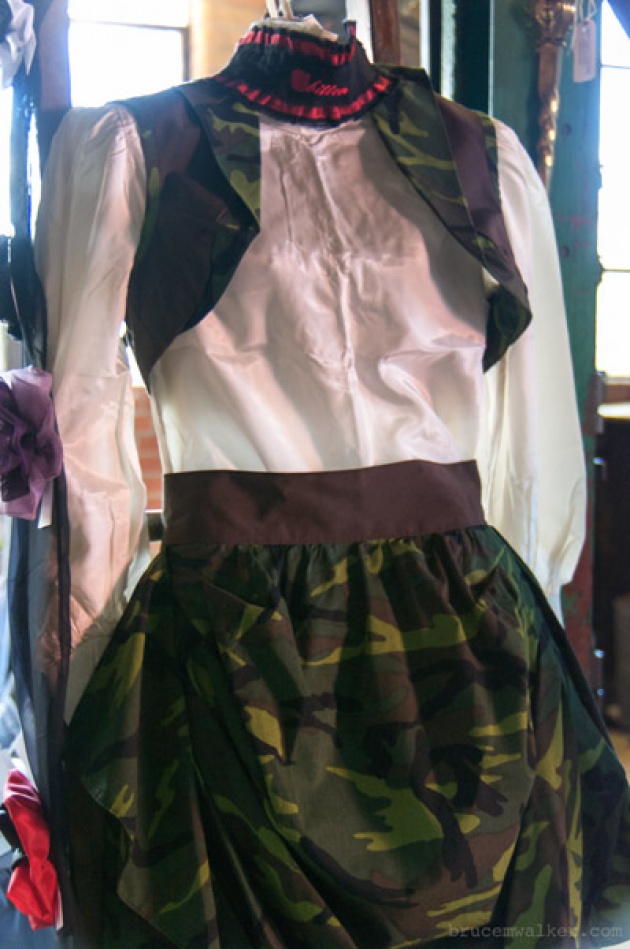 Photo by Bruce M. Walker

I notice samples of her quilting expertise on display
. She loves to make unique, one-of-a-kind items and from scraps of left over fabric, she creates the Victorian style crazy quilting available from Balmy Attic Arts. She proudly shows me how each piece is backed with a piece of the fabric used in one of the quilting chunks. She says "Nothing is wasted! Every scrap of material left over from a project is re-used and made into something else -
a fabric choker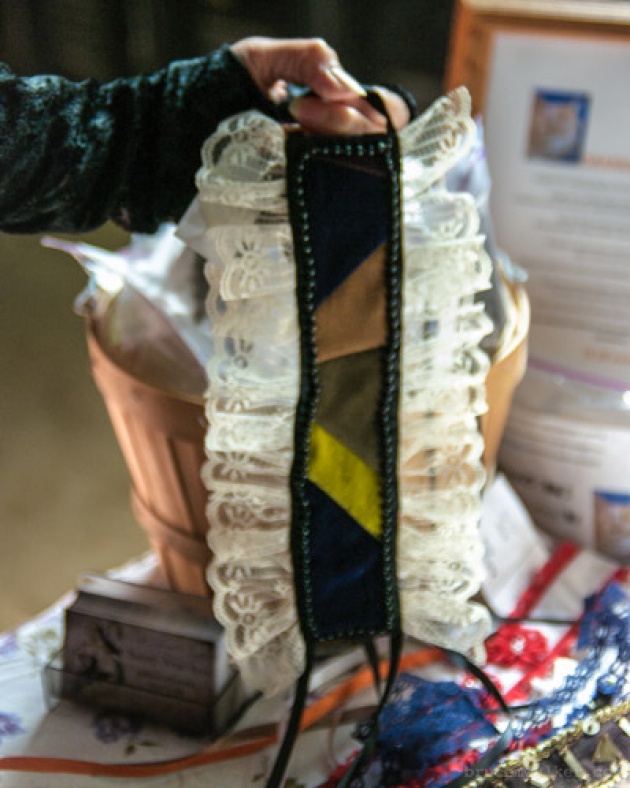 a Ruffle bow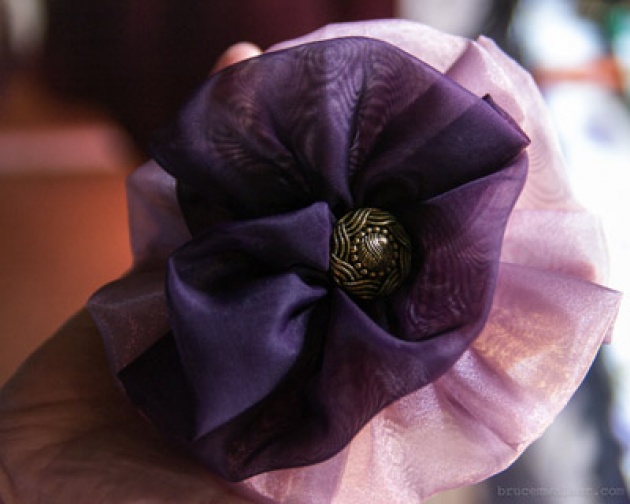 even fingerless gloves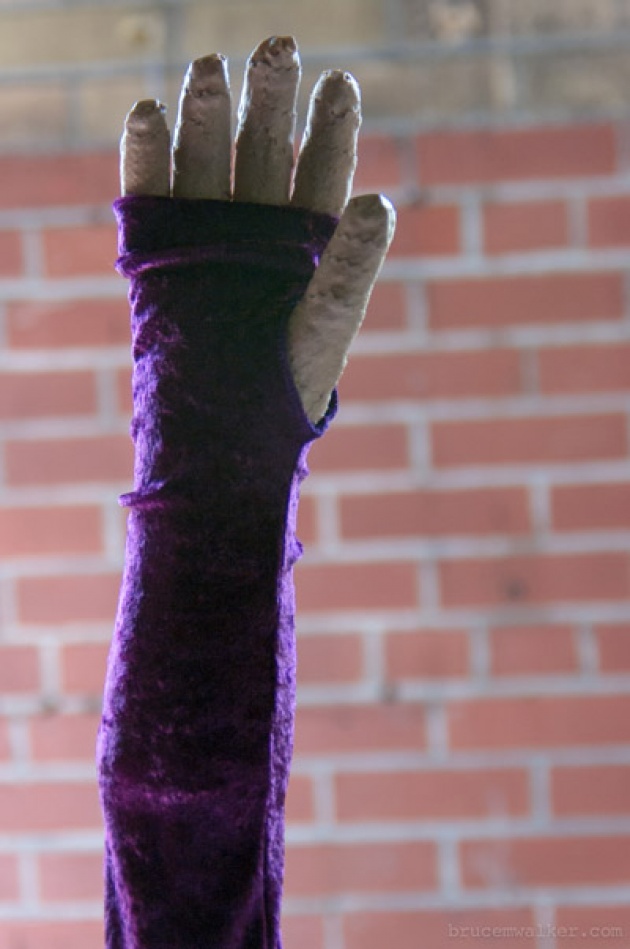 Anne Marie says "My passion for recycling, the environment and my childhood living in England kindled my interest in using every scrap of fabric from a project."

A side effect of keeping her cats occupied, was sewing really small scraps of fabric into catnip toys (stuffed with her homegrown- organic Catnip). She decided to make more and sell them at various local shows and markets with her daughter and husband's wares.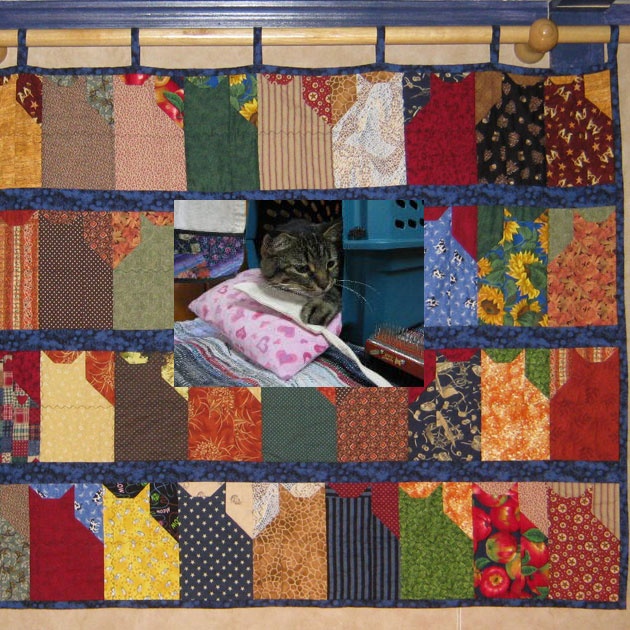 photo courtesy Balmy Attic Arts

Anne Marie uses cotton fabric and cotton batting sourced in Canada. Unless otherwise stated, she uses only new material.

You can find out more about Anne-Marie at her website
http://www.balmyatticarts.com
For more information about Metropolis Factory visit their website http://www.metropolisfactory.com
All photos featured in this article by Bruce M. Walker, except for the one from Balmy Attic Arts.