Since October last year, my high-school close friend and I had been planning to go to the Enchanted River in Hinatuan, Surigao, part of the Mindanao island which is mystical for the number of fishes joining into the salt water river for their lunch. My friend's boyfriend had found it in the internet and got really curious about the said spot so they had included it in their to do list while in the Philippines for a month long vacation.
Then we started getting everything done in terms of the plane fares, the accommodation and to the itinerary. Though my friend was in the United States, she was able to keep in touch with me and be fully hands on with the trip plans. We decided to get our own tour package, got hand of the cheapest package which enabled us to be picked up from the Butuan Airport. Had lots of land travel and only a few hours available to stay in the location, but everything went well on our first day, except for one confusing road towards Tandag. I will have to share how our first day in the huge land of Mindanao happened.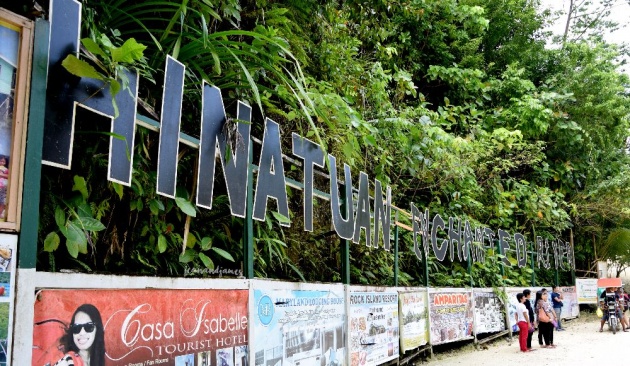 Meeting Khamis Again After a Year
Scheduled time of departure from Cebu Mactan International Airport was at five in the morning, it will reach Butuan at six in the morning, well 6:05 AM to be exact. The contact person from Cagayan whom I had constantly been contacting since October about this package had sent a driver which will be our host for the entire two-day trip.
We still have to meet Khamis and company at the airport. We had to take a cab from our place to the airport which took around 20-30 minutes since the driver was a bit sleepy and tired, not to mention he looked like he is around his late 50s. But gladly, we reached the airport just at the safe time to check in: 4:20 AM.
It's been a year since I last met Khamis, she lives in the United States now, in Seattle Washington to be exact and it is their family's time to go on a month long vacation after years of working in the US. Well, Khamis herself had to go back to the Philippines last year because her best friend, our high school friend, Raniel died. It was a sad event and she had to say her last good byes to her childhood best friend. We met in Bohol that time too.
She looked skinnier before though, she still have this sunken eyes but she has front bangs now. She is lively and even kissed me when I held her arm upon reaching the airport. We were close back in High school, we consider ourselves Charlie's Angels together with one more friend, that made me realize how silly we were back then.


Cebu Mactan Airport to Butuan Airport Fun Ride
Anyway, we got ourselves checked in, our bag's weight checked too and Khamis has to pay additional fee for the liquids she has brought. Her boyfriend, Steven was also with her and his backpack was very heavy that he decided to have it checked in instead. I regret not being able to add a baggage allowance beforehand. But after all the check in procedures, we were finally done and were in the boarding area right after but then realized we were the only ones waited at the plane so we boarded a bus which took us to the small aircraft parked at the center of Mactan Airport.
Secured our seats and the cabin crew went into full inspection to everyone in the plane, seat belts are attached and tables were stowed as well as the windows opened. I somehow have memorized the things needed to get this procedure done.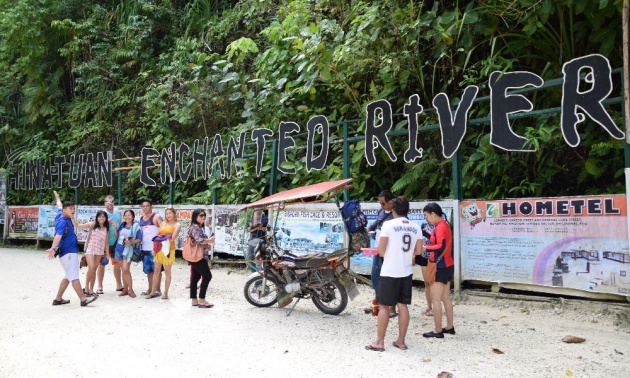 From left to right: Loloy, Khamis, Steve, yours truly, my brother Jonas and Gecell
After thirty minutes, the captain had announced that we were on our way to Butuan but then he is having trouble with making the landing. We were unable to make a successful landing at first attempt due to the low clouds covering Butuan Airport. The captain on deck had announced that a second attempt will be made in awhile and I was in my seat thinking and praying for a safe landing. Looking outside the windows, I can clearly see the thick array of clouds and almost zero visibility due to the fog.
While that was the initial advisory, I overheard the head of the cabin crews explaining to one of the passengers at the back that the captain will try again to land within 30 minutes, if this will still be unsuccessful because of the fog, we will have to return back to Cebu which is making me freak out deep inside. I am just waiting now for another announcement from the captain. Note that I am live blogging this straight from my window side seat. It was ten minutes past six and the sun has not yet fully showed up in the land of Butuan.
Few minutes past and the case worsen, it rained! Yeah bummer but at least we are not yet going back to Cebu. And an enlightening announcement was heard from the captain: "Cabin crew, prepare for landing." I was praying for this and I hope he will be able to make the plane land without problem, I don't really want this trip to fail.
I looked outside the window and tadaa! A surprise, a clearer view of Butuan, though I have never been here, I was already wishing to step my foot on its land. The rain continues but it was already spotty so hopefully that will disappear soon.
Had to stop typing because the plane started to attempt another landing. I was just staring outside the windows and glad that I am seeing the land down below, this time I sort of know that the captain will be able to land without problem. Finally, Butuan Airport welcomed us with a full rainbow and a bit of sunny skies!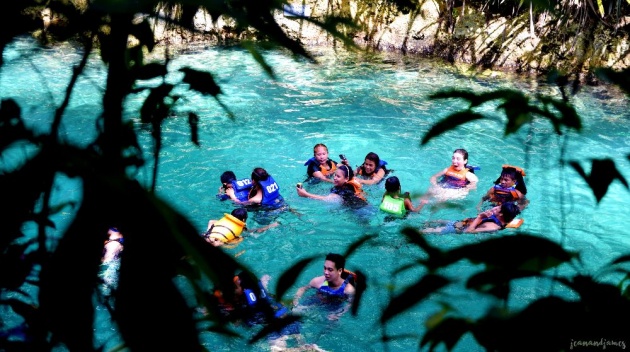 The Enchanted River of Hinatuan
What was supposed to be two hours of land travel took time as the roads were slippery and there was light rain along the way. Took first our breakfast right after meeting Kuya Dodong, our driver. At almost seven, we headed towards Hinatuan. Instead of reaching there at eight if we didn't have any delay with the arrival and the breakfast, we reached at nine. Well, nonetheless we still have an ample of time to enjoy this place.
The entrance fees were paid by Kuya Dodong together with our cottage fee. However, we have to pay for our lunch. There are vendors outside so it is definitely okay if one is not prepared. The prices are just understandable and we had ordered fishes for grilling, soup and some Ceviche (kinilaw). By the way, food was literally yummy, even Steven loved it! I specially love the Ceviche though plus they have great serving. Each of us had to pay only Php 150 for this including the drinks!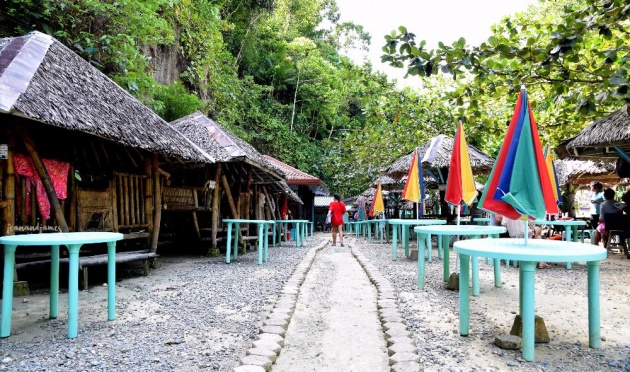 Back to the Enchanted River. Unfortunately, there were tons of tourists flocking the river at the time of arrival, nevertheless, we had to enjoy this instead and forget about the things that are bothering our cameras. It also rained a couple of times, had to gather our cameras up to the cottage, except for the GoPro though which was waterproof.
But what I had enjoyed the most was the fish feeding. We were fortunate to get to see it. Huge, beautifully colored and some other tiny ones flocked at the center of the river at 12 noon for their feeding time. All of the visitors were advised to get out of the water, it was amazing to see these fishes even when there were still people in the water, I mean, they were big ones but they didn't bite any of the ones swimming.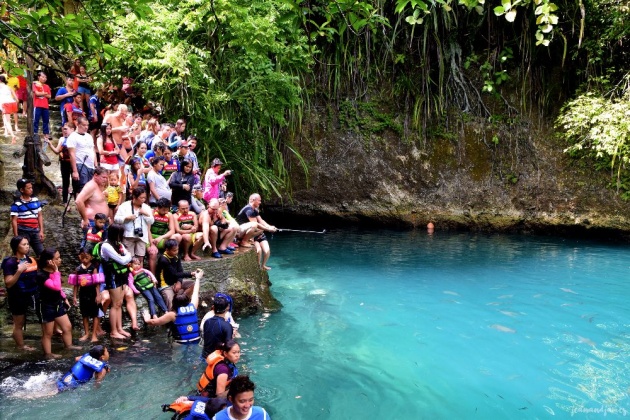 Then the full show of the fish feeding started, James securely positioned in the shallow waters and was fortunate enough to get close shots of the fishes. The personnel in Enchanted River feeds them with rice and fish too! How ironic is that? I wonder what the fishes would think realizing that they had eaten their brothers or sisters.
Here's a video below:

After swimming and having fun at the Enchanted River which ended up with a few clicks of shots at the huge imprint outside, we headed to the van so we can start with our trip to the Tinuy-an Falls.


Tinuy-an Falls
It could be an unfortunate timing as what others may think as the waters were brown and the pressure was too much to bear, we even can't get a good long exposure shot to capture the falling waters because the splashes gets into the lens but if you go travel and certain things don't go as you expected it to be, don't be dismayed, instead enjoy the moment and look at the positive things.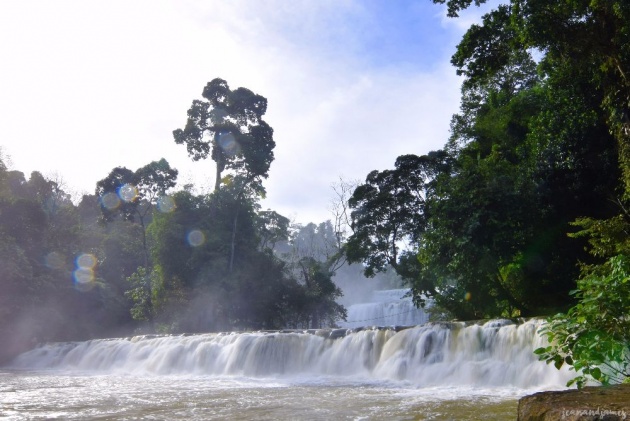 Because we can't use the DSLR, we have to take advantage of our waterproof action camera - GoPro. Thank goodness for GoPros and we don't have to worry about not getting a photo or video of this super splashing waters. This also allowed us to get nearer to the waterfalls.
Referred to as the Niagara Falls of the Philippines, I saw the humongous size of the waterfalls. I guess that was the biggest waterfalls that I had ever seen in my entire life. Plus the water pressure was too much! It is indeed a spectacular place and I am happy to be able to see it personally, it would have been perfect if it didn't rain the night before but nature has its own timing too which we can't really control.
There were still bamboo rafts positioned near the waterfalls. At a normal sunny day, the villagers can allow visitors to get into the rafts so they can tour them under the waters while they are falling, that would give a water massage to the visitors but that day, due to the strong water pressure that even their floaters were washed out, they only allowed riding until where the water pressure can be controlled. They were not able to get under the waterfalls anymore. The service will cost you Php 150. I opt not to take that ride because I am pretty sure that I won't be able to get a decent photo or video down thee. I watched the other group took the bamboo raft but they look very scary being right in front of the strong water that I could imagine them being taken by the waters down. But I believe the villagers are already familiar with how the raft works so nothing to be worried of.
I bought some of the key chains too to add to our collection at home and for pasalubongs too to my colleagues and friends back in Cebu.

Last Stop: Ocean View and Doll House
Second to the last stop on our first day is the Doll House which I had no idea that it is in fact known as the International Doll House & Ocean View Park Restaurant because the location is facing the great Pacific Ocean. The waters would have been great if there was no rain the day before but that's not a problem for me, I can imagine it to have a great view.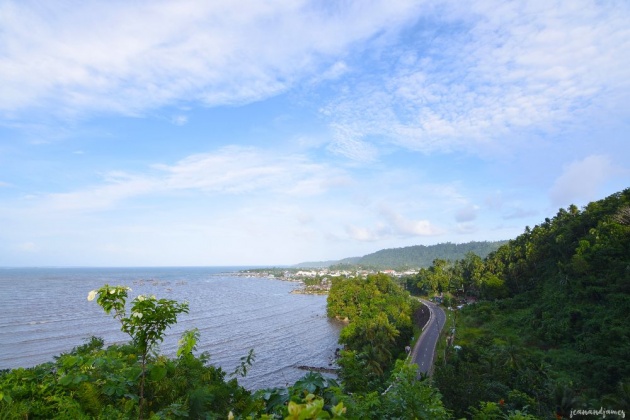 We paid for the entrance fee and went up using the stairs, they say the view is better up on top. Walking on more or less 200 steps made my heart go pumping more oxygen and I felt tired but the view was indeed nice.
However, it seems like they are currently renovating the location. This is actually a restaurant! The doll house is situated right at the top of the staircase and we were just waiting for the personnel who will entertain us.
The dolls had come from different parts of the world through bidding. The owner whom I have not met gets to own these dolls from her travels around the globe. The most expensive dolls were made of gold! Can you imagine that? But they aren't dolls at all, they look like eggs for me.
Anyway, I find the room creepy, perhaps because of the movies which features dolls to be the killers and such. But thinking about the efforts of each artist who had designed and made these dolls, you'll definitely appreciate it. I have my own favorite though, here she is:

En Route to Britania Islands
That same day, Kuya Dodong drove us to La Entrada Beach Resort and Restaurant too where we will be spending the night. There next day will be more on the islands of Britannia.
It took some time for us to get there, we also passed by the Bislig imprint with a view of the ocean. I actually like that spot and I suppose most of the locals too since we found kids and secondary school students passing by and taking photos and selfies together with their friends and classmates.
We also took some photos ourselves although James was too shy to lend his camera to our companion so we could get our faces taken too. I guess we ended up with no couple photo, or perhaps just a few couple shots at the Tinuy-an Falls only but not anymore on the other locations. Anyway, I am okay with it.
Oh and one more thing which I won't forget on that trip to La Entrada, Kuya Dodong seemed to have forgotten the roads and asked someone where the Britannia Island resorts are located but the unfortunate thing was that the guys he asked pointed another direction so we seemed lost but managed to find our way after a couple of turns.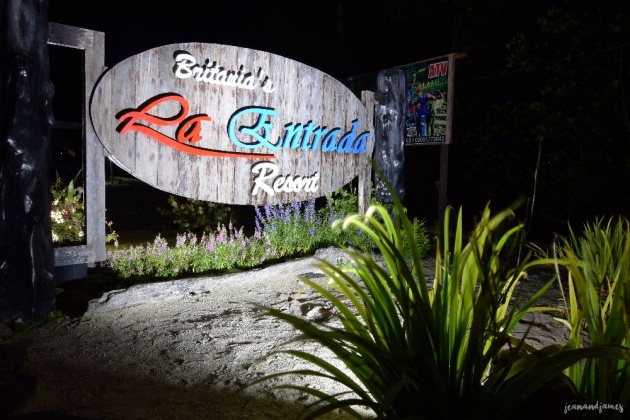 Finally, we reached the resort. Secured our rooms and off to sleep. I will be writing a separate blog about how our stay in the resort went plus the activity on our second and third day too!

Hope you had fun guys!


All rights reserved.