Sweet and Sour Pork–Tang Cu Li Ji
Sweet and sour pork (Tang Cu Li Ji), with its sweet yet crispy taste is one of the most Chinese formal dishes. In daily cooking, I do not sweet and sour pork too much since deep-frying should be not used frequently. But the taste is really irresistible.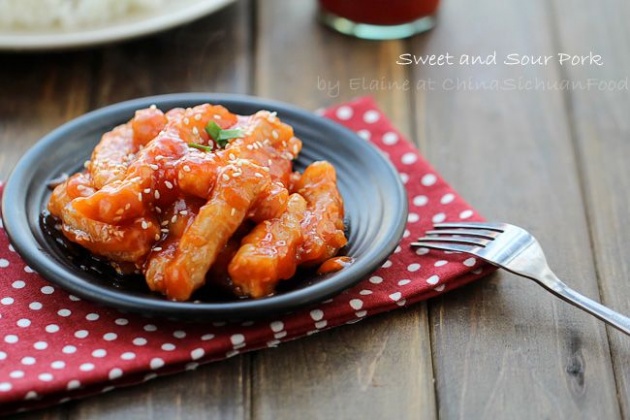 More actually the recipe today should be named as sweet and sour pork tenderloin, which is a different dish the sweet and sour pork calls for pineapple. In China, we call the sweet and sour pork with pineapple as Ku-lao-jou (咕噜肉) while this dish is糖醋里脊(Tang Cu Li Ji).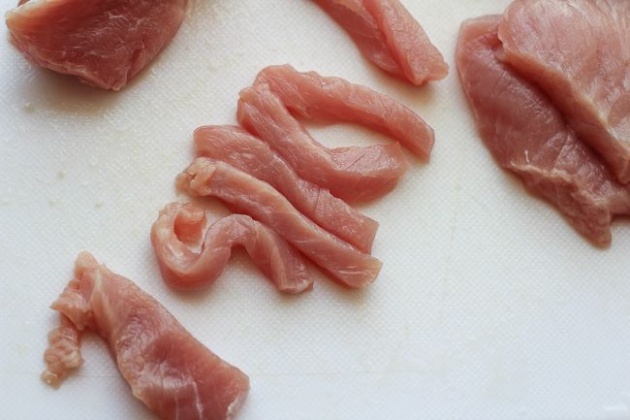 Cut pork tenderlions into strips around 8 cm long and 2~3 cm wide. If the tenderloin is too soft, put it in your freezer before cutting. This will make the cutting process much easier.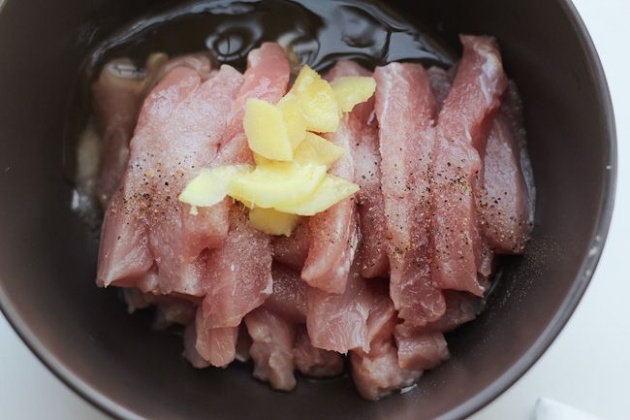 Add ginger slices, black pepper powder or white pepper powder and salt to marinade for around 10 minutes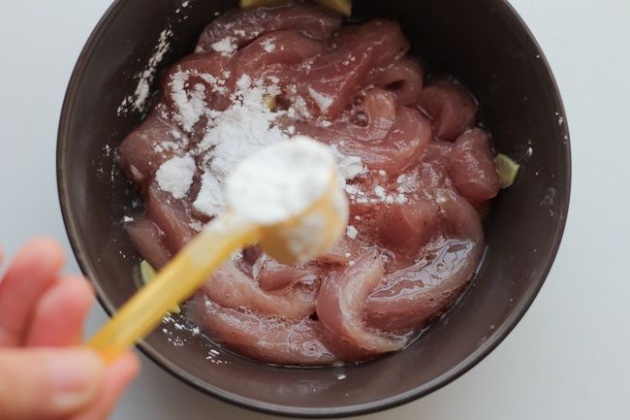 Add egg whites and starch. Mix evenly before frying.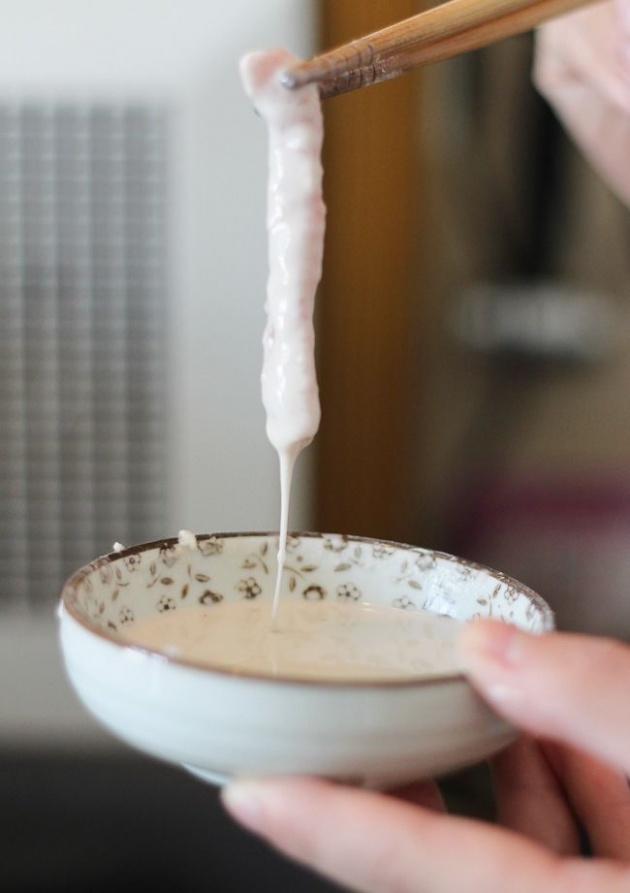 Coat the pork strips with water starch. The ratio should be around 1:1 for water and starch.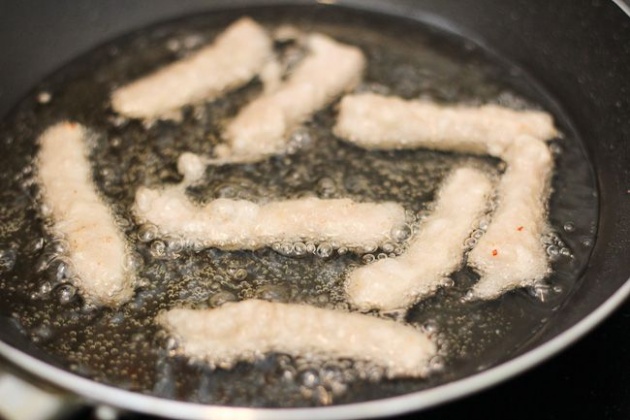 Began deep-frying process.
I deep-fry the pork tenderloin twice. The first time to 80% cooked and then return to deep fry again for a crisper taste for the outside surface.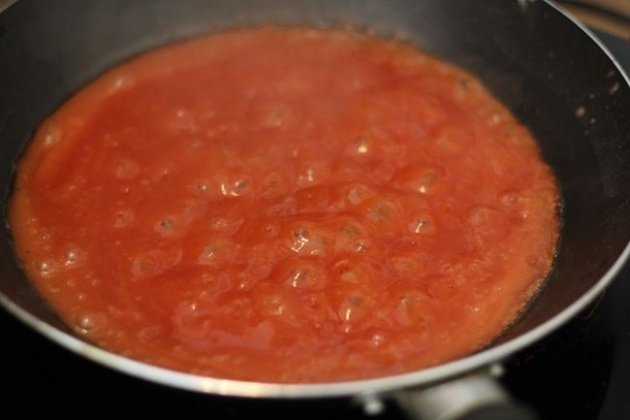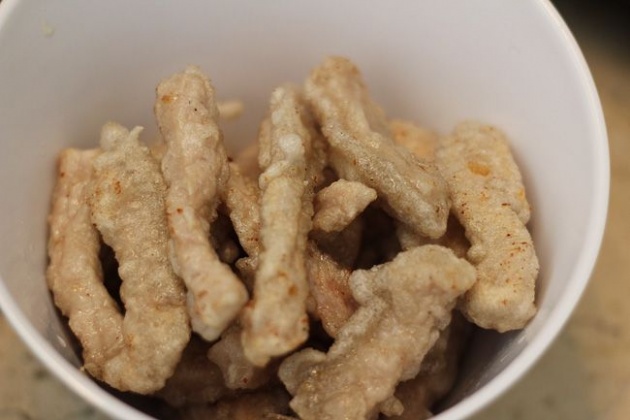 Mix all the ingredients for stir-fry sauce together. Heat up some oil in pan, pour the sauce in and bring it to a boiling.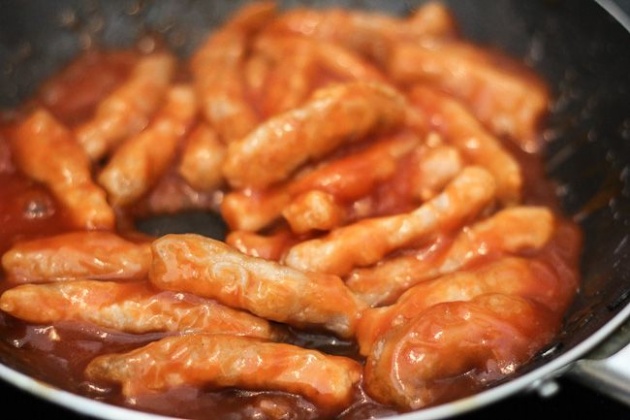 Return the deep-fried pork strips in. Coat evenly with the sauce.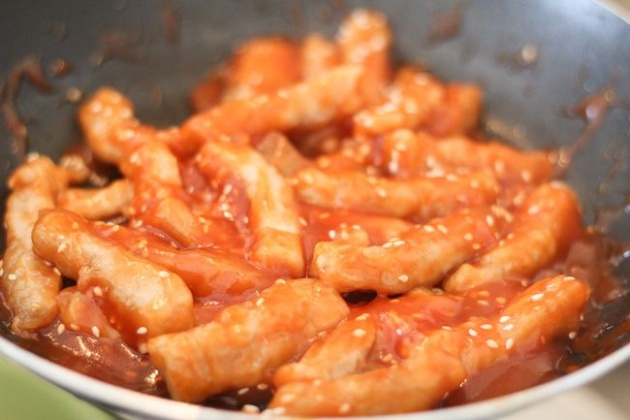 Add roasted sesame seeds. See how sweet this is!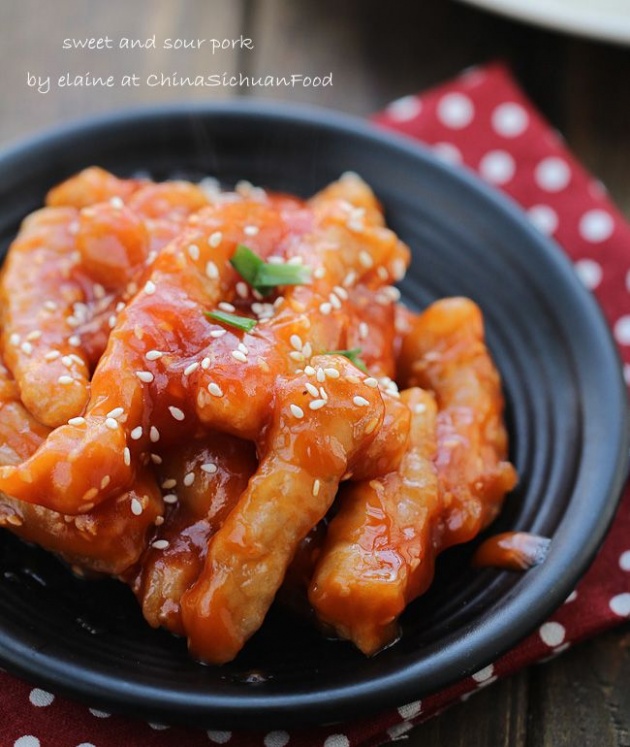 Ingredients
1/2 pound pork tenderloin
2 tablespoons cooking oil
oil for deep-frying
Marinade Sauce:
1 teaspoon white pepper powder
2 teaspoons cornstarch
1 inch root ginger
1/2 teaspoon salt
1 egg white
Coating Sauce
1 tablespoon water
1 tablespoon cornstarch
Stir-fry Sauce:
2 tablespoons tomato sauce
2 teaspoons vinegar (white vinegar for the color)
1 teaspoon roasted sesame seeds
1 teaspoon salt
2 tablespoons water
1 teaspoon cornstarch
1 tablespoon sugar
Instructions
Cut pork tenderloin into shreds with similar length. Put in a small bowl, add salt, white pepper powder, ginger sauce and mix thoroughly. Put aside to marinade for around 10 minutes.
In a small bowl, mix all the ingredients for stir-fry sauce.
Add egg whites firstly and then add cornstarch. Grasp with hand until the shreds are coated evenly.
In a small bowl, add 1 tablespoon of cornstarch and 1 tablespoon of water and stir in one direction to make the coating. Coat each pork strips before frying.
Heat up cooking oil in wok until you can see the waves on the surface. Put the coated pork shreds in. Deep-fry quickly to firm the texture.
Remove the shreds out and drain.
Then re-deep-fry the shreds again quickly around 30 seconds. Transfer the shreds out and drain.
Leave around 1 teaspoon of cooking oil in wok and then add the stir-fry sauce in to cook around 2 minutes.
Then return the deep-fried pork shreds in to stir-fry for 1~2 minutes and garnish sesame seeds in; mix thoroughly to make sure the shreds are coated evenly. Transfer the shreds to serving plate.
Notes
Adjust the taste slightly according to your own taste. If love sweet taste very much, add more sugar please.