Every year since 2007, when my film Yellow Sticky Notes was an official selection, I've been attending the Whistler Film Festival. Many people feel that the Whistler Film Festival is poised to become the Sundance of Canada with major support of many major media outlets like Variety. Situated in the Canadian ski resort town of Whistler, BC, the festival is celebrated in early December...a time when the ski season is just receiving its first dusting of west coast champaign powder.
Whistler has a special place in my heart well before it was home of the 2010 Winter Olympics. Before becoming a filmmaker, I used to be a professional snowboarder who spent many crazy days and nights in the cozy ski town. I was sponsored by a few different companies and I got paid to compete in snowboard competitions and ride around the mountain. Although with that being said, as a pro snowboarder you have two years to truly make it...or break it. Thus, for me even after the first year...I was starting to break and if it weren't for the accumulating injuries, I would have stuck with it. So as soon as I busted my drawing wrist and required surgery I knew I had to pack it in if I wanted to become an animator.
So now, being in Whistler has an entirely different meaning when the festival rolls around. This year was my fifth year at the festival and my buddy Jonathan Ng made it out west from Montreal to hang out and screen his new film Requiem for Romance. Jonathan, who has had some great success here on Film Annex, recently animated a segment on my film Yellow Sticky Notes | Canadian Anijam...which will hit film festivals in 2013. He also did animation on my first feature documentary, One Big Hapa Family. Hopefully, I'll post his animation segment from One Big Hapa Family here on Film Annex soon.
We had a great time this year at the fest. I was there from Nov. 30th to Dec.2nd. Although the festival runs four days from Thursday to Sunday. There are great networking opportunities for filmmakers as a lot of television executives and film funders/financiers flock to the destination festival to meet with directors and producers during the industry forum. As well there are usually three or four parties and receptions every night...and a few late night/early morning after after hotel parties to keep the conversation going.
The festival usually wraps up with an awards brunch on the Sunday morning that starts at 10am. As a funny story to conclude this blog entry, Jon and I along with a couple other buddies, had rented a big suite and ended up hosting one of those infamous after after parties. Well, it was about 10:45am on Sunday morning when I was awoken by a phone call...had it not been for the call I would have easily slept till noon. Since Jonathan's film was in competition, he had to be at the brunch in case he won. Well, come 10:45am (45 minutes after the start of the brunch), he was still sound asleep. I walked over to his room and asked him if he was awake and casually mentioned, "You better go to the awards brunch...what if you win an award dude?" Without blinking, Jonathan immediately jumped out bed, threw on some clothes and ran out the door. At 11am, I received a text from him telling me he had indeed won the award for Best Canadian Short and he had arrived just two minutes before they announced it...just in time to accept the award on stage in a hungover stupor!
That my friends is the true Whistler experience!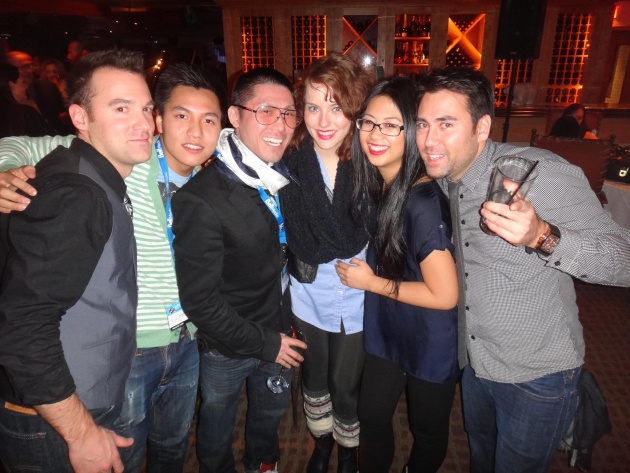 From left to right (Daren, Bernie, Jonathan Ng, Misha, Kei, and me) at a Whister Film Festival party at the Barefoot Bistro.