THE PLANNING
I work as a public teacher in junior high school in a suburb area particularly in the city of Butuan, Caraga Region. Not to make you wonder about the relevance of my introductory statement above, my article tackles about to one of the activities of the Department of Education to be held yearly during the month of October and that is called "Family Day."
To define "Teachers' Family Day," in DepEd - it is an activity where all of the teachers and staffs including the school administrator/s should concert plans hand in hand to agree upon. The itinerary should includes the place to go, the date and time, the budget needed and its fundings (if shouldered by school MOOE since there is an intended 5 percent budget comes from it and the exist bills to be paid by the staffs).
THE TRANSPORTATION
As agreed by the majority, it had been planned that the said activity was set to two-day (October 29 and 30 this year) trip and to be held in Surigao del Sur. So, on the first day, as early as 4 a.m, everyone must be on time to gather ourselves in the agreed waiting area where the rented vans awaited us. Of course, the drivers should abide with that trip from the time we depart till we go home.
THE FIRST STOPOVER
Our first stopover was in Sarnimian Inland Resort to be found in Rosario, Agusan del Sur. There, we had our breakfast. After eating, we toured and explored its marvelous beauty.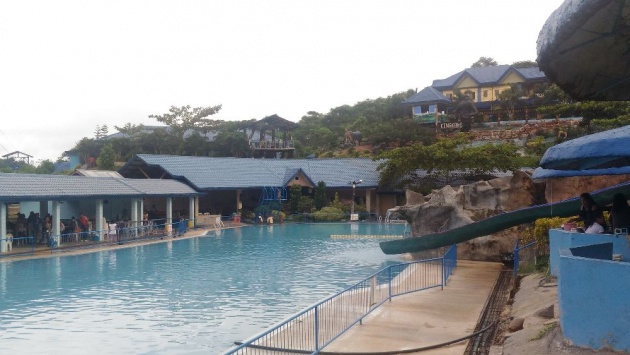 Photo credit by Gabrielle
Even a thought had startled me, along with some of my colleagues, I tried riding a sky bicycle where I conquered my fear and nervousness even they had laughed at me because they had seen me shaking while I pedaled the bike. I know I could not consider it as fulfilment but it was the experience that cannot be paid-of and not all of us have the guts in trying, not even experiencing it with a fake valor.
Photo by Gabrielle
After staying a little while, we packed ourselves and proceed to another destination where nature shows her best to appease our tired selves from works. But before that, maybe, you are interested to visit the place, allow me to share their FB link:
https://www.facebook.com/Sarnimian-Inland-Resort-CORP 653800427973785/
THE BREATHTAKING
ENCHANTED RIVER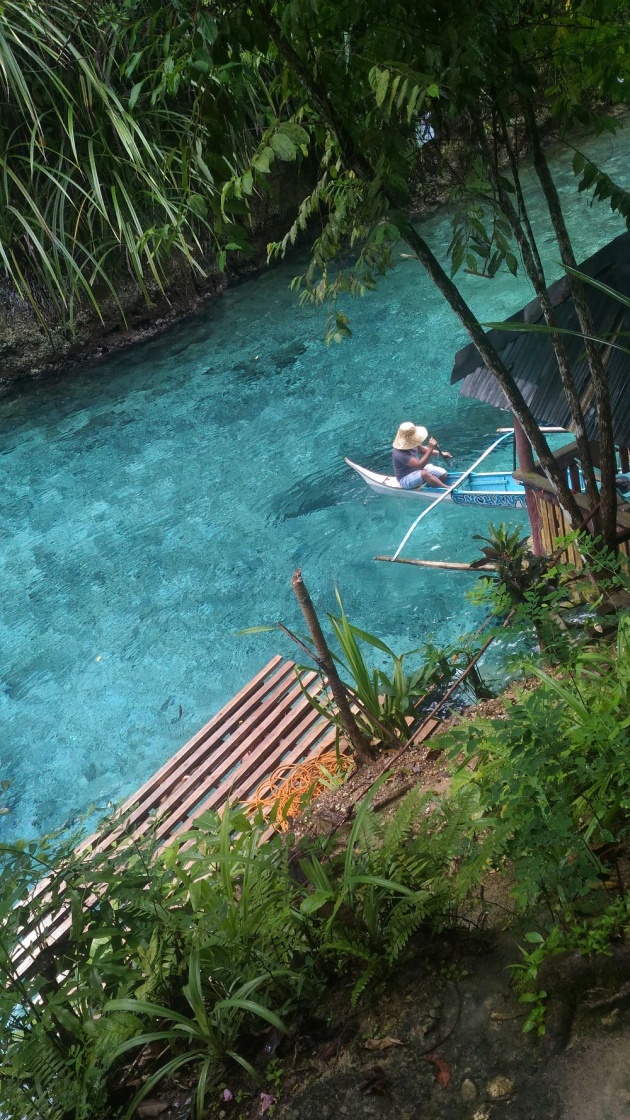 It took almost 2 hours to reach Enchanted River in Hinatuan, Surigao del Sur from our first stop. Personally, it was my first time being there. Before, when I heard some of my friends sharing their experiences with the place, there was a tiny thought of mine that someday I will be able to see its beauty myself. That is why, when we included this in our route, I was so happy with the chance with my first visit here.
I must share that, it has been prohibited to have your park near the river perimeters. The management changed the rules and regulations to preserve and protect its beauty. That is why, there is a terminal for all vehicles and visitors few meters away from the river's premises.There is a ride offered freely to children, senior citizens, to handicapped persons or even to those who don't like to hike going there. Actually, this ride would last for three-minutes only.
We decided to have lunch first before heading there. We had a luscious meal because there was a lechon (roasted) pig along with other menus. These served as a treat for us which seemed like an initiative from the birthday celebrants for the month of September.
After lunch, we all went to Enchanted River and had watched the fish feeding. In Hinatuan, there are motorized small bangka (boat) that would ferry you to some islands, beaches and floating restaurant or hotels. The fare would amount to one-thousand pesos only. Your share could be one hundred pesos or more depending on how many are you in that ride. Well, it caters 10 passengers maximum excluding the navigator and the assistant.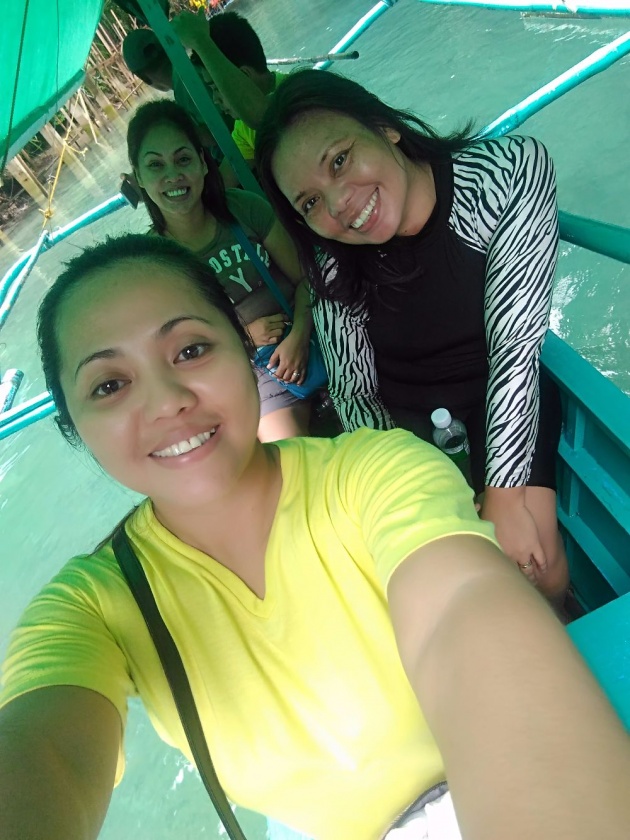 Photo by Gabrielle
The following pictures show some of our stopping places during that venture:
1. Sibadan Fish Cage - It was my first time seeing stingrays, touching and feeding them, amazing!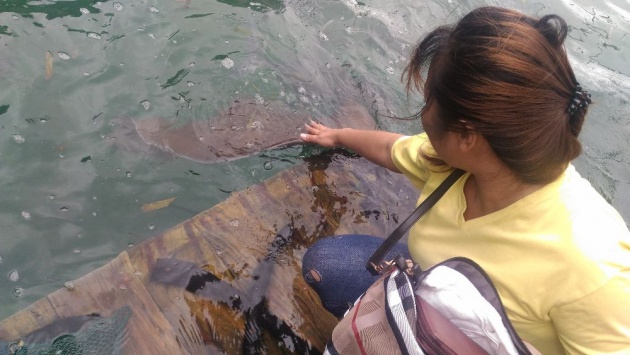 2. Pangasinan Pacific Shore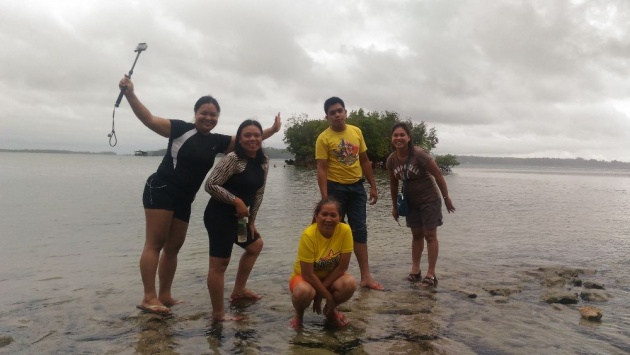 Author's photo
The hopping was so enjoyable, life-treasure adventure. And when it's done, we returned to Enchanted River and swam to the allowed swimm area. The water is so very cool and clear. Very refreshing.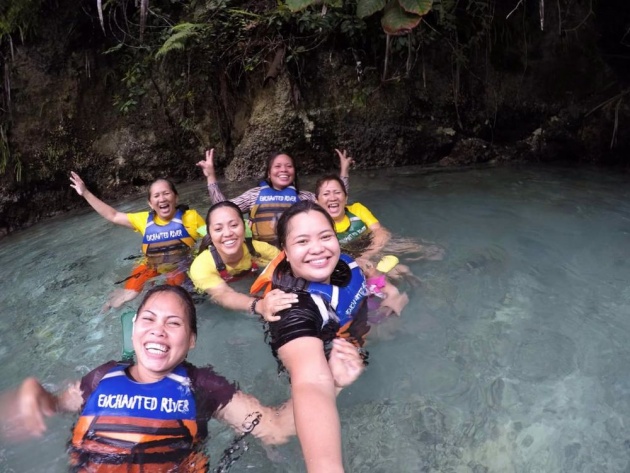 Photo by Mam Jing
INTO CAGWAIT LGU WHITE BEACH RESORT
So the fun continued, but we need to pause first for the night to dine and drink, to sing videoke and to rest our tired bodies. We need energy for the another set of adventures in the morrow. For that, we were considered lucky as we had a chance to book for that one-night stay in Cagwait, Tandag, Surigao del Sur.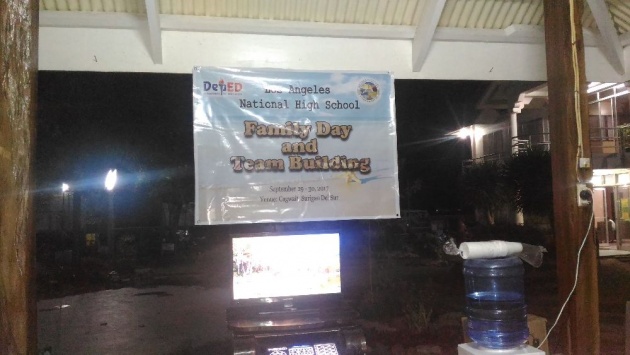 photo by Gabrielle
After dinner, there was a small talk headed by our school principal before dismissing us for us to do our preferred activity like some of us wanted to swim, sing, drink light flavoured beer, chit-chatting and so much more.
When the night had satisfied everyone, each one of us had to mellow down inside the LGU Hotel and bid a peaceful night.
In the morning, coffee and breakfast greeted everyone before enjoying the white sand and salty water. We used our time to its fullest in Cagwait because the checkout time was at 10 o'clock in the morning. So long, white beach - it's good to had savored you.
BRITANIA, OUR FINAL DESTINATION
Our last touch was Island hopping in Britannia in San Agustin, Surigao Sur. It took almost 2 hours to reach Brgy. Britania from Cagwait. From there, we rented a boat to sail us to different islets. We dropped first at Naked Island, then in Hagonoy. Our last drop was in Boslon Island where never in my wildest dream I may dare to have lifts engaging ourselves to any adventurous rides in the deep sea bedazzled by waves and its depth plus the truth that I can't swim. Anyway we wore life jacket but it thrilled me that it is my first time doing it, so, in my mind, I need to complete the statement that starts with, "What if..." (ex. I fall, etc.) But thanks God, we'd been able to end our turns laughing, giggling, and having so much fun. Best experience that I can't forget ever.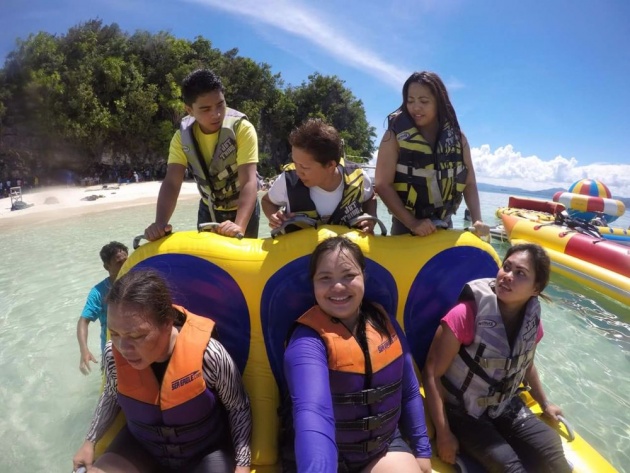 Shoot by Mam Jing
For those who did not join us, I guess they missed the fun but their decision was respected.
I've been to many places. They are all beautiful and also, its memories were already inscripted within me. However, this Family Day experience was superb.
The next event is home sweet home.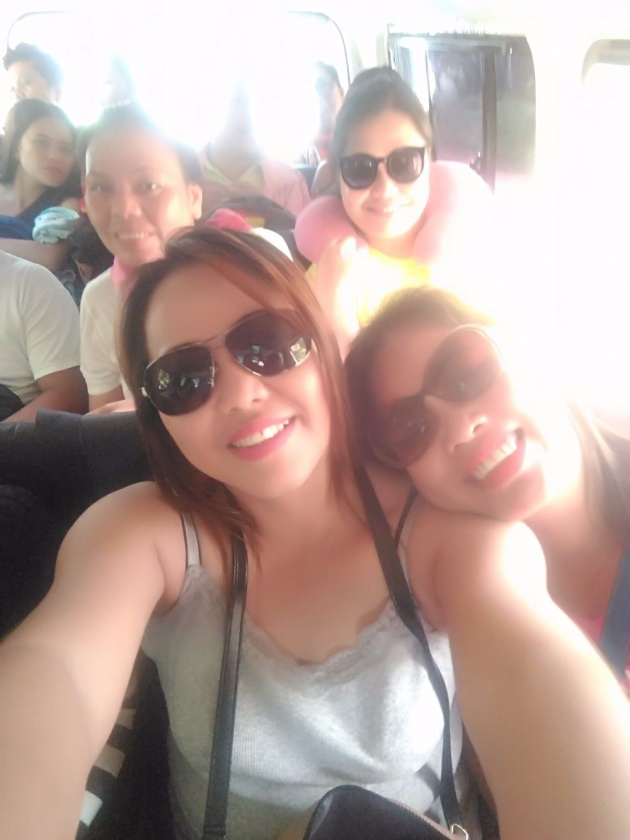 Photo by the author
Disclaimer: This article is purely based on my own experience, and i did not write the review as an exchange of some monetary reward.
Thnx to Ms. SHARON