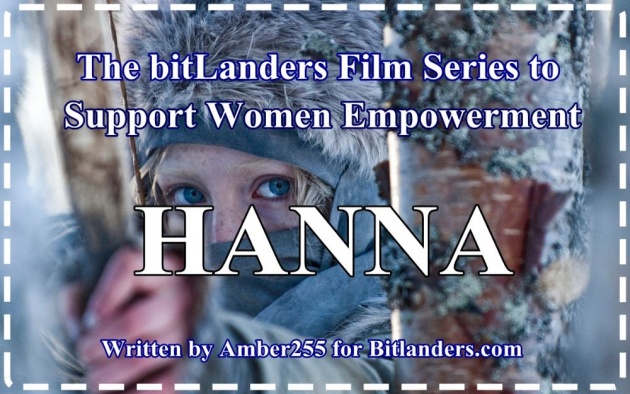 The bitLanders Film Series to Support Women Empowerment - HANNA
Photo credit: wall.alphacoders.com, Edition by Amber255 via Bitlanders.com
Today I want to introduce another film from the bitLanders Film Series to Support Women Empowerment - HANNA, 2011. This is quite a good thriller. A young actress Saoirse Ronan played a major role in this thriller. Just because of this young and very promising actress worth watching the movie.
Director Joe Wright (Pride & Prejudice, Redemption) presents an intellectual thriller who will pleasantly surprise not only action movies but also more serious genre's lovers.
Hanna is not just a sleek action movie (with a heart-pounding soundtrack), but it also has a soul that you don't want to part with. -
Candice Frederick, Reel Talk Online

Credit: rottentomatoes.com
The film HANNA seemed to be quite interesting and meaningful. Although it is created in the genre of adventure, action movie, thriller. In addition, I think that there is also enough drama in this story.
What is waiting for a teenager who was educated to become a perfect killer and knew the only person - the father? What waits for her in a civilized world where people live by completely different rules? Let's watch this interesting thriller.
Hanna - Official Trailer - Video credit: Joe_Wright via Bitlanders.com
The Short Story Of The Movie
Deserted snow-covered mountains somewhere deep in Europe. Hut in the forest without any amenities. There live a brutal-looking man named Eric (Eric Bana) and a teenage girl Hanna (Saoirse Ronan). A girl is only 16-year-old. Eric is engaged in the upbringing of Hanna from morning to evening.
She is a smart and dedicated daughter. But without these qualities, Hanna also has something special: she is strong, enduring and inventive as a warrior. Her father is a widowed former CIA agent. Hanna, fragile at first glance, is an ideal soldier. The secret of her birth is guarded by the American government.
The girl grew up in the woods, hardened with endless exercises and tasks the sole purpose of which was to turn her into a perfect killer. Eric had some bills with a nasty special service agent named Marissa (Cate Blanchette). The agent Marrisa, according to Eric, dreams to kill both him and Hanna, so he prepares Hanna for the main purpose of her life - the murder of Marissa.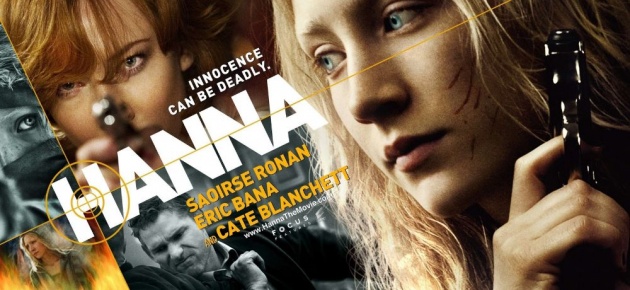 Poster of action, drama, thriller HANNA - Photo credit: haisy.blogspot.com
Soon, the father understands that Hanna is ready to fight against any danger. Although the girl does not recognize this, the shadows of the past wander in her and her father's world which cannot be ignored anymore.
So the father sends Hanna to the hike. She travels through Europe in secret, removing the agents one by one which sent to catch her by the CIA agent Marissa. Marissa also has secrets linking her with Erik and Hana. For Marissa, to catch the 16-year-old killer is a matter of personal concern, so, trusting only herself, she is going to catch Hanna herself.
According to the logic of things, Eric and Hanna should quietly get to the place of residence of Marissa, to catch the woman in a dark corner and kill her. But Erice is not looking for easy paths. He designed an extremely complex combination because otherwise, it would be uninteresting for spectators to watch it.
Therefore, Eric takes out the transmitter from the secret place, Hanna presses the button on it, and the transmitter gives Marissa know where they are. Marissa sends special forces for them, but they only find Hanna in the hut. Eric headed to Germany. Hanna will be brought to Marissa, from where she, of course, run away, went out of the sewage system somewhere in Morocco, and will start from there a long way to the city of Berlin, where she must meet with her daddy to give to Marissa a decisive last fight, which is, of course, the most difficult one.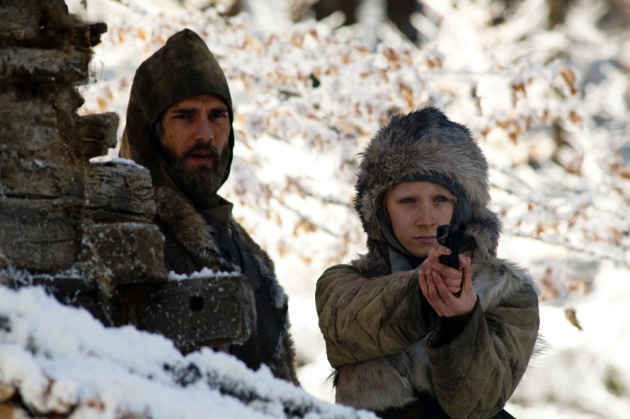 The scene of the thriller HANNA - Photo credit: twitter.com
However, the closer to the goal, the harder it all look: the girl gets to know the secrets of her origin, and with it come the unexpected questions about humanity. Soon, Hanna understands why she was educated to become a hired killer, and who is responsible for this fate.
If you want to throw how the movie ends, watch it!
The Content Of The Movie
An agent who thoroughly develops a special child as his own substitute and a tool for revenge seems to be a novelty in the theme of movies. The intrigue of the story is kept up to the very end, the secrets reveal gradually and, finally, it is resolved to the end. The film captures from the very beginning and does not lose the attention of the viewer until the last scene. The finale fully justifies expectations. Greatly chosen actors. It cannot be said that watching a film HANNA overturns the worldview, but forces to think about new aspects of life. The fate of the main heroine is not perceived as severe, although there are a lot of difficulties in her life.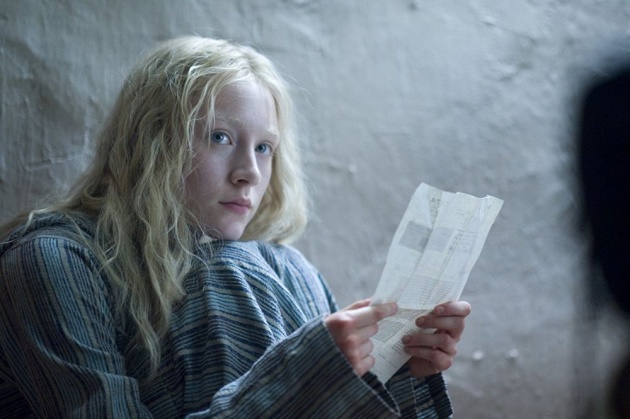 Movie HANNA review - Photo credit: imdb.com
It looks like there are involved literary and folk tales. Father and daughter call the killer a witch, the killer's accomplice name is a Sandman - a character of the German folklore and Hoffmann's fairy tale, which scares the sleeping children and throws sand them in the eyes. There are also more fabulous crumbs: Grimm's book, the guard's hut in the amusement park resembles a house of the gingerbread.
It would seem that these images should lead to the field of colorful artifice and terrible tales. However, such a transition does not occur; archetypes do not work. Though the hero of the movie faces many nightmares of children, she does not care about it too much. Maybe because Hanna herself reminds the fearless hero of a fairy tale?
HANNA' Interview with Saoirse Ronan & director Joe Wright - Video credit: Daniel Waller via YouTube.com
Probably the reason is much simpler. Just fairy tales do not open up any depths, only swims on the surface of the film and remains a rather mindless variation of a revenge story.
The happiest Hanna seems to be when she relaxes with a hippie family and does not know anything about her secret of origin. Interesting morals - it turns out that the person only benefits when he does not go deep in his own person.
The plot itself may not be something special, but to me, the movie is special because of the very role of S. Ronan. Of course, the story is initially covered by mysticism, many unreal things, but at the end of the film it turns out that this is an experiment with human DNA. It's more convincing than vampires, aliens or other cheap movie creatures.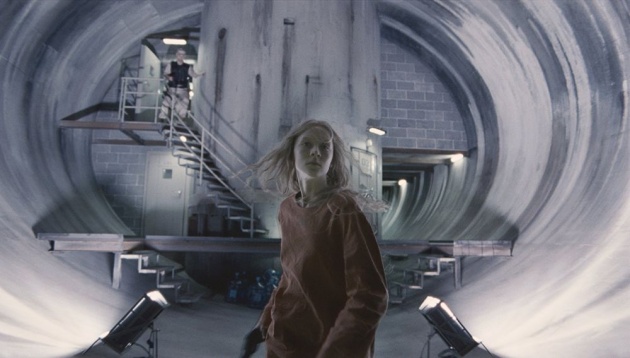 Thriller HANNA - Photo credit:imdb.com
Of course, I expected a bit different movie, but I was not disappointed and did not get bored watching it. The film is for entertainment because it creates or at least partially simulates the tension that leads to a predictable outcome. It's a good thing that the film is not only filled by scenes of fighting (some viewers wanted more fights and called this movie incomplete). I would not say that it's incomplete, because there was a start, a culmination, and outcome. Maybe I just wanted a stronger, more impressive storyline.
And in general, a film is very dynamic, fast, vibrant. The movie HANNA is a bit severe. Many fights, struggles, self-defense.
I recommend the movie HANNA to the thriller lovers who want a balanced thriller featuring both a story and an action.
While reading movie HANNA review, check QUERLO CHAT; "What kind of movies do you like?"
The Technical Side Of The Movie
The director's work definitely deserves attention; the film is filmed qualitatively.
The film has a special technical virtuosity. In the production itself, there are a lot of very good purely visual finds. Especially I liked the Hedera part of Berlin - typical for a socialist concentration camp, the panel houses and an abandoned amusement park, in which the magician's house looked particularly impressive.
In the hut, Hanna read the tales of the Brothers Grimm - in the film, there are a lot of allusions to these works, especially at the end, when Hanna depicts the Red Cap and from the Gray Wolf went not a grandmother, but quite the opposite - a terrible witch. Symbols and visual metaphors would have been enough for a couple of films there.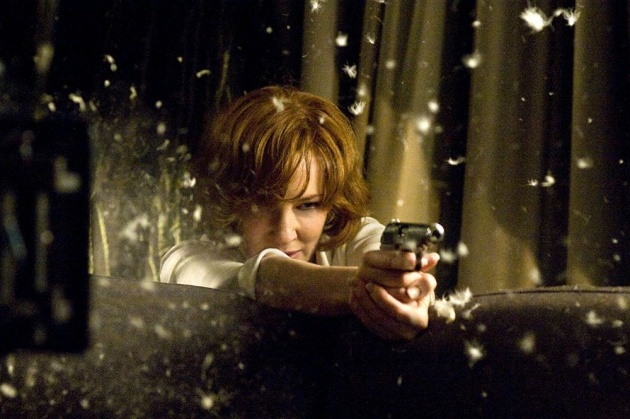 Cate Blanchett - Photo credit: imdb.com
I want to pay tribute to composers and sound operators; they put enough efforts to make it great. There is a lot of music in this film, and it perfectly fits the action of the tape. It warmed up adrenaline. Basically, it is electronic, which constantly accompanies chases, and also you can hear classical music. I liked all the sounds. My favorite music composition of Edvard Grieg's Hall of the Mountain King was used there. I love this melody! Also, the soundtracks to the film were written by The Chemical Brothers.
Special effects are worthy, and the fights are shown qualitatively.
The Collective Work of The Actors
The young actress Saoirse Ronan, nominated for Oscar in the movie Atonement for the impressive performance. Being still so young, she appeared on the thriller HANNA, to which critics predicted a tremendous success. At just sixteen, she performed incredibly professionally in this intriguing action thriller, together with such stars like Cate Blanchett and Eric Bana.
Saoirse Ronan is a typical Hanna as if the script was written for her, some sensuality of the actress, tenderness, and the same time glacial glow in her eyes - a very paradoxical phenomenon. But the director managed to convey the very, seemingly inconceivable heroine. And despite all the brutality and changes of the girl, she remained a young child who lacks the care of her parents.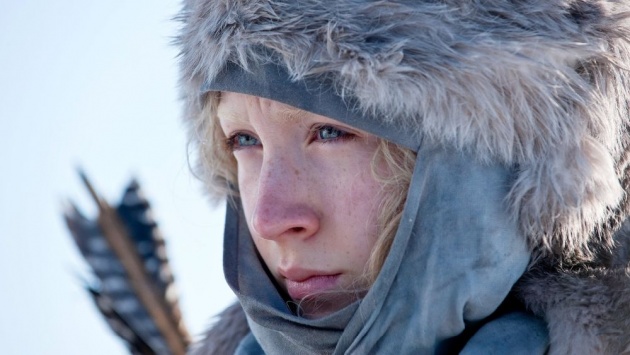 Saoirse Ronan - Photo credit: wall.alphacoders
Of course, in the film, we also meet my beloved Cate Blanchett with her unexpected role. Cate Blanchett played a special secret service boss here. And the boss is with a concrete fighting past, which is visible not only on the corresponding flashback but also in the eyes of Marissa. Blanchette knows how to create such a character! Clothes, hairstyle, makeup, look, shoes - perfect view. It is, of course, clear that Cate is a great actress.
I loved the performance of wonderful British actor Tom Hollander. Hollander played here a manneristic but brutal German with the name Isaacs, who, with others performs special tasks for Marissa. Tom Hollander played only in a small number of episodes, but colorful to the extreme: what means - the master.
Eric Bana, in the role of Erik Heller, did not seem to be impressing at all. A sharp special agent, Eric, who easily beat down two armed policemen, did not show any charisma.
Other colorful characters can be noted very bright girl Sophie in the performance of Jessica Barden. Well, she is just a charm, especially her reasoning. Father of Sophie - Jason Flemyng - played well too.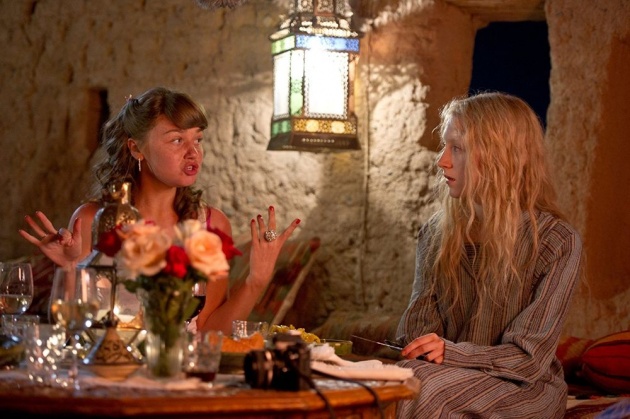 The scene of HANNA - Photo credit: pandasfilmhouse.blogspot.com
The Main Protagonist Role
Recently, there are few films with the main heroes that are strong girls, but many of them have short skirts and long, brushed nails. Hanna seems to be completely different. She doesn't look sexy girl. She does not know what is the internet, TV, makeup, and fashionable clothes. But she is not afraid of cold and famine, armed with a bow can hunt down a large beast and engages in such combat actions that adult men would not keep up with her.
In the evening, it's time for spiritual food. Eric is a born teacher because, having only an encyclopedia at hand, he gave Hanna an excellent education, and besides, she now speaks English, German, Spanish, Italian, Russian, Albanian, and Afrikaans.
We've seen a few young girls now who have kicked ass but we haven't seen one quite like Hanna who doesn't really know how to handle society and technology and human behaviour because she's never really been a part of that world. She's an alien really. And it's nice to see someone who, in some ways, is very capable… physically she is but emotionally she's not really. - Saoirse Ronan

Credit: indielondon.co.uk
This is how her father taught her, former agent of the Central Intelligence Agency. He is now a hermit living in woods, maturing revenge plans for his former employers. And the tool of revenge must become Hanna, unfamiliar with compassion and sensitivity.
Hanna is innocent, without any life's experience. She has never seen civilization or at least something like that, and suddenly she finds herself at the center with a clear mission. Everything looks so new, fresh, and interesting to her looks so new, fresh, and interesting to her. Most often action movies' heroes are self-confident, knowing what they are doing, what they want, and Hanna is different, and that makes her character very interesting.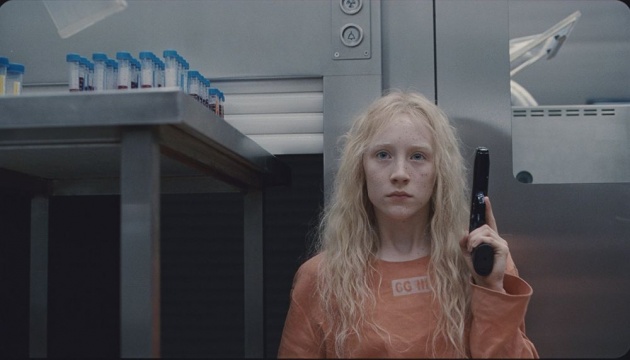 HANNA - Saoirse Ronan - Photo credit: imdb.com
Hanna, although grown up as a wild girl, is not a cold murderer who has not any feelings. Perhaps a girl is very strong, well trained in martial arts, and knows how to own weapons, but she is not a monster that can crush enemies to the left and to the right. In order to be a perfect weapon, she lacks cruelty and indifference to everything else. The ideal machine for killing sympathy does not know. And here, emotions, fears and internal sufferings of an ordinary teenager.
In general, the image of the main heroine, though interesting, but a bit cruel. At the same time, naive, and completely unaware of real life. The lack of knowledge of this heroine of real life, simple trivia, and relationships - makes her image soft and touching. But in general, a girl with fighting skills is strong, confident, and purposeful. It is clear that the circumstances are not capable of breaking down this girl.
While reading movie HANNA review, check QUERLO CHAT: Do you support women empowerment?"
On The Final Note
It's an accurately directed film complimenting the slow-film tradition with small storytelling secrets.
My opinion about the film is ambiguous. There is a good idea, but there are not enough senses to survive it together. You do not worry; you just observe a picture from the side, that's all. But what kind of bomb could be made of!
HANNA- an intimate portrait of a woman who loses her identity and fluctuates between reality and its rejection. Examining the broken identity of Hanna and self-control loss, the film examines also the alienation of people today, and the inability to establish a relationship. Daily situations and small drama reveal the limits of individual identities, personal relationships, and public pressure.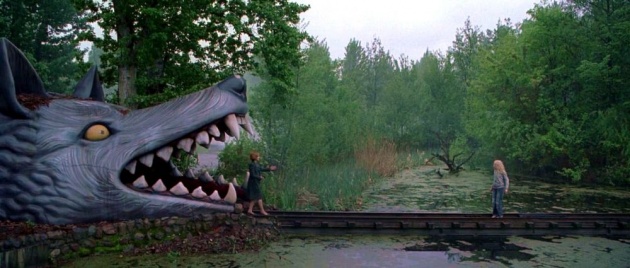 The final scene of HANNA - Photo credit: imdb.com
The HANNA is about a woman who lost herself in life, her desire to reconcile with her past and find harmony in her heart.
My verdict - a movie worthy of having spent 110 minutes of your life on watching it.
My rating: 7.0/10
Rotten Tomatoes: 71% ( of 100)
Critics average: 6.6/10
IMDb: 6.8/10
HAVE FUN WATCHING!
**************************************************************************************************
Thank you for stopping by and reading my blog.
2018, All Rights Reserved.
You are very welcome to join Bitlanders and share your valuable knowledge and opinion.
**************************************************************************************************
You can check my other blogs about Halloween:
1. The bitLanders Film Series to Support Women Empowerment - DARK RIVER
2. Movie BAD TIMES AT THE EL ROYALE Review: It Moves Back To The 90s
3. The bitLanders Film Series to Support Women Empowerment: HOME AGAIN
**************************************************************************************************