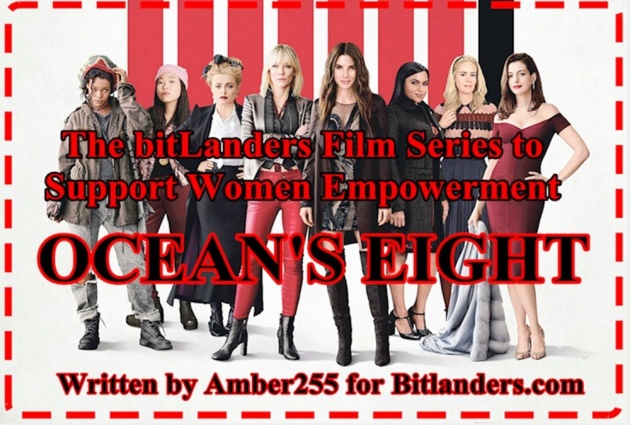 The bitLanders Film Series to Support Women Empowerment: OCEAN'S EIGHT - Photo credit: reddit.com, Edition by Amber255 via Bitlanders.com
The last movie in the current list of bitLanders Film Series to Support Women Empowerment: OCEAN'S EIGHT. Director Steven Soderbergh gave the world an unforgettable Ocean's Eleven after which followed two successful films. It's time to get acquainted with gang leader Danny Ocean's sister Debbie (Sandra Bullock). Eleven years after the end of the cult Ocean's trilogy, a movie studio Warner Bros has decided to risk and extend the story that is well-known to everybody, somewhat changing its overall concept.
We live in times where film sequences are the usual thing on the cinema screens. I love most original new projects, but sometimes filmmakers present us just remakes. The viewers recognize the name, and it brings a part of them to the cinema, but the film's content suffers almost always.
The movie OCEAN'S EIGHT represents precisely the category of remakes, although it tries to get rid of this label. The film's director is Garry Ross. Symbolically, as a scriptwriter, he started his career 30 years ago with the Big creation, which later came to a large number of indirect remakes - films with almost identical content.
This is not a niche film, it's a great, funny, entertaining tent pole. It's a heist movie, a caper movie, for men and for women. And so I feel like I have hit the jackpot. And I hope audiences feel the same way. - Cate Blanchett

Credit: emanuellevy.com
Later he started directing movies and was most distinguished with the production of Seabiscuit, which was nominated for seven Oscars, but none of them succeeded to win. Then followed a 9-year break that led him to the director's chair of the famous film The Hunger Games. Well, now he has become visible on the poster of OCEAN'S EIGHT. By the way, he used the help of the previous films' director Steven Soderberg, who played producer functions here.
The new form, a new storyline, and completely new heroes have made us believe that the thirsty viewers will be presented with what Ocean's trilogy has had the best: inclusive, meaningful, and very attractive film entertainment.
Let's watch this feminine version of the Ocean's Eleven.

Ocean's 8 - Official Trailer - Video credit: Gary_Ross via Bitlanders.com
The Short Story Of The Movie
The master of thefts and deceit Debbie is released from prison before the time under promises no longer to steal and not to deceive, but these words were only for the prison commission. Just getting through the prison gate, she has a plan in her mind how she will commit a new crime.
Like brother, Debbie finds the best hot-headed gang that is determined to everything and starts planning a perfect theft. This time her target is a very luxurious gemstone necklace. Debbie knows that the actress Daphne Kluger (Anne Hathaway) will wear a unique diamond necklace costing 150 million dollars. She not only will try to steal it, but also make it as stylish as possible.
As in the previous parts of the movie, the team will be needed to implement the plan - people with different abilities and features of the character, allowing to create comical situations. What is different in this movie compared to what we have seen before? All this will be implemented by an exclusively female company.
Will we see another sequel? I would not be surprised. We will see soon how things will go. Because everything will depend on the financial success of the current movie.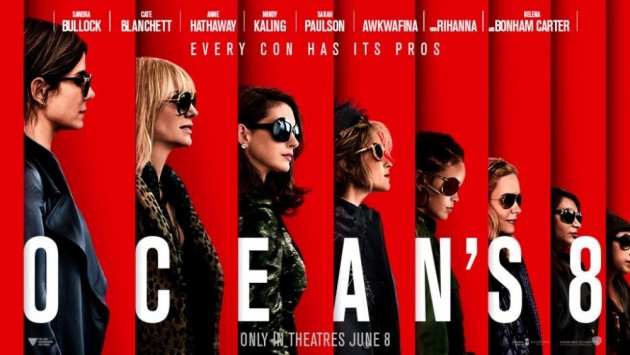 Hollywood film OCEAN'S EIGHT Poster - Photo credit:youtube.com
The Content Of The Movie
As I mentioned, the developers disagree with the statement that it is a remaking process, and the film is referred to be a spin-off (related to the original work, complementing it or running adjacent). The film is supplemented by detail to corroborate this theory - Debbie is the sister of Danny (the main character of the previous films). This has no significant influence on the plot and exists only as the fact itself.
It really was changed the gender of actors, given a new task, and everything else is based on the previously tried recipe. And if we can argue, whether it's a remake or a sequel, it's obvious that trying to revive the series by riding on the same golden horse as before, but it's much more tired and outdated and is no longer suitable for the same job.
Indeed, the masculine company has worked much more stylish; there were more unexpected waves and twists in the storyline that the viewer perceived only at the end of the film.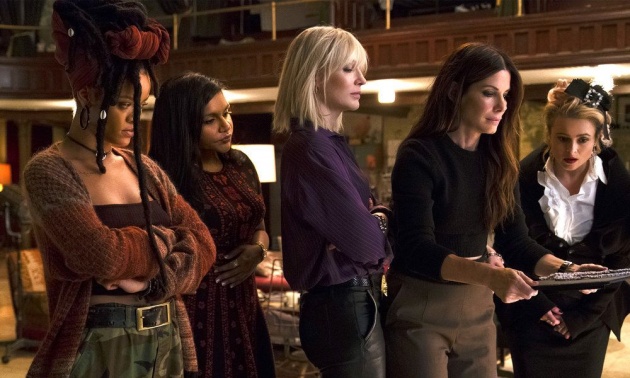 Action Crime Comedy OCEAN'S EIGHT - Photo credit: youtube.com
The story itself consists of two quite simple phases - planning and theft. And in this case, personally, for me, the planning made a much more pleasant impression, as during this time I was able to get a very detailed look at the main characters of the film. And this is really very important because all the main action and the interest of this film lies on the characters.
All heroes are able to unfold and show off their abilities, which brought them together to Debbie's team. And it would be good if those abilities were at least truly creative shown to us. But apparently the scriptwriter of the movie did not want to overdo their creativity, so some movie heroes got pretty moderate tasks. Remembering how the brother Danny's team acted and compared to this girls' operation, things look like day and night.
Only one nuance did not give peace to me. I was curious, what happened to Denny and his team, or any of the familiar characters will appear on the screen at least for a moment. And we received the answer to this question - two actors from the original trilogy appeared in the film. But I will stop here. You will see who they are.
While reading movie OCEAN'S EIGHT review, check the QUERLO CHAT: "What kind of movies do you like?"
The film also has an antagonist, which, unfortunately, is not as bad and dangerous as it was with the bad guy of the original film.
What confused me in the overall image of the story, it's humor. There is too much of it here. While in the first films it was deliberate and shown in situations where it was necessary to slightly recharge the atmosphere into a lighter tone story, in this film, thanks to the humor, some characters looked like idiots and not professionals who wanted to steal jewelry worth $150 million dollars. And I'm not talking about its mindless. Could be added more class, not banality.
When it comes to theft, it was, in my opinion, too simple - it reduced the amount of tension in the movie and made it an easy entertainment.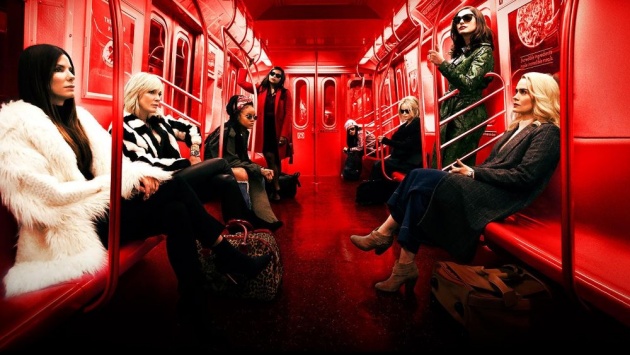 Movie OCEAN'S EIGHT - Photo Credit: twitter.com
The Technical Side Of The Movie
Each of the trilogy films featured a stylish and very eye-catching exterior, which made it engaging even more in the world of hazard and robbery. And I can say the same thing about this new film. Heroes' dresses, diamond necklaces, and a luxurious party perfectly introduced the oasis of rich people from which we did not want to leave. Technically, everything was done well. Hollywood productions are always high-quality visually. I can commend the characters' outfits and stylistics, which corresponded to the mood of the film and the situation.
While reading movie OCEAN'S EIGHT review, check the QUERLO CHAT: "Do you support women empowerment?"
Of the other pluses of the technical part, I would like to emphasize positively generating music. During the film, such songs as the performer Kelis song Bossy, legendary rapper The Notorious B.I.G. Hypnotize, and Nancy Sinatra's one of the biggest hits These Boots Are Made For Walkin'. And here are just a few musical pieces that make this movie a great and enjoyable entertainment for the ears.
I am pleased with the operator's work. I liked the scenes where the main film characters were making some preparations for a planned robbery. Their thoroughly executed plan has been interestingly conveyed from a variety of perspectives, which has allowed a deeper insight into the overall essence of the entire operation.
Sound editing is standard for such projects. However, there are no shootings or other action scenes that require stronger sound to give the viewer a bit more tension. But the video editing here was very important. The story was developed smoothly, even when it tried to tell the past at the same time revealing some details from one or another hero's biography.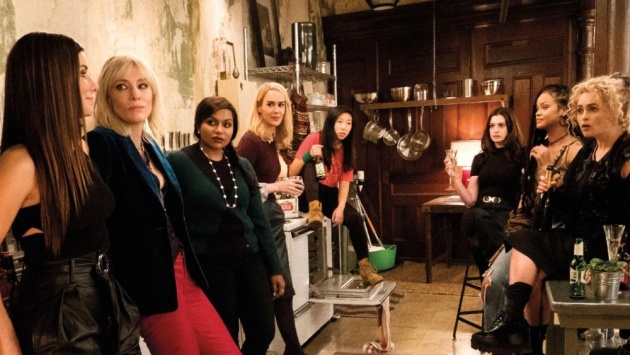 OCEAN'S EIGHT - Photo credit: beentothemovies.com
The Collective Work Of The Actors
The film's cast of actors is simply unrealistic. Very rarely, you can meet so many stars in one project. It seems that to the cast of the actors was thrown the great resources - both financial and attention. The summoned team is really impressive - Sandra Bullock, Cate Blanchett, Anne Hathaway, Helena Bonham Carter, Rihanna, Awkwafina, and others. Unfortunately, their potential has not been fully exploited.
Sandra Bullock, who I missed in cinema screens in recent years, hit again and hit really powerful. She was a queen here and a sign of all the film, who charmed us not only by her artistic abilities but also by her outer view. The woman is 53 years old, but it looks better than most 18-year-old girls.
The other pearl was the two Oscars winner Cate Blanchett, whose character reminded me of Rajan performed by Brad Pitt. It's a pity that there were not so many scenes with her in the film, although on several scenes she almost equaled Sandra Bullock.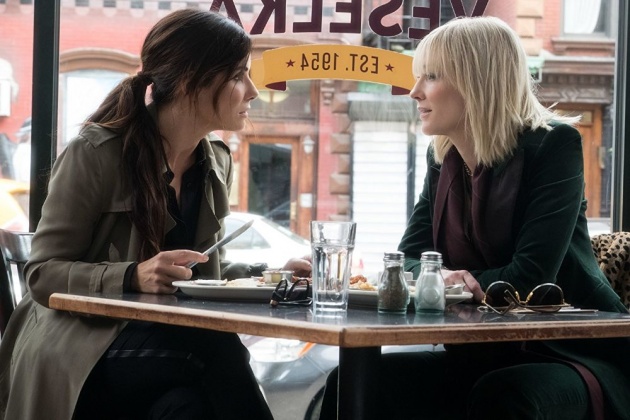 Sandra Bullock and Cate Blanchett in OCEAN'S EIGHT - Photo credit: imdb.com
Rihanna and her character surprised me. For the first time, her presence on the screen did not annoy me. The heroine of Rihanna has braids haircut and, in addition, it was the idea of the artist himself. Rihanna wanted her hero Nine Ball to be not only impressive but also sends a message to the audience. As revealed by the film's creators, having come to discuss the role, Rihanna's director Gary Ross had only one requirement: that the hero reveals her Caribbean roots (Rihanna originates from the Caribbean island of Barbados).
Helena Bohn Carter, who once again played the strange one, appeared quite well in the second-rate role. Anne Hathaway, whose beauty and acting character was not the last in this story, I would add to the film's pluses. Sarah Paulson, like Mindy Kaling, received the least screen time. That was not fair, because both of them are great actresses, so I wanted them to be presented more picturesque.
What's more? The creators really cannot be blamed for the racism. Only the Indian representative is missing out to the complete set, so the audience should remain satisfied. It's a shame that all of them are blank and uninteresting, although we get to know some details of their lives, it's all done according to the same pattern as in other films.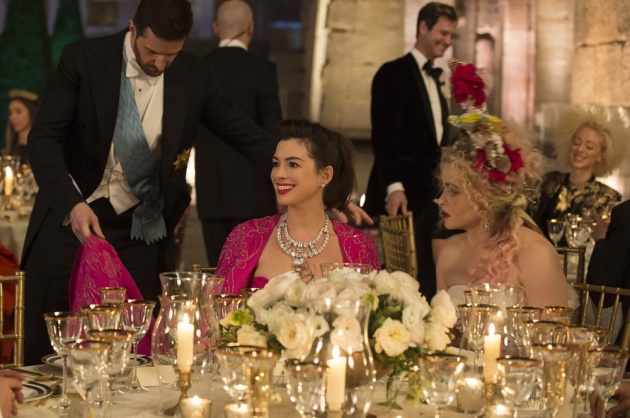 OCEAN'S EIGHT - Photo credit: twitter.com
The Power Of Girls
In recent years, a frequent Hollywood film has not gone without strong female characters or stories that are dominated by women alone. As an example, I will present bands such as Red Sparrow, The Hunger Games.
The main hero Debbie is similar to her brother Danny, who dominated the first three films. She is a genuine leader, who has shown from the very beginning of the film that she is a leader here, and all have to listen to her. She is also the most intelligent and smart in the whole theft operation.
Like her brother once, Debbie is driven not only by the thirst for profit. The heroine plans to take revenge on her former boyfriend, due to the betrayal of which she got into the prison. However, this part of the film is less significant - for Debbie revenge is a cherry on a cake.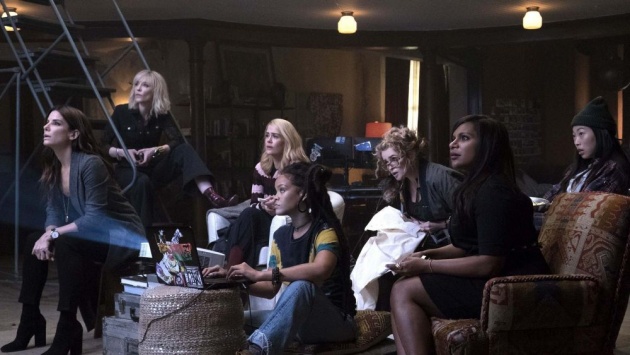 Hollywood film OCEAN'S EIGHT - Photo credit: moviereviews.com
Debbie itself is decisive, swift, charmingly cynical. Her best friend Lou (Cate Blanchett) is cold, reasonable, ironic. Both women are not young already, but getting nicer with each passing year. It is easy to see that there, in OCEAN'S 8, are practically no places for men in the women's world.
Eight women are really a team - the heroines get sincere pleasure from what's happening, and naturally, converge organically. In the uneasy friendship Debby and Lou we believe unconditionally, and the images of the other ladies turned out to be bright, diverse. Eight is a good number to give all the heroines a sufficient amount of screen time.
OCEAN'S 8 interviews - Bullock, Blanchett, Paulson, Awkwafina, Hathaway, Kaling
Video Credit: FOX 5 DC via Youtube.com
Lu Miller (Cate Blanchett) knows the right people: hacker (Rihanna), the thief (Awkwafina), jeweler (Mindy Kaling), designer (Helena Bonham Carter), and speculator (Sarah Paulson), so all of them made a perfect team ready for the robbery.
The film adds some feminist notes, emit frivolous positives, and hints that all evil is from men, and women are very friendly and working together, even if they come from different countries.
Formally, it is the standard film of the era of feminism that has come (at least in Hollywood). All the main roles are distributed to women, from now on they rule the feast and no longer serve as scenic applications for courageous heroes.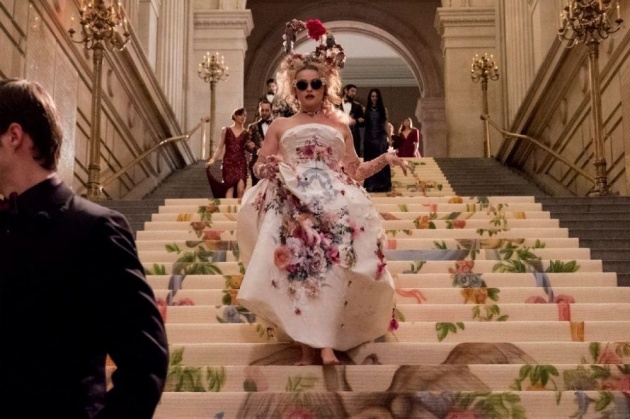 Helena Bonham Carter in OCEAN'S EIGHT - Photo credit: twitter.com
On The Final Note
It is a completely unpretentious movie that does not want to be a remake, but formally it is. There were given new clothes for a movie of stylish and deceitful scams and theft, but the trouble is that only the clothes remain the most stylish, and not theft. It's a movie to spend a good time without meaningful thinking, but do not expect very much, since in a few days you may completely forget that you watched this movie.
The whole movie made a nice impression as a whole, but unfortunately, it did not match the original tape created by Steven Soderberg. This is a good, easy, and not boring entertainment, which unfortunately will not stay long in the memory as the 2001 film project.
OCEAN'S EIGHT is a relatively light, humorous, and no boring prolongation of a significant trilogy. First of all, it charms us with an impressive cast of actors, rather than its own story, which in essence can be called a kind of presentation of the original film in a slightly different form.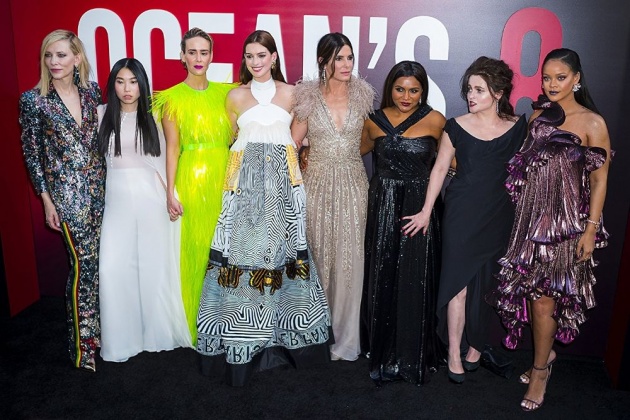 Sandra Bullock, Helena Bonham Carter, Cate Blanchett, Anne Hathaway, Sarah Paulson, Mindy Kaling, Rihanna, and Awkwafina at an event for OCEAN'S 8 - Photo credit: imdb.com
The main thing here is not a brilliant robbery, but a message to a beautiful gender of the audience - women's friendship is still possible, just need to choose the right friends.
It's possible to be friends, It's possible to empower each other, as opposed to compete with each other. It's possible to just get along. And it shows. - Awkwafina

Credit: refinery29.com
My rating: 6.5/10
Rotten Tomatoes: 68% ( of 100)
Critics average: 4.5/10
IMDb: 6.2/10
HAVE FUN WATCHING!
**************************************************************************************************
Thank you for stopping by and reading my blog.
2018, All Rights Reserved.
You are very welcome to join Bitlanders and share your valuable knowledge and opinion.
**************************************************************************************************
You can check my other blogs:
1. The bitLanders Film Series to Support Women Empowerment - DARK RIVER
2. The bitLanders Film Series to Support Women Empowerment: MOANA
3. The bitLanders Film Series to Support Women Empowerment: HOME AGAIN
**************************************************************************************************