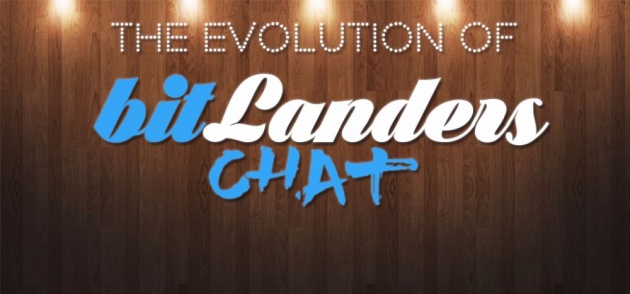 Communication is definitely one of the major pillars of a site for it to be labeled as an outstanding one. Almost all of the sites which are well known in this generation has a way of communicating to its users either directly or publicly.
Although there are different ways of communicating such as commenting on posts, videos and emails but all of these are taking longer time for the messages to be relayed. In this "fastly" evolving technology, everyone wants to have access to an efficient and instant way of doing things. Let us mention a few. Live videos, snapchats and instant messaging. Everyone wants direct answer, direct digesting of information, fast communication and the like.
Social networking these days are also giving us efficient streams of instant communication. Facebook has messenger which gives us the option to chat directly to another person as long as that person has enabled messaging to everyone around the Facebook network. While it allows direct communication, it also have the option for group chats, our family uses that most of the time for our entire family conversation. It is helpful in that sense. Also it gives the option for discussion. Fan page and other kinds of groups has the option for discussion where one can comment on their ideas and suggestions on specific matters.
These stuffs that I am referring to are not just a feature of a site but is a building block to make a site effective and efficient. And why am I telling you this?

Well, bitLanders had a pretty good history on how the Chat was enabled and how it is evolving right now. There are beautiful reasons why we are using bitLanders chat and I had already enumerated these stuffs on my other previous blog. After writing that blog entry, I immediately had the notion as to why I had written that and if there's a greater reason why we are already loving the Chat. Yeah these specific reasons are already stated and mentioned on that entry so I am this time going back to history and stating the fact on how this chat has been very innovative.

Phase I. Intro to Inbox
Two years ago, I started using bitLanders through the persisting effort of my brother, @jjeeppeerrxx who had been insisting and giving reasons as to why I should join this site ASAP. I had to do so since he mentioned I am going to earn. Yup, that was the motivating phrase.
Back on that time, I communicate to users through comments, then I learned about the Messaging option of this site called Inbox. And I bet most of the newbies here don't have a clue about that, let me route you over to that area. Check the little GIF photo below:
If you are a desktop guy:
Click the Gear up on the top left hand side of the site and you'll see that Inbox option, the ninth option on the list after My Galleries and before Earn More.
If you are more on mobile:

The gear is located in the bottom right hand side next to the notification icon. Clicking on it will give you the list of options, and it is also after My Galleries and before Earn More.
Honestly, I am not into the Inbox option. Here's my reasons:
> Slow
Navigating to it is slow and I don't have a single idea why, it takes time to move from one message to another
> Can't Add Images
Yup yup, there's no option to add images! It allows only texts and characters, simply no images allowed.
> Deleting A Message Is Challenging
This is the most annoying thing. It takes a lot of effort deleting a single message. It gives you the notion that it has been deleted but actually no. After reloading the page, the message appears again. So yeah, I ended up hoarding the messages I get.
Phase II. Birth of Chat
Eleven months ago, Micky-the-Slanted-Salerno introduced bitLanders' newest feature at that time - Chat with other bitLanders. Here's the direct link:
The new way to communicate with co-bitLanders users. The "CHAT" box was how it was referred to by that time. The same box on the bottom right hand of the content feed can be spotted and everyone who want to communicate with other users can go click on it and start socializing through chat.
Benefits:
> Announcements are given by Micky through Chat.
> Immediately being able to talk to other users.
> Real time information distribution
Disadvantages:
> Buzz dealers started to show up
> Users tend to communicate in their own dialect making it hard for everyone to understand certain phrases or questions.
> Spammers started to appear due to buzz dealers.

Phase III. Private Chat Enabled
Although bitLanders had indeed given birth to the Chat feature, it only provides a public communication. Private communication with another user was not yet possible at that time but then, after just a week, a new feature was again introduced. That is the Private Chat so everyone can directly talk to anyone else via chat and discuss matters privately.
image from Micky's blog
It was a better option as there are users who would like to really spend chatting privately, I am among these people. So with this, there were different things that had happened to bitLanders. There were friendships which had been created between different users fro different countries. Close relationships were also established and there were even some who had found love amongst the other users.
I do believe it was a perfect feature which was indeed a blessing to every user in the bitLanders community. I love the feature and I had been able to talk personally to my friends here as well.
To start a private chat with another user, simply click on the user's avatar to open a new chat box with him.
Phase IV. English Only Policy
Whilst I had mentioned that the Chat had been a helpful one to the entire community, there were also disadvantages that had been brought into the table. I did mention the different languages being used by other users which is making it hard for the entire community who are online at that time to understand.
Thus some or shall I say most of the users are asking buzz deals in their own language so bitLanders started to make the Chat an English speaking zone only.
image from Micky's blog
Now this is only for the Global Chat but with private chat, other languages is allowed which is understandable. So to those who are not following the specific policy, the users will be muted for specific amount of time.
Phase V. Chat Survey
In just around two months or more, there was a revolutionary change that had occurred in bitLanders chat. When it was only used for solely communication between users and the online community, bitLanders went extra mile and introduced this very nice and really helpful feature - bitLanders Survey Chat.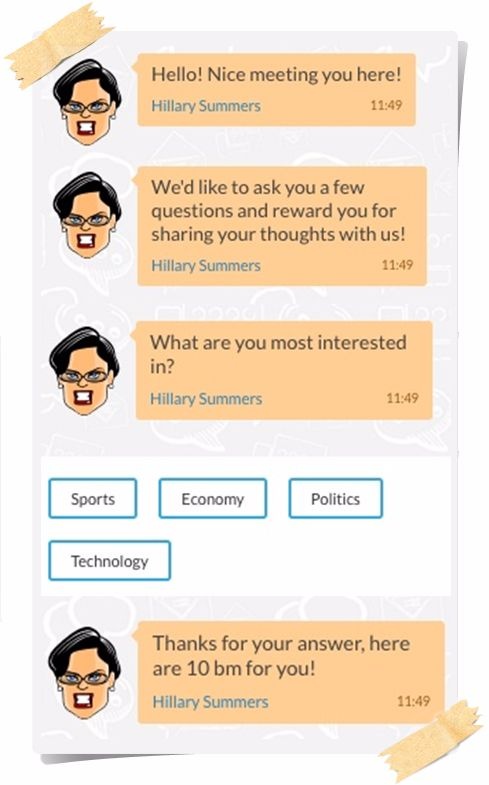 It's name sounds really interesting and so when bitLanders had started offering it, I started participating with the chat survey.
It pretty started with just Hillary Summers giving the questions and each question would provide 10 bitMiles Loyalty Points to each answer. The chat time will differ on the specific topic which is being given by Miss Hillary. There were different topics each and everyday and so there are also different questions being given. There are topics about Politics, Food, travel and a lot more. It varies and it is becoming really interesting.
Phase VI. Chat Survey Plus More Points
As everyone already knows, the chat is a
technology
that allows an interactive and immediate way to interact with users, and that gathers over 25,000 answers a day on subjects like news, politics, sports, and more.
The Chat Survey has been provided to all users in the bitLanders community, it provides a huge number of participants and so there's a great opportunity as well to provide more questions, more surveys and generate more answers too!
I do believe this is the main reason as to why bitLanders started giving out more and more questions and because of that, instead of only Hillary Summers giving out the questions as how it was before, both bitLanders and Micky-the-Slanted-Salerno are now into the Chat Survey as a Chat Bot or robot, it's a script created to automatically provide the questions and provide responses at the same time after receiving the replies.
It's quite interesting that these bots are able to respond accordingly to whatever is the given answer by the users.
There are lots of topics given by the team and two of them are actually being offered by bitLanders for double reward if one has to blog about it. It is one of the many reasons why we have to participate in the said survey. Here are the list of reasons why we as users in this social networking site should participate in these surveys:
1. Informative.
Most of the survey questions are actually not familiar to us. I have bumped into these questions which are out of nowhere and I wish I am educated about it but then bitLanders is very initiative that they are also giving us the information we need regarding a certain topic which we would get a wrong answer. Or even if we get the answer right from the options, the team would still be providing the information.
Here's an example: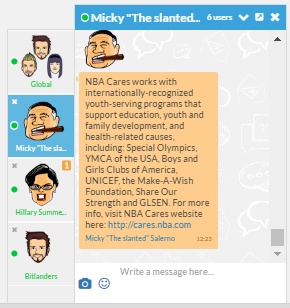 That's for the Sports and Social Good topic and Micky was providing certain information on about NBA Cares.
2. More bitMiles.
What's very nice about survey questions is that the bitMiles loyalty points given are the same regardless if your answer is right wrong. At first it was solely 10 bitmiles but then as more and more surveys come, the points started to increase. The points in bit-miles.com is actually way way bigger compared to what we get from the bitLanders chat. Believe me or not but the bitMiles would even reach around 35000 bitMiles loyalty points!
Here's an example: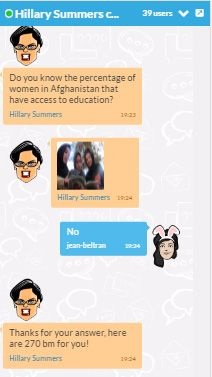 Miss Hillary Summers gave 270 bitMiles Loyalty Points here instead of the usual 10 bitMiles.

3. Double Rewards on Blog topics.
I actually created a separate blog on why it is beneficial for the users to join and participate the said chat survey. That blog explains further the other reasons. And because I had listed them on that blog already, I would just like to emphasize this that the site has offered us the option to blog about the certain topics which have been listed in Micky's blogs.
Currently, they are offering the Sports and Social Good and the Sweets Topics. Grab your keyboard, keypad and anything where you can write them all. Enjoy and be rewarded double!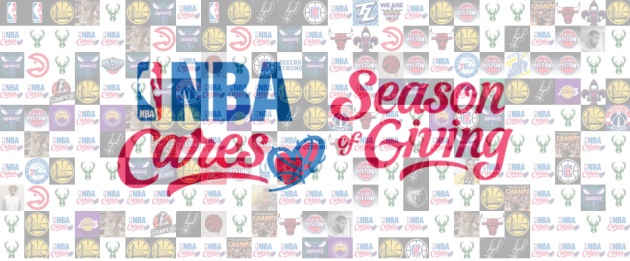 You may want to check my blogs regarding the two topics available right now for double rewards:
Take care. Till next time!
Copyright 2016. Jean Beltran-Figues
All rights reserved