You can not just eat good food. You've got to talk about it too. And you've got to talk about it somebody who understands that kind of food"--Kurt Vonnegut Jr.
Every part of the world has their own food, their own favorite snacks, that speaks of their culture, who they are and what their taste bud is.
Ilocos Sur maybe known for the Heritage Site, the Calle Crisologo(cobbled-stone street), with "kalesa" or horse-driven carriage passing along, or that famous deep fried pork belly popularly know as "bagnet", but the province can offer more of their culture through their favorite snacks.
Here in Ilocos Sur, we have our food that we consider as meryenda or snacks. Some are prepared easy, some are not but definitely done from the heart. Each snacks has its own characteristic based on their tastes, that can be a little bit salty and sour, sweet and savory. Making them Ilocos' delicacies, and some has been popular in some parts of the Philippines.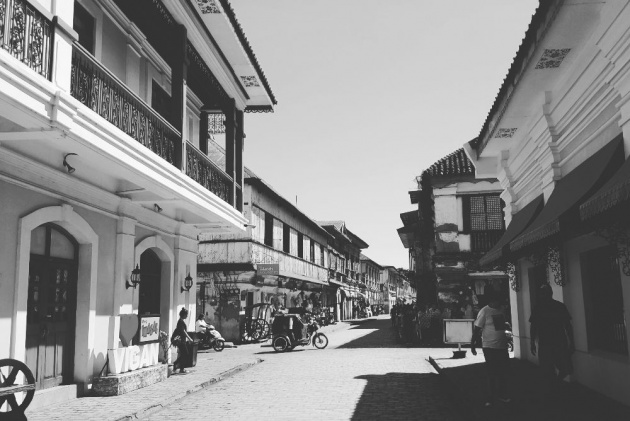 Vigan's famous Calle Crisologo
*Image is mine
What to expect or see in Ilocanos' snacks?
Our taste buds are quite adventurous. We seem to have all the different tastes in every food that we eat, we got the sweet, sour, salty and we have savory too.
Most of what we have speaks of how wide our farmlands are, we always have rice in our snacks too, and also speaks of how warm our hearts can be. And we how much we love the orange color, that is from using the atsuete or anatto.
Be also ready to have your tummy full since they are heavy, filled with carbohydrates and protein.
What are the Ilocos' famous snacks?
1. Empanada. This snack is fried. It is made out of rice dough (rice flour or "galapong", mixed with a little bit of water), and the filling are whole egg, longganisa(local sausage), and vegetables. Complete meal right?
This snacks comes with a vinegar(sukang iloco), with shallots or onions and chili. And this is what makes it different to Batac's emapanda for it comes with catsup.
Here in Vigan City, you can see a lot so stalls selling empanada along Plaza Burgos.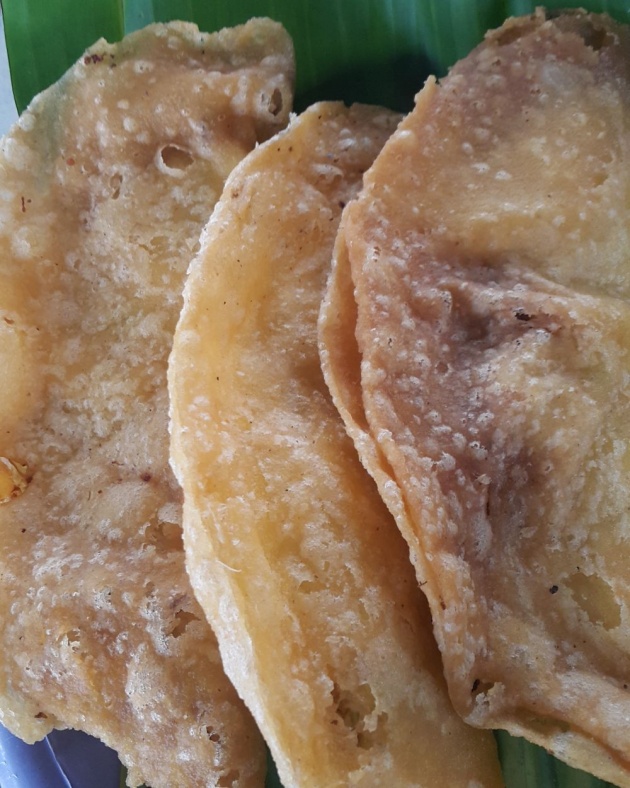 Vigan Empanada
*Image is mine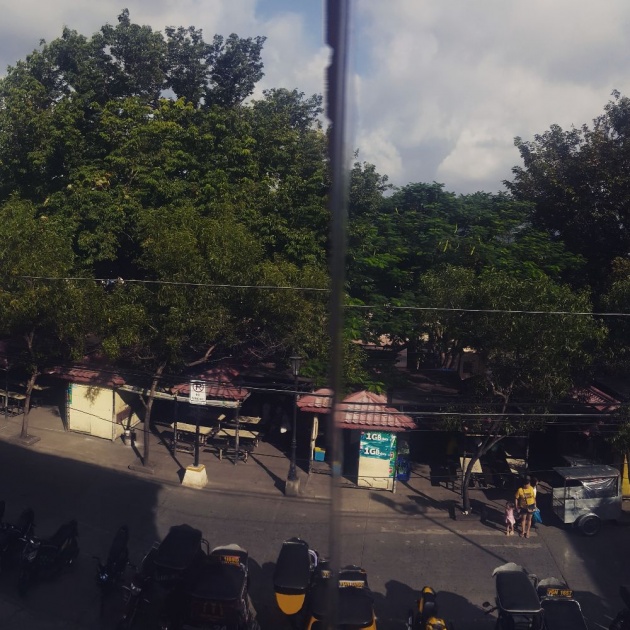 The stalls that sells Vigan Empanada
*Image is Mine.
2. Okoy. This is a local version of shrimp fritters. The shrimp that are being used here are the small ones, mixed with a batter made out of flour, cornstarch, egg, water salt and pepper.
They are fried too like the empanada and comes with the same kind of dipping.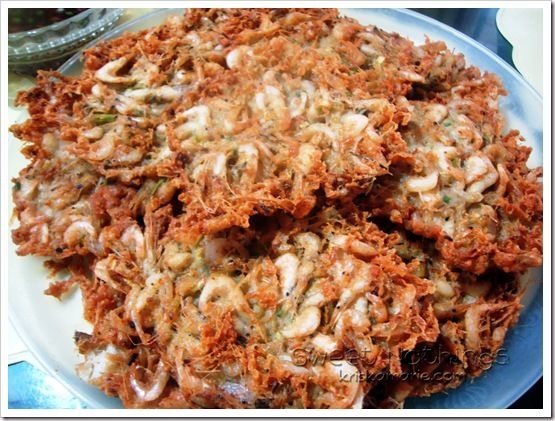 Okoy
*Image credited to Kriska Marie
3. Miki. This is a noodle soup snacks or it also considered as a dish. The noodles is made out of flour, egg and water, as simple as that.
Cooked in chicken broth and with chicken strips, the orange color is from the atsuete, some served it with boiled egg and chopped chives on top.
Another complete meal because it has the chicken, the soup and the noodles, who can not "burp" with it?
And this snacks tastes great with...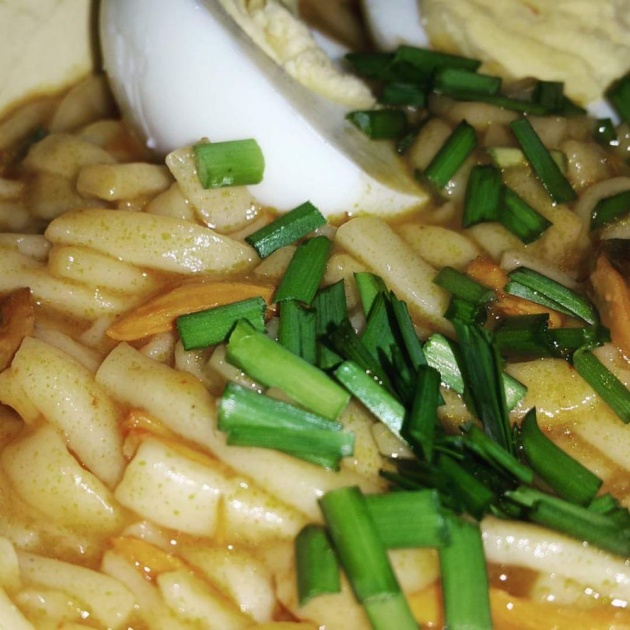 Miki
*Image is Mine
4. Sinuman or rice cake. Most of the time, this filling snacks is served after a "palualo", a rosary prayer for our departed loved ones.
A steamed glutinous rice, mixed with unprocessed sugar or locally known as barisangsang, brown sugar can be a substitute, and topped with cooked coconut meat.
This can be served as dessert too.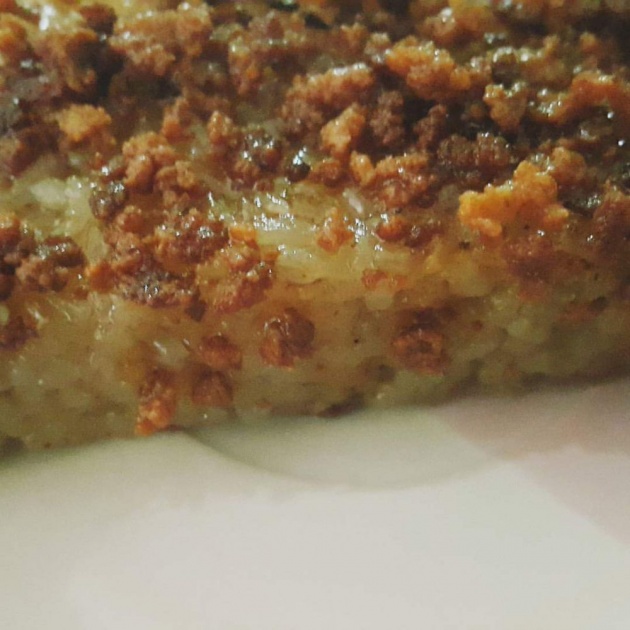 Sinuman
*Image is mine
5. Pipian. The snacks that I considered to be the longest to prepare. The rice has to pan roasted then grounded, that this process gives the "pipian" that aroma.
The rice is cooked with chicken(usually thighs or legs), with atsuete that gives that orange color and kamias fruit is added that gives that bite of sourness.
It looks like a famous "kare-kare".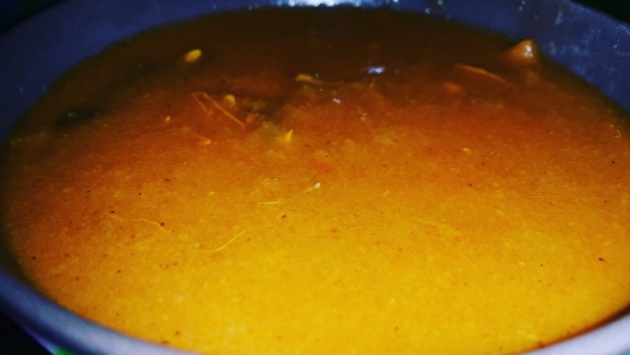 Pipian
*Image is mine
Next time you visit Ilocandia, try our filling snacks too and hope you enjoy them as much as we always do.
Here is a video of how Vigan Empanada is being prepared.
*Video is credited to youtube via Bernie Cervantes