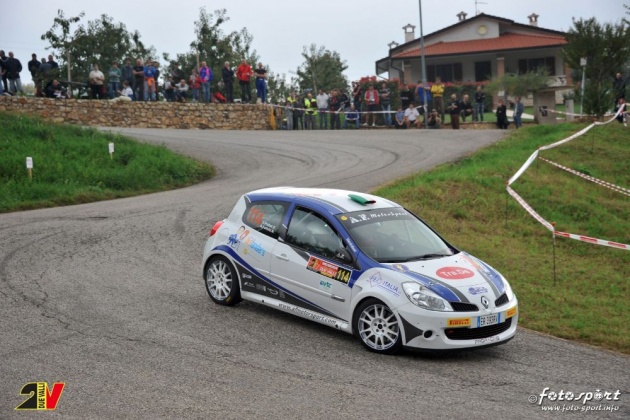 Last October, during the final round of the Italian Rally Championship in Verona, the brand Bitlanders has made its appearance. For the first time on a racing car.
This was possible during the Due Valli Rally TRN, the Renault Clio R3C AF Motorsport crew consisted in Alessandro Fatichi and Cristian Pollini.
We have to say it was a very successful debut, class win and 12th absolute.
We took the opportunity to exchange impressions after the race with Alessandro and Cristian.
RF:
Alessandro the great satisfaction to be the first crew with the logo Bitlanders connected to the world of Bitcoin?
AF:
Enormous satisfaction, both for the opportunity and for the victory in our class. We've been advantaged by a problem for our rivals, but the important thing was not to make mistakes and we've been good at it.
Being the first to publicize Bitlanders in this sport is very important and with possible positive effects in the specialty and in sport in general. A heartfelt thanks to Francesco Rulli and all his staff for this opportunity. We hope to always be up to these opportunities that are offered to us.
Let us now turn to those who are on the right seat of the passenger and that dictates the rhythm of the notes in the race.
RF:
Cristian, tell us how was the race and the difficulties you have had especially in trials longer
CP:
In the words of Alessandro, we tried not to make mistakes especially in the stage longer than 25km. Evidence that was fatal to our opponent, who because of a puncture had lost a lot. Our pace was smooth and without big mistakes. Some problems in the stage at night with the lights not illuminating the road well. Then the next day everything went pretty well, except for one small problem with the power button that worried us a bit before reaching the assistance. Then we finished calmly.
By partnering with Rallyciak Videoproductions we are always able to provide you with a summary of the race and the camera car of every stage.
Enjoy!
Until next time...
Camera Car PS3 Cà del Diaolo
Race Fever Tv

From the world of car races, the adrenalin which causes the fever for this wonderful sport.From rallies to the races on all types of tracks, the planet of roaring engines shown by fans,trying to share this passion with all who love races and all who are literally "sick" of this sport.
Increasing the culture and knowledge of Motorsport.