Patience is a virtue.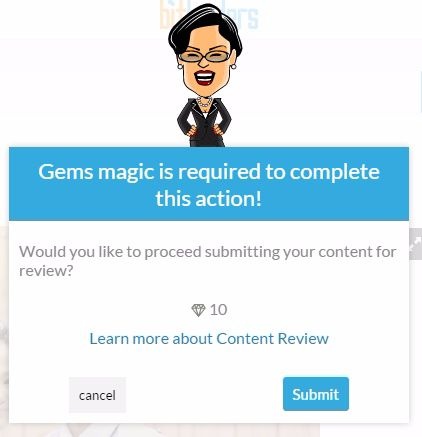 I had waited half a month to lower down the amount for my content review to ten gems. I should say patience had paid off and yesterday, at long last, I had finally submitted a content, which is a gallery for review and it only had cost me ten gems!

You should have seen me happily smiling upon clicking on the submit button! For the past months, each content review would cost me around 50 or 60 gems which I suppose is because I had been submitting them right after another. I had to learn to be patient of course for it to lower down.

So yes, yesterday I did submit one, today, when I checked and tried to submit another content, it costs me 20 gems, so I am again waiting for it. But this time, I am waiting for two things, one is for the cost to lower down to ten gems again and the other is for the review from Miss Hillary. I hope she won't be taking long for the review.

I am thankful for my google keep for storing the information of the last submission and the one which I had submitted yesterday.