To create my short animated film, Ode to a Post-it Note, it took 3 months from conception to completion. The film from concept to completion took about three months. There was a month of pre-production and planning, a month of shooting and animating and a month of post-production, which involved editing, color correction, original music scoring, and sound design.
This has definitely been the quickest turn around time for a film I have ever made. Normally my animated shorts take 9 months to complete from start to finish. But since this was a commissioned project and we had a tight deadline, it all had to come together.
We had a pretty tight deadline to hit since we wanted to launch the video in time for Father's Day…which was when we started only four months away. 3M still needed a month to get the film set up on their YouTube channel so I had to deliver earlier than expected. The entire shoot in my office took 5 days and I spent around 3 days in St. Paul to shoot all the scenes there.
Of course, as the filmmaker I play myself at the beginning in my office searching for Father's Day present ideas online. (Yes, my desk actually looks like that with a clutter of Post-it Note 'to do' lists). In the film, there's a Post-it Note 'to do' hanging off the bottom of my computer that says, "Sunday: Pick up dad from airport @ 3pm" So I'm leaving to go to the airport to pick him up when I leave the room. Luckily the Post-it Note hero figures it out and flies (origami crane style) to my feet just before I'm about to leave the house and get in my car.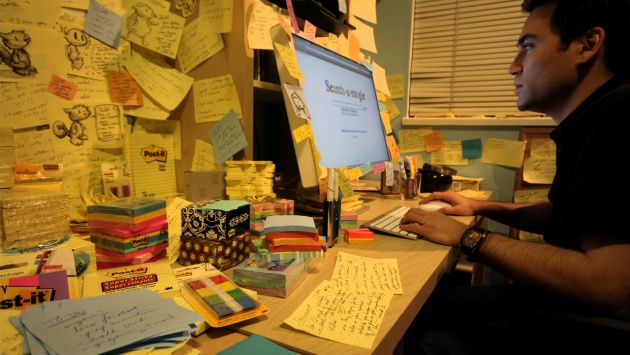 In the scene where I pick up my dad, I actually pick up my real father, who lives in a city, which is a 4-hour drive from Vancouver. So I had to drive 4 hours just to capture that shot. But it was very important to me that if we were going to celebrate father's day, my actual father appear in the film. I thought about hiring actors but since the film has a father's day theme, I didn't feel right casting someone else to play my dad. Since I appear in the film as the son who has to pick up his dad from the airport, I called my dad up and asked if he'd be all right with being in the film. He said of course so I actually had to travel back to my hometown of Kelowna, BC to shoot that shot with my Father, Robert Stearns. My mother is actually taking the photos during that scene. My friend, Jen Kato, plays the girl at the airport who uses the Post-it Note as a book mark. If you look close at that shot, you can notice she's reading Alice in Wonderland, which is symbolic of the Post-it Notes magical journey. The plane acts as the rabbit hole as the Post-it Note crosses into the land of the 3M Innovation Centre.
Arthur Fry was the only person cast in the film and he's not an actor so I coached him through the actions I needed him to perform. I actually directed Art like a large animated puppet. You can tell that with his punctuated movements. It helps add to the animated feel of the film. Even though, we took up to 10 takes of a scene with Art, he really enjoyed the process and never once complained. Even considering it was below freezing that morning we shot in St. Paul. I have great respect for Art and it was truly an honor meeting him and saying "thanks!" for creating such an amazing invention.
Another interesting note is that I had to purchase the domain, Super Internet Search, for legal reasons. If you go to www.superinternetsearch.com there is a link to the film on YouTube.
Watch Ode to a Post-it Note here on my WebTV at www.filmannex.com/webtv/meditatingbunny/movie/ode-to-a-post-it-note/32362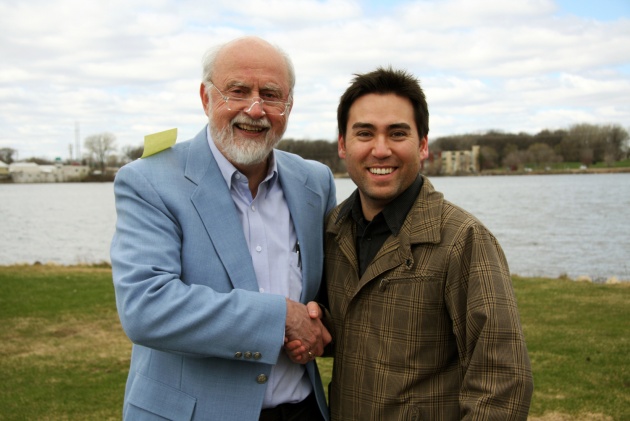 Me with the inventor of the Post-it Note and mentor, Art Fry in St. Paul, Minnesota with the 3M headquarters in the background.