Matterhorn - August 2013 - Traverse From Lion to Hornli Ridge - 4478m
The Matterhorn, the king of mountains, is the most-photographed mountain in the world. It is myth and emblem for Alpinists and photographers alike, as well as Switzerland's most famous landmark and symbol. In 2015, Zermatt will celebrate its mountain in the context of numerous events, all relating to the first ascent of the famous mountain by Zermatt mountain guides and Englishman Edward Whymper in 1865, 150 years ago.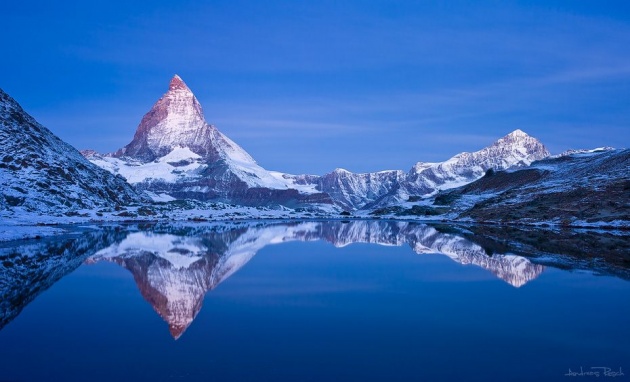 Climbing Matterhorn, Hornli Ridge
Upon viewing the Matterhorn, both climbers and nonclimbers alike are usually overwhelmed with a desire to climb it.
For the truly experienced alpinist an ascent of the Hörnligrat or Liongrat in good conditions is not difficult compared to some of the classic technical climbs of the Alps. You must be confident and competent at route finding, climbing UIAA II (Class 4) moving together or unroped, and climbing rock and mixed terrain in crampons both up and down. The climb is dangerous due to rock fall and the fact that you are frequently climbing unbelayed or unroped in positions where a fall would certainly be fatal.
A change in the weather with the addition of water, snow, or ice - especially if combined with poor visibility - can quickly change even the easiest route from a pleasant outing to a life and death struggle.

If you are planning an ascent of the Matterhorn, do your research and know your personal limits. The trip reports here (see sidebar) offer some insight into what the mountain can be like and there is much information on the Internet. It is also interesting to read the prerequisites placed on clients by the professional guides (see the links below). Remember that many writers boost their egos by trivializing difficulties. An ascent of the Hörnligrat (the easiest route) is not a simple undertaking. Unguided parties can expect a 12 to 14 hour round trip.
For those who do not feel that they have the experience and skill to climb the mountain on their own, there is the option of taking a guide. This is an expensive option since most of the guide services not only charge a high fee (Zermatt guides - 1380 CHF) for the Matterhorn, but also require up to two climbs with them prior to doing the Matterhorn. Experiences with guides especially on the Matterhorn get mixed reviews. Do your research and make your own decision.

The king of mountains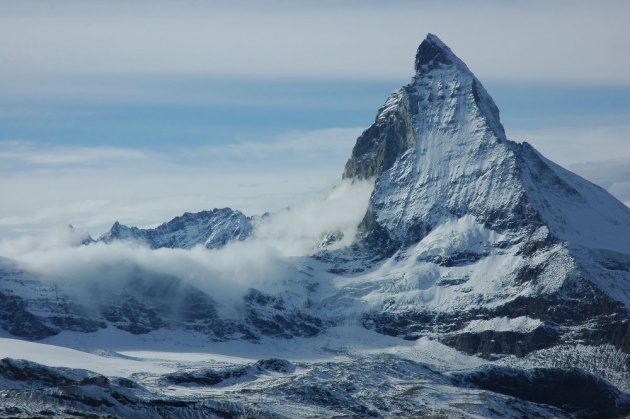 Blog about The Matterhorn mountain .
Credits to: Google Images