The highest mountains of the world are situated in the northeast of our country,Pakistan.The northern regions are surrounded by the three mountain ranges The Hamalayas
,



The mountain ranges are covered with the snow in the most part of the year.That is why they are beyond the reach of the tourists and the visitors.therefore,they are the attractive for the people.The mighty karakoram range is matchless in beauty.It has loftiest peaks of the world.There are as many as hundred peaks in the radius of the 185 km of the towns of Gilgit and the Skardu
.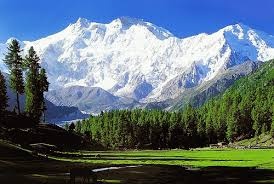 The second highest peak of the world and the highest peak in the PakistanGodwin Austin or K-2,
.The Karakoram range has the average height of the 6000 meters above the sea level.It has width of the 240 km and length about 700 km.
The Indus river runs between Himalayas and the Karakoram.It runs about 100 miles through fertile land and at the end goes in the Arabian sea.The Karakoram is very important for Pakistan from the defence point of the view.It protects country from being invaded from this side.It is most glaciated area of the world.SIACHEN GLACIER which is the highest battle field in the world is also found in this area.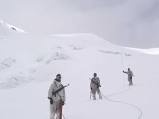 Siachen is 75 km long and is covered with the snow throughtout the year.There are many mountains passing in this mountaon ranges,which open for the five or the six months in the year fot the visitors to visit. During the season of the summer.
In 1954 the most of the glaciers and high peaks of the range were discovered.The Karakoram also serves as the Indus river.It suplies large amount of the water to the river Indus.
The population of the area is scattered and small.Winter in very difficult in this region.Most people are the farmers and breed cattle.Some people are nomadic and semi-nomadic.The Karakoram range is blessed with the some of the most beautiful valleys I the world.Gilgit,hunza and the baltistan are the moost beautiful valleys in this range.Baltistan is famous for its hand-woven cloth,pattah,which is ideal for the jackets and coats.
The favourite sport in Gilgit is Polo.

Polo tournments held every year in the November ehich attract visiters and participants.The inhabitants of Hunza are well known for hteir long life,and this they attribute to their deit.Hunza is ideal for mountaineering,tracking and sking.