The growth of Judo in the US has been stalled for many years with high dropout rates. The question is how do we correct the situation with those that do enter the world of Judo?
At my gym, basketball is a big program from youth to senior. Every lunch hour there are four courts in full use with these recreational athletes playing pickup games. The evening programs are also a time for recreational athletes. During the day and afternoon the elementary and high school kids are playing and practicing. The transition from junior player to high school to college player is natural and so is the movement to the recreational lunch and evening time pickup game player. There are also basketball leagues available for all age groups. The sport can be played for a lifetime. Many of these players were former high school and college players. For these folks basketball is great exercise fostering continued friendships and most importantly, it is FUN!
Senseis (recreational players) teaching children at Gardena Judo Club.
Photo by Ray Matsumoto
Why not Judo? The focus needs to be on retention and making it fun. So the question is how do we retain the judokas after high school and college and encourage them to become recreational players for life?
Kano Shihan recognized that there are three aspects of Judo and each aspect has its own state of importance as the judoka ages and grows. The first was recognizing the need to practice and become skillful in defense against attack, the second, to also perfect the mind and body and the third, to use energy in an optimal manner (seiryoku zenyo). The Judoka is also taught to understand the essence of mutual benefit and welfare (Jita Kyoei). Kano Shihan believed that from this comes the spirit of honor, faith and loyalty. The moral code of the Judoka binds us together and builds friendships and long term relationships. It is necessary to perpetuate the need to pass on the skills as well as the message of Jita Kyoei. The more we practice and learn and relate to each other the more we will stay on the mat. Judo relationships and friendships will remain strong throughout life everywhere Judo is practiced. We all pass through life's stages, from youth to old age, from actively competing to being involved in Judo as a recreational sport where learning and friendships can continue through regular practice while providing support and guidance to younger judokas. We need to create the joy of the Judo community.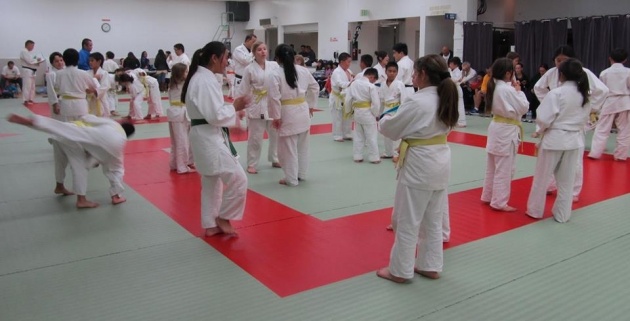 Recreational players teaching and securing the future of Judo at Gardena Judo Club.
Photo by Ray Matsumoto
These recreational judokas need to be cultivated, utilized and respected. The growth of US Judo is dependent on acquiring new students and on keeping recreational judokas on the mat practicing and competing, teaching, refereeing, coaching, running shiais and contributing to the development of Judo. By having this continuous path available we will guarantee that the dropout rate will decline and our numbers will increase. Judo will become an essential part of one's joy in life and the knowledge acquired will always be passed on.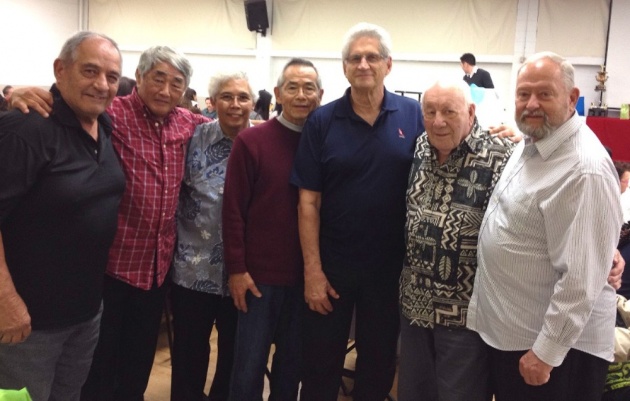 Some recreational players who are contributing to building US Judo. Frank Morales, IJF-A, 7th Dan, Hayward Nishioka, IJF-A, 8th Dan, Low Dong, PJC, 6th Dan, Tosh Seino, 7th Dan, Mel Appelbaum, IJF-A, 8th Dan, Hal Sharp, 9th Dan, Tom Seabasty, IJF-A, 7th Dan.
Photo taken at the 2014 Gardena Judo Club Xmas Party.
Mel Appelbaum (recreational Player) teaching turnovers at Gardena Judo Club.
photo by Ray Matsumoto
Blog By: Mel Appelbaum, NYAC Judo
The #Judo #Bitcoin #Rewards are live on BitLanders Judo Rewards Page, building a community of 500,000 users and 180 million friends and fans to support the Olympic Sport of Judo! Check it out and spread the News!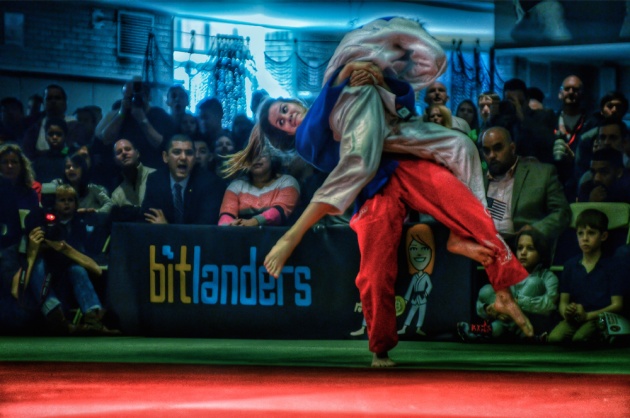 picture by Bauzen