As I'm a proud cricket nut, so my blogs are mostly about cricket. My today's blog is about the excellent performance of Team Pakistan in the ICC Champions Trophy 2017 which had been played recently in the last month. From being the underdogs to win this tournament to the unpredictable rise, this is what we have seen from the Team Pakistan in this tournament. To read about this astonishing rise of Team Pakistan, let's move in the past and find Pakistan's road to ICC Champions Trophy 2017.
Image source : dawn.com
Pakistani team bowing their heads down in honor to thank their god.

Road to Champions Trophy 2017
Back in 2015, there was a time, when Pakistan Cricket Team qualification in ICC Champions Trophy was in danger because according to the pattern of International Cricket Council (ICC) only top eight teams can be qualify for the Champions Trophy 2017 as on the cut-off date 30 September 2015. However Pakistan made it possible to qualify for the Champions Trophy 2017 ranked at no.8 in the ICC rankings with 90 points just two points above than the West Indies who failed to qualify with 88 points and below than the 96 points Bangladesh.
Image source : Dawn.com/reuter
The Make or Break situation…
The ICC Champions Trophy began on 01 June 2017. By hook or by crook Pakistan finally managed to qualify for the tournament. Neither any cricket commentator nor any cricket expert would've thought that Pakistan will be going to win this trophy. And their thought became slightly correct when Pakistan lost its tournament opener badly against the arch rival India by more than 150 runs.
Their ordinary performance against India became the cause of the hardcore criticism and hatred they have received from all around the World. Everybody was busy in criticizing the Pakistan Cricket Team and highlighting the mistakes Pakistan had made against India, as if a storm of criticism has tackled the Pakistan Team. But as we all know, after a storm comes a calm, the entire Pakistani Team had remained calm and didn't get panicked and moved on with working on their mistakes.
Now they weren't afford to lose any other match, because it will eliminate Pakistan from the tournament. The next match was against the no.1 O.D.I team South Africa. Team Pakistan, as they are famous for their unpredictability, rises from the ashes and defeated South Africa in a thrilling way in the rain affected match. This win was much needed for Pakistan as it provides goose bumps to their moral after their defeat in the tournament opener.
Image source : espncricinfo.com
Hassan Ali (bowler of the tournament) celebrating after hitting bowled to Faf DuPlesis against South Africa.
Pakistani team were entered into "make or break" situation, which means their next and last match of the group will be 'do or die' or 'go big or go home' against Sri Lanka. Somehow Pakistan, luckily gets succeed to beat Sri Lanka in a nail bitter finish and reached the semi-finals of the tournament. Pakistan had also reached the semi finals of the champion trophy before, but never made into the finals. This time they were going to face the hosts England in Cardiff, which were the hot favorites to win this tournament as well as the only unbeaten team of the tournament.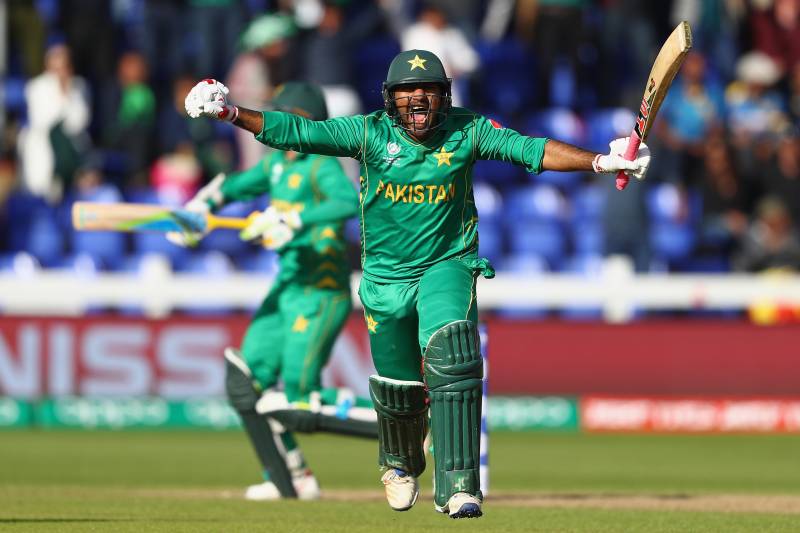 Image source: google.com
The Pakistan's skipper Sarfaraz Ahmed celebrating after playing a winning shot against Sri Lanka.
Pakistan and England were facing each other in the first semi final of the tournament. The hosts, while batting first trapped under the superb bowling by Pakistan which restricted England on a low target of 211 with Hassan Ali's 3 wickets for 35 runs. Pakistan in chase of England 211 runs started off its innings classically with a fantastic half centuries from the opening pair. With couple of wickets down, Pakistan slowly but surely pulled of a huge upset of the tournament by defeating England in their home ground as well as reaching the finals of the ICC Champions Trophy 2017 for the first time in the history.
Image source : google.com
Mohammad Hafeez reaction after reaching the finals of the tournament.
A team which was struggling to qualify for the ICC Champions Trophy 2017 is in the finals now. It all went totally against the predictions that have been made. Pakistan, the no.8 ranked team played like a cornered tiger in this tournament and against all odds and criticism, reached the finals of the tournament in a clinical way.
The Grand Final
Image source : google.com
The captain of both the finalists captured a pic together with holding ICC Champions Trophy.
It's all going to finish from where it begins; Pakistan is going to play the final against its arch rival India who reached here by beating Bangladesh in the semis. It actually doesn't happen so often that India and Pakistan face each other in the finals. Without any doubt this match is going to be the mother of the finals for both the fans of cricketing countries, as they have to watch India v/s Pakistan very often in a cricket match because of their bilateral diplomatic matters which are now worse between each other than ever before. So because of their politic and diplomatic affairs, both the countries haven't any kind of ties between them and so in sports, The India and Pakistan cricket team haven't played a single bilateral series between each other in last 5 years. Due to this and their classic rivalry, the match between these teams would've been watched by the entire world. So the cricket fans were eagerly waiting for the clash between these two teams.
A 30-second TV ad will cost $155,267 (about 1.6 Crore PKR) during the India-Pakistan Champions Trophy Final tomorrow: Business Insider India.
Virat Kohli (the captain of Indian team) won the toss and elected to bowl first. Pakistan while batting first started their innings and gets an early shock when Fakhar Zaman the tremendous opener for Pakistan got caught behind off Bumrah. But this breakthrough provided India more kick than half pence as the decision of caught behind was over turned by the umpires due to the overstepped of the bowler. However Pakistan managed to post a target of 339 runs in 50 over's with the help of Fakhar Zaman's blistering 114 runs.
Image source : google.com
The Pakistani Team mates congratulating Mohammad Amir after his fiery bowling spell against India in Champions Trophy final.
Image source : google.com
Fakhar Zaman celebrating after scoring a century in CT final.
Now the time was for Indian team to chase down the huge target of 339 runs. Indian Team while chasing, couldn't survive the deliveries bowled by Mohammad Amir as he got up the early 3 wickets of the Indian batting top order. And after this the whole Indian batting line up seemed in a mortal hurry. The whole Indian Team all out on a score of 158 runs in chasing 339 runs. And Pakistan won by 180 runs - their BIGGEST EVER victory against India in O.D.Is as well as won the Champions Trophy for the first time in the history.
Image source: google.com
Pakistani team celebrating after the post match ceremony.
The magnificent celebrations :
It was to listen and suddenly a wave of happiness and celebration was emerged among the Pakistanis no matter living all around the World. Everyone wants to celebrate in their own manner; people came out on roads, they were tearing straps, fire crackers, aerial firings, etc. it was all going till the arrival of Pakistan Cricket Team at their homes.
Video source : youtube.com
Pakistani team celebrating in their dressing room.
Thousands of people were gathered outside the Karachi Airport and Pakistani team skipper Sarfaraz Ahmed's home to receive and welcome him with their love and support. Every player of the winning squad received overwhelming love and welcome after reaching at their respective cities.
Video source : youtube.com
A sea of people gathered outside Sarfaraz Ahmed's home to welcome him after winning Champions Trophy.
Fan note :
Image source : google.com
I am always been a cricket lover and fan since my childhood and too much optimistic about my cricket team which is Pakistan. With no cricket at home and ranked no.8 in the O.D.I's, after all this winning ICC Champions Trophy was the moment which broken me into tears. As a nation who had remained a great victim of terrorism for almost a decade, we've got nothing to celebrate in last 10 years. Cricket is the second major thing in Pakistan which followed after religion and it is the only thing which unites us and brings us under one flag and spread joys and happiness to our faces which we had witnessed on 18 June in the form of victory against India. I hope you have enjoyed my write, Thanks. PAKISTAN ZINDABAD!