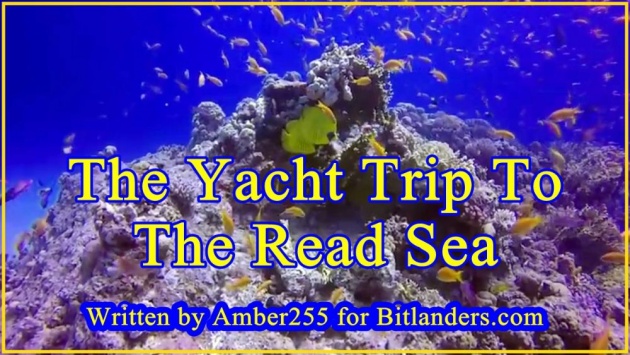 The Yacht Trip To The Red Sea - Photo credit and edition by Amber255 via Bitlanders.com
If you ever have plans to visit Egypt, be sure to rent a yacht trip to the Red Sea. It's an amazing sea with the warm and very clear water in azure color. Every time, I am in Egypt, it is the must to go for snorkeling. I am still a bit afraid for scuba diving, but snorkeling is also very great if you love an underwater world. And there really is what to see.
If not this colorful sea of corals and fish, the Hurghada resort would probably not be on our maps at all. Not surprisingly, the most important thing to visit here is to see the underwater world.
Of course, we have enough beautiful water sites in the world, but this sea is special. For me, the principle of seeing water's infinity, its horizon is happiness. But when this sea is gentle, warm, with a colorful underwater world, when this gorgeous picture connects with nature: palm trees, desert, mountains, colorful buildings typical of this country, people, landscape — that is incomparable!
You can enjoy it both outside and inside. A favorite activity of most part of vacationers is snorkeling. I felt these emotions on myself. Colorful fishes and reefs every time make my day! It's just a huge aquarium in which you swim, and you cannot take your eyes off these mysterious fishes that look at you with human intelligent eyes, as if they understand what we are thinking at this moment, and how we will behave in the future!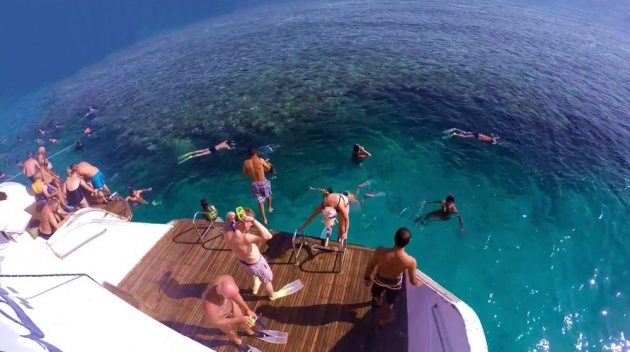 The Yacht Trip To The Red Sea - Photo credit: Amber255 via Bitlanders.com
The Red Sea - A Paradise For Scuba Diving
One of the best world's diving sites, carrying on the name of Red Sea, offers the divers an opportunity getting up into three thousand meters' depth. The Red Sea is known as one of the Wonders of the Seven Underwater World. It is part of the Great Reef Valley, where divers are attracted not only by the incredible variety of wildlife but also by the magnificent reefs, wrecks, coral gardens, and lagoons.
There are around 1,300 species of fish in the Red Sea. You will usually count 12-16 different types of dives, and then the head will start circle from the variety of colors. For the first time, the lions, the sea angels, the Morays or the popular Nemo fishes will be the most impressive. In addition, there are several species of dolphins living in the sea that will welcome the holidaymakers in dive vessels in a friendly way - with their noses protruding over the water.
Beginners should distinguish between diving and snorkeling and choose the second option for the first time diving into the sea. And diving deeper with all equipment is better having a scuba diving license or a reliable and experienced guide. Not prepared properly can cause many problems or even death. There are many stories in Hurghada about scuba divers who lost their lives because of inexperienced small local diving agencies. Due to inexperience and low maintenance in case of a disaster, such instructors leave misfortunate one for sharks just shaking off their responsibility.
So, when choosing an agency for diving, it is highly advisable to get as much information as possible about your underwater world guides or to choose larger diving centers. Deep diving in such centers costs about $ 50- $ 60, and diving will cost $ 25- $ 35. It may be more expensive than the casual passer-by on the street, but you will feel safe with good diving instructors.
As the temperature of the Red Sea water reaches more than 20 ° C at any time of the year, it is a favorable medium for the formation of coral reefs. The beauty of these is unspeakable!
The Red Sea, Egypt - Poto credit: Amber255 via Bitlanders.com
The Famous Coral Reefs in Egypt
Elphinstone Reef
Located next to Marsa Alam, the Elphinstone Reef is attracting many divers. They are fascinated by the colorful and soft corals, the caves of beautiful beauty and the variety of exotic fish. There are giant Moray, sea perches, barracuda flying here, and if you will succeed, you can see even great sea turtles. Experienced divers do not miss the unique opportunity to face predacious sharks in the underwater world. The two most abundant species are long-tailed gray sharks and hammerhead sharks.
El Akhawein Reef
El Akhawein is two tiny islets located in the middle of the Red Sea, 200 km south of Ras Mahomed National Park. The islands are believed to have emerged after the volcanic eruption. Diving is often hampered by blowing winds forming underwater currents, so diving is recommended only for experienced divers. There is a big concentration of colorful corals in a small area, and it is also possible to see the spiked rays, sharks, tuna, numerous exotic fish, and several wrecks.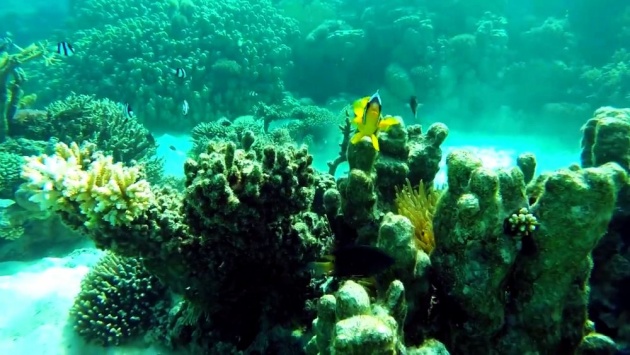 Coral Reefs In The Red Sea - Photo credit: Amber255 via Bitlanders.com
Ras Mohamed (Sharm El Sheikh)
Ras Mohamed is approximately 20 km south of the popular Red Sea resort in Sharm el-Sheikh, in southern Sinai. It is the first national park in Egypt, founded in 1989. Here you can see the rich flora and fauna of the underwater world. Diving is only allowed in certain locations to protect this important reserve. Diving sites such as Anemone, Shark Reef, Yolanda wreckage are suitable for the most advanced divers, but under great weather conditions, beginner diving can go underwater.
Habili Ali (Hurghada)
Habili Ali is part of St. St. Johns Reef System, considered one of the best and most famous diving sites in the Red Sea. The magnificent underwater walls are decorated with sea fans corals and black corals. Gray, reef sharks, hammerhead sharks are met in diving. Other noteworthy reefs: Habili Gafaar - famous for soft corals, bunches of perches, Butterflyfishes, and barracuda. Gota Kebir is a huge reef, famous for its tunnels, and a southern plane, where you can see horse mackerel, barracuda, and sometimes manta. Tunnels are the ideal place for beginner divers. Gota Soraya - is considered the best place to dive along the coral walls of the Red Sea, and there are some protrusions in the wall and cracks. Here you will find glass and reef perch, gray sharks and hammerhead sharks.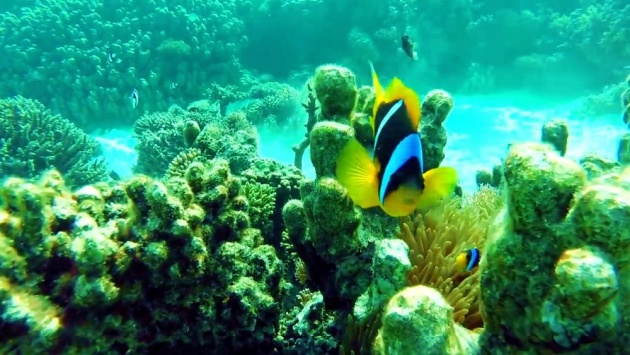 Coral reefs - Photo credit: Amber255 via Bitlanders.com
Daedalus Reef (Hurghada)
The Daedalus Reef is 80 km from the shores of Marsa Alam. The underwater currents are strong, but the breathtaking scenery does not discourage professional divers. They are attracted by sharks, exotic fishes, soft, and hard corals. This is undoubtedly great diving sites with the little touch of a human.
Gota Abu Ramada - a coral garden, for its beauty and the life of the Red Sea, many claims to be more paradise under water.
Sha'ab Ruhr Umm Gamar is a site called the Red Sea Encyclopedia. Here you will find a population of coral reefs and swordfish.
The Carless Reef, also known as the Morays House, attracts both beginners and experienced divers. The two coral towers are home to a large population of the friendly moraine at a depth of 16 meters.
There are many other smaller coral reefs, and even almost every hotel has an entrance into the sea where you can see a wall with corals and colorful fishes.
The most popular reef located next to Hurghada is - Grand Giftun. If you are looking for more peaceful places for your diving and cozy coral reefs or one of the biggest ones I have mentioned above, you have to look further away from the city and tourist centers.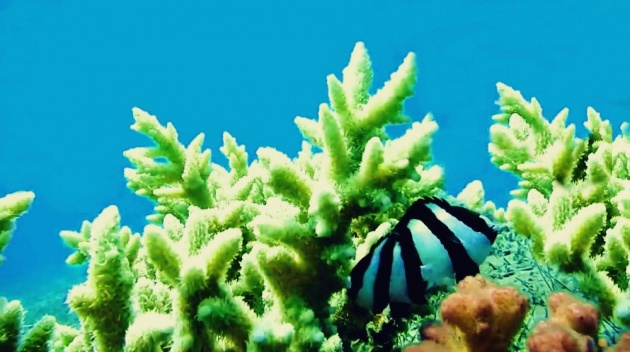 Corrals in the Red Sea - Photo credit: Amber255 via Bitlanders.com
Yacht Trip To The Red Sea - Fishing And Banana Ride
Snorkeling is one of the favorite tourist activities in Egypt. If you go for snorkeling, you can see 200 different coral and unique fishes. Deep diving is a way to discover even more invisible beauties. We chose one day trip to the Red Sea for snorkeling, banana ride, fishing, and also monitor the underwater world in a glass-bottom boat.
For anyone standing on the shores of the Red Sea and looking at the blue water of the sky, it may seem that the sea is given the wrong name. Water blue is eternal, and nothing less red is impossible to imagine. The Red Sea is a place where the ocean meets the desert; it's certainly one of the most exotic and beautiful natural landscapes of the sea on earth.
So, we came by bus to the pierce, took diving equipment and sat into the boat. Just a few minutes, and we are sailing and admiring the beautiful Red Sea! Shades of different colors go into each other - amazing view. Then our boat anchored in the open sea, next to the coral reef. Here, we first had banana and tablet riding by the program. All people with pleasure rode, and 2-3 times.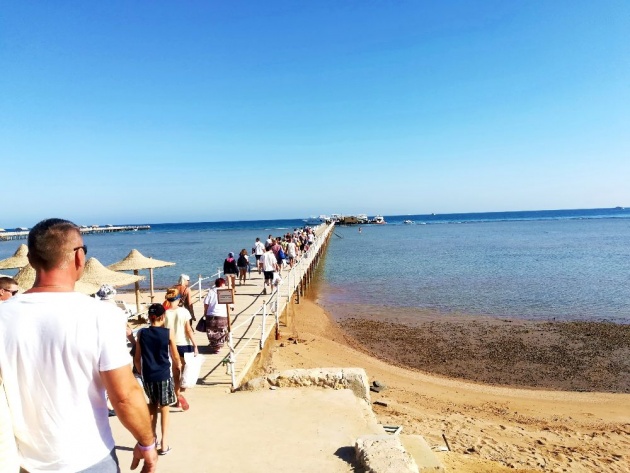 Yacht Trip to the Red Sea - Photo credit: Amber255 via Bitlanders.com
The second our stay was for the fishing in the open sea. Fishing here is an art that maintains time-honored methods that protect against the dangers hidden in reefs. Men and women who wanted go for fishing were given all equipment for that. The fishing rod is simple - a long fishing line on a wooden reel, worn on the arm. Bait - pieces of fish and squid.
Even children went fishing with enthusiasm. I never was a big fan of fishing, so I decided to stay away from this entertainment. The process turned out to be very difficult: the hooks clung to the corals, the fishes ate the squid and dived pleased deep into the sea, this only added more excitement and desire to catch: Well, at least one!
I watched from the side how people were trying to caught any fish, but only one of us succeeded. Funny, but people started making selfies with this fish like it was their own catch. True, the fish then released back into the sea. Probably, it is impossible to catch something here - there was a coral reef near, and maybe these fish were inedible.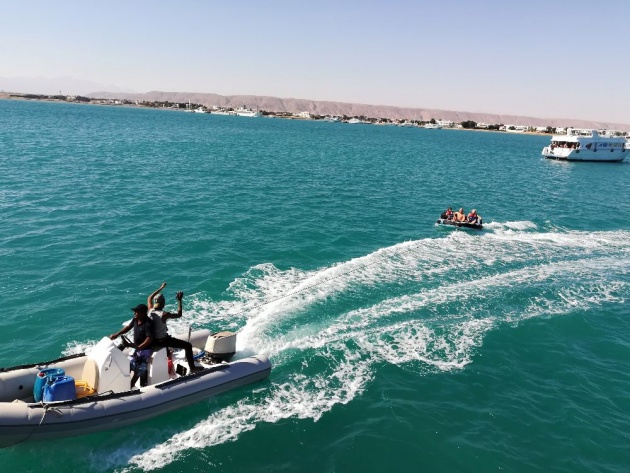 The Yacht Trip To The Red Sea - Photo credit: Amber255 via Bitlanders.com
The Boat With Glass Bottom
The next item on our program was a boat with a glass bottom which showed us the corals of the Red Sea and all its beauty: corals, colorful exotic fishes, and sea creatures. We had to go down there, sit on the chairs, and watch the life of the coral reefs. Moreover, our boat moved very slowly, and we could monitor all the underwater life. Interestingly, however, the pictures turned out not quite clear. We had a very great guide, who told so much interesting to us.
She explained to us about few poisonous fishes who can be dangerous we touch them. Also, there are fishes we saw underwater from which chefs make the gourmet dish, but people cannot eat it more than 50 grams. If they ate more, they simply lose memory, they don't know who they are, what is their name even, and such state last about an hour.
In TheBoat With Glass Bottom - Video credit: Amber255 via Bitlanders.com
Also, we saw fishes with a weight of about 15 kilograms. It is great we looked through the glass on them, because I would afraid to face them. We also saw flying fishes underwater, and l. Later, when we went to the yacht surface, the guide attracted our attention and showed these flying fishes. When the fish predators are starting to attack them, they can make a fly for 15 meters. very nice view. They fly like birds but then submerge in the sea water. Until the next attack.
The underwater world is so beautiful. And a boat with the glass bottom is a great option for those who are afraid to dive or snorkeling. You even don't need entering the water, get wet, but you can perfectly see all the underwater life sitting on the chairs inside and looking through the windows. We got so much info from the guide, and I am happy I recorded it all in the video. I just show a cropped piece of video to show how looked our boat with a glass bottom. Our guide was Russian, and those who don't understand this language, it will not give any info.
After we returned to our yacht, we had lunch there - some sea products with salad. The fried shrimps were very delicious. Thanks to guys which prepared them.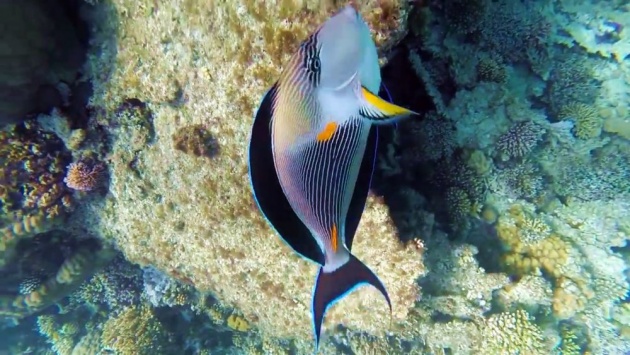 Snorkeling in the Red Sea - Photo credit: Amber255 via Bitlanders.com
Delphines And Snorkeling
There is a place where gather dolphins in the Red Sea near the Hurghada, so our yacht brought us there. We were told that no one knows if they appear today or not. One day they come in bunches and jump in the sea water, making something like a show for tourists. Another day you can wait for a long time, and they do not come. The guide said, yesterday they saw dolphins; it was a successful day. But she cannot promise if we get the show today of these sea creatures.
We were lucky. We saw them. They came in a bunch and jumped down and up a few minutes sailing far away from our yacht. Some people wanted to film them, but the guide said: just enjoy this view, you may never see it again. And you know - it is something wild and nice. Of course, you can see dolphins in any sea museum or Dolphinarium, to watch their show, and I guess, many of us saw it. But this is something special. Those dolphins are free: they jump, they make some kind of sound without any training. It simply enchants you. You understand that all live creatures should live in such a wild environment where they are born and suited to live. Dolphins should be free in the wilderness of water and enjoy such kind of life.
We left dolphins site and sailed to the coral place. I do not know exactly what the place it was, but corals were very spectacular, and the world under the water revealed to us all its beauty. The clear water showed a big spectrum of colors. Corals and fishes were so rich in color, and they were very different from those soft colors we saw through the glass in a boat. It was a very clear view now.
Corals, animals, mollusks, fish in Egypt are very protected, so you can admire the stunning bottom of the hotel. But going to the open sea, you can see more diverse corals and fishes.
Snorkeling in the Red Sea, Hurghada - Video credit: Amber255 via Bitlanders.com
Underwater I met a huge manta ray, fishes eagles, and quite big Napoleon fishes. Seeing manta, I could not believe my eyes, even at a sufficiently long distance, she looked huge and seemed to float in the water. The distance to this fish was decent, and she walked with great speed, so it was not possible to catch up with her, and until I realized what it was - she was carried away. But the eagle rays gave themselves to examine in more detail. They sailed, circled around us for a long time, giving us the opportunity to examine them from all sides.
The bulk of the living creatures that inhabit the coral reef are not as big fish as Napoleons or morays, but rather small butterflyfishes, clown fishes, angelfishes, surgeonfishes, and so on.
The water is insanely salty: it is both good and bad at the same time. It is very easy to float, but it hurts everything if it gets into the eye or mouth - not a pleasant sensation. I was in a life jacket, and small redfishes attacked me from all sides, swiftly swimming and just as rapidly turning around at a distance of 5 cm, in fear, swam away. An hour in the water was not noticeable.
Every time I came to Egypt and go for snorkeling, I explore the undersea world again and again from the new. It is like the same, but at the same time, it is different every time. And again, it was not enough for me. I know, I will come back and dive into these clear waters again and again. I feel ill with it.



Everyone loves to fly, and flying underwater is even better than flying in air because there are things around you. Graham Hawkes




Credit: brainyquote.com






On The Final Note
For many years in the resorts of the Hurghada region, divers are entering a different world, admired by hard and soft corals, turtles, dolphins, rays, fishes napoleons, and broken ship cemeteries. No river flows into the Red Sea, so the water is clear here. Heat, excellent visibility, coral and fish abundance attract divers from all over the world. If you at least once try diving or snorkeling, you start claiming that it is a paradise under water.
I am constantly asked - why do we return to the Red Sea time after time. It seems we have been in many more exotic places, so what can attract in such an ordinary place like Egypt? We are attracted by the life-filled Red Sea, all its diversity, colorfulness, and richness of its underwater world. For this, we can forgive some flaws of local hotels, the lack of excellent service offered by the staff, and much more.
The Red Sea and its inhabitants deserve the most enthusiastic emotions, and most importantly, all this diversity is very close to any tourist who is not afraid to hang his head under the water.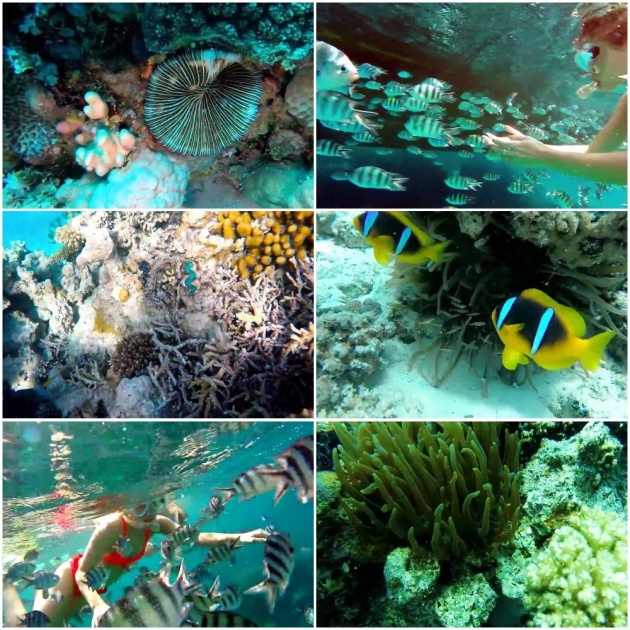 Snorkeling in the Red Sea - Photo credit: Amber255 via Bitlanders.com
When I first saw all this beauty, I experienced a feeling of great happiness, which happens only in early childhood. With age, just fewer things cause our interest, we have seen and know almost everything already, but the underwater world of the Red Sea cannot fail to win your heart, it makes you come to it as often as possible.



Sink beneath the surface and you will be free.




Credit: women.com



Have Fun At Your Vacation
**************************************************************************************************
Thank you for stopping by and reading my blog.
2018, All Rights Reserved.
You are very welcome to join Bitlanders and share your valuable knowledge and opinion.
**************************************************************************************************