TOMATO CHUTTNI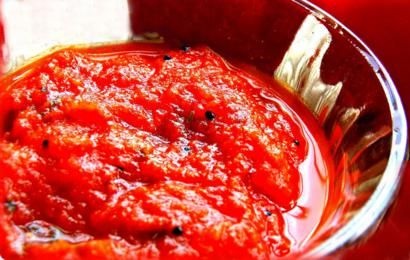 Tomato chuttni is used to serve with fried fish, cutlets, chips, burger, sandwiches, pasta and allots of fast foods. Normally people use to buy it from market that is comparatively costly and not good in quality. Today I am going to tell yo how to make it at home with very simple ingredients and with few steps. Once you made it preserve it in an air tight jar and freeze, use it for whole month. All the ingredients and cooking directions are enlisted below follow them to make a perfect tomato chuttni at home:
INGREDIENTS
Tomatoes ½ kg
Garlic 1 table spoon
Salt 1 pinch
Red chillies crushed 1 table spoon
Vinegar 5-6 table spoons
Sugar 1 table spoon
Water 4-5 cups
METHOD
In a sauce pan boil 5-6 cups of water, add finally chopped tomatoes and let it to boil on a very slow flame till the tomatoes are softened.
Make sure all the water is reduced. Now add red chillies, vinegar, salt and sugar, stir for 4-5 minutes.
Turn off the flame; let the chuttni to be cold.
Add it in an air tight jar and freeze it.
TIPS
Tomatoes should be finally chopped.
Tomatoes must be completely softened.
As i was not used the blender so I added water in tomatoes to boil. Make sure water is enough to soften the tomatoes. If all water is reduced and tomatoes are not softened add more water till they become tender and soak all water.
Jars must be boiled in hot water for 4-5 minutes to preserve the chuttni for long time.
Jars must be air tight.