I wrote a very long winded poem... sorry about that but I think you may find it enjoyable. Of course bitcoin is mentioned in there. Enjoy and please comment your thoughts!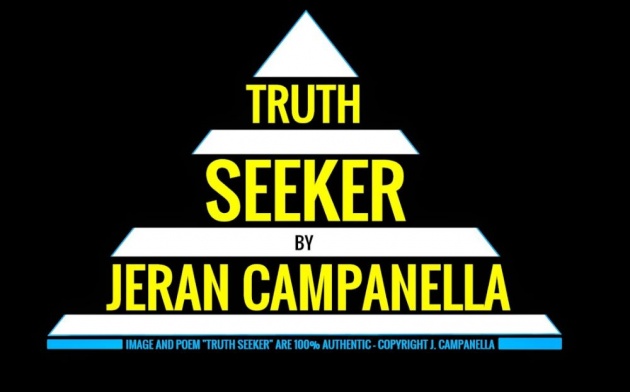 "TRUTH SEEKER"
What is the truth? How would any of us know? We have all been told lies… Has this all been a show?
With False flags, denial, they divert and digress.
Lie, hide and fooling us is their secret to success.
They have rendered me injured, useless and uninformed.
They inflict those who didn't see it coming same as those who were for-warned.
It is a sickening game of humans instead of battleship or checkers.
Not the game of LIFE, but a game of Life Wreckers.
First to the moon, first to the oil, first to own and run the banks.
April 15 your taxes are due cause we need to buy some tanks.
Doesn't bother a politician, they care not for the oath to which they were sworn
They care not for their brother, fellow man or Country they were born!
Now they plant evidence, they lie, making up the story as it goes.
Dumbing down the masses, holding masses of assembled sheep in rows.
Thank you Pastors, thank you priests, for keeping those you shepherd well behaved
As a reward for you, for your Godly works, we declare you taxes shall be waived.
Churches want their 10%, banks want their interest rate
They'll be bailed out with billions, while you'll be charged if you pay late.
The world has changed boys and girls, hope you're ready for what's coming.
It's a way of population control called massive human dumbing.
So keep your eyes and ears alert, and watch for prophesy
Who is the prophet who profits from his predictions that come to be?
Sandy Hook, Aurora, 9/11 and more.
Conjured up, contrived? They can't be I deplore.
All this crazy talk, is starting to rise up to the surface.
It has led me to ponder our very existence and our purpose.
What's the point, what's the endgame? Is it truly survival of the fittest?
In other words the biggest, the richest, the acts of those who do as thou willest?
Are we all just unimportant pawns in an international struggle?
Or is it bigger than that, with lies all over. Who designs the images from Hubble?
Where did we come from? Created, assembled or manipulated genes?
Were we descendants of Adam or slaves for other worldly beings?
Nibiru, Planet X, Mayan Calendar, Conjunction?
With so many lies, it's almost impossible to function.
So gather round now children, be sure that thou hearest.
What is the latest scientific discovery of the ancient astronaut theorists?
Is it demons? Fallen angels? Or just the wickedness of man?
Are aliens trying to help us or do they have something more sinister planned?
Where do we turn, if we're looking for the truth?
It's not the bible, or CNN, and certainly not the polling booth.
But I'm calling bullshit on all of it, it's so fake it's upsetting
They say it's real but c'mon, I mean the James Foley beheading?
They lost MH370? It continues to get stranger…
Anyone checked EXIF data that points to a Diego Garcia empty hangar?
Conspiracy theories are everywhere from fluoride to vaccinations
It has me questioning everything, not just the obvious assassinations.
JFK saw it coming, others warned us of the Industrial Military Complex
But nobody warned me to watch out for the "truth" of the Scientific Process
Garbage in, Garbage out. We can no longer even trust the foundation
This appears to be a recipe for the immediate erasure of a nation.
Who knows anymore, we are all taught lies while the truth is hidden
Don't question authority dumb humans, your resistance is forbidden.
The Constitution has been forgotten, now executive orders are more important
Arrest and detain, guilty till proven innocent and searched without a warrant
We need a Senator Warren to attack banks and earn back trust.
If we elect a Clinton or Bush again, don't be surprised with laws unjust
Ebola is coming, a massive epidemic with no cure
Or was it purposely released into Africa as Fox News would have you hear.
Who is red, who is blue…? I don't even know the score…
Used to be 1+1=2, but not since common core
See we already teach kids lies, so now let's teach them how to think
Next is mandatory diets then at which times you can blink.
They are pumping us with FUD, not to mention GMO's
While the Vatican, God's "Watchers" are watching for UFO's
Religion is man-made, made of traps that trap men
The faithful faithfully wait for their savior to come again.
McFly! Anyone home? You're waiting for a dead person to return to Earth?
Tell you what, you're better off blowing into your thumb to give your penis more girth.
Wake-up sleeping Christians it's the morning of the day we will call reality
And we won't call you stupid we'll simply say you have a make believe abnormality.
Your God and Savior Jesus of Bethlehem, Nazareth, Jerusalem and Galilee
He was going to return to save you all if it weren't for that damn legality.
Called death, estas muerto, finito, que ya no respira por más tiempo
Death is final, it's not temporary, you missed allegory as innuendo.
But in the end yo, you do go, but not to a blissful after life above.
If it makes you feel better, the worm you could become, might get eaten by a dove.
That's kind of cool, you'd be soaring, like a dove flies through the sky.
Stop looking for Jesus, this is real life not baseball, there are no sacrifice flies.
No ground rule doubles, no gimmies, no free parking, not even a free space like BINGO
Nope not in real life, just a head start for the rich and head start if you're a gringo.
So, I guess we are the next contestants on the price is right?
So if we're gonna come on down, look up, cause it's about time we saw the light.
The bible, is a collection, stories and tales of old. Individuals and their experiences of God, while eating shrooms we're now told.
And he came like a flaming mountain and on his back a shield of gold.
I'm tripping balls, dude this is scary, See what they did to the fold?
See how they sold the souled and gave free will to those who were willing
To forgo their free will and follow exactly who the willful are selling
Use your mind, that's all I ask, look around this world, it's fairly crazy
And by fairly I mean greatly, and I say crazy for FUCKING BULLSHIT when I'm lazy.
Don't believe in Jesus unless you meet him one day face to face.
Not the Christian way either, your make believe personal relationship's a disgrace.
I'd probably find you more credible if you wore a lead suit and tin foil hat
Cause I accept radiation, and to fear it, but a virgin birth, I stop at that.
But they stole his words, distorted facts and said he was the lord!
That he would return with vengeance, but he came with peace not a sword!
They used the bible to control, and said it was God's word
A Jealous God, sending his loved creations to hell, I call that "God blurred"
So it is time we grow up, drop the dogma and awaken
"Knowledge is Power", that's a quote from Shakespeare, or if you're asleep, Francis Bacon
So what's true? Worship the Sun or transcend through the dimensions?
So many things for us to search and so many things we'd have to mention,
It's a web of deception, deceiving those who are blind and bind themselves entangled.
It's a wealth of information galore if you can concentrate when strangled.
So much to learn, so little time… Atlantis, the Greek myths, and the law of attraction.
The astrologers, their orbits, eclipses, the occultists and the factions
Like the great 1% the Bilderberg Group of the New World Order
ISIS is al-Qaeda, they just wanted their name to be shorter.
Then the Bohemians who gather at their forest grove every year
So they can worship an owl for no other reason than to instill public fear?
Fear what, men in robes? Who think they do the work of the devil
It will take them being 6 foot under to make this playing field level.
The world is a mess, it's disgusting, just look at what we've done.
Well I guess it shouldn't surprise me, since nothings new under the sun.
There are so many questions, like the Rothschild's, or the Jews,
Rockefeller, Allister Crowley, The Rosicrucian's. Is there a base on the moon?
Armstrong and Buzz refuse to swear on the bible
If God judges anyone, we'd all be found guilty of libel.
Don't forget the Illuminati, The Masons, Reptilians, the Grays
The Catholics Pope Prophesy, the Apocalypse and end of days?
The Tantra, binaural beats, what frequency are we omitting?
Every time a great mind speaks, it'll be lies if it can be self-fitting.
Follow the money, to uncover the truth, follow the yellow brick road
Unified Field, Vibration, string theory and possibly a computer code.
The world is full of color, we aren't in Kansas anymore.
They'll get your little dog Toto too, all is fair in world war.
Tell Auntie Em, only if she can handle the truth behind the curtain
Gold is weighed in OZ, money makes the world go round for certain
The matrix through meditation and the reasons should be mentioned,
A dream world, where we don't exist, but we might in other dimensions.
Tree of Life, Tree of Knowledge, the healing power of the herbs
What is real, what is not and what is for the birds?
Hallucinate or Hypnotize and possible past life regression
I'm sorry, times up, we'll continue this next session.
Next session, but doctor, you charge me by the hour…
Yes son, you're correct, see what you call a Doctorate… I call power.
Why would a Doctor heal me, if he's paid only when I'm sick?
And these 1000 spam emails daily, just lies for a click?
The school system sucks, they teach lies and hinder thought
Where's all the real life teachings, is this what my tax dollars bought?
And these colleges and their fees, Thirty thousand in tuition?
Why don't professors teach from home? The internet is more than just a vision.
It's more lies, it's a system, like hospitals and pills
Confuse them, then loan them, now they can't pay their bills
It's a new way of slavery, and we were trapped with deceit
In a free country now where cops throw tear gas at protestors in the street
It's schemes, its scams, it's prophesy, from people full of crap
Its bankers, Wall Street and the Federal Reserve.
And have you heard yet about the map?
Yeah the map, take a look, why is the equator not in the middle?
The continents are spread to make some bigger and to make others appear quiet little.
Well, you see the top half was enlarged because we are in the north and the top is better.
Yet, there is no north, south, East or West, all of it is man's creation down to the letter.
What's new in the news and if you knew, wouldn't it not be news?
And if no one knows who knew it was news, guess what? You lose.
Every Newscast in the world has been filtered for our eyes?
We are told what we're supposed to know so all we know is lies.
The Mormons, Joseph Smith, are his gold plates for real?
Are flying saucers salivating, eyeing 7 billion as a meal?
The Alignment, Crop Circles, L Ron Hubbard and Tom Cruise,
Is it lies, or is it truth, or is it simply meant to confuse?
Hands up, Don't Shoot, I can't breathe, No indictment
Word salad and a recipe for civil unrest and excitement.
Get your guns, turn in your guns, the Government is prepping for a war.
Build a bunker, invest in medals, the worst is still in store.
How about FEMA, detention camps, or the New World Order?
A fiat currency in disorder, might as well open up the Border?
The Chakra, my third eye, the pituitary gland.
Isn't it time us truth-seekers, bind together and take a stand?
Just tell me what to do, I've been taught the wrong way.
Is their available free energy as the great Tesla would say?
The powers at be cared not a bit about what was better for humanity.
If Tesla had free energy they simply freely burned his factory.
Is our cosmology cosmically a constructed fallacy of prophesy?
Walter Russell brought us a new cosmology and mixed in with philosophy
But Einstein won out, because it is all about science you see.
Is relativity really relative if it is relative just to me?
Clearly we've been fooled into being fools by those who make the rules
Ruled here by rulers, and taught how we measure by rulers used in schools.
People of the past had open minds and discussions in free time.
Intertwined their knowledge in art marked till a future time would find.
Stonehenge, the Pyramids, the Georgia Guide Stones, are these the clues?
Do we need to decide quickly in fear of yesterday's news?
Where is truth, where is justice, where's the answer that we seek?
Not in the book that's for certain, it's apparent the world is not inherited by the meek.
Instead the greedy, the rude, those with domination on their mind
Have taken over this world that's as much theirs as yours and mine.
And the great thinkers of the past Socrates, Plato and Aristotle
If they saw today's America, would they see it as the World Model?
We're going crazy, getting lazy, and in a terrible direction!
One set for us by our government officials put in place by an election.
But what if that too, were a lie, a set-up, or a devious plan.
This has all the makings of collusion of which I certainly am no fan!
We are all in this together right? It's not East vs. West.
It certainly isn't a nuclear race of who can destroy the Earth the best.
Is it time for the crypto? Satoshi Nakamoto you see.
Time to drop the dollar and adopt the BTC?
Blockchain technology of a decentralized community
Holding dollars at this point is borderline lunacy.
We need more great thinkers, Michelangelo or Francis Bacon
Or a Tommaso Campanella, jailed 27 years but never shaken!
He knew we had a reason here, a purpose on this Earth
Reincarnation could be possible, I don't even remember my own birth
If no one is gonna help me, well then I'll do it on my own
I don't know what to believe, just know it's not what I've been shown
Priests are not infallible, they don't turn wine into some blood
Noah didn't get 50 million species on the boat before the flood
Catholics and Christians, have been lied to just the same
Oppress women, scare the public, religion is just a game
Take the truth, distort it, and spread lies so you have power
We know truths, which you cannot, so no one knows the day or hour.
Jesus, Mohammed, Buddha, Allah, the Dali Lama
The antichrist, Hitler, its Judas, Bush, maybe President Obama
Well all I know is I am here, and one incredible invention
The idea of the Big Bang or no creator deserves not a mention
Ooze did not evolve into the human mind or into a whale
And the creator is not a killer, bible writer or male
The one, the source, the center, the force, the spirit of the great creator;
The absolute, the supreme power is not a woman hater.
For those of us who were born with eyes to see and ears to hear
There is no place called hell, for heaven's sake, lose that fear.
It is all put in your mind, to scare you straight into submission.
Does God care about how you treat others or does he care about tradition?
Sure in the past, they hated gays, they saw them as abomination
And these same people thought their dreams were God's way of inspiration.
Tine we see what's true and listen to the devices you were given
Does your heart or brain say I must murder my son in order for you to be forgiven?
Don't give your God human traits, like jealousy and anger
God does not need to live a human life, under a star and in a manger.
Are you old enough yet? To read a book and choose if it is fact or fiction?
If it were written by the God Almighty, would it be filled with contradiction?
Of course not, it would not be filled with hate, and the jealous anger of the Lord above.
Stupid is he who worships a God who condemns and kills, but also forgives and loves.
Seek to do well, and do not foster evil, our only hope is in each other
There's no need to pray or go to church to look after one another.
How foolish the people have become to lie and pretend
Since each of comes from the mind whose ideas never end.
We are meant for greatness, and someone is trying to take what was intended
But the level of deception perpetrated now can't be comprehended.
So if you know the truth and what it is, that we are supposed to do
Help those of us who don't so we can help some others too
Reclaim what's ours and take what's been stolen by Governmental fools
Until then, I'll simply follow, the rule of heart, the Golden Rule.
In closing, I remind you. Don't simply believe what you're told,
In believing blindly things that others say, you're unknowingly controlled.
Buck the system, make a difference, because the time to stand is now.
Or continue listening when the priest says kneel, stand, now sit down.
The greatest evil that you can do is to trust in the disgusting.
You're no better than the worthless ones if you watch it and do nothing.
So join me, seek truth and don't you dare settle for less.
The proceeding has been written by a truth seeker who knows nothing, I confess.
If you read this far, bless you!