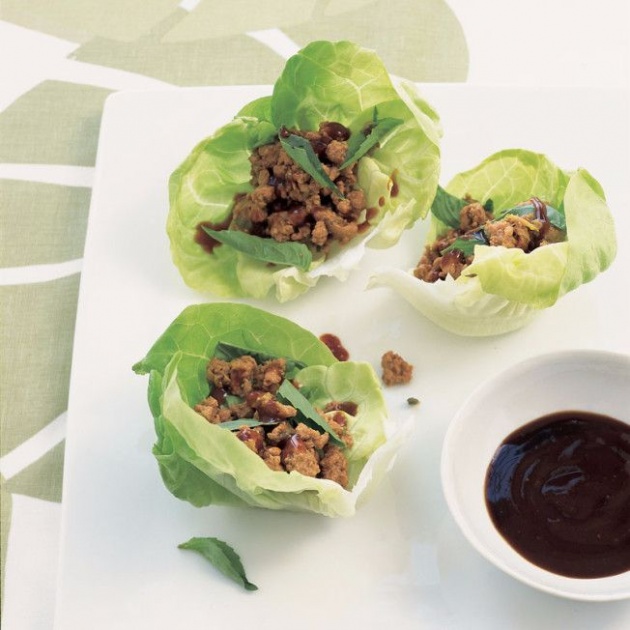 In this dish—a leaner take on larb, the beloved Southeast Asian salad that is often made with ground pork—seasoned ground turkey is wrapped in a tender lettuce-leaf packet. For a casual dinner, place the cooked turkey and lettuce leaves on the table and let diners help themselves.
Turkey Lettuce Wraps with Southeast Asian Flavors
1 Tbs. vegetable oil
1 Tbs. toasted sesame oil
1/2 cup thinly sliced green onions
1 1/2 Tbs. peeled and grated fresh ginger
2 garlic cloves, minced
1/2 tsp. red pepper flakes
1 1/4 lb. (625 g) ground dark-meat turkey
3 Tbs. soy sauce
1 Tbs. rice vinegar
16 butter lettuce leaves (from 2 small heads)
Fresh basil leaves for garnish
Hoisin sauce for serving (optional)
In a large fry pan over medium-high heat, warm the vegetable and sesame oils. Add the green onions, ginger, garlic and red pepper flakes and cook, stirring constantly, until fragrant but not browned, about 2 minutes.
Add the turkey to the pan and cook, stirring to break the meat into pieces, until the turkey is no longer pink, about 5 minutes. Add the soy sauce and vinegar and cook 1 minute more. Transfer the mixture to a bowl.
To serve, spoon about 1⁄4 cup of the turkey mixture into center of one lettuce leaf at a time, top with a few basil leaves and wrap the lettuce leaf around the filling. Drizzle with 1⁄2 tsp. hoisin sauce, or to taste, if desired.
Recipe adapted from Williams-Sonoma Eat Well: New Ways to Enjoy Foods you Love, by Charity Ferreira