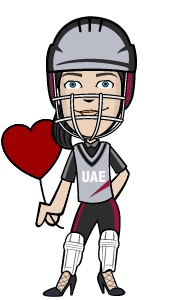 Yet another for Cricket fans and for bitlanders users as well to change their outfits! I am glad that the sale is still on and I am just trying out some other countries' cricket uniform or costumes. I am surprised to see UAE's uniform on sale too and I want it because I had worked in UAE before and of course I want to support that country which served as my second home. I do have my brothers there and a lot of friends.
But the problem is that I don't have anymore gems available. I can't just let this pass so I tried to purchase some gems but my account balance is not enough for the 100 pack of gems. I then thought of adding some paypal funds to it instead which I will be blogging separately.
This morning, I checked my account and the gems had already increased and so it's time to change outfit then! I have now a chic lad with the UAE uniform on and stilettos to pair it up and oh that stockings too!
How do you find it?