Hello bitlanders! I am back with another Korean Drama Review. I decided to make a review about this Television Series entitled "Uncontrollably Fond" because the Male Lead of this drama who is Kim Woo Bin has a similar situation in the drama and that is having a cancer :'( I watched this drama months ago already, since this drama was aired I kept track of this drama. Honestly, while watching the drama i cried on most of the episodes because of the flow of the story. The story is very sad and touching especially that the Main Lead has a similar situation in the Real life. When you watch this series I know you will get what I mean so please continue scrolling to read and to know the flow of the story. Enjoy! :D
By the way check out my other Korean Drama Reviews which are Moon Lovers: Scarlet Heart Ryeo, The Legend of the Blue Sea, Goblin, Exo Next Door, Innocent Defendant, Romantic Doctor Master Kim, Love in the Moonlight or Moonlight Drawn by Clouds.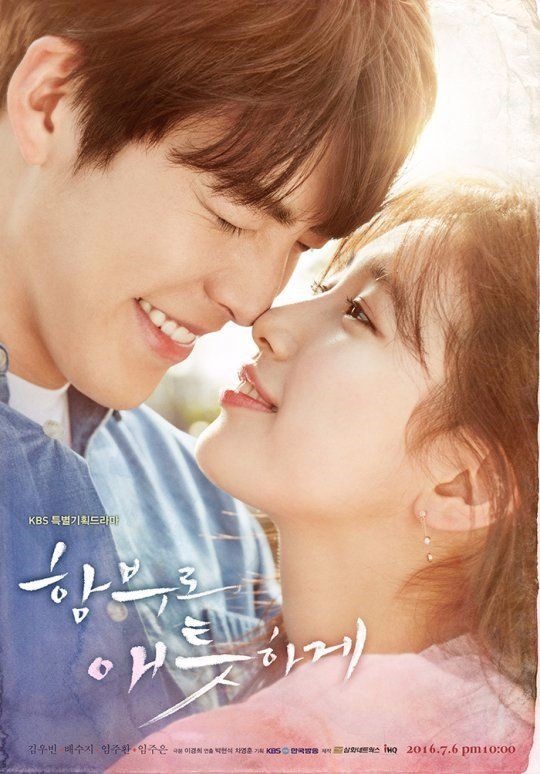 Photo Credit: yckim124 via www.allkpop.com
UNCONTROLLABLY FOND
Uncontrollably Fond is a South Korean Television Series that was aired on Korean Broadcasting System or KBS every Wednesdays and Thursdays at 21:55 KST or Korean Standard Time. Uncontrollably Fond is a Television Series starring Kim Woo-bin and Bae Suzy. This series started airing on July to September 2016. This series also consist of 20 episodes with more or less than 60 minutes each episode.
This Television Series was directed by Park Hyun-Suk and was written by Lee Kyoung-Hee. Director Park Hyun-Suk was also the Director of the South Korean Movie "Individualist Ms. Ji-Young" that was released on the second week of May 2017. Director Park Hyun-Suk won the "Best Director" Award on his movie entitled "The Princess's Man" way back 2012 at BaekSang Arts Awards. Scriptwriter Lee Kyoung-Hee was also the one who wrote the dramas "Wonderful Days" on 2014 and "The Innocent Man" on 2012.
This series was also aired on ABS-CBN, watch the trailer of this drama made by ABS-CBN.
WATCH THE TRAILER OF THIS SERIES BELOW
Video Credit: John Lloyd Silmete via www.youtube.com
PLOT OF THE DRAMA
Shin Joon-Young (played by Kim Woo Bin) and Noh Eul (played by Bae Suzy) was classmates when they were on High school but got separated on their Teenage years and became heartbroken but later meet each other in adulthood. Shin Joon- Young is now a Top Actor-singer while Noh Eul is now a Documentary Producer.
Noh Eul has a tough childhood because her father died in a hit-and-run and because of that she has quit school and find a job to make a living for her and his brother. Shin Joon Young's mother wanted him to be a prosecutor like his Father who has another family already. But because of some reasons he quit law school and became a Top Actor and singer. Shin Joon Young and Noh Eul met again because Noh Eul was tasked to Film Shin Joon Young's Documentary.
There are many twists and turns in the drama so watch this series to know what will happen to Shin Joon Young and Noh Euls Life!
SCENES IN THE DRAMA
The very first scene of the Drama was Shin Joon-Young (played by Kim Woo-Bin) and a Lady named hand in hand inside a Church. Shin Joon-Young vowed that the lady beside him will be his wife, and that he will live and love the lady what ever happens and will never let go of the lady's hand no matter what but minutes later a group of suited man came inside the church looking for the two of them.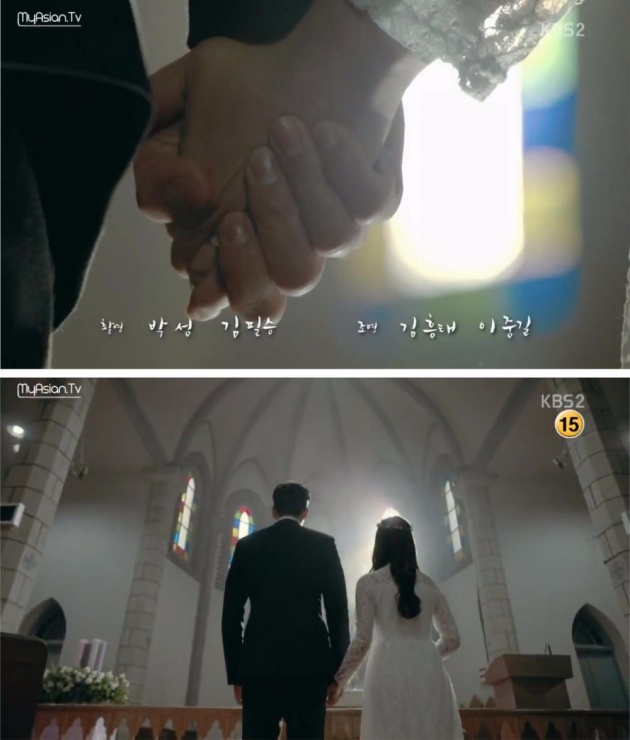 Photo Credit: Screenshot and edited by @ninski
When they entered the church the man on the center said "Hey Traitor! How dare you steal our boss's woman with no fear?" then Shin Joon-Young replied "She was my woman from the start" after Shin Joon-Young young replied the man at the center ordered the others take care of him then they attacked him.
While he was fighting, the lady he loved cried seeing him with lots of blood and fighting just for her. After a while the guy holding the lady called Shin Joon-Young and fired the gun, then the bullet got straight to Shin Joon-Young's Chest.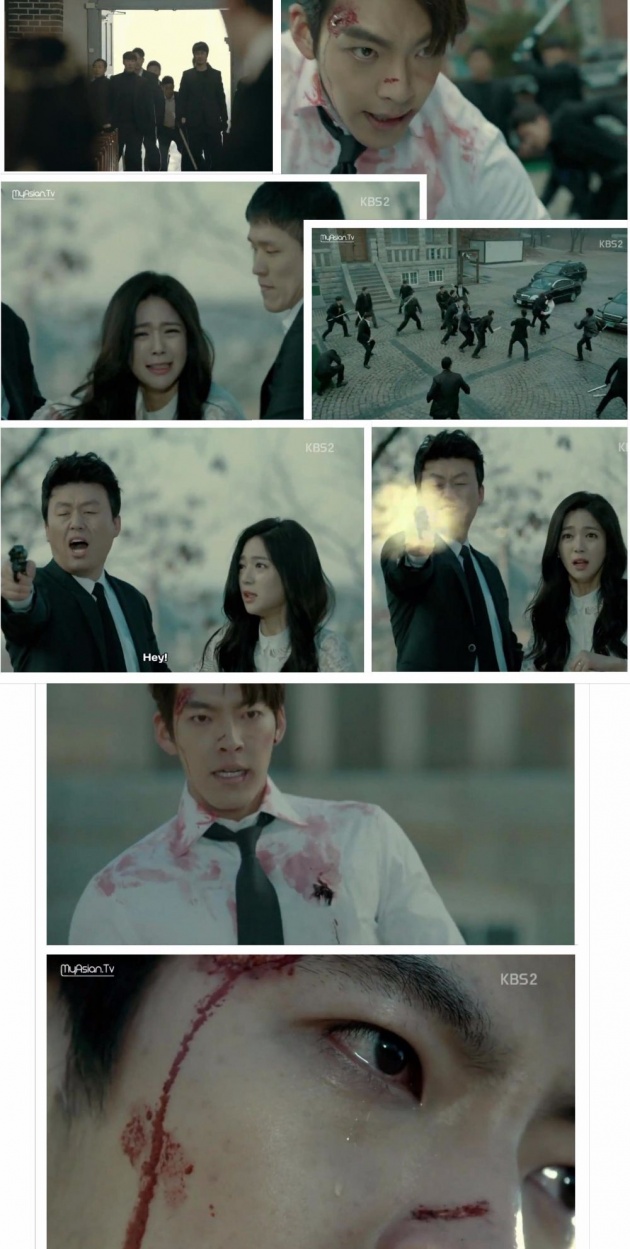 Photo Credit: Screenshot and edited by @ninski
When Shin Joon-Young was shot at his chest his tear fell down and the lady screamed. After a little while he walked straight to the Guy who fired the gun while walking towards the guy he was shot again but didn't even move like the bullet was nothing. When he was near the guy who shot him he stole the gun from the guys hand and directly said to the Camera "I don't want to Die.."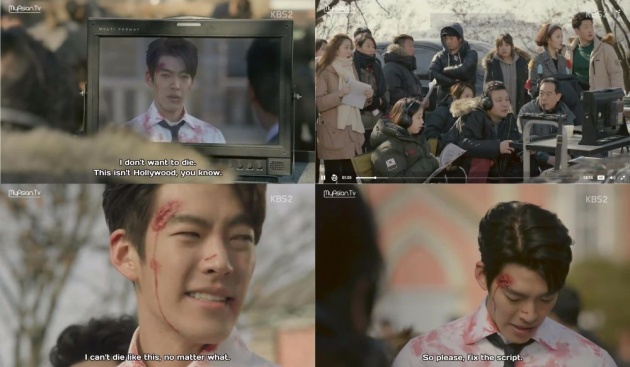 Photo Credit: Screenshot and edited by @ninski
"I don't want to die, This isn't Hollywood you know. Does it make sense for someone to die from a gunshot in this age?" Shin Joon-Young said that directly to the camera and it turned out that they were only shooting a Drama (haha) After saying those words he left the staff and especially the Director was very shocked of what he did because the shoot was very nice already but he ruined it. Shin Joon-Young talked to the Director and the Director told him "The Fact that you die was decided from the very beginning" and Shin Joon-Young replied "I changed my mind about this. I can" die ike this no matter what. So please, Fix the Script" after saying that Shin Joon-Young left the scene.
There are so many twist and turns in the plot of this drama especially in Shin Joon Young's Family and I cannot really explain it well so please watch the First episode to get it (hehe) The First episode of this series is one of the episodes that has many best parts of the drama so click this to watch the fist episode -> Uncontrollably Fond Episode 1
This part is where Shin Joon Young and Noh Eul fought then suddenly Shin Joon Young Shouted...
Video Credit: DramaFever via www.youtube.com
This is one of the parts where I really cried and this is also one of the very best parts of the Drama for me (hehe)
BACKGROUND OF THE CHARACTERS IN THE DRAMA
(selected characters :))
Bae Suzy (Noh Eul)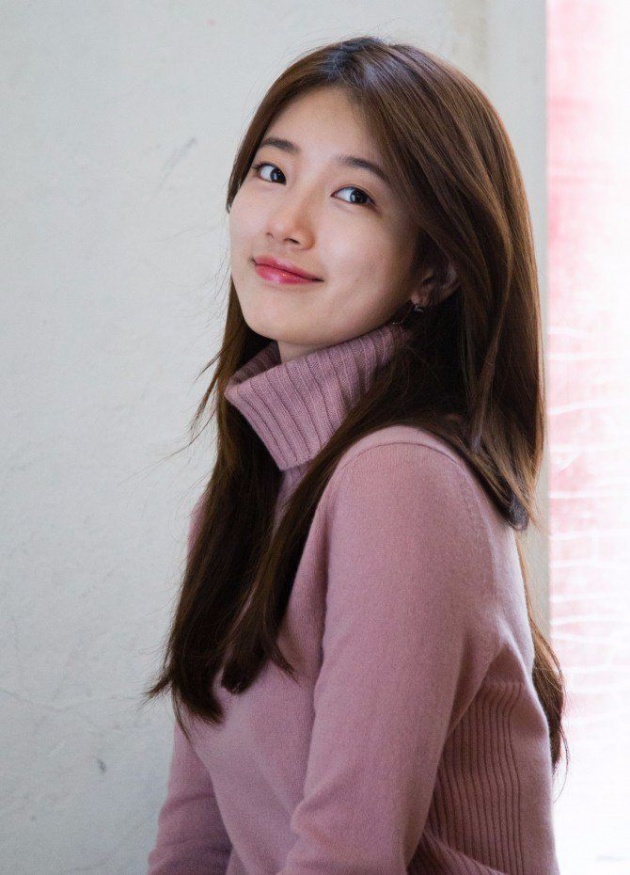 Photo Credit: The Korea Herald via http://entertainment.inquirer.net/184159/korean-actress-suzys-latest-movie-is-her-own-story
Bae Suzy is a member of a South Korean Girl Group named "Miss A" under JYP Entertainment. She is a Korean singer and actress. She was born on October 10, 1994 and she is now 22 years old. Bae Suzy is best known for her roles in the musical drama "Dream High" on 2011, "Architecture 101" on 2012 and "Gu Family Book" on 2013.
Lim Ju-Hwan (Shin Joon Young's Step Brother)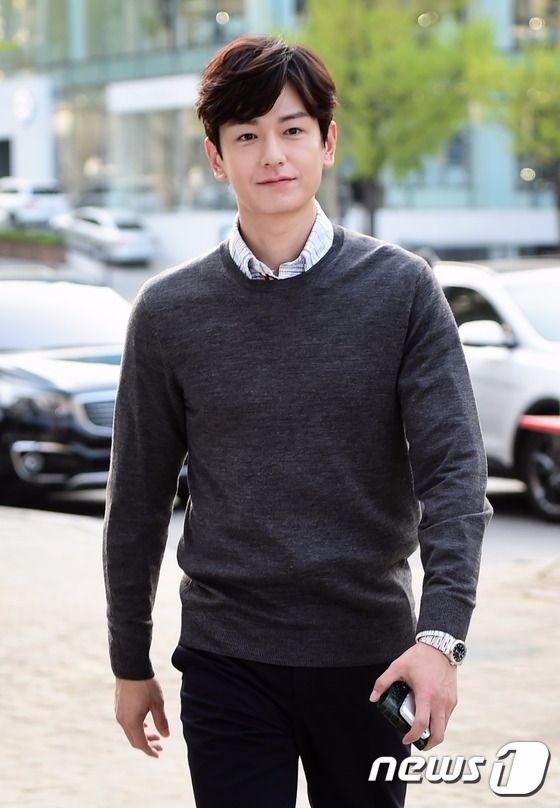 Photo Credit: LIM JU HWAN ID via https://imjuhwanifc.wordpress.com/2016/04/14/photo-lim-ju-hwan-on-unctrollably-fondly-wrap-up-party/
Lim Ju-Hwan is a South korean Actor. He was born on May 18, 1982 and is now 35 years old. He participated in the movie "The Con Artists" with Kim Woo Bin. He also participated in the Dramas "Oh My Ghost" on 2015, "Ugly Alert" on 2013, and in the Famous Drama "Boys Over Flowers" on 2009. He Won "New Star Award" in the Drama "Ugly Alert" at 2013 SBS Drama Awards.
Lee Seo-Won (Noh Eul'sBrother)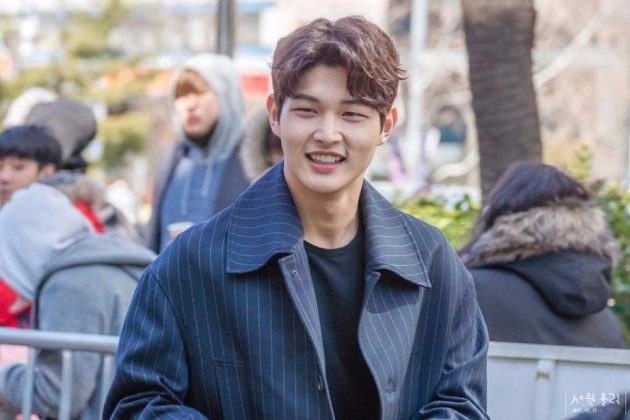 Photo Credit: Andrea안드레아 via http://aminoapps.com/page/k-drama/2886765/lee-seo-won
Lee Seo Won is a South Korean Actor, was born on February 17, 1997 and is now 20 years old. He was known in the drama entitled "The Liar and His Lover" that recently ended. He was the second lead in the drama. He starred in that series with Lee Hyun Woo and Red Velvet's Joy.
Jin Kyung (Shin Joon Young's Mother)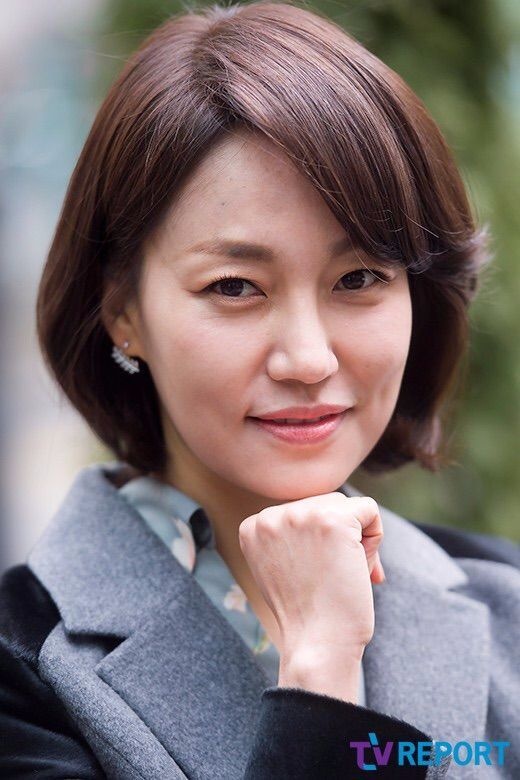 Photo Credit: Kit-Tae-Drama via http://aminoapps.com/page/k-drama/7091251/uncontrollably-fond-review-spoiler-ver
Jin Kyung is a South Korean Actress and was born on March 27, 1972 and is now 45 years old. She participated in the Drams "Romantic Doctor, Teacher Kim" on 2017, "Woman with a Suitcase" on 2016, "Oh My Venus" on 2016, "Blood" on 2015, "Pinocchio" on 2015, "It's Ok, This is Love" on 2014 and many more. She won "Best Supporting Actress" in the Drama entitled "Cold Eyes" at the 50th Baeksang Arts Awards.
Kim Woo Bin (Shin Joon Young)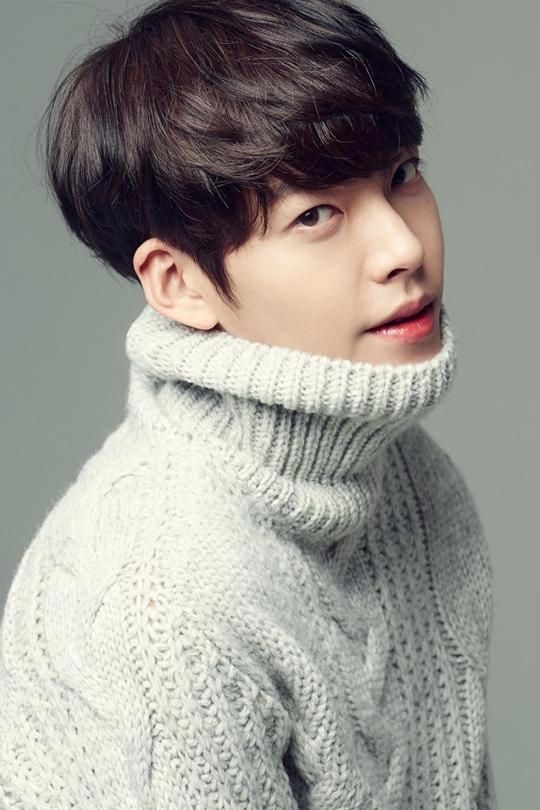 Photo Credit: Anonymous via http://www.kpopmap.com/photo-kim-woo-bin-and-monsta-xs-hyungwon-on-the-runway/
Kim Woo Bin is a Famous South Korean Model and Actor. He is dating South Korean actress Shin Min-a since 2015. He was first a Runaway Model and later debuted as an Actor in the drama "White Christmas". He then gained attention in the dramas "A Gentleman's Dignity" on 2012, and made his breakthrough with "School 2013" and "The Heirs" on 2013. He also starred in the movies "Friend: The Great Legacy" on 2013, "The Con Artists" on 2014 and "Twenty" on 2015. Uncontrollably fond was his First Leading Role Television Series.
Kim Woo Bin was born on July 16, 1989 and he is now 27 years old. He was diagnosed with Nasopharyngeal Cancer. His agency confirmed this news last week May 24. His new movie entitled "Wiretrap" was delayed because of his health and he is now undergoing treatment for his disease.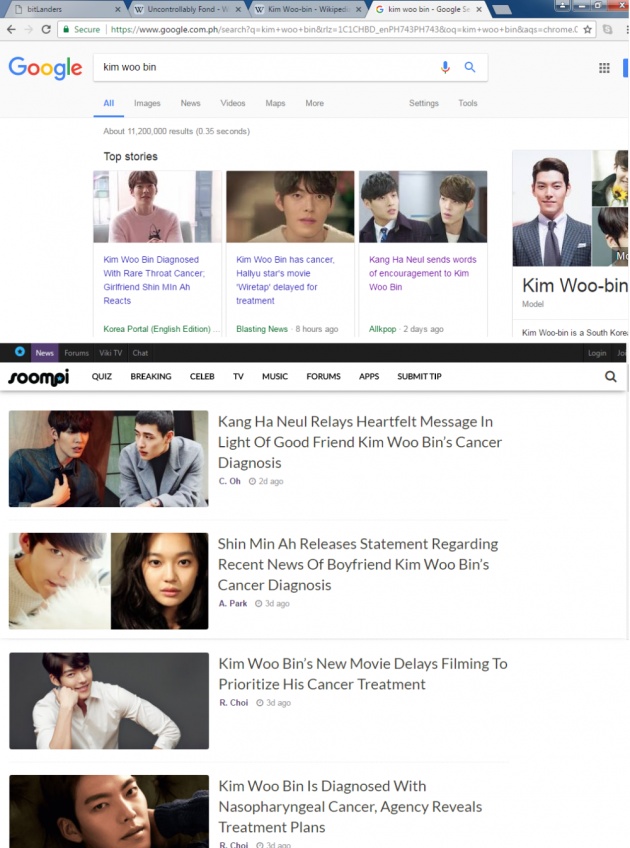 Photo Credit: Screenshot and edited by @ninski
If you search Kim Woo Bin on Google these articles will come out. This news is a really shocking and heart breaking news especially to the Fans. His Family members may have known this in advance just like what his Co-actor Kang Ha Neul said in his message to Kim Woo Bin. Guys lets help Pray for Kim Woo Bin's Fast Recovery because Prayers are so Powerful :D
If you want to read more articles about Kim Woo Bin's Cancer start with this -> http://www.koreaboo.com/news/kim-woo-bin-tried-delay-cancer-treatment-keep-secret-parents/
This is where my blog ends! Thank you for Reading!
Before you leave try to participate in the survey below powered by QUERLO, a chatbot with a human touch.
Author: Ninski
A grade 11 wanna be blogger who loves to travel, read books and watch Movies.