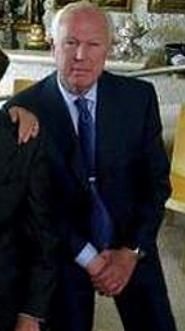 On 23rd December 2002 Vittorio Emanuele returned to Italy on a one day visit.
Vittorio Emanuele is the son of Umberto II of Italy, the last king of Italy, who officially reigned from 9th May 1946 to 12 June 1946, but served as regent from April 1944. Following a referendum on June 2nd 1946, the majority of the population of Italy voted to make it a republic, and his family left in exile.
Vittorio, after the provision in the Constitution of Italy was repealed on 23rd October 2002 that prohibited his return, was finally able to visit his home country, although this did not appear to be terribly popular.
Image: By Photographer by Italian Radical Party's News Agency [CC-BY-2.5 (creativecommons.org/licenses/by/2.5)], via Wikimedia Commons