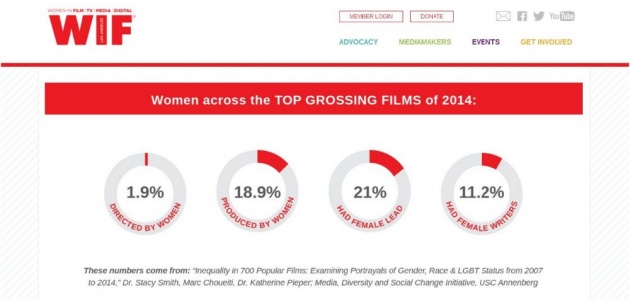 On 1 October 2015, the website womeninfilm.org started a campaign that asked the public to make a pledge: 'will you watch a film a week by a woman for one year?' In my case, I averaged it out – for two weeks in January I was in Copenhagen, where films by women in English were harder to come by. Between the period 9 October 2015 and 8 October 2016, I watched sixty films, beginning with 'Miss Meadows' and ending with 'A United Kingdom'.
During the course of the exercise, I gave myself a prohibition: that I would only watch new films, either in a cinema or on DVD or streamed, to get a sense of the challenges that women film makers are facing today. I also focussed on women film directors, as opposed to writers or producers, both of whom could equally be said to be the primary creative force behind a film.
The results of my study give some cause for concern.
First, the budgets given to women film directors were lower than those entrusted to men. Until this year, when the $100 million 'Wonder Woman' movie went into production [pictured below], the most expensive film directed by a woman was 2002's 'K19: The Widowmaker' (director: Kathryn Bigelow) – and it flopped. In my eyes, there is no reason why a woman could not have directed either 'Titanic' or 'Star Wars: The Force Awakens', both of which feature a woman in the lead role. But will a woman be trusted with films of an epic scale? Not yet, even though there is no proof that a woman is more likely to produce a commercial flop than a man.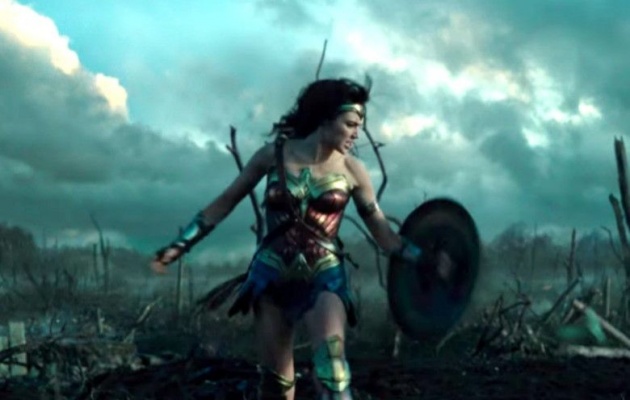 Second, many of the films directed by women (20% of those I watched) focus on mental illness experienced by the main character, whether manifest as an eating disorder ('My Skinny Sister'), vigilante behaviour ('Miss Meadows'), depression ('Janis: Little Girl Lost', 'By the Sea', 'A Tale of Love and Darkness'), murderous psychosis ('Jack'), post-traumatic stress disorder ('Disorder'), suicidal inclination ('Amour Fou'), morbid self-obsession ('Welcome to Me'), missing twin syndrome ('Adult Life Skills'), cult behaviour ('The Invitation'), grief ('The Meddler') or loss of purpose ('Toni Erdmann'). Incidentally, 'The Meddler' would make a great double bill with 'Toni Erdmann': both deal with parents interfering in the lives of their daughters in the absence of a spouse.
Third, over half of the films I watched (57%) were first or second features, suggesting little evidence of ongoing careers as directors. This is a manifestation of the first problem: if you are not allowed to make more expensive and therefore more profitable movies, you end up looking for an alternative career, perhaps in television, where among others Lynn Shelton ('Your Sister's Sister'), Susanne Bier ('A Second Chance') and Lexi Alexander ('Punisher: War Zone') have headed. There are few examples of women directors who are producing a body of work in the cinema year after year based on an auteur signature, that is, an association with a particular genre. In the past, directors such as Betty Thomas and Penny Marshall achieved this (both are associated with comedy), but in contemporary English speaking cinema this is rare.
Fourth, three countries clearly stand out as places where you can at least get your foot in the door as a woman filmmaker: out of the sixty films in my study, 19 were from the United States, 11 were from France and, surprisingly, 11 were from the UK. An honourable mention goes to Sweden (3 films in my study), where 50% of the funding from its government-backed film institute is going to projects made by women. Relative to the size of its industry, India and Nigeria come out worst.
Beyond the broad umbrella of mental health movies, there is no dominant genre in women's contemporary cinema. Some themes recur:
Escape from unhappy relationships ('Sky', 'Suffragette', 'Parched', 'Granny's Dancing on the Table', 'Mustang', 'Learning to Drive', 'Anderswo', 'Gaby Baby Doll')
Impact of government and/or business on the individual ('Equity', 'Money Monster', 'The Idealist', 'For Here or to Go', 'Suffragette', 'A United Kingdom')
Pregnancy ('Petting Zoo', 'Bridget Jones' Baby', 'Maggie's Plan')
Surrogate parenting ('Tallulah', 'American Honey', 'Disorder')
Personal journeys ('Sky', 'All About E', 'The Host')
Challenging physical health conditions ('Miracles from Heaven', 'Me Before You')
Normalisation of inter-racial relationships ('Echo Park', 'A United Kingdom')
Remake of earlier movies ('Et ta soeur', 'A Serious Game')
Exploration of sexual identity ('Don't Call Me Son', 'Hide and Seek')
Unhappy mothers ('Absolutely Fabulous', 'The Meddler', 'Don't Call Me Son')
One myth was dispelled: women film directors can turn actors of actresses into stars. Thea Sharrock made us see that Emilia Clarke was a charming and winning comedy actress in 'Me Before You'. Who knew?
Another myth was shattered: women can direct action. The finale of 'The Intervention' was jaw dropping.
The most important aspect of the challenge was discovering films that I might have ordinarily missed (even though I review movies) that overwhelmed me in one way or another. Here are my top ten in reverse order.
10. 'Learning to Drive' (Director: Isabel Coixet)
9. 'Mustang' (Director: Deniz Gamze Ergüven)
8. 'Disorder' (aka 'Maryland') (Director: Alice Winocour)
7. 'Summertime' ('La Belle Saison') (Director: Catherine Corsini)
6. 'The Meddler' (Director: Lorene Scafaria)
5. 'Me Before You' (Director: Thea Sharrock)
4. 'Amour Fou' (Director: Jessica Hausner)
3. 'Petting Zoo' (Director: Micah Magee)
2. 'Toni Erdmann' (Director: Maren Ade)
1. 'The Intervention' (Director Karyn Kusama)
Having undertaken this journey of discovery, one thing is certain: I want to do it again.
A full list of films seen is as follows:
1. Miss Meadows (US, 2014. Director: Karen Leigh Hopkins)
2. Suffragette (UK, 2015. Director: Sarah Gavron)
3. Petting Zoo (US, 2015. Director: Micah Magee)
4. Anderswo (Anywhere Else) (Germany, 2014. Director: Ester Amrami)
5. Janis: Little Girl Blue (US, 2015. Director: Amy J. Berg)
6. Battles (Belgium, 2015. Director: Isabelle Tollenaere)
7. I Don't Believe in Anarchy (Russia, 2014/15. Directors: Natalia Chumakova, Anna Tsyrlina)
8. Amour Fou (Austria, 2014. Director: Jessica Hausner)
9. La Tete Haute (Standing Tall) (France, 2015. Director: Emmanuelle Bercot)
10. Princess (Israel, 2015. Director: Tali Shalom-Ezer)
11. A Girl Walks Home Alone At Night (USA, 2014. Director: Ana Lily Amirpour)
12. The Violators (UK, 2015. Director: Helen Walsh)
13. The Dressmaker (Australia, 2015. Director: Jocelyn Moorehouse)
14. A Second Chance (En Chance Til) (Denmark, 2014. Director: Susanne Bier)
15. The Host (UK, 2015. Director: Miranda Pennell)
16. The Idealist (Idealisten) (Denmark, 2014. Director: Christina Rosendahl)
17. My Skinny Sister (Min Lilla Syster) (Sweden, 2015. Director: Sanna Lenken)
18. By The Sea (US, 2015. Director: Angelina Jolie-Pitt)
19. Taking Stock (UK, 2015. Director: Maeve Murphy)
20. Mustang (France, 2015. Director: Deniz Gamze Ergüven)
21. Don't Call Me Son (Mãe só há uma) (Brazil, 2016. Director: Anna Muylaert)
22. A Serious Game (Den Allvarsamma Leken) (Sweden, 2016. Director: Pernilla August)
23. Maggie's Plan (US, 2015. Director: Rebecca Miller)
24. For Here Or To Go (US, 2015. Director: Rucha Humnabadkar)
25. Kung Fu Panda 3 (US, 2016. Directors: Jennifer Yuh Nelson, Alessandro Carloni)
26. Jack (Austria, 2015. Director: Elisabeth Scharang)
27. A Tale of Love and Darkness (Israel, 2015. Director: Natalie Portman)
28. Granny's Dancing On The Table (Sweden, 2015. Director: Hanna Skold)
29. Speed Sisters (Palestine, 2015. Director: Amber Fares)
30. Disorder (Maryland) (France, 2015. Director Alice Winocour)
31. Welcome to Me (US, 2014. Director: Shira Piven)
32. Echo Park (US, 2014. Director: Amanda Marsalis)
33. Sky (France, 2015. Director: Fabienne Berthaud)
34. Gaby Baby Doll (France, 2014. Director: Sophie Letourneur)
35. Qui c'est les plus forts? (France, 2015. Director: Charlotte de Turckheim)
36. Evolution (France, 2015. Director: Lucile Hadžihalilovic)
37. Et Ta Soeur (France, 2015. Director: Marion Vernoux)
38. The Invitation (US, 2015. Director: Karyn Kusama)
39. All About E (Australia, 2015. Director: Louise Wadley)
40. American Honey (UK, 2016. Director: Andrea Arnold)
41. Money Monster (US, 2016. Director: Jodie Foster)
42. Me Before You (UK/US, 2016. Director: Thea Sharrock)
43. Adult Life Skills (UK, 2016. Director: Rachel Tunnard)
44. Tallulah (US, 2016. Director: Sian Heder)
45. The Intervention (US, 2016. Director: Clea DuVall)
46. Elvis & Nixon (US, 2016. Director: Liza Johnson)
47. Miracles from Heaven (US, 2016. Director: Patricia Riggen)
48. Learning to Drive (US/Spain, 2014. Director: Isabel Coixet)
49. The Meddler (US, 2016. Director: Lorene Scafaria)
50. Arrete Ton Cinema (France, 2015. Director: Diane Kurys)
51. Lolo (France, 2015. Director: Julie Delpy)
52. Hide and Seek ('Amorous') (UK, 2014. Director: Joanna Coates)
53. Absolutely Fabulous (UK, 2016. Director: Mandie Fletcher)
54. Summertime ('La Belle Saison') (France, 2015. Director: Catherine Corsini)
55. Parched (India, 2015. Director: Leena Yadav)
56. Chevalier (Greece, 2015. Director: Athina Rachel Tsangari)
57. Toni Erdmann (Germany, 2016. Director: Maren Ade)
58. Equity (US, 2016. Director: Meera Menon)
59. Bridget Jones's Baby (UK, 2016. Director: Sharon Maguire)
60. A United Kingdom (UK, 2016. Director: Amma Asante)
Films by country
US: 19
France: 11
UK: 11
Sweden: 3
Australia: 2
Austria: 2
Denmark: 2
Germany: 2
Israel: 2
Belgium, Brazil, Greece, India, Palestine, Russia – one each
Most financially successful films in list (top six):
'Kung Fu Panda 3' – 519.9 million USD (co-directed by Alessandro Carloni)
'Me Before You' – 207.4 million USD
'Bridget Jones's Baby' – 182 million USD
'Money Monster' – 93.3 million USD
'Miracles from Heaven' – 73.9 million USD
'Absolutely Fabulous' – 37 million USD