In 20 days time, James and I will be traveling to Sipalay, Negros. It's just a neighboring

island of Cebu

and it will be considered as our first trip together for this year. Now after realizing that our first travel for 2018 falls on a February, I have an foresight that this year will be a slow one for our travel goals but for sure we will still gonna look for more ways to check our province and the neighboring ones.
Video credits: Pinoy To Go via YouTube.com
My top places to check on this year so far are Negros, Camiguin and Cagayan or Bukidnon. So far, Bukidnon and Negros are the ones with a brighter and clearer plan as we already have either a place to stay or airfare tickets.
But since that is still few weeks before, I am up now making an itinerary for our upcoming tour. But I actually want to have a staycation for my birthday this coming Wednesday with my husband. I just don't know where to go yet so I will just make our itinerary first.
○

WHERE WILL WE BE STAYING?

○
One random day last year, I was reading on a specific blog from DIY Philippines' Facebook page and happen to find this cottage atop a hill. I immediately checked out the place and found it to be listed on Airbnb. I had used the app couple times before and had even booked one accommodation in Bantayan before.
Image credits: www.themaartetourist.com
Now, as I read through the blog, I got very envious as to the perfect slow-paced anniversary celebration the author had while in this place. Imagine having the entire hill all by yourself, getting a great view of the mountains plus the peaceful horizon? I was already jealous with those thought that I booked two nights at the same cottage.
It cost us Php 2600+ for our two nights stay which I believe is just enough given the service and the amenities available. I also had bookmarked the blog post of that lady who had referred me over to this lovely place.
Image credits: www.themaartetourist.com
○

HOW TO GET THERE?

○
Negros is just a neighboring island to Cebu. There are different means of getting there but James and I are now a bit of confusion if we should go there via our motorcycle or just commute.
A few months ago, James' bosses went on a road trip to Sipalay, they were four with three motorcycles. They had shared their trip on Instagram and boy, James is now wanting a road trip to going there. I actually feel okay with the road trip except that I don't want us to be tired and stressed upon reaching there.
Image credits: arosa5433.pixnet.net
We have not yet concluded if we should go via road trip on our motorcycle or make use of the public means of commuting. But today's blog shows how we could arrive there via public commute.
With thorough research, we finally got the route we wanted to take. Cebu City's our starting point of course. Getting there has a few other routes depending on where you are situated, there's a Dumaguete and Bacolod route, we picked Bacolod this time so we could also take a day tour there since we have been meaning to get to Bacolod for the longest time already.
Cebu to Toledo - Php 90, two hours ride via a bus or faster with a van
Toledo to San Carlos - Php 180 fast craft
San Carlos to Bacolod - Php 180, three hours travel
Bacolod to Sipalay - Php 180
Looking at the fares now and the travel times, I feel like we are going to have another long trip on the road! I hope James won't be grumpy when that time comes! We also have to prepare our power banks!
Image credits: philippinestravelsite.com
Looking at our itinerary, we have a day at Bacolod, in fact, it would be a day and a night there before we head over to Sipalay, to our cottage on a hill! That sounds really exciting and I am feeling the excitement right now. I found that the cottage owner also has a motorcycle for rent so we can just do DIY once we get there. I had messaged Bryan, the host about the price but he has not yet responded.
Video credits: Live Love Travel via YouTube.com
I guess we'll only have a day to spend so I have to make the best itinerary and to squeeze everything in including the travel time. My plan is to go to travel to Bacolod via Toledo - San Carlos which will take around 6-7 hours trip including some waiting time.
So if we have the option to either separately travel from Cebu South Bus Terminal to Toledo then take fastcraft or Roro to San Carlos or take a Ceres Bus liner from North Bus Terminal which will take us directly to Bacolod. So far, I feel like the latter is the best option.
Image credits: tntchronicles.com
Our aimed places to check while in Bacolod are the following:

Bacolod Public Plaza, Bandstand, San Sebastian Cathedral

Bacolod Gallery of Masks

La Guerta Vintage Glass Museum

May's Organic Garden and Restaurant

Campuestohan Highland Resort

Jojo Vito Maskara Gallery

The Ruins Talisay City
I am still going to look for a place to stay for our a night in Bacolod, we need somewhere near the bus terminal going to Sipalay. I have not found any backpackers place yet so hopefully, I could find that soon!
I read somewhere that the municipality of Cauayan is a center of muscovado production in Negros Occidental. Muscovado is a healthier option to brown sugar as per my mother who uses it when making sticky rice.
Image credits: www.thepoortraveler.net
On the 16th, we plan to go to Cauayan as early as possible. Our check-in time is at 12noon and travel time from Bacolod to Sipalay is around 3-4 hours. That requires good and strict timetable.
Image credits: www.thepoortraveler.net
All of these are just my proposed itinerary and still requires approval from the husband of course! So far, we don't have to mind about the place to stay while in Sipalay because we already paid for that.
Image credits: www.thepinaysolobackpacker.com
Here are the places we would like to check out while in Sipalay:
Punta Bulata Resort and Spa

Sunset at Poblacion Beach

Dinner at Food Park

Danjugan Island

Perth Paradise Resort

Tinagong Dagat

However, we would like this anniversary trip to be very laid back and relaxed. We might be erasing some of them along the way so we won't be stressed with the time constraint.
Image credits: www.themaartetourist.com
On our last day, we plan on taking Dumaguete instead back to Cebu which is a more familiar place for us. We've been to Dumaguete a lot of times before and we also have friends from there so in case we won't make it on time, we still could stay at any of our friends' houses, hopefully, we'll make it before the day ends.
That's it and I hope I could finalize everything before this weekends. We need to plan everything ahead because of course: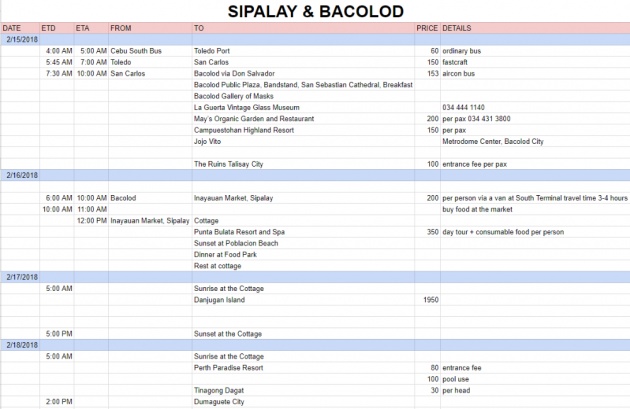 Image credits: Jean Beltran-Figues via bitLanders.com
"Failing to plan is planning to fail!"
Blog entry written and published by Jean Beltran-Figues, A Pinas traveler and photography hobbyist, find more travel blogs in my blog section, click here.