This is the final blog post of a 5 part series and is a continuation of my last blog post, Yellow Sticky Notes – Part 4: Online Monetization...
As I travelled around with Yellow Sticky Notes to various film festivals during the spring of 2008, people would come up after a screening and ask me if I was sponsored by 3M or Post-it Note. When I said no, they usually said "Are you crazy you should get them to give you money or something?" Sure the thought crossed my mind but I had originally avoided approaching 3M because I grew up kind of punk rock as a teenager and had this anti-corporation mentality. I don't eat McDonalds or drink Starbucks so why would I want my films to be associated with a big company like 3M. In fact, I actually used discount sticky notes that I bought at a liquidation store to make the film…they weren't even authentic Post-it Notes. Thus, I didn't want it to look like I sold out if Post-it Note had any involvement. But, it also dawned on me that as an independent filmmaker who made a film with no budget, I needed some help with my marketing and promotion…and 3M could be a valuable asset if I could get their help.
So I finally broke down and decided to get in touch with 3M Canada. I had also sent them a DVD of Yellow Sticky Notes and following up with a phone call. The 3M Canada Post-it Note marketing director, Sherry Browne, told me she loved the film! Although, when I spoke to her and asked if Post-it Note would help sponsor the film, she said, "Well, you didn't call it Yellow Post-it Notes so there's not much we can do". I kindly responded, "Well you would have sued me if I had called it that since Post-it is a registered trademark!" We both had a good laugh at that!
So instead of giving me money, she agreed to help me out with the promotion of the film. Thus, she was able to get me thousands of die-cut Post-it Note pads created in the shape of a character in the film, the 9-11 Bunny. What I would soon realize, was that this would be the greatest promotional material anyone had ever created for a film. To this day, Sherry and I are still great friends and I can't thank her enough for believing in the film and my filmmaking. We continue to maintain a great working relationship and it was her idea to take a chance on me and commissioned my 2010 short stop motion film, Ode to a Post-it Note.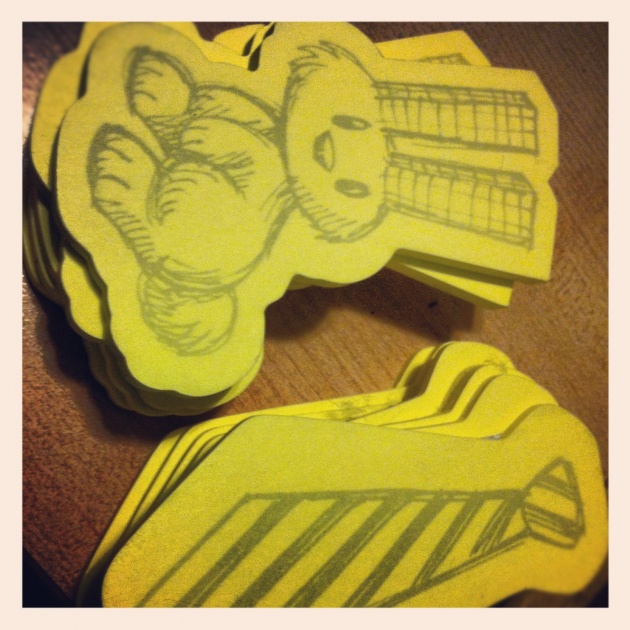 In 2009, I received a huge surprise, Yellow Sticky Notes was accepted to the Clermont-Ferrand Short Film Festival in France. Clermont-Ferrand is the world's largest and most prestigious short film festival in the world. It is almost virtually impossible to get accepted because of the thousands of submissions they receive each year from almost every country in the world. There's less than a 1% chance of being accepted and my film was one of only 3 English Canadian films accepted to the festival. Again I was floored since my film was already on YouTube and I thought for sure that would be a deal breaker for being officially selected to competition...and considering my film was rejected from the Toronto Worldwide Shorts Film Festival and Sundance. Although, this just goes to show you that you can't get caught up with festival rejections and should always continue to persevere and submit your film regardless of some junior festival programmer who was having a bad day and didn't like your film.
I couldn't pass up not attending the largest short film market in the world so I came to Clermont-Ferrand armed with four hundred, 9-11 Bunny shaped Post-it Note pads and a bunch of 11x17 inch posters. After putting out some of the custom Post-it Notes the first day and having them snatched up in less than five minutes, I realized I didn't bring enough. So I pulled them in half to make two pads…which left me with now over 700 pads. Luckily I brought enough screening labels to put on the back of all of them. I was strategic and put up my posters early in the best spots. I hung them using the sticky Post-it bunnies. Then I gave all the festival volunteers the Post-it pads. What I realized was that they were sticking individual Post-it Notes on themselves, on the walls inside the theatre, on other people's posters, basically these bunny Post-it's were popping up everywhere…just like rabbits!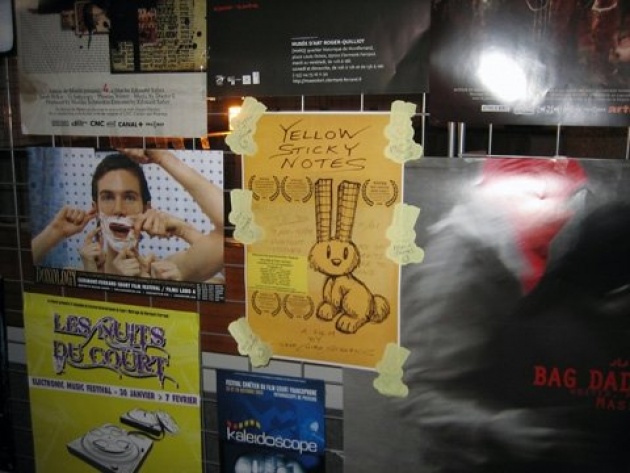 At Clermont-Ferrand you have 7 screenings. Each screening is sold out with at least 400-500 people per screening. There's even one theatre that holds over 1200 people that was always jammed. My film was featured in the Lab competition, which is a competition that focuses on cutting edge and experimental films. My film was getting some amazing buzz from all the branding and promotion. I was getting some interest from distributors and international broadcasters....as well, I was getting invited to screen at a bunch of new film festivals.
Although, the most amazing news came on the festival's Closing night when they announced that Yellow Sticky Notes had won the Prix du Public (Audience Choice Award) in the Lab competition…which just happened to come with 1500 Euros…again I was floored. Winning the audience award blew me away considering the audience was mainly French speakers and my film was written entirely in English and there was a lot of reading to do. Yes, it was subtitled a bit but not enough to get the full effect, especially seeing as how the audience had to take their eyes off the screen to read the French subtitles.
What I realized was that I had created a brand recognition with the 9-11 Bunny Post-it Notes strewn around the theatre and plastered to the volunteers clothes. When people saw the 9-11 Bunny Post-it Notes everywhere, they were automatically drawn to the film when they saw the 9-11 Bunny appear on the screen. Thus, I figured they must have felt inclined to vote for the film because they felt an instant connection to it already before they even saw it. It was at that moment I released how important marketing, promotion, and branding is for a film. 50% of filmmaking is making the film and 50% is all about getting people to see it…and sometimes that 50% is more difficult than making the film but so integral to building your own filmmaking branding and fan base.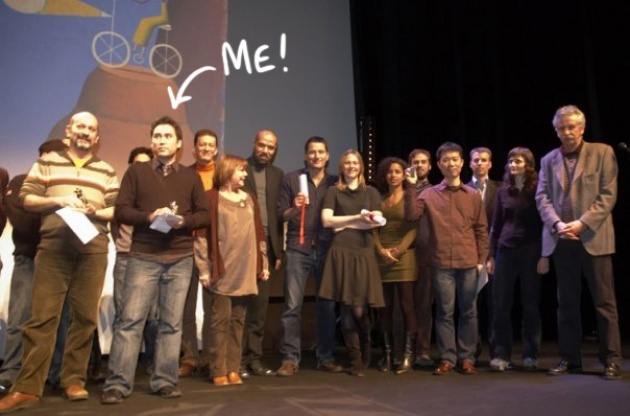 When I was in attending the Emily Carr University for Art and Design and studying animation, I worked for a marketing and promotions company. I worked on campaigns for big companies like Sprite, Coke, Proctor & Gamble, and Molson. It wasn't really vibing with my anti-corporate philosophy but work is work when you're young and in university. As well, before that I was a professional snowboarder and when you get paid by sponsors to represent their clothes and snowboards, you're basically a walking billboard. So with all this marketing and promotional training, what I started to realize, was just how these companies would brand their products to target markets.
So when I graduated from animation school, I realized how important marketing and promotion were to make my films stand out from the crowd. I used the knowledge I learned at the marketing company to create a brand around my films and my filmmaking. This is something they don't teach you in film school. When I was a Clermont-Ferrand they give you a catalogue with over 5000 films that were submitted to the festival from around the world. That catalogue represents barely a fraction of the hundreds of thousands of short films produced each year. Yes, your film can be brilliant but if not marketed correctly it will get lost and end up on your shelf collecting dust...and that's just not fair to you or the people who were involved in making the film. Take pride in your work, promote the hell out of it, and great things will happen!
In final, I'll be completely transparent...Yellow Sticky Notes made approximately $30,000 in its first year of release though licenses, broadcast and internet royalties, prize money, and DVD sales. For a short film made for $150, I think that is pretty phenomenal. So yes, it is possible to make money from short films. I truly believe the film did so well because it is honest…and in this day and age, audiences are searching for films that they can connect with and that inspire them. I feel as a filmmaker, my philosophy is to always stive to make films that enlighten, entertain, and inspire the viewer.
In North America, we need to get over the idea that short films are considered calling cards or hobby films. In actuality, short films are art. Short films are marketable. Short films are profitable. Especially with the ushering in of a new online revolution…an online revolution that will not be stopped…but most importantly cannot be stopped! To quote one of my favorite animation filmmakers of all time, Norman McLaren, "Film is changing, and it can't help but keep changing…"
Happy filmmaking and I hope you were able to take some insights from my Yellow Sticky Notes self-distribution case study. Please feel free to leave me comments if you have any questions or opinions.
This is the final part of a 5 part series into the making of and self-distribution of Yellow Sticky Notes. Please subscribe to my blog and WebTV for updates on the next posting coming very soon from the 2013 Santa Barbara Int'l Film Festival where I'll be premiering Yellow Sticky Notes | Canadian Anijam!
To watch Yellow Sticky Notes here on Film Annex...here's the link, please share it with your friends and family! http://www.filmannex.com/webtv/meditatingbunny/movie/yellow-sticky-notes/32303