Laura Jenkinson is a young and talented makeup artist. She is one of those few artists who leave you spellbound at seeing their art. She is famous not only for her makeup art, but also for her beautiful paintings of women, made entirely of makeup! I mean, how unique is that? An artist painting using makeup, ever heard of something like this? Enough said, this woman has the talent.
Recently Laura has made it to the top viral topics on the internet because of her amazing lip art collection based on Disney characters. She made many, we'll limit ourselves to show you the top 10 most amazing characters depicted on her lips. Yes, she does this on her own lips!
1. Stitch
Here is, for a start, the cutest alien in Disney history, none other than Stitch, the cute "Dog" in Disney's "Lilo and Stitch".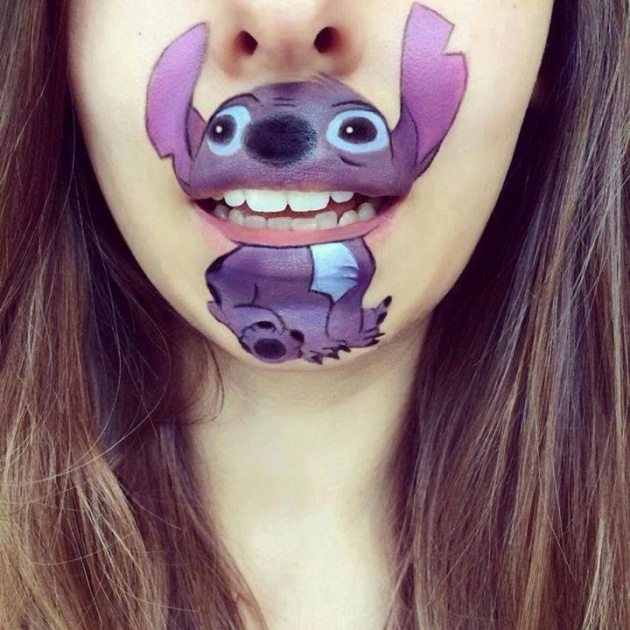 2. Cow
As you can see, our genius artist, Laura, uses her teeth along with her lips, and as you'll see later even her tongue to make her characters come alive.
And well, this one does not seem to be any Disney cow I know, but her collection is not limited to Disney characters only. We chose this cow for our top list of Laura's lip art collection because it is simply amazing.
Here she even used a piece of salad for the cow to eat, how cute is that?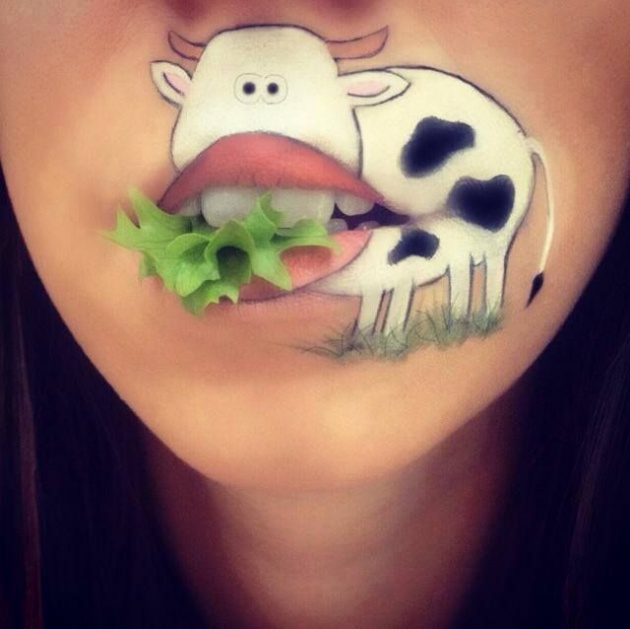 3. Mike Wazowski
Who does not know and adore the green little helper of James P. Sullivan in Disney / Pixar's "Monsters Inc."? Mike Wazowski, right. Without him the entire movie would have been a fail. He brought life into the whole thing, and is personally my favorite protagonist of the movie.
In Laura's artwork, Mike looks surprised, I don't remember the exact scene of this look, but it is so awesomely depicted that looking at this image makes me feel like I'm actually watching the original in the movie!
4. Tazz
We all know the Looney Tunes, right? Let me tell you, if you don't know them, your childhood was definitely NOT awesome.
Anyways, this here is Tazz, the Tasmanian Devil. Though this representation by Laura looks really cute, this guy scared the sh!t out of you as a kid! That's right, admit it
5. Timon
This is yet another MUST KNOW Disney character. Who of you did not see "The Lion King"?
Timon, along with his friend Pumba, teaches Simba to take life easy with their motto "Hakuna Matata", a Swahili phrase meaning "No Worries".
These dudes made you forget quickly about the tears you shed when Mufasa died, right? In the same way they made Simba's life of exile happy and tension free.
Look at Laura's lips. Don't you also see the resemblance to the real Timon by Disney? Seriously, her talent is unmatched.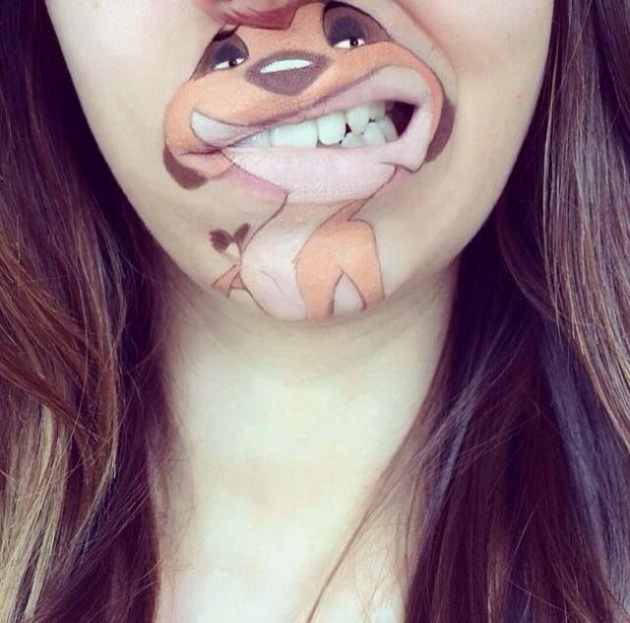 6. Pumba
I knew after seeing Timon you'd ask "and what about Pumba?" Well, here he is. The fat funny Pumba. Once again, Hakuna Matata, no worries guys, take life easy!
This one is perhaps one of Laura's best creations. This picture takes me back to the movie scene, to the first time I saw these funny fellas. Great work, Laura!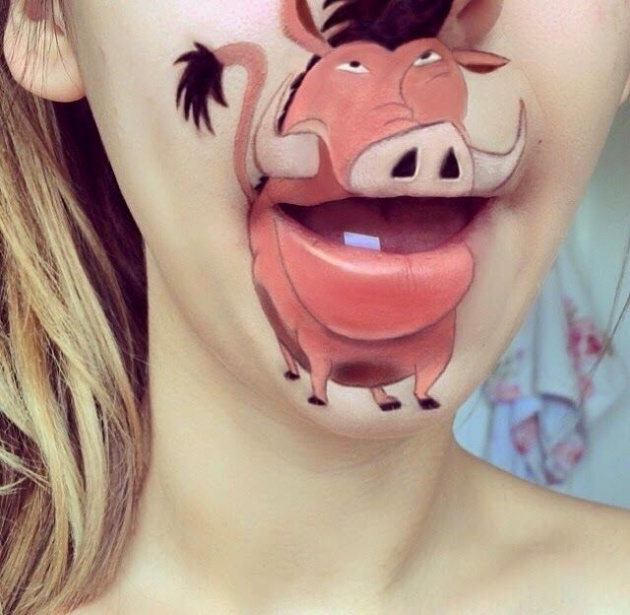 7. Goofy
This guy is a very old Disney character, created in 1932! I remember him mainly from the comics, though I always preferred Donald Duck
Goofy mainly appears in connection to Mickey Mouse, but sometimes with Donald Duck characters as well.
He is a funny, clumsy dog, hence the name Goofy.
Coming back to Laura's art, what do you think about this one? Awesome, right? Just like in the comics book…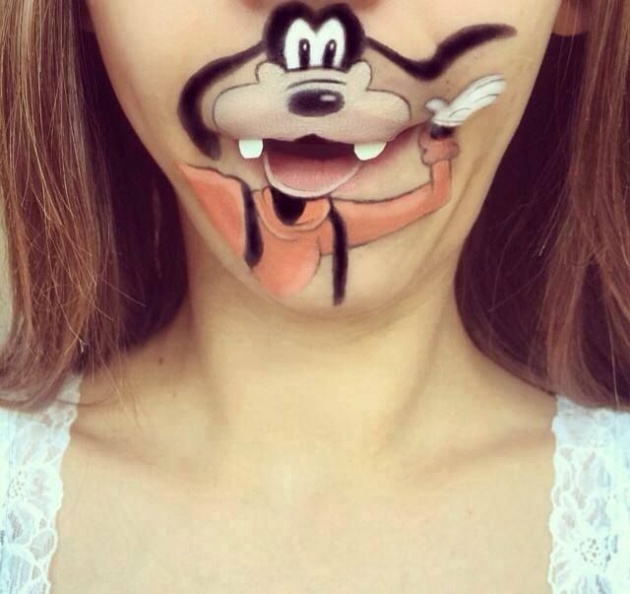 8. Frog
Let's be honest, there are lots of Disney movies with frog characters. So let's just assume this is the from from "The Princess and the Frog".
Laura's frog is so cute, I would not mind kissing it
But since she is a girl, it would be "The Prince and the Frog" in our version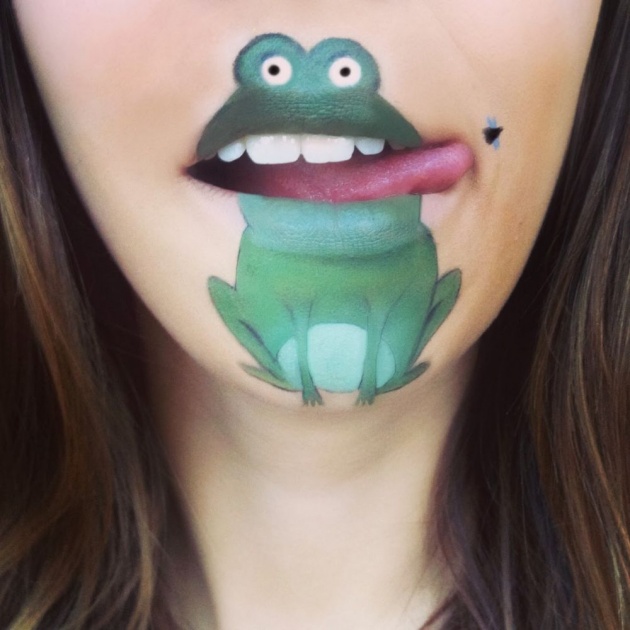 9. Dory
Perhaps the funniest and most loved character of Disney / Pixar's "Finding Nemo" was this cute forgetful little blue fish, named Dory.
She says something, and a moment later she forgets what she was saying
but she never forgot her mission: to help Nemo's father to find his lost son.
Laura's art captures our imagination yet again with this amazing recreation of Dory, making our mind travel the long distance through the oceans to find the lost Nemo.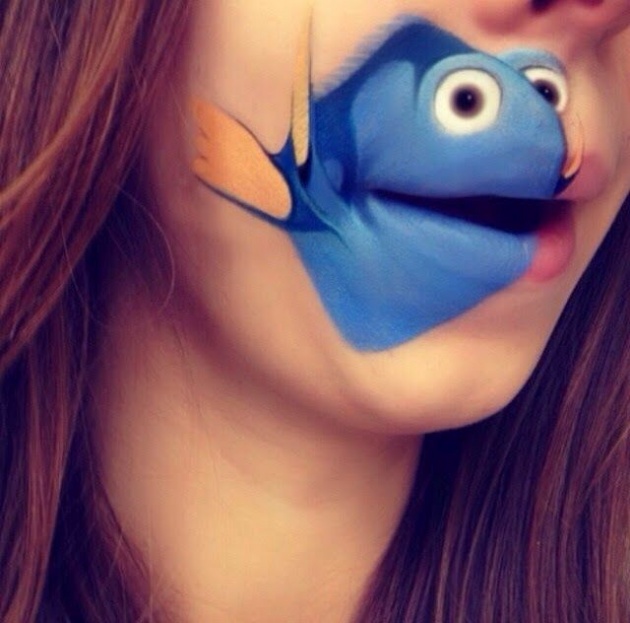 10. Sebastian
Last but not least, in our list of amazing lip art by Laura Jenkinson, comes Sebastian, a funny crab from Disney's "Little Mermaid".
To be honest, I've not seen this movie yet, but from his looks I can tell he must be the most funny and entertaining character of the movie. Disney apparently loves to put a funny character next to the protagonist in each and every one of their movies.
Here Sebastian seems to be busy singing one of those Disney songs we always hated, but isn't he too damn cute? xD