10 Things You didn't Know About Estonia
Estonia is one of those countries where once you discover its charm you'll wonder what took you so long to visit. Apart from its Old Town being the world's biggest and best preserved mediaeval city (UNESCO World Heritage listed), Tallinn is a dynamic and thriving capital, home to one of Europe's fastest growing economies and a hub for high tech innovation. Since restoring its independence in 1991 Estonia has been going from strength to strength, earning itself a reputation as being one of the most politically and economically free countries in the world.
So much beauty can be found in Estonia and it's not just within the city walls, in narrow passageways and along the cobblestone streets. Estonia has so much more to offer. Once you get outside of the city limits you can explore one of its many islands (there are over 1500 of them!), go trekking in the national parks or simply wander through the beautiful forests that cover nearly 50% of the country.
Estonia is simply stunning in both summer and winter but if you want to experience a bit of Nordic magic, then visiting Tallinn during the Christmas season is a must. Snow covered rooftops, turrets and church spires all create an enchanting, storybook backdrop that will leave you spellbound.
If you are yet to experience the wonders of Estonia, here are a few things to spark your curiosity.
1. Tallinn Airport is one of the best in Europe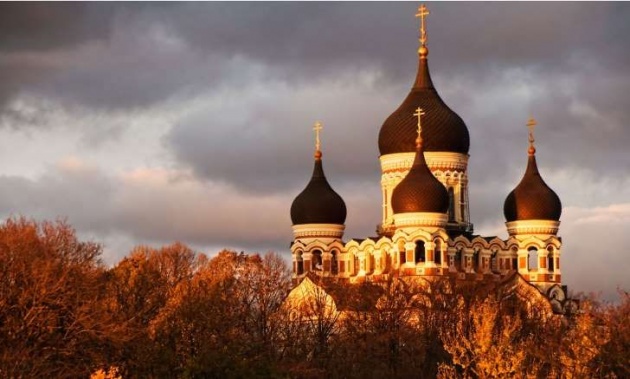 Most people tend to visit Estonia via cruise ships but if you're flying in, you'll quickly discover that Tallinn airport stands out from the rest.
An innovative concept that was launched a few years ago is the Tallinn Airport Library. Here visitors can read and even borrow a book at their leisure and return or replace it during their next trip to Tallinn. The library fosters a sense of community and environmental awareness and has proven to be a huge success with travellers.
Another great initiative is the business card exchange. People can pin their business cards to the wall and take a card away that is of interest to them. It's a great networking platform that doesn't require the traditional face-to-face contact.
Visitors to Tallinn airport are often delighted to discover that the fabrics used to upholster the lounge seats are in fact part of the Estonian national costume. These unique fabrics with their colourful stripes originate from various regions of the country and are thus an integral part of Estonian cultural identity.
2. You can pay for virtually everything in Estonia via a mobile phone
Estonia is one of the most tech savvy countries in the world with one of the highest rates of mobile phone ownership per capita. Most Estonians complete their everyday transactions online and don't carry cash around with them as much as they used to. This has given rise to mobile phones operating like 'mini banks'.
With Wi-Fi freely available across Estonia, even in forests, it's easy to pay for your parking, top up your bus ticket or even buy your Christmas tree via SMS. It sure makes life a lot easier than carrying around a pocket full of coins!
3. There are no public pay phones in Estonia
While it's still common to see pay phones in most countries in the world, they have been obsolete in Estonia for years. There is no need for them. Thanks to Estonia's national Wi-Fi coverage Estonians can enjoy being connected at a fraction of the cost elsewhere. Many Estonians pay as little as €8 a month for their mobile plans and this includes hours of free talk time!
4. Most Estonians speak English
One of the fears travellers often have prior to arriving in a new country is whether they will be able to communicate. That's not an issue in Estonia. Like other Nordic countries, Estonia places great emphasis on teaching English in schools from a young age.
Although Estonians may appear quite reserved, they are very helpful if asked and will assist you whenever they can. The countries in Europe with the best proficiency in English as a second language are Sweden, Norway, the Netherlands, Estonia and Denmark.
5. Estonian garlic bread is absolutely delicious
One thing that always takes visitors by complete surprise is how garlic bread is made in Estonia. It's completely different from what you get elsewhere.
When you order a side of garlic bread, or küüslauguleib as it's known in Estonia, you won't receive a white fluffy breadstick like you do in Italy or in other countries, but slices of black bread fried in butter and garlic and served with a white sauce. Once you get past the initial "oh, that's different" reaction and actually try it, you'll soon appreciate how absolutely tasty Estonian garlic bread is!
6. It is law for pedestrians to wear reflectors at night
Since 2011 the Estonian Traffic Act requires all people travelling by foot at night or in conditions of inadequate visibility to wear safely reflectors. They can be in the form of a tag, bracelet or key ring and should be attached to either your outwear or handbag. Most Estonians abide by this law and wear some kind of reflector in order to avoid the €400 fine.
7. Don't drink and drive. The legal limit is zero.
Estonia has strict laws when it comes to alcohol consumption. There is zero tolerance for drink driving and the sale of take away alcoholic beverages in shops is prohibited after 10pm. After this time alcohol can only be purchased and consumed on the premises of restaurants and bars.
8. Beware of scam taxi services
Unlike other cities there is no set tariff in Tallinn for taxis and companies can charge whatever they want. Many people, tourists in particular, get ripped off when they don't read the price list displayed on the passenger window before they enter the taxi. Some firms charge exorbitant prices, triple or more than what is considered an acceptable fare.
Most locals use Taxify.eu to order their taxis. It's a very convenient mobile app that does not require calling to a taxi dispatch number. Taxify has strict quality control based on a rating system which means quality drivers get more rides.
Scammers and other unsavoury drivers usually get blocked from the system quickly once they have been identified.
9. Everyone loves Vana Tallinn!
Estonia has its own unique liquor called Vana Tallinn that both locals and visitors alike simply cannot resist. It is a sweet rum-based drink containing citrus oil, cinnamon and vanilla and is sold in an attractive turret-shaped glass bottle.
Vana Tallinn is produced in three strengths 40%, 45% and 50%. Coffee, chocolate and cream flavoured variations are also available. No trip to Estonia is complete without a souvenir bottle of Vana Tallinn to take home!
10. Check out the Depeche Mode Baar
If you love 80s music, particularly that of Depeche Mode, then a trip to the Depeche Mode Baar in Tallinn is a must. In recent years the bar has become world famous, featuring in many travel guides and has had many celebrities pass through its doors to sign the autograph wall.
The Depeche Mode Baar is located only a few minutes' walk away from Tallinn's Town Hall Square and will even impress people who are not fans of the band. Depeche Mode's songs are played non-stop on the video screens and cocktails have been named after their hit songs. It's a fascinating place and worth stopping by if merely for curiosity's sake.