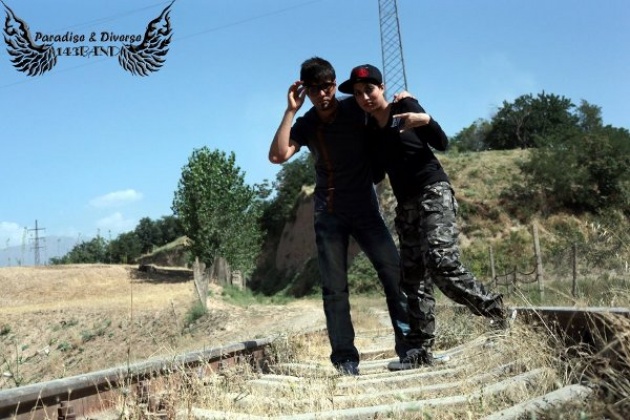 "The message that "Hamvatan" has is to gather the people of my country to be unique and forget about the tribes and cities that they come from and encourage them to unite them."
143Band is a young talented Afghan music band that spreads its words by music all over the world. Below is an interview with them about music in Afghanistan.

FA: Please tell us about yourself and your background?

143Band: Well, we are the only two members of 143Band. We both were born in Iran and grew up there, but both of us are pure Afghan. Since our childhood, we had a great desire towards music that's why we were singing at our schools for friends and family members. Later, due to some issues, we went to Afghanistan. Actually, we met in Afghanistan and decided to build up the band and 2008 was our professional beginning for 143Band.  

FA:  Please tell us about 143-band and the philosophy behind it?
143Band: We do love each other!!! So it is 1 for I, 4 for LOVE and 3 for You!!! And we want everyone who is listening to our songs and supporting us to know that we love our fans!!! So that's why we are 143Band.

FA: When did you decide that you wanted music to be your career and why?
143Band: As we mentioned, we both had a very strong desire to be a singer since our childhood. Ahmad and I were members of our schools chorus group and we did some artistic help for our schools. Singing at home for our families and relatives was a great help, too. But we started professionally since we created the Band.

FA: Are you a thought leader? If yes, how? Can you name few thought leaders in your industry who you had personal relationships with and how these relationships influenced you?
143Band: To be a though leader is that you know you have something to share with others and share it to help improve the world. There are many people who have good thoughts and ideas but either they are not able to broadcast them or simply don't want to do that. In our career however, it is one of the advantages of being a singer so you can express and share your messages and ideas through your songs!
There are so many ideas in our mind that needs to be discussed and be implemented, but need sponsoring. Mostly helping children and women is the main target of us.

FA: Do you try to give messages in your songs? And if so, what are they?
143Band: We can generally categorize our songs in two parts. We can say that we have songs that are describing true social life style and situations of Afghans and the other types of singles that are general songs. In both, we tried our best to make them in a meaningful way in the three aspects: Lyrics, music, and video.
The content of meaning for "Avalin Bar" is somehow asking God for help to stop war all over the world! The message that "Hamvatan" has is to gather the people of my country to be unique, forget about the tribes and cities that they come from, and encourage them to unite them.
In the song "Faryade Zan", I am singing rap and shouting the voice of the women of Afghanistan to all the world and trying to describe the difficult situations of female life. Currently I am working on another project which is related to women's life.

FA: What challenges have you faced during your performance as an Afghan music band in Afghanistan or outside?

143Band: While we were working one 143Band in Afghanistan, the only problems we had were the facility and security. By facility I mean, because we were living in Herat at the time, the quality of recording and making music video was not what we were expecting. The security was another big risk, especially at the time we were living in Herat city, due to so much kidnapping, suicide attack and other problems. So as a result, we moved to Tajikistan and we encountered challenges in Tajikistan as well. The problem we had outside of Afghanistan was finding sponsors. But we are always waiting for good news.

FA: How do you promote your band and shows?

143Band: The two biggest social media that we can promote ourselves on are YouTube and Facebook. Another resource is our website and we should be thankful to our website designer. And of course some other websites and blogs that helped us so much to advertise our songs.