a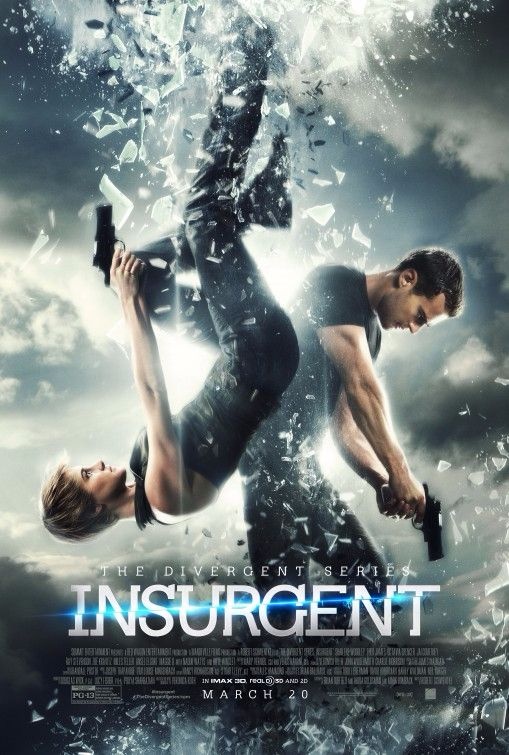 Image Source: Insurgent Poster via Impawards
Peace. Long ago, before the Founders established this great city of ours, that word was all but meaningless. But this harmony we achieved is now under attack from a small but extremely dangerous group of individuals. We call them Divergents. They are, in essence, the worst of what humanity used to be. Rebellious, defiant, and uncontrollable.

-Jeanine Lines via m.Imdb.com
ABOUT
Insurgent is a 2015 American science fiction action film. It was based on the second book of Divergent Trilogy written by Veronica Roth. The Film was release on March 11, 2015 (London) and March 20, 2015 (United States)
Critical reaction to the film was mixed to negative: some have considered the film to be an improvement over its predecessor, with reviewers highlighting the visual style, action sequences, and Woodley's performance, but the film still received a significant amount of negative criticism, mainly focused on its storyline. The film was a commercial success, grossing $52.2 million in its opening weekend and reaching the number one spot at the box-office. During its release in theaters, the film earned over US$297 million worldwide.
It was directed by Robert Schwentke, He took over the Directing of this series from Neil Burger. Produced by Douglas Wick, Lucy Fisher and Pouya Shabazian. Just like the first part. Insurgent was Produced by companies, Red Wagon Entertainment, Summit Entertainment and Mandeville Films and also distributed by Lionsgate. Lionsgate movies are these followng: Jigsaw, Saw 2, Power Rangers, Saw, Hunger Games: Mocking Jay, La La Land, Hunger Games: Catching Fire, Hacksaw Ridge and many more.

Image Source: Lionsgate movies via google
Image Source: Insurgent Trailer via Movie Clips Youtube Channel
Story of Insurgent
After the intended attacked of Erudite to all Abnegation, Tris, Fourth and together with the few Abnegation and Dauntless, Moved from another city that was holding by the Amity. Amity is known for their Peaceful and loving environment so they embraced the escapees.
But as what they are, Dauntless is a Dauntless. Tris and Peter fought a very messy fight. The Amity Leader, Johanna led them to her office and once again warned them about their violent actions that may disturbed the peace in Amity.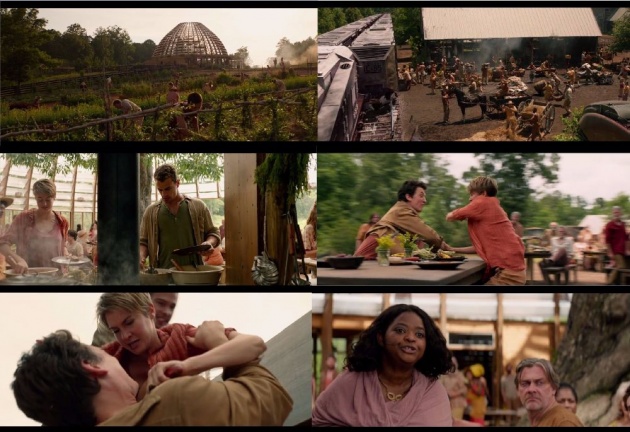 Image Source: Movie Scenes / Edited by Me
This Warning in Johanna's office seems to be a good thing, especially when Dauntless Leader, Eric, Attacked their current place. He was instructed by Jeanine to capture all the People who is an Divergent. However Traitor Peter shouted to warned Eric about them hiding. While Tris, Fourth and Caleb tried to escape aggressively from barking dogs, Dauntless.
Johanna: Was I not clear that the terms of your sanctuary here included non-violence?
Four: Well I can guarantee you nothing like this will ever happen again.
Johanna: Well be that as it may, you can no longer stay here with us. Your presence, it's just too disruptive.
Tris: The truth is that our sanctuary was never gonna last very long here anyways, was it? With you not standing up to Jeanine.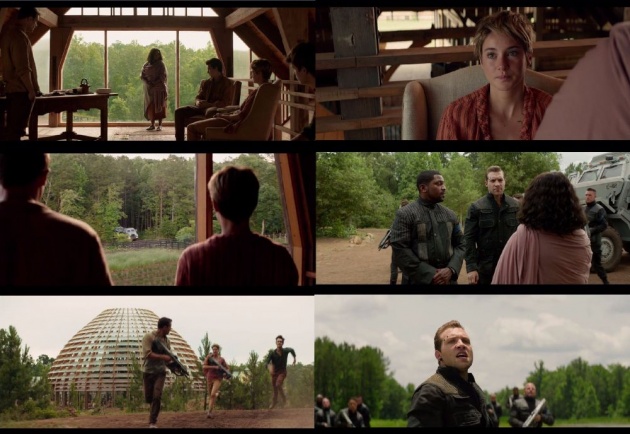 Image Source: Movie Scenes / Edited by Me
While on the run, They encountered Faction less People who also brought a disagreeing gesture to them. Factions about Jeanine violent act against Divergent people. As what Jeanine discovered, A Mystery Box from the creator of their Factions and City with a hidden message inside it, The Mysterious box is only to be open by a 100% Divergent passing the fear test. This is the reason why Jeanine tends to ultimately forced Dauntless Warriors to find each and everyone of the last Divergent.
Tris is the one they are looking for so she decided to surrendered herself for the sake of thousand of Death that might come.
Findings turned to violence, violence turned to death.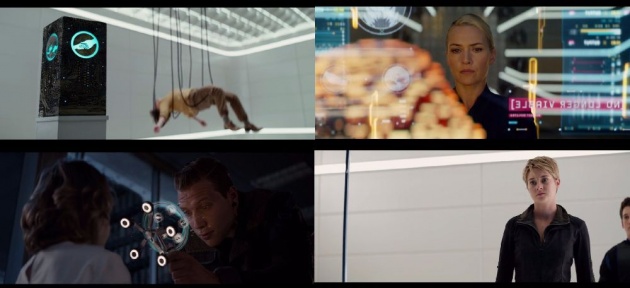 Image Source: Movie Scenes / Edited by Me
Factionless, Few Dauntless and Condor merge power to destroy and stop Jeanine once and for all.
CAST AND CHARACTERS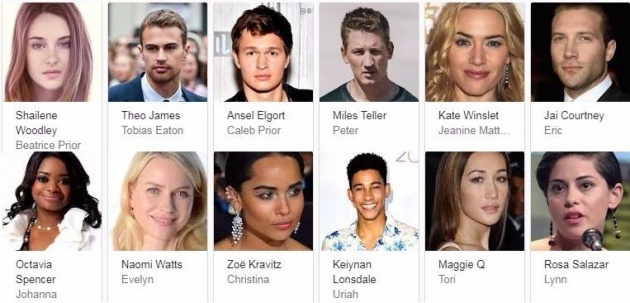 Image Source: Insurgent Cast and Characters via Google
1. Beatrice 'Tris' Prior - The main protagonist and the only 100% Divergent. Her Mother and Father died in the first part (Divergent) while protecting her. This made Trish feel guilt and senseless, that affected here actions toward other people.
Actress: Shailene Woodley
2. Tobias Eaton 'Four' - Son of one of the Leaders of Abnegation before Erudite attacked their Faction. Love Interest of Tris. One of the Dauntless Leaders.
Actor: Theo James
3. Caleb Prior - Brother of Tris who chose to be part of Erudite invasion than to help her Sister's to Survive the war. He's more on brainy doings than fighting.
Actor: Ansel Elgort
4. Peter - Betrayal in any party who seems on the peak of death. He was a Erudite before but he chooses to be a Dauntless.
Actor: Miles Teller
5. Jeanine Matthews - the never give up Erudite Leader. She believe that Divergent are the problem in the society, and all of the potential divergent need to vanished from the new city to maintain the peace.
Actress: Kate Winslet
6. Eric - Dauntless Leader who follows Jeanine order like a dog. Him and almost all the Dauntless Troupe.
Actor: Jai Courtney
7. Johanna - Amity Leader who helped Tris, Four and Caleb to hide from the disaster that the Invading Erudite implemented.
Actress: Octavia Spencer
8. Christina - Friend of Tris who was a Candor. She contributed a very special role in the movie. Also She is close with one of their friend, Willy. (Killed by Tris, Intentionally)
Actress: Zoe Kravitz
Their Acting? They are indeed great! from the Divergent to Insurgent. Feelings and expectations are alive, emotions and everything is there. It's good to watched Actor and actresses who know how to make viewers sway into their life, Its like riding in a Car until the end without thinking about being on a accident or in a trouble.
One thing, I didn't believe that Kate Winslet is Jeanine Matthews. haha! The last time I saw her and as I can say the first time I've seen her is in the Titanic :D I didn't recognize her that easily. the wrinkles is there and the path from getting old, but She's still gorgeous just like before ~ I like her acting too, She gave a very hard punch to protagonist, Not so villain but effective :D
Ansel Elgort, also nailed it ~ Some of his movies like the newest and latest one ''Baby Driver'' He showed a very unique character there. from lame and nerdy Erudite to Cool Vigilant's Driver. Personally, I'm waiting the movie to be published clearly in some site so I can watch it :D
THE AMITY, THE CANDOR and THE FACTIONLESS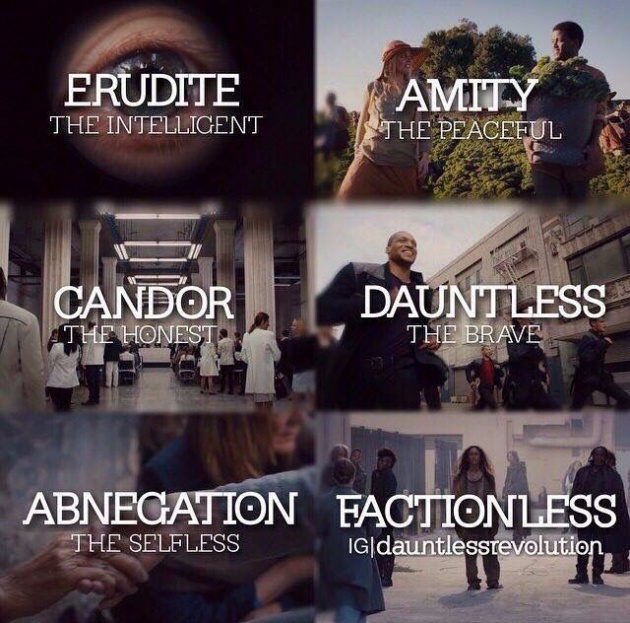 Image Source: The Factions via Pinterest.com
If Divergent only shows 3 Factions (Erudite, Dauntless and Abnegation) In the Second part, Insurgent, They expose all the remaining factions because of the Reason that the War happening between Tris Troupe and Erudite is for the sake of the peace in the City. To prevent another wider war all Factions must be involved, Including Factionless.
Green Friendly People are from Amity, They are called the Farmers that supplies food in the entire Factions, They believe in Peace. It was really relaxing when the movie plot started (with the protagonist in the scene) very peaceful and green. It was like, The scene says "Enjoy the moment of Silence before entering to the world of violence" Good job!
I was fascinated by the Fact that Candor has a very stylish and very clean house. They showed from the beginning of their introduction that they are Honest, Pure and Clean.
Opposite to Candor, we have Factionless, People intended to be on a Gangster style, Like a rebellions from the others. Well I can't blame them, They are pushed away by not just fitting on one of the Faction.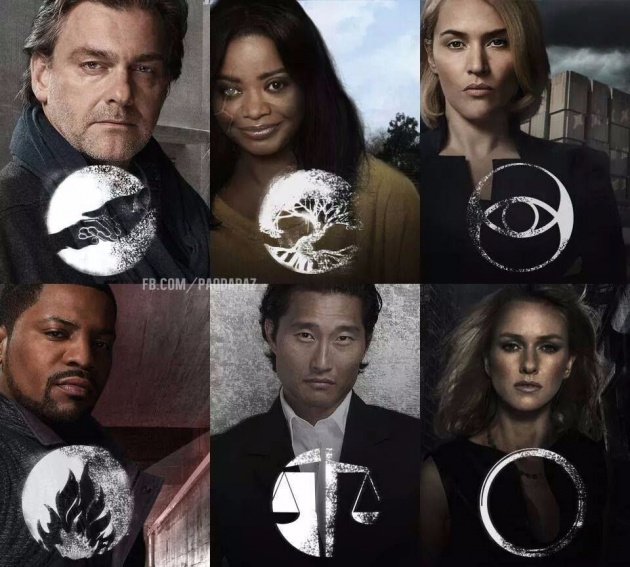 Image Source: Factions Leader via Pinterest
For Amity - Johanna or in real life Octavia Spencer became a very effective leader in leading a peaceful and pure heart Amity. Her calm feature at the same time aggressive mad look gave a satisfying outlook in the movie.
For Candor - Jack Kang or in real life Daniel Dae Kim has a look of loyal and has a integrity leader, From the way he stand and the way he talk. He also nailed the character as Candor Leader.
For Factionless - Evelyn Johnson Eaton or in real life Naomi Watts, as what the two faction leaders, She also did a great job. Despite of being a Leader from factionless, she shows that she can be powerful as the 4 factions can be. She justified that even they don't belong in any of the Factions they still deserved more.
As what I observed, These Factions doesn't tolerate any Racism. Amity Leader is Black American, Candor is Asian, Factionless is Australian, Dauntless is Black american, Erudite is English and Abnegation is British.
I think one of the assets of the movie is that, They have an abundant number of characters that they can merge and mixed with to come up with a new Idea. They have this strong Casting that can manipulate viewers in seeing another part of Divergent (DIVERGENT, INSURGENT and ALLEGIANT) It seems like those Factions can have an each movies that would represent a significant character and later on be used in a one film. That would be a great idea :D but I know, they can't plagiarized the Idea of the Author, Unless they have given the story plot for another kind of movie.

Image Source: Insurgent Letter Poster via collider.com
INSURGENT doesn't only showed the different aspect of a human being have in contributing in the world but also the b. I recommend this film not just for its great plot and action scenes but also for the eye opener essence it has. Compare it in our real life and you'll know what the true situation is :)
"One choice can transform you.
One choice can destroy you.
Once choice will define you."
― Veronica Roth
Video Source: Insurgent Cast Interview via Fox 5 DC Youtube Channel
The next one is ALLEGIANT!
STAY TUNE!
THANK YOU FOR READING!
KEEP SAFE EVERYONE!
and
CHOOSE WISELY!
in Life
Best Regards,
August 2017