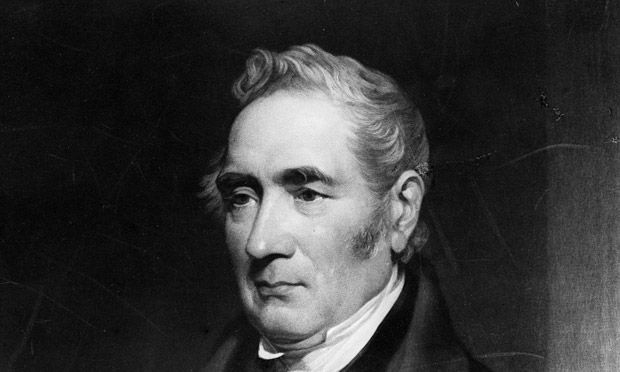 Who was George Stephenson???
Known as the 'Father of Railways', George Stephenson (English, 1781-1848) was the engineer of the world's first public railway and his locomotive now known as Stephenson's Rocket became the template for steam engines for the following 150 years. Because of the success of the Rocket the railways quickly expanded across the country and set a standard for rail travel all around the world.
Here are the top five facts about the Father Of Railway...
THE ROCKET WAS INVOLVED IN THE FIRST RAILWAY ACCIDENT
At the opening of the first passenger railway, the Liverpool and Manchester Railway, there was a grand celebration. Drawing big names from industry and government, there was a procession of eight trains. The celebrations were marred though when Rocket, Stephenson's famous train, struck MP William Huskisson, who later died from his injuries.



THE TERM 'GEORDIE' MIGHT HAVE COME FROM HIM
Stephenson developed a safety lamp that prevented explosions in mines. Due to his Northern dialect and lack of formal education he was accused of stealing the idea and as a result his design was only used in the North East of England. The lamp earned the name 'Geordie safety lamp' after Stephenson's nickname 'Geordie the engine-wright'.


HE PIONEERED AN EARLY FORM OF BATTERY FARMING
Stephenson's talents weren't limited to the train tracks. He also developed an early form of battery chicken farming. This involved shutting poultry in small dark boxes after a heavy feed in order to fatten them up at twice the normal speed. He also developed other aspects of farming, such as experimenting with manure and animal feed.


HE WAS ILLITERATE UNTIL HE WAS 18
Stephenson was the second child of Robert and Mabel and neither of his parents could read or write. As a teenager, Stephenson worked as a fireman for Wylam Colliery. It was poorly paid and George did not earn enough money to pay for studies. It wasn't until he was 17 years old that he had finally saved up enough money to go to night school in order to learn to read and write.


HE WAS AN AVID WRESTLER
Stephenson was also a big fan of wrestling and he would often invite his good friend and fellow engineer George Bidder to wrestle with him – in his own home, no less. The two men wrestled so frequently and fervently that they often broke chairs and other pieces of furniture in the house. Stephenson's son, Robert, once commented that he worried they would bring the house down.