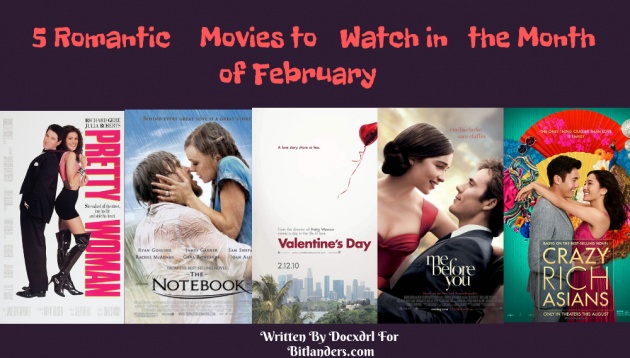 image credits: Docxdrl via Bitlanders
5 Romantic Movies to Watch in the Month of February
It's February and the month of Valentine once again! With at least a few days before the month comes to an end, I guess it's a good way to enjoy the remaining days of the month with these five romantic movies. You can enjoy these movies with your loved ones or your spouse. It doesn't matter whether you have received a valentine gift from your spouse or not. What is important is the spirit of Valentine. This is my valentine gift to you via Bitlanders.
I hope you will enjoy these movies. I wish you could tell me how you feel about this movie list in the comment section of this blog post. Happy reading!
5. Pretty Woman 1990
Pretty woman was written by J.F Lawton and directed by Late Garry Marshall (1934-2016 ). The movie stars famous Hollywood actors, Richard Gere, Julie Roberts and others.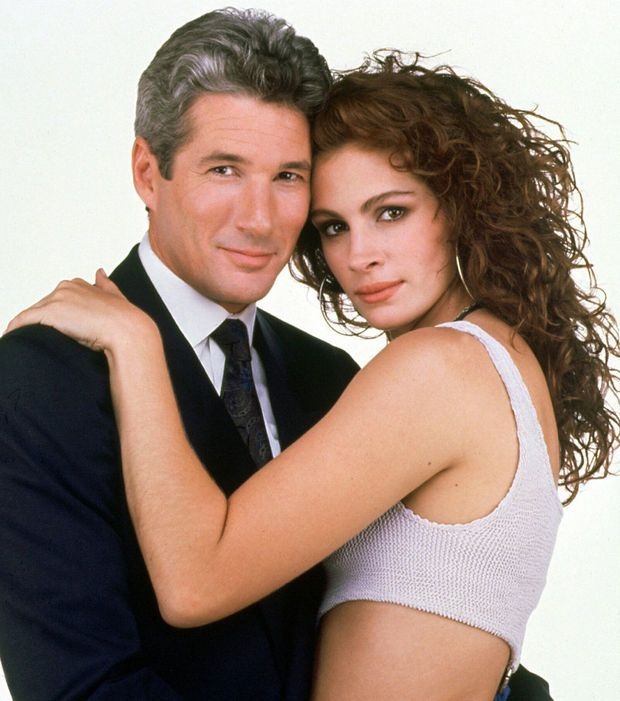 image credits: IMDB
The movie was roughly a budget of $14,000,000. After the movies' released date March 25, 1990. It made a whopping Gross profit of $178,406, 268 in the USA alone and made a Cumulative Worldwide Gross of $463,406,268. From the above-mentioned figures, the movie was a great success in the box office and cinemas across the world. The movie storyline was wonderful and well written to have resulted to this success. The actors, the director and also the cameraman played an important role in making the movie what it is today!
High-powered, ruthless businessman Edward Lewis (Richard Gere) who specializes in buying off companies that are in financial trouble and selling them off piece by piece just broke up with his girlfriend while on a business trip.
As a corporate tycoon, relationships were not his forte. Soon after leaving the business part in Hollywood Hills, he takes his layer's car Lotus Esprit Sport and ends up in Hollywood Boulevard. Lost and looking for his way back to his Hotel,he decided to hire a prostitute Vivian Ward (Julia Roberts) to drive him to his hotel.
After bringing him to the Hotel, he hired her for an entire week. During the week, while he meets with the rich and famous to conduct business, things started unfolding. Not long the due took a liking for each other and Edward slowly and steadily see the light at the end of the tunnel with Vivian.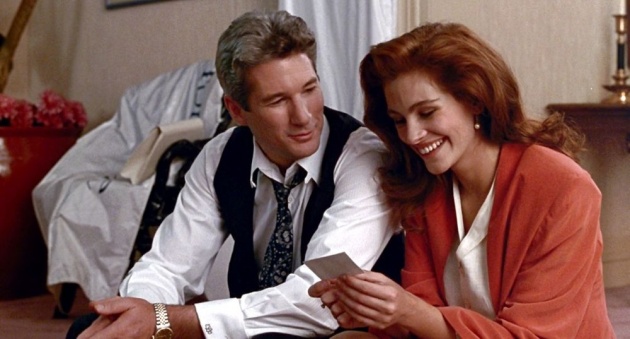 image credits: IMDB
It is a romantic comedy that I watched when I was young. I didn't appreciate the movie then, but slowly, with age comes some certain perspective (I may not conclude it to be wisdom). I'm glad I watched the movie when I'm much older.
Love is a plant that when nourishing and cared for, it grows to become a beautiful tree. The tree does not just stand as a windbreaker, but also a shelter for animals of a different kind.
It is an accidental meeting that resulted in a liking; the liking grew into love and love conquers all. Vivian Ward saw an opportunity to start life all over again, and she took the chance. It's like dreaming about second chances in life. A chance to rewrite the wrong decision we have made in the past.
4. The Notebook 2004
Ryan Gosling stars together with Rachel McAdams in the romantic comedy The Notebook 2004 It is a story of a young couple who fall in love in the 1940s. The movie is an adaptation of the 1996 novel by Nicholas Sparks.
Nick Cassavetes was the director of the movie. It was the amazing character adaption of the actors that made the film what it was. The movie was budgeted only $29,000,000. Although it has a low budget, it was successful at the box office as it made a cumulative Worldwide Gross of $116,075,707, that's a whopping 3x the amount of its budget.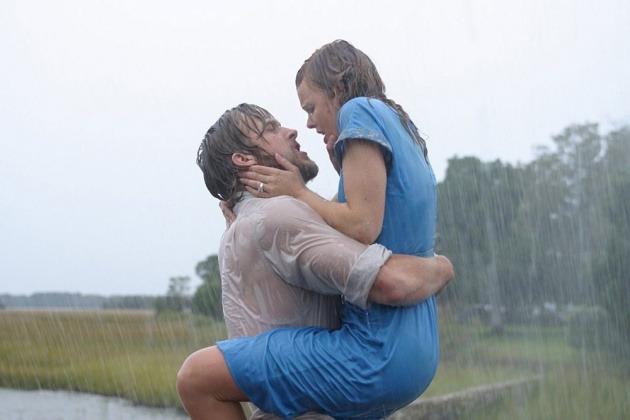 image credits: IMDB
It's a story of about a young poor and passionate man who falls in love with a young rich lady. But like all stories with a social class difference, the young man is separated from the young lady he loves by the social class difference.
The movie tells the story of these two individuals in their old days in a nursing home resident. Resident Duke reads a romance story to this old lady who has dementia, Ms Hamilton.
The story unfolds in the youthful days of these two in the nursing residents Duke and Ms Hamilton who has Alzheimer's. Severe case of Alzheimer always resulted in dementia, and as such, Ms Hamilton is suffering from memory loss.
In the 1930s, wealthy seventeen-year-old Ms Hamilton fell in love with Noah Calhom (Ryan Gosling ). One day Noah brought Allie Hamilton to an old house of his dream which he intends to buy and renovate.
But then, Mr & Mrs Hamilton did not approve of the relationship between Noah and their daughter because he belongs to a different social class Than Miss Allie Hamilton. Therefore, the Hamilton family moved to New York, but Noah did not allow distance to deter or interfere with his relationship with Allie. He wrote to her every day for a year. Miss Allie mother, Mrs Hamilton held all 365 letters written by Noah back and non-reached her daughter.
Three years past and the United States joined the second world war. Allie Hamilton became an army nurse, unknowingly to Allie Noah and his friend Fin also enlist for the army. At the hospital where Allie works, she meets and fell in love with a wondered soldier Lon Hammond.
Lon Hammond is wealthy and handsome, every mother's pride for a son. And every woman's dream of a husband. He proposed to Allie and she accepted. But she accidentally saw the picture of Noah and the renovated house he took her too several years ago in a newspaper. He has enlisted the house for sale.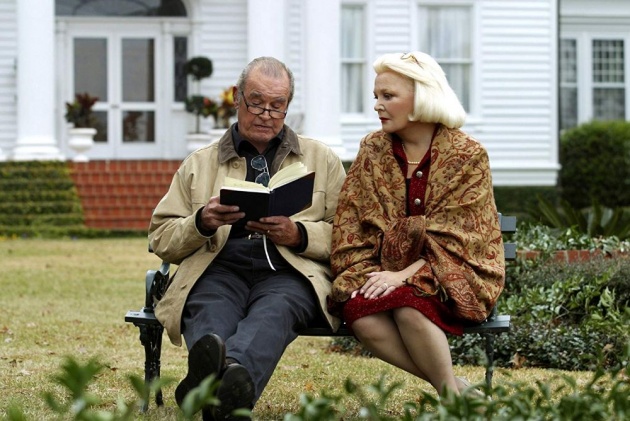 image credits: IMDB
Allie had mixed and divided feelings for both men in her life. It was a classic case dilemma. Miss Allie old flame appeared and the love she have for Lon Hammond came crashing down. Allie parents hindered her from loving the man of her dreams, but also could not secure her happiness.
This story in many ways has a canning semblance to what Nigerians are facing. It truly a movie you would want to enjoy with your spouse or loved ones, as it broadens the love horizon of couples. Consider the kind of love you need. Noah never gives up on Allie even when her conditions deteriorate the more. He was still standing by his wife even though she does not know him.
3. Valentine's Day 2010
This 2010 movie was directed by the late Garry Marshall. You may know him from his past love movie (Pretty woman 1990). It is another love story gone swore, another make-up and break-up in the lives of couples.
Intertwine with the hardship and expectations of how the life of an adult should be. The huddles couples had to overcome to continue living in a relationship. The movie was set to explore and explain these phenomenons.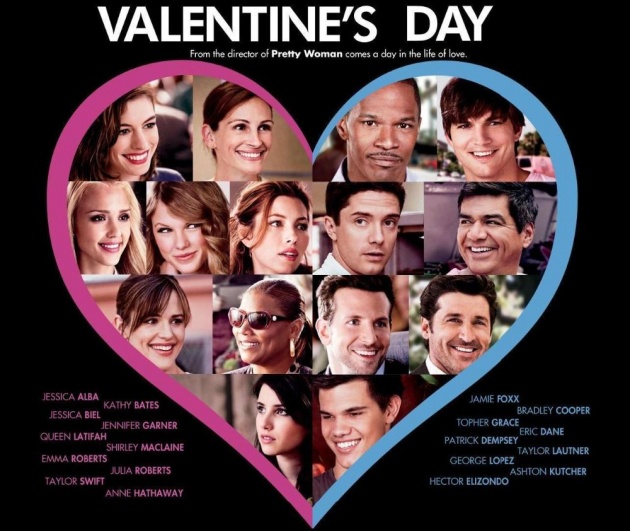 image credits: necc
The movie stars famous and familiar face in Hollywood. They includes Jessica Alba, Kathy Bates, Jessica Biel, Bradley Cooper, Eric Dane, Patrick Dempsey, Hector Elizondo, Jamie Foxx, Jennifer Garner, Anne Hathaway and many more. The movie was budgeted $52,000,000 and made a cumulative worldwide gross of $216,485,654. This was really expected from the man who made one of the best love movies in the world, Garry Marshall-pretty woman.
The movie was packed with famous actors in Hollywood. As expected, they all showed exceptional acting skills. The movie was one of the best love stories movies I have ever watched. Although there are many people and a lot of stories merge into a single story. The sensation of the love story we ought to find it what we got from Valentine's Day. It fails nothing short of the love story we want it to be in all ways possible.
It's a very glib, shallow movie, but it keeps you moving around enough that you could actually have a good time
Valentine day is always accompanied with different expectations and layout plans of what to expect. Here we see it all. A florist is ready to propose to his girlfriend, a babysitter plans on losing her virginity. Grandparent struggling to keep their relationship. While a schoolteacher falls for a man she barely knows his background. She later found out he was married. She would stop at nothing to ruin his Valentine Day with his wife.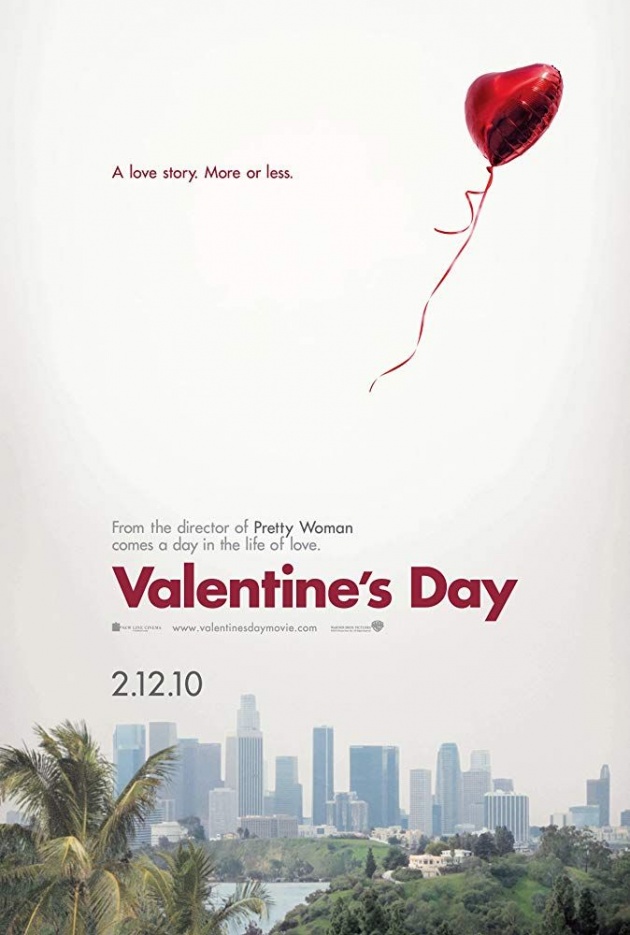 image credits: IMDB
The movie is full of twist and turns with couples. What many people may deem a bad script, I say, it is a beautiful script full of what the life of couples is.
2. Me before you 2016
Love is a story that happened to each and every one of us differently. To all, it is love, but the story, how we tell it, how people meet and fall in love with one another, and our reasons for falling in love are utterly different from each other. Love has and will always be the greatest story told on planet EARTH.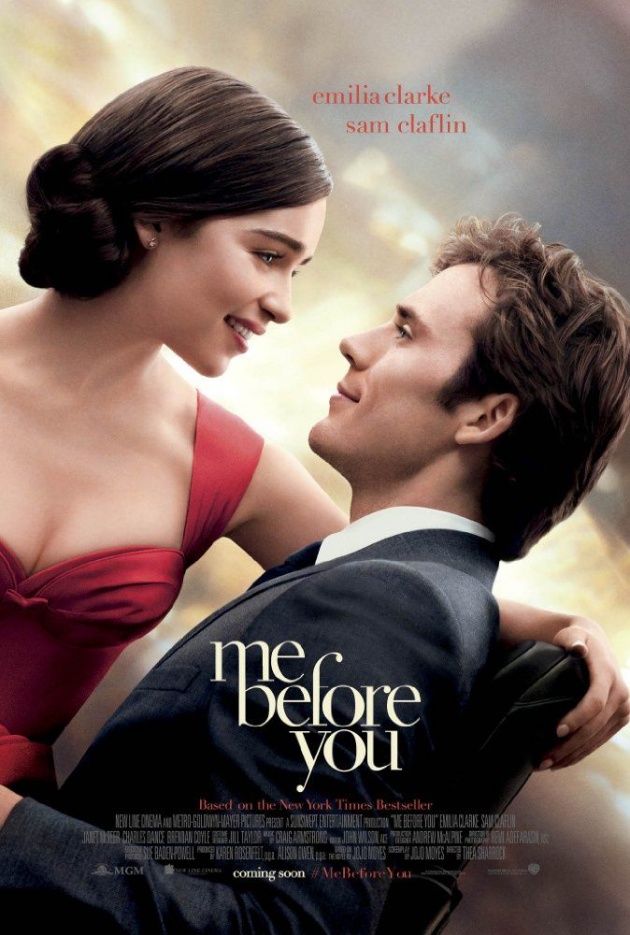 image credits: IMDB
Adapted from the bestselling novel by Jojo Moyes, the story stays true to the book to give an exquisite experience at the cinema. It's a tale of the unexpected relationship between the newly wealthy-paralyzed man and a small town Englishwoman. After, she was hired to take care of the Sam Claflin who was recently in a car accident that took away his reason to live. She found herself becoming fond of her patient. Confined to the life of living in a single position, life was becoming unbearable for Sam Claflin and he just want to end it.
Emile Clarke played the role of Lou Clark in the movie Me before you 2016, but we may have known her from several characters she played in the past. The Tv series by HBO-Games Of Thrones as she played the embodied the character Daenerys Targaryen, her role as Sarah Connor in Terminator Genisys 2016,are all ground breaking performance. It's breath-taking to see her playing Lou Clark in a rom-com movie. The character she played in "Me Before You" is entirely different from her previous roles as an actor. This shows how diversify she is in acting.
The movie budget was quite low $20,000,000 and the movie made quite a name for itself as it made a whopping $208,314,186 Worldwide. This shows how people around the world love the story adaptation of "Me Before You" to the big screen from Jojo Moyes novel.
This adaptation of Jojo Moyes's best-seller (scripted by the novelist herself) might have the structure of a comfort-food weepie, but it's a rom-com with brains.
Director Thea Sharrock did a wonderful job in bringing out the charisma in each of the actors. They were able to embody the character they played perfectly. It's a script that depicts, though life is short and full of twist and turns when an opportunity to change a person life opens, take it without remorse. And stay true to the course of actions.
video credits:
Movieclips Trailers via youtube
Neither of the characters knew they can impact each other's life until the very end. As though the novel is written to answers us the problems we are now facing in relationships. Based on what true love should be like, I enjoyed every moment I spend watching the movie.
1. Crazy Rich Asians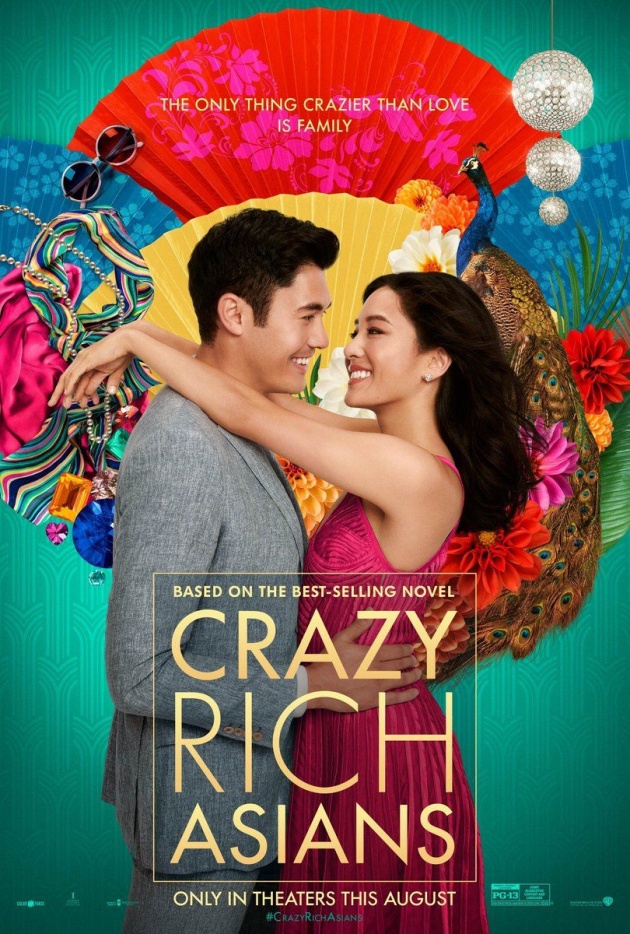 image credits: Deivid via Twitter
This is one of 2018 most successful movie. It does feel great to have people around the world that appreciate the effort of a full Asian cast.
Feels blithely liberated from the obligation to offer up suffering that has long been part of the implicit bargain made with so many mainstream movies focused on characters of colour that they are treated as marketable in relation to the pain they portray
It is a love story that got my attention and in a way. Thus far, it had changed my perspective of relationship. Crazy Rich Asians is truly a movie to watch a your spouse, family and friends(I did, and i enjoyed every moment of the movie). It makes you think of living in a world of fantasy. Or within the pages of a nice storytelling author. There, you can enjoy the happy ever afterlife of bliss and merriment.
This movie is totally delightful… it's a wonderful mix of old-fashioned screwball comedy, romantic comedy, it's almost a musical at some point
Video credits:
Warner Bros. Pictures via youtube
Crazy Rich Asians make number one on my list not because it is fresh in my memory. But at the moment, it has a better tone to the month of February-Valentine. It is a season to show love to people, and this is my way of showing love to the people of Bitlanders, to Miss Hillary and Micky-the-slanted-Salerno.
On A Final Note
I have enjoyed the service of Bitlanders; I have made quite an improvement in my writing skills. Thanks to the watchful eyes of Miss Hillary. It's the month of February, what a better way to express how I feel about the love that I was shown and giving? I think i can best do this by writing a review about some of the best loves stories ever told in Hollywood!
Celebrate Valentine with love from the stables of Docxdrl!!