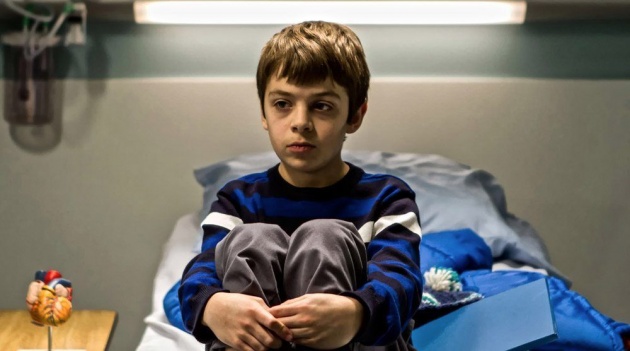 Image: Peter Da Cunha in The Box (director Jovanka Vukokic) - courtesy of Magnet/XYZ Films/Thunderbird Releasing
Entirely unplanned – all right, I was struggling to say something nice about The Zookeeper's Wife – but the twentieth film in this series is called XX, the roman numerical value of twenty. The poster represents the title as blood red kisses – red x not to be confused with Fed X, two-thirds of a Vin Diesel film. The cryptic crossword clue – double x is cross letters – writes itself.
This is an all-female directed horror anthology film – about bloody time. Admittedly, I would quite like to see what Sally Potter, Claire Denis, Jane Campion and Catherine Breillat could do together, but for now we are treated to a quartet of short films by Jovanka Vukokic, Annie Clark (aka the singer-songwriter St. Vincent), Roxanne Benjamin and Karyn Kusama. Kusama directed one of my favourite films of 2016, The Invitation, so I couldn't wait.
The films are knitted together by animation by Sofia Camillo. She uses doll faces and fabrics in her work. You might think of the misfit toys in Toy Story as created by Sid – boo, Sid – that advance towards Woody and company, but are kind of sad.
The four directors rewrite the horror play book, traditionally associated with young women in peril, nudity, guts and screaming. I imagine the four women sat down together and cooked up a list of what they wanted to avoid, which for the most part is young women in peril, nudity, guts and screaming.
A confession right off the bat: XX isn't conventionally scary. Yet if you are expected the female version of Twilight Zone – The Movie, minus Albert Brooks and Dan Aykroyd, then you won't be disappointed.
The opener is The Box, an adaptation of a story by Jack Ketchum from director Jovanka Vukokic. It begins with voiceover narration from a mother (Natalie Brown) simultaneously staring out of the window of a commuter train and at her own reflection. Her children have been given a treat but are hyperactive, especially young Danny (Peter DaCunha) who takes a peep into a stranger's red-wrapped box. What does he see? He won't say, but he loses his appetite. The film charts the impact on the family over a number of days, with the most lovingly photographed pictures of family food that you will see in a motion picture – chicken, pizza, carrot sticks, yum! The film anticipates what you think might be the payoff to deliver something philosophical. What was in the box? I'm not saying.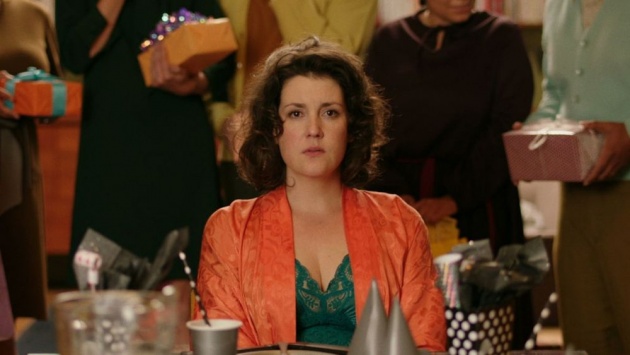 Still: Mom (Melanie Lynsky) has the kids party from Hell in The Birthday Party (director: Annie Clark). Image courtesy of Magnet/XYZ Films/Thunderbird Releasing.
Number two is The Birthday Party, another mother and child movie about a woman (Melanie Lynsky) who appears throughout in a slip and nightgown who discovers that her husband is in his office dead, on the day of her daughter's birthday, holding a glass. The dead can grip? There's a party. The adult neighbour (Lindsay Burge) wants to come. Mom's daughter (Sanai Victoria) is black in what is genuinely colour-blind casting. They have a maid (Sheila Vand from A Girl Walks Home Alone at Night) who has the strangest looking hair, as if she had whipped a wig from a 1950s storefront mannequin. What should be done with the body? What are the odds that a man dressed as a panda would come knocking? The punchline works and had the woman sitting in my row hooting with laughter. Job done! The director Annie Clark co-wrote the script with Roxanne Benjamin, who directed the third segment. Clark also contributed the music.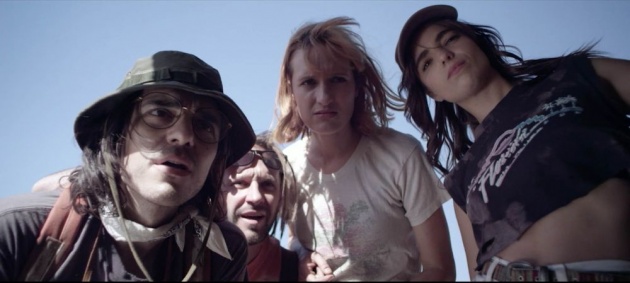 Still: 'What's that?' Two couples make an unusual discovery in Don't Fall (director: Roxanne Benjamin). Image courtesy of Magnet/XYZ Films/Thunderbird Releasing
Benjamin's contribution, Don't Fall, has the best title – and best title sequence. It features two couples (Casey Adams, Breeda Wool, Angela Trimbur and Morgan Krantz) who go on a hike and discover cave paintings that suggest a monster. Wouldn't you know it, but one of the group is attacked and undergoes a metamorphosis. This segment is the most conventional and doesn't have a satisfying pay off, as if the director knew that what we wanted most of all was segment four.
This is Her Only Living Son, the third film about mothers, written and directed by Karyn Kusama. Fun fact: Dario Argento made the Three Mothers trilogy (Suspiria, Inferno and The Mother of Tears) so maybe XX is a deliberate riposte. Kusama is a big Rosemary's Baby fan. Her film is a 'what if' – 'what if Rosemary told her son his father was a movie star and fled the city, hiding from him and disguising his true Satanic origin?' What would happen on his birthday? This is the most intense mother-teenage-son relationship movie ramped up to eleven, with mom, Cora (Christina Kirk) being invited to the Principal's Office because her son, Andy (Kyle Allen) had ripped out the fingernails of a female student. Is the Principal mad? Surprisingly, no! What about the postman who wants to date Cora? A mother's love is pitted against Satan himself. The struggle doesn't need elaborate special effects to get its point across.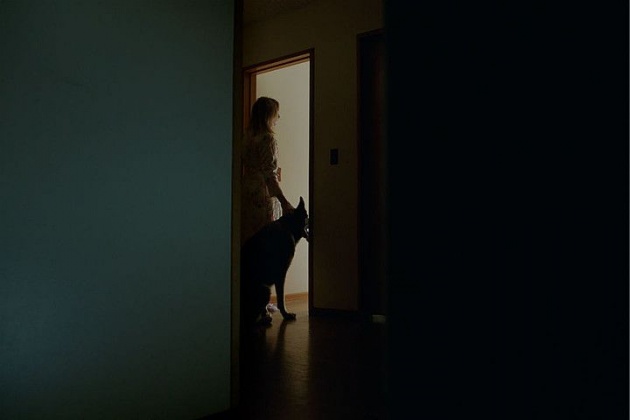 Still: A woman (Christina Kirk) and her dog in Her Only Living Son (director: Karyn Kusama). Image courtesy of Magnet/XYZ Films/Thunderbird Releasing
Overall, three out of four deliver, which is good for an anthology film. The form itself doesn't really work – the films can cancel each other – but XX is more successful than most.
Reviewed at Hackney PictureHouse Screen Five, Wednesday 3 May 2017, 20:45 screening