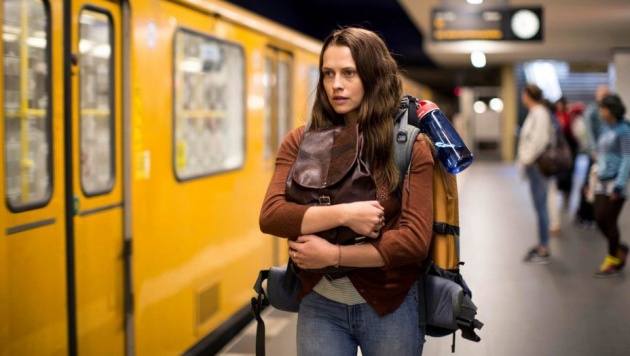 Pictured: Teresa Palmer negotiates a Berlin U-Bahn in 'Berlin Syndrome'. Photo courtesy of Curzon Artificial Eye
For film directors, third films can be difficult. Your debut has calling card qualities - pace, invention and a fresh perspective. Your follow-up can consolidate your strengths but also make a statement about what you're really about. Your third film is more commercial. You show what you can do with someone else's material and – on occasion – someone else's script. If you discount An Angel at My Table (a TV series released as a movie), The Portrait of a Lady is Jane Campion's third film, a dull and emotionally unengaging adaptation of a Henry James novel starring Nicole Kidman and John Malkovich. Quentin Tarantino's third film is Jackie Brown, a remarkably unadventurous adaptation of an Elmore Leonard novel, Rum Punch. If you discount Boxcar Bertha, an assignment for Roger Corman, Martin Scorsese's third feature is Alice Doesn't Live Here Anymore in which he proved – sort of – that he could make a women's picture. Steven Soderbergh's third film was the mechanical King of the Hill, a rather restrained work. I could go on.
Berlin Syndrome is Australian director Cate Shortland's third feature and it left me disappointed.
Based on a novel by Melanie Joosten and scripted by Shaun Grant, it is a kidnap genre film about an Australian tourist, Claire (Teresa Palmer) who backpacks to Berlin and meets up with a sensitive Berliner, Andi (Max Riemelt) who makes her linger. She intends to go to Dresden. Instead, she seeks him out – and there he is in the same bookshop where they met, reading a book on Klimt. He uses inappropriate English words even though he is an English teacher. How charming! How romantic! How untrustworthy!
After a night of passionate lovemaking, Claire awakens in Andi's apartment to find he has gone to work. There is no key. Did he forget? It soon becomes obvious that she is a marked woman. Her shoulder bears the tattoo 'meine'. Andi has no intention of letting her go. He took her sim card and her necklace, the latter is the only thing she has worth hocking. His apartment is the only occupied one in a slum tenement. No neighbours - only the view of an internal yard. The windows are reinforced. In Berlin, no one can hear you scream – for true.
Shortland is not the first woman director to be drawn to kidnap stories. In Lola Doillon's In Your Hands (Contre Toi), Kristin Scott Thomas plays a doctor held prisoner by the widower (Pio Marmaï) of one of her patients who died during surgery. There the kidnapper blames his captive. Anger is worked through and the captive begins to feel some sympathy – or empathy – for her captor. There is a (very small) sub-genre in women's cinema in which women are held captive by men.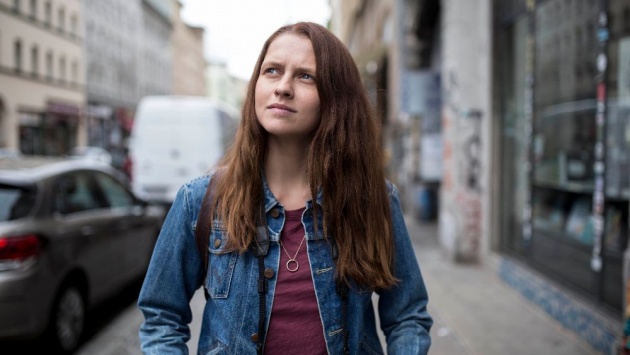 Claire (Teresa Palmer) geht die Strasse entlang in 'Berlin Syndrome'. Picture courtesy of Curzon Artificial Eye
Why is this material of interest? Because it is a metaphor! In a man's world, a woman feels trapped. In kidnap dramas, the experience of being held against one's will is acute. Sarah Gavron's film adaptation of Monica Ali's novel, Brick Lane, deals with this phenomenon in the context of forced marriage among the East End Bangladeshi community.
If you are really going to do this story right, you have to show both the captor and the victim's perspectives. Shortland doesn't do that, at least not evenly. She explains her psychotic villain, Andi, very well. He was born in East Germany. His mother defected and never returned, even when the country was unified in 1989. Andi grew up feeling he needed to entrap women, so they wouldn't leave him (again). Never mind that, to do this, he would be drawn to murder. His first victim was a Canadian tourist. Her hair, apparently, is still stuck down the plughole.
So Andi's an insecure male with mother issues; but what about Claire? She has a close relationship with her mother – her father isn't mentioned at all. You sense Claire's father doesn't exist in her life. Yet she doesn't have the same desire to trap a man. She isn't traumatised in an obvious way. However, she is looking to connect. The trip to Berlin is a search for something. Significantly, she does not talk about school friends. Both Claire and Andi appear to be only children.
In a Hollywood film, Claire's issues would come out in the wash. There would be something in her that draws the psychotic Andi to her. At one point, she asks him: 'at what point did you decide I would be next?' He was watching her taking photographs; we see her photographing a woman beating a rug outside her third (or fourth) storey window, adapting to the environment. It is an odd thing to do in a city.
At one point, Claire attempts to escape by stabbing Andi with a screwdriver. This is the crowd rousing part of any thriller when the heroine makes a concerted effort to bolt. I won't tell you exactly how it plays out, but both Claire and Andi end up with injured hands. In a bizarre way, Shortland is emphasizing that these two souls have something in common, no matter how unorthodox their relationship is.
In a thriller like this, you need to maintain tension. So inevitably one of Andi's students visits his flat; Claire is unable to convey to her that she is being held against her will. In a slightly more absurd sequence, Claire is taken to a forest by Andi, who is wielding an axe. He would have done something unspeakable if he hadn't come across two boys, one of whom is injured.
Andi pays his lecturer father numerous visits and at one point leaves Claire alone with no electricity or gas. Berlin winters can be brutal. There is a reason for his 'alleinzeit' but Claire can't really sympathise with him, or at least be convincing.
In a particular act of cruelty, we see Claire left alone with only a copy of Ted Hughes' Collected Poems (Faber edition) 1957-1981 for company. What a bastard! As many of the audience will know, Ted kept his wife, Sylvia Plath, a prisoner of sorts, cheating on her, leaving her in a cold North London house in winter to care for two young children whilst nursing her children. He even destroyed the manuscript of her second novel, Double Exposure and sections of the third. Plath's life ended in suicide.
The finale is particularly contrived and makes a mockery of the film's internal logic. At the end of the film, Berlin is seen rather differently, not through a camera lens, but as a place of estrangement.
The genre elements really let the film down. Shortland's second film, Lore, also set in Germany, just at the end of the Second World War, showed a teenage girl, the daughter of a Nazi, undertaking a perilous journey to her grandmother's house. Not only was it acutely tense but every dramatic development felt earned. Here, contrivance is all too obvious and it has none of the psychological grip. Lore explored the extent to which a child should answer for her upbringing and her parents' behaviour. It was a deeply rich, troubling and satisfying movie. By contrast, Berlin Syndrome is just 'meh' as young folk call it.
Reviewed at Soho Hotel, Tuesday 4 April 2017, 18:30 press preview. With thanks to Curzon Artificial Eye