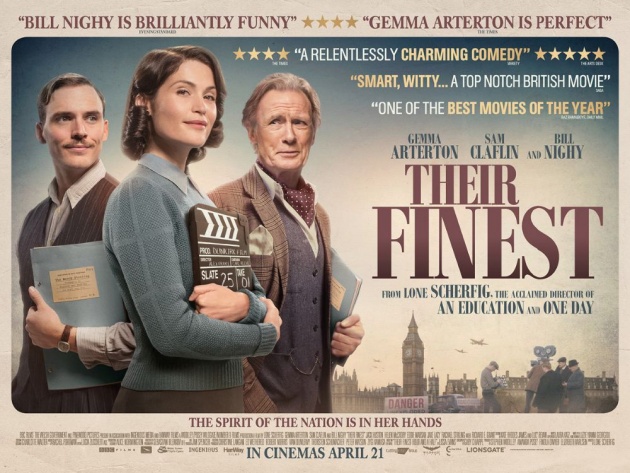 Pictured: The UK release poster for 'Their Finest', courtesy of Lionsgate Films
There is a critical orthodoxy that films about filmmaking don't make money at the box office. This doesn't stop them from trying. Admittedly, director Robert Altman's The Player (1992) got rave reviews and earned $28.2 million on release – cameos from Julia Roberts and Bruce Willis didn't hurt. But it is not a reliable genre.
For the record, the top eleven types of film likely to make money are:
· Superhero movies
· Action adventures
· Science fantasy (or just plain fantasy) epics
· Horror films (frequently a good return)
· Suspense thrillers (off-shoot from the above)
· Buddy cop movies
· Romantic comedies
· War movies (front line)
· Sports movies (winners only)
· Dance movies (e.g. Step Up)
· Biographies featuring a star transformed for the leading role
Run a list of the top-grossing films in almost any country - I would rule out India and Nigeria - and these genres will appear again and again. (Should have stuck to ten, I know.)
Of these genres, women directors (at best) can find work in horror films, romantic comedies, sports films, dance movies and biographies.
I did not make the rules.
The ideal film appeals to the widest possible demographic, which is why kids grow up not knowing the names of women directors, or (for the most part) seeing their films. Women directors only enter the culture from the viewer's adolescence.
I did not say that was right, but at least as a kid, you know the name of women authors like Enid Blyton and Stephenie Meyer.
This brings me to Their Finest. Set in the 1940s, this is a film about filmmaking. It also has elements of the romantic comedy and the war movie, though it isn't front line.
At the global box office, it grossed $12.3 million, which is not a great return on its production budget of around $11.6 million (ten million Euro). Still, it might just turn a small profit when you take off digital prints and advertising and add the DVD release. It also – spoiler alert – contains elements of that other popular 'women's' genre, the weepie. Most successful 'tissue' movies of the last fifty years have been made by men, from novels by men; Love Story and The Notebook spring to mind.
The weepie (aka tragic romance) is not a reliable genre either, though Me Before You did spectacularly well last year (2016) – directed by a woman (Thea Sharrock) from a novel by a woman (Jojo Moyes). This is atypical.
The other genre that Their Finest embraces is the nostalgia movie. It does so with closed lips, a sly subversive grin. Nostalgia movies attract older audiences, but they also interact with their memories, giving a modernist take on an 'old' reality, rewriting history and playing with assumptions. Nostalgia films reference popular culture from a bygone era and strike a balance between parody and homage. Their Finest is more the latter.
Its hero is Catrin (Gemma Arterton), a secretary who gets a job as a copywriter for the Ministry of Information (MOI) and then joins a team of (male) screenwriters to write a propaganda war movie based on a real life story of two sisters who stole a boat to rescue soldiers trapped at Dunkirk. In the course of her research, Catrin discovers that Rose and Lily Starling (real life sisters Lily and Francesca Knight) were not as heroic as the original newspaper report suggested - they didn't make it to Dunkirk as their boat had engine trouble and were in fact picked up by another boat that took them home. However, truth cannot be allowed to get in the way of a good story. Catrin lies to the producers – and her fellow writers – to ensure that the Starlings 'story' is told. In the process, she falls for her co-screenwriter, Tom Buckley (Sam Claflin).
Arterton has appeared in a number of successful movies - Quantum of Solace, Clash of the Titans and Tamara Drewe - as well as critical successes like Made in Dagenham. She is not, however, a star. Claflin has appeared in even more successful films - two Hunger Games movies, Me Before You and Snow White and the Huntsman - and has completed work on The Nightingale, director Jennifer Kent's follow-up to The Babadook; this author is excited. He too cannot yet open a movie, though he's getting close. The 'gimme' part of aging British actor Ambrose Hilliard is played by Bill Nighy, a performer who oozes comedy out of every (near) arthritic joint. Nighy dominates the film by playing Hilliard as a thoroughly preoccupied thespian who is more concerned by the lack of available parts than by the war itself. Hitler, bombs - no bother; how many lines do I have? Six? Nighy is the nearest we have to Bill Murray. Only I don't think Nighy would steal your hot dog and say, 'go on - report me'.
Their Finest is written by Gaby Chiappe, adapting Lissa Evans' 2009 novel, 'Their Finest Hour and a Half' and directed by Lone Scherfig, a Dane who has worked almost exclusively in British cinema in the last decade with her films An Education, One Day and The Riot Club, literary adaptations all. Scherfig is best described as a safe pair of hands. Although she was part of the Dogme 95 movement, following rules imposed by Lars Von Trier (no special effects, film on location, no non-diegetic sound, etc) she does not have a signature style. She is a writer's director. Her virtues are almost entirely explained in negatives. Her British films do not display an outsider's view of English culture. Nor is her work cynical. Her films do not have a specificity that comes from deeply entrenched familiarity. This enables the text – the writer's vision – to come through. I would classify Scherfig is the anti-auteur, completely anonymous, perfect for British cinema which is a producer's medium.
The film opens with a pastiche British movie of the era set in a munitions factory. The female workers are worried about their men overseas. 'Still,' says one of the workers, 'I expect I'll feel better after a cup of tea.' The audience watching this film-within-a-film – it pays homage to Rosie the Riveter - are underwhelmed, talking throughout. Have propaganda by all means, but not at the expense of a real story. Catrin comes to the attention of film producers by re-writing dialogue, making it more specific. She brings scenes to life. For Tom, women are only good for the 'slop', women's chatter. Over the course of the drama, Catrin proves Tom wrong.
Comedy comes when an American war hero, Carl Lundbeck (Jake Lacy) joins the cast. He cannot act but is easy on the eye. Ambrose, cast as the two sister's drunken uncle, is asked to coach Carl. We don't see him do this. Nor in truth does Carl's performance improve that much. Yet Ambrose's contribution to the war movie effort contributes to a happy set.
Pictured: Tom (Sam Claflin) and Catrin (Gemma Arterton) flank a poster of their film, 'The Nancy Starling' in 'Their Finest'. Still courtesy of Lionsgate
Catrin is married to an artist, Ellis (Jack Huston) who has been exempted from national service. The relationship is unhappy; Ellis does not like being supported by his wife. He has an exhibition outside London, which coincides with the film's production. During a break, Catrin makes an unpleasant discovery.
Wartime London is evoked through air raid sirens and the dropping of bombs; Catrin's journey to the MOI is interrupted by a road closure caused by an explosion. Bombs become very important to the plot, especially the denouement.
Although given a small desk on which to work, Catrin does not remain passive. She changes the arrangement of furniture. She earns Ambrose's respect by giving him more interesting things to do. She also earns the approval of production supervisor Phyl (Rachael Stirling), who is a rather mannish woman - discretion is par for the course.
You might expect a film about the unsung contribution that women made to the British film industry to have a speech about the importance of women's work. However, no such claim is overtly made. Rather, this is explored in subtle ways. Ambrose is represented by Sammy Smith (Eddie Marsan) – there is an amusing scene in a restaurant when Ambrose contemplates the thin gruel on the menu. When Sammy passes, his wife Sophie (Helen McCrory) takes on her late husband's clients. She and Ambrose connect, but above all Sophie proves her adaptability and exhibits a survival instinct. Her subplot gives the film some much needed depth and gravitas.
Catrin is Welsh. Arterton speaks her lines with the appropriate lilt. Maintaining her Welshness, Catrin also clings onto her authenticity, though it is ironic that a Welsh actress was not cast in the part.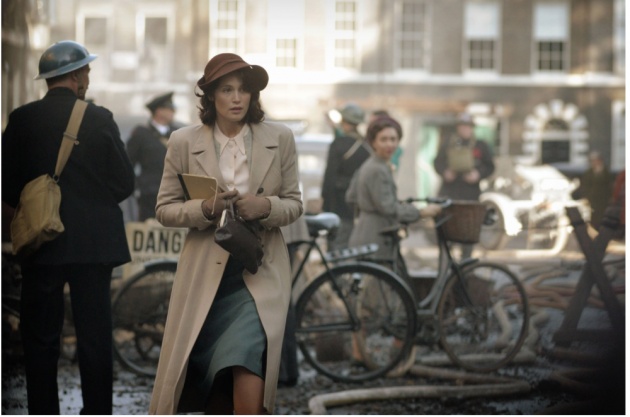 Pictured: Catrin (Gemma Arterton) making her way to work in wartime London in 'Their Finest'. Still courtesy of Lionsgate
I won't spoil the ending. Suffice to say that the film-within-a-film is something of a hit, having a profound effect on the audience; for Catrin it is bound up in a set of memories. The film's pleasures are modest. I was drawn to Nighy's fingers on one of his hands. He appears to not have full use of them. Carl's wooden performance is good for a smile. Mostly, you enjoy the camaraderie of everyone mucking in and a plate glass painting representing the British forces trapped on the beach.
A modest film with modest ambitions generating modest box office – nothing inherently wrong with that! Perhaps, though, we want something more.
Reviewed at Cineworld Fulham Road, Central London, Saturday 20 May, 2017, matinee screening