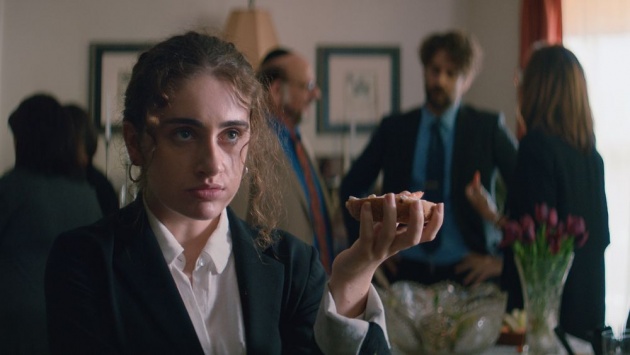 Pictured: Danielle (Rachel Sennott) with her back to her parents Joel (Fred Melamed) and Debbie (Polly Draper) flanking Danielle's secret 'sugar daddy' Max (Danny Deferrari) in a scene from 'Shiva Baby', the debut feature of Toronto-born writer-director Emma Seligman. Still courtesy of Mubi (UK). Photo: Maria Rusche
When a film begins with the sounds of sexual pleasure, you generally expect everything else to go downhill. Shiva Baby, the debut feature of Toronto-born, New York-based writer-director Emma Seligman, doesn't disappoint. Danielle (stand-up comedian and co-star of the short-lived sitcom, Call Your Mother, Rachel Sennott) is just bringing Max (Danny Deferrari) to orgasm with a 'yeah, daddy,' when her phone starts buzzing. Whether you would leave your phone on in such circumstances is a moot point, but in the 2020s, FOMO takes precedence over 'oh, oh!' Danielle's mother, Debbie (Polly Draper) has called, asking if she's coming to the funeral today. 'You said you are, but your dad says you're not.' She complains about her husband, Joel (Fred Melamed) who is 'ten months behind'. 'He's still at the gym so who knows if he'll ever get there. Danielle – your father, useless.' Draper's delivery is punchy, cold but matter of fact. Debbie lives in a cloud of scepticism that she does not allow to distract her from achieving her goal, which is, to summon her daughter. 'I ask him to do one thing. Just. One. Thing. You know what, call me. Call – do not text.'
So why would Danielle refer to Max, who is old enough to be her boss, that is to say, he could be the same age but for the advantage of education, connections and nepotism, as 'daddy'? Some Sylvia Plath thing? We discover that Max pays for sex, which he describes as supporting a young entrepreneur. Danielle claims she wants to go to law school, but as we discover, she spends a lot of time lying to people and a small amount of time – the tiniest – lying to herself.
Seligman's film is as confidently contrived as it should be – it is based on her eight-minute short film (also starring Sennott) that toured the festival circuit in 2018. Seligman spent the next two years getting the money together to turn it into a feature with a close group of colleagues that included Sennott and filmed it without compromises. The result is a feature that has toured the festival circuit and gained life through streaming. It has also had a limited cinema release, including one-off screenings (on June 9th) in the UK.
We are used to films about people hiding secrets that build to a tsunami of revelations followed by a happy ending that results from the new normal. Happiest Season (director: Clea DuVall) is a recent example. Shiva Baby isn't like that. Seligman has described it as a film about a young woman who learns the limited extent of her sexual power. It is not a mother-daughter movie nor a love story. It has the stuff of farce set to the soundtrack of a horror film. Ariel Marx's score is all discordant plucks of stringed instruments, drums that suggest an object spinning and falling (a penny dropping) and – to all intents and purposes – the beginnings of a panic attack.
Danielle's lying begins with Max, telling him that she has 'this brunch thing' that she has to get ready for. He asks whether she is meeting another client. She says yes. 'Does he have teeth?' 'Yes.' 'How are you going to get through law school if you're screwing around with these guys?' Danielle mimics him by way of not answering the question. He tells her not to forget 'this', fixing a bracelet to her wrist, otherwise known as unexploded bomb number one. This conversation takes place as Danielle slips into black underwear (discreetly filmed by Seligman). Danielle reminds Max about the 'thing' – a synonym for payment. Max reaches out with a finger – 'oh, yeah, yeah, yeah' before giving her some cash. He sweeps her towards him. She kisses him. They settle into a cuddle which could mean different things to each of them.
The next time we see Danielle, she is walking down the street, acknowledged by someone we don't see and waving back, her dour, apprehensive face transformed with a well-practiced fake – but convincing – smile. Danielle is heading for a shiva – but she hasn't attended the funeral (ticking bomb number two) and she doesn't even know who died. Her name is called out by someone more familiar, Dad. The camera swings round to reveal him, standing next to the open back door of a van. Mom can be heard off screen, asking him not to yell. 'I just want to make sure she saw us.' 'You're embarrassing yourself.' 'Please leave me alone,' Dad responds before greeting Danielle with a hug. 'Hi, daddy,' she says. He is the second person she has called daddy and we're barely five minutes into the movie. Exposition follows: your mother's car broke down. They had to take the van. His stuff – he is a salesman – is in the back. Mom had to drive. Mother gets out of the front. 'How was the service?' 'Eulogies were shit,' says Mom. 'I liked them,' says Dad. 'You like everything. 'Mom notices her make-up. 'You look good with make up.' Then, as if getting to the point, 'how do I look?' Danielle compliments her. 'You look great.' 'Do I? You don't say that in a very self-assured way.' Debbie is looking to make an impression – to cement the family's status. It's not about remembering the dead. It is all about show. 'Where did you get that bracelet?' Mom suddenly asks. 'I don't know,' says Danielle. 'I think you got it for me in high school or something.' Danielle's face betrays the lie, but fortunately Mom can't see it. 'Really.' 'Shall we go in?' asks Dad. 'What's my soundbite again?' asks Danielle. Mom is combing her hair in the street. 'You know – you're finishing your finals. You got a few job interviews lined up.'
Someone else is there – Maya (Molly Gordon, whose credits include Booksmart and The Broken Hearts Gallery). Mom warns her against funny business. Some time ago, Danielle and Maya had a relationship. 'I guess I should just kiss your ass for you not kicking me out of the house.' 'You're not in our house. You're on our payroll,' Mom tartly replies.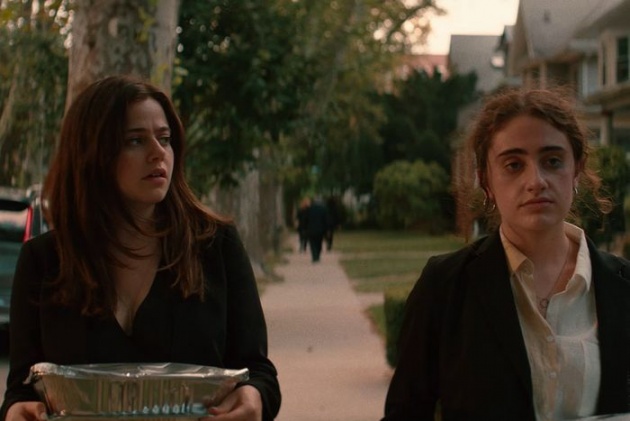 Pictured: Maya (Molly Gordon) and Danielle (Rachel Sennott) in a scene from the pressure cooker comedy, 'Shiva Baby', written and directed by Emma Seligman. Photo by Maria Rusche. Courtesy of Mubi (UK).
For the remainder of the film, we are in the house but in two brief scenes, Seligman has set up the causes for embarrassment that will bear fruit. It is also the best kind of writing – balancing character and exposition. We are used to seeing Fred Melamed in more commanding roles, but he excels as the henpecked loving dad, completely uncynical and cast against type. Melamed, who also had a prominent role in Lake Bell's feature debut, In A World…, didn't want to make another low-budget indie film as the sets are too hot (a very Fred Melamed thing to say). Here, he has jettisoned his curmudgeon and really comes into his own at the climax.
What happens in the house is the stuff of horror films in a way, involving a lost phone, ripped stockings and a surprise encounter. Max knows Danielle's father and turns up at the shiva. Moreover, he is followed by his 'shiksa princess' wife, Kim (Dianna Agron, best known for a recurring role in the TV series, Glee). They have a baby. By this point, in one of her many lies, Danielle has explained to her mother that she works as a babysitter, though intermittently. We know that Debbie wants to use the shiva to get her daughter a job, to give her some direction (but not marketing – this might be an in-joke). Danielle has dabbled in acting and stand-up comedy (a reference to Sennott herself). Her mother thinks she needs a real job.
The film is extremely tense, cringe-making and funny. It helps that the house is entirely filled with non-professional actors who look like they are at a shiva and react to Danielle naturally, often fixing her with stares and interrogating her about her love life and prospects. Danielle comes from a Jewish-American culture where they are clear what they care about – and not embarrassed by it either. (Why should they be?) There is nothing wrong with making use of connections, although Danielle doesn't care about any of that. She wants to resolve her relationship with Maya (they had a confused exchange – 'you don't reply to a reply').
Danielle also fixes Max with a look. She resents the fact that he has a family – although she has no right to do so. I found myself wondering about that look – it seems almost too destructive. Would she be so spiteful? In one scene, Danielle corners Max in a bathroom and undoes his belt. I found myself thinking, 'nice belt'. As she looks up at him, it becomes clear that he is no longer into her. They cannot co-exist in the same social universe.
The scenes with Maya play into the will-they-or-won't-they pick up where they left off. Maya is the successful one whose story Danielle has borrowed for herself. She has gone to law school. She has a job lined up. Maya becomes aware that Danielle has become (in her words) 'a slut'. Danielle isn't driven by a desire to get back together but outside the house – and at a point where she just wants to leave – there is a kiss.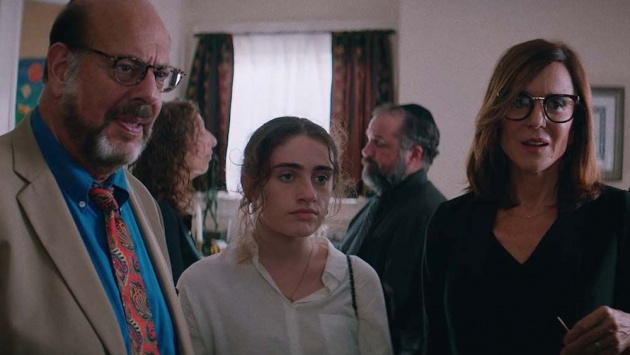 Pictured. Peak awkwardness. Danielle (Rachel Sennott) sandwiched between Dad Joel (Fred Melamed) and Mom Debbie (Polly Draper) in a scene from 'Shiva Baby', a comedy with a bisexual protagonist written and directed by Emma Seligman. Still courtesy of Mubi (UK)
The film reaches peak awkwardness when Danielle is asked to hold Kim's baby (having already turned down the babysitting job because she did not want to work for a 'lady boss'). An accident ensures. Danielle picks up prayer books and kisses each one. The joke is that this accident has less emotional impact than we expect. A woman in the house wants Danielle to help out.
The film hints at conversations that will take place after the film has ended. There is also a suggestion of hope. It absolutely isn't a Hollywood crowd-pleaser, but it isn't ultra-realist either. The film's unique quality is located in Sennott's performance. Danielle isn't a problem to be solved. She keeps up appearances while finding her own path at her own pace. She has well-honed defence mechanisms and has absolutely transcended her background. While her family try to place her in a hole, Danielle begs them not to bother. She cares about them but want to live outside judgment. Because she isn't presented as a problem to be fixed, Danielle comes across as believable. Most of us just want to find our happiness in our own time. We do things out of necessity that have no relation to who we are – though we might get a kick out of them. Seligman doesn't judge Max too harshly either – since Danielle's expectations of him are unrealistic. (I think she was expecting the Pretty Woman ending.) It is also clear that Danielle lives in the moment whereas her family – and the wider community – live by plans. Seligman absolutely pins down the tension between young and old. Both have a point, but Danielle hasn't lived enough yet to become her parents. Not even close.
Reviewed online, Thursday 15 July 2021, streamed from Mubi (UK)