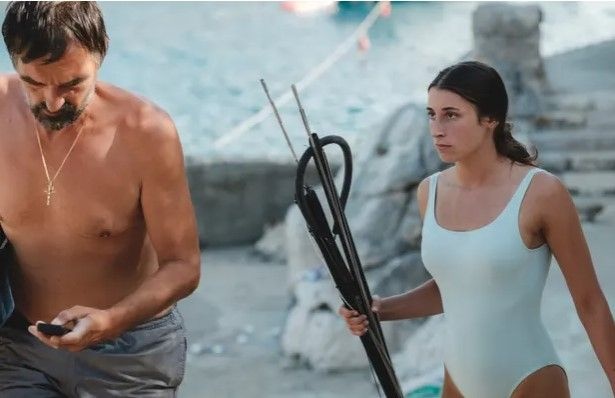 Pictured: 'Underwater fishing is better than a poke in the eye with a sharp stick.' Ante (Leon Lučev) and his daughter Julija (Gracija Filipović) in a scene from the Croatia-set coastal drama, 'Murina', co-written and directed by Antoneta Alamat Kusijanović. Still courtesy of Modern Films (UK) / Antitalent
If you contrast a film's opening and closing images, you can sometimes summarise what has happened in the drama. At the beginning of Murina, the debut feature of Croatian co-writer-director Antoneta Alamat Kusijanović, the camera is under the water looking up. We see black ripples spreading from right to left before a man and a woman, both bearing spearguns swim into frame. The man is leading but the young woman next to him is close to his side. Even before we see them, we experience the water audibly, specifically the sound that accompanies air bubbles rising to the surface. Convention depicts this as a heavy noise, the reverse of a rockslide. It is as if we can feel the weight of the water on the swimmers' bodies. In the closing image, filmed from above the water – the camera looks down from the sky – a lone woman swims by herself, not hunting but heading in a straight line. She cuts a confident, powerful figure – we have been told that she has shoulders like a man. We worry about her swimming so far out to sea (spoiler alert: the camera is some distance away from the character so Kusijanović can employ a swimming double without detection). However, we feel she'll reach a destination.
Not every director is precise in their use of imagery, but Kusijanović is an instinctive filmmaker whose work has caught the attention of director Martin Scorsese, who is listed as an executive producer. Scorsese with his production partner Emma Tillinger Koskoff has supported many female directors in the last few years including Alice Rohrwacher (Happy as Lazzaro), Danielle Lessovitz (Port Authority) and Joanna Hogg (The Souvenir and The Souvenir: Part II). In some ways, Murina exhibits Scorsese's fascination with tortured masculinity – Ante (Leon Lučev), the protagonist's repressive father has a fragile sense of authority. However, it is unquestionably the work of Kusijanović, who won the Camera D'Or for best debut film at the 2021 Cannes Film Festival.
Murina is not directly autobiographical, but Kusijanović based the story on her experiences growing up in Dubrovnik. She insists that Ante is 'not a caricature' and 'is more nuanced' than many of the men she has observed. Ante, we discover, is desperate to leave the coast and settle in Zagreb, Croatia's capital city. To this aim, he is hosting his old employer, Javier (Cliff Curtis), a millionaire described in a magazine as a 'ruthless icon'. In his younger days, Ante captained Javier's boat, then crashed it, resulting in a fallout between the two men. The ending of their relationship crushed Ante; now he is excessively welcoming, describing Javier as 'God on Earth'. Ante hopes that Javier will buy his land and asks his wife, Nela (Danica Ćurčić) to order the Plavac (Croatian red wine) that his visitor likes. Unbeknownst to Ante, Javier is visiting for a different reason.
The dialogue alternates between Croatian and English, the latter for scenes with Javier. Kusijanović took the unusual step of having her four lead actors live together for thirty-days (in her grandmother's house) to get to know each other. This was mostly for the benefit of lead actress Gracija Filipović, the non-professional star of Kusijanović's previous short, Into the Blue. Kusijanović was desperate to reunite with Filipović, who acted for her then aged thirteen in a drama about a young girl fleeing an abusive relationship. Kusijanović wanted to capture Filipović at the age of sixteen before she became a young woman. She achieved this – Murina was shot in 2019, pre-Covid – having written the film for her. There is a lot of Kusijanović in the protagonist Julija and the film articulates her desire to leave the country of her birth; Kusijanović resides with her husband and baby son in New York. The overriding theme is resilience.
Murina is tightly structured, set over the few days of Javier's visit. The spectre of a recent disaster hangs over the drama – there was a fire on a boat. At her darkest, Julija wishes her father had died in the tragedy. In the opening, Julija and her father tussle in the act of spearing a murina or moray eel. Her father describes Julija is enjoying the hunt; in fact, she enjoys diving – the killing of eels does not appeal. The source of the struggle isn't clear, but Julija's swimsuit is torn. We see her change from a white swimsuit to a blue one, illustrating her transition into someone more independent.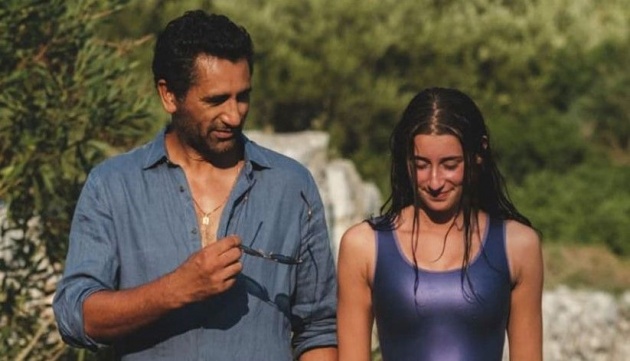 Pictured: Javier (Cliff Curtis) and Julija (Gracija Filipović) in a scene from the Croatian film, 'Murina', co-written and directed by Antoneta Alamat Kusijanović. Still courtesy of Modern Films (UK) / Antitalent
'I've never been in love,' Julija tells Javier. We believe her. Her father keeps her well away from local boys, ordering her to clean chairs or otherwise remain busy. To her father, Julija isn't a person but an achievement, to recite poetry in front of Javier and his guests and then to disappear. Ante ensures that Julija doesn't spend much time looking at holidaymakers, ordering her to raise the rope that prevents yachts from docking at the family's part of the beach. 'You can tie your boat on my balls,' Ante shouts at a group of vacationing youths, whose leisure Julija admires, though not the boorish behaviour of one young man on the boat, who spills suntan lotion on a girl while she is asleep sunbathing, then unties her bikini strap. She yelps as he turns her over and straddles her.
Javier arrives with an entourage in tow, presenting Julija with a gift. He speaks of Ante admiringly and indulges him even when he humiliates Julija by making her recite the poem he wrote about the sea – she recites in Croatian, which Javier may not understand. 'You left out a part,' Ante tells her in front of the group, adding to Julija's discomfort. Julija isn't meek; her looks convey disdain. Kusijanović gave her cast a script with a lot of dialogue and then removed lines before filming so that the cast could convey unspoken thoughts.
The next day, after Javier's entourage departs, Ante humiliates his daughter to a greater extent, when the family goes out on Ante's boat. Julija complains that her father is steering too close to a rock and pleads with him to change course. Ante steers the boat without acknowledging the danger. They pass through unscathed but then Ante throws his daughter into the water. He doesn't like to be criticised in front of Javier. Julija swims over to an island and is otherwise unscathed. She isn't disturbed by her father's behaviour; in fact she expects it. We see her walk barefoot on a stony hill; she's tough. The sequence ends with a picnic on the promontory, with Nela feeding each family member with what looks like red roe egg on toast.
Javier and Nela have history; when they were younger, Javier asked her to marry him. She refused, for reasons that aren't entirely spelt out. Perhaps Ante was indeed the more impressive of the two men. Nela has learned to live with her husband. She is cautiously optimistic that the move to Zagreb will make him calmer. 'When he has money, he will be worse,' retorts Julija. Observing her mother with Javier, she encourages Nela to make her move. Javier clearly has marital problems; Julija observes him having an angry phone conversation with his estranged wife. Julija is also buoyed by Javier's pronouncement that she could go to Harvard; 'they'll snap her up', he tells Ante. 'What will she do when she returns?' asks Ante. 'Who says I would return?' snaps Julija. Later, Ante tells her, 'I could send you to a boarding school in the mountains.' There is, however, no comparison.
During the third day of Javier's visit, Ante convenes a meeting when they finally discuss the land. Julija is asked to keep out of sight, though she appears as the meeting draws to a close. Ante is once again perturbed. 'He doesn't want to buy the land,' Julija will tell her father. He is reluctant to listen. The quartet take a boat out (with a guy who helps them into their suits) with Nela wanting to dive. Julija effectively takes her place, swimming with Javier and surveying the wreck of a modern boat on the ocean floor. We sense this is Javier's boat, the one Ante sunk all those years before.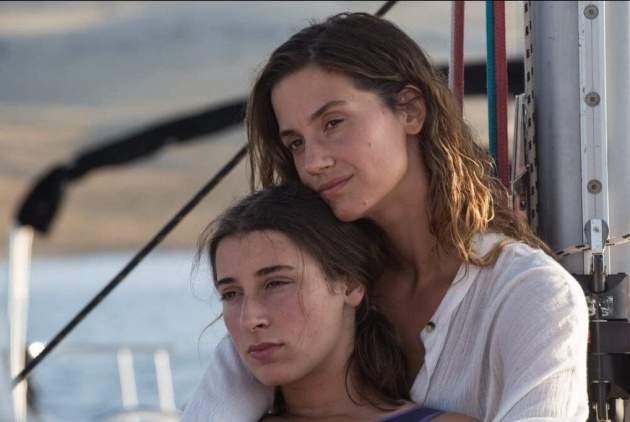 Pictured: 'You have no idea of the sacrifices that I've made for you.' Nela (Danica Ćurčić) and Julija (Gracija Filipović) in a scene from the Croatian film, 'Murina', co-written and directed by Antoneta Alamat Kusijanović. Still courtesy of Modern Films (UK) / Antitalent
The dive leaves Nela angry. She refuses to talk to her daughter. Julija ends up diving off the boat and hanging out with the vacationing youths. A young man approaches her. Julija tells him that her father is a millionaire and is sending her to Harvard. Javier appears, playing the role of Julija's father. He offers his watch to the first of them that can bring Julija to shore – by this time Julija and her forward looking young admirer had gone swimming and started kissing. Julija gets back before any of them. No one wins the watch.
Towards the end of the film, after Julija has put on her mother's red dress, Ante's impatience with his disobedient daughter overflows. He locks her away in a storage room. Her mother brings Julija food and drink, but Julija won't touch it. Finding a sealed-up window, she calls out to Javier, who is walking with her parents to join a procession to remember the dead, but he cannot hear her. She finds a hatch that leads to water below. She then slips down it. She calls out to her father to no avail. To escape, she must swim under the water. There, she spots a moray eel.
The swimming scenes – and Julija's entrapment – are very tense. Anxiety is palpable. I won't reveal what happens, but Ante is left in no doubt about Julija's feelings. There is an epilogue involving a hunt for moray eels. A harpoon gun is pointed at Ante.
The murina (moray eel) is a metaphor for the film's hero. It has two sets of jaws, the first to defend itself, the second to self-harm. Julija begs her mother to leave with Javier. She begs Javier to take her with him. Neither option is possible.
The father-daughter relationship is played out decisively; this is a film with no turning back. It resonated with the audience. At the screening I attended, an Asian man stood up to say that he too had a father whose disappointment in life had made him cruel; Kusijanović's film offered no answers. At the conclusion of the question-and-answer session, Kusijanović sought out the man and gave him a consoling hug. I could not imagine a male director doing this. 'It happens at every q and a,' Kusijanović told me later. Her film is a tremendous achievement. Her follow-up though won't be set in Croatia, though, rather (if the fates align) will be in English with the action taking place in Mexico and involving a mother-daughter relationship.
Reviewed at Ciné Lumiere, South Kensington, Central London, Saturday 9 April 2022, 18:00 screening attended by the director, Antoneta Alamat Kusijanović