A Cozy Afternoon at Uncle Cheffy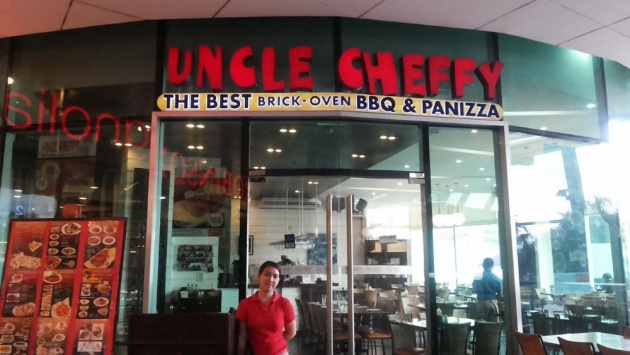 Photo credit: lapiz-lazuli
This is another one of my food escapades in the metro...
How Did We Get Here?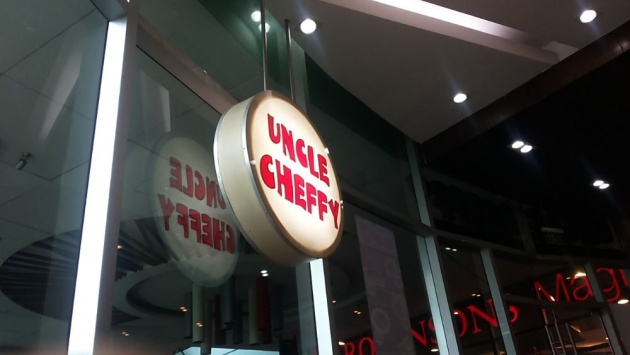 Photo credit: lapiz-lazuli
Uncle Cheffy isn't popular as it sounds. We just decided something new for our palates a few weeks ago at our weekend dine out. With the help of the internet, we stumbled upon this restaurant. Sister is paying cash so we need a very affordable place to fill our bellies. Uncle Cheffy fit the bill.
The Place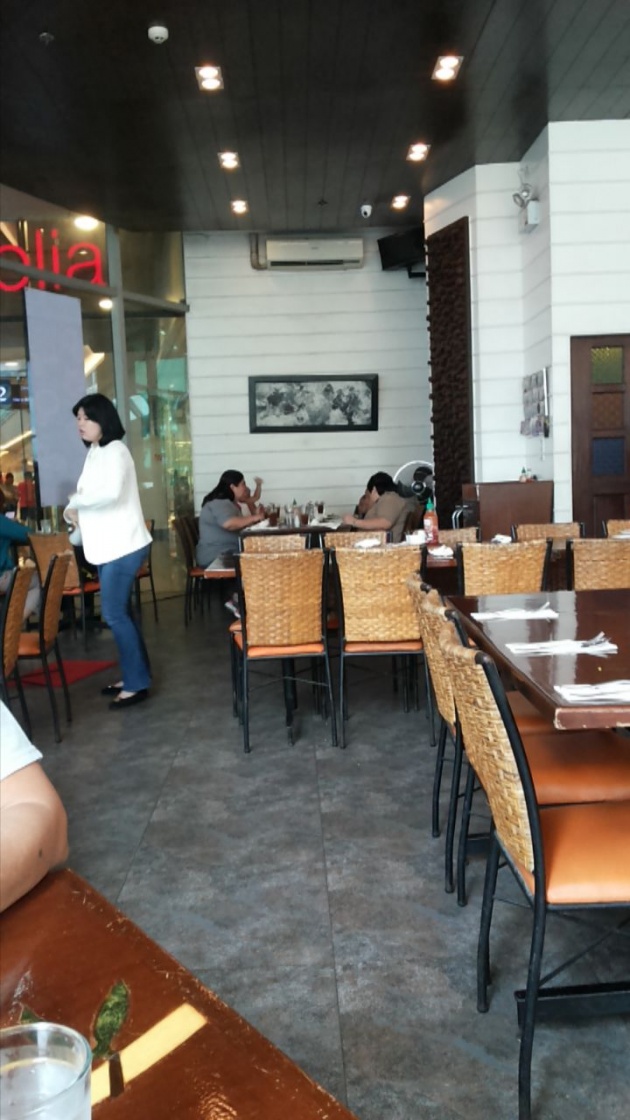 Photo credit: lapiz-lazuli
I don't know how many branches they have, but we dined in at their branch in Robinsons Magnolia Mall. This restaurant is located on the outskirts of the mall, on the 2nd floor (that seemed like 3rd, if you're counting the lower ground floor) on the terraces' side.
Finding it was a little challenging; we asked assitance to locate it. It was opposite of Buffet101, another resto, but Uncle Cheffy is sitted outside of the mall.
Don't worry because this place is a closed area and has its own air conditioning. But if you want to feel the temps outside, there are seats lined up along the resto's entrance.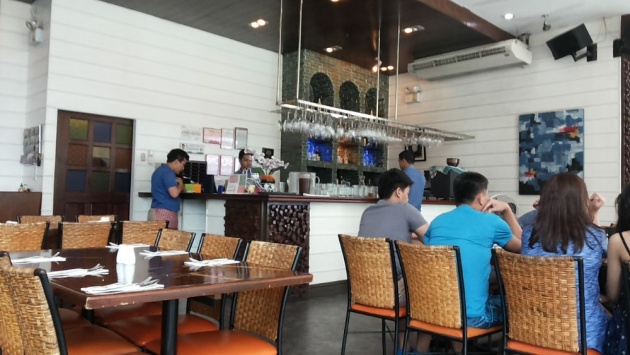 Photo credit: lapiz-lazuli
The place was really small, yet cozy. I think the interior design of the resto was inspired by the inside of a log cabin somewhere in a very cold place. It reminded me of Baguio and I think pine trees were the only thing missing to fully imitate a Baguio's log cabin. They have some pieces going on in their design that have modern eclectic vibe.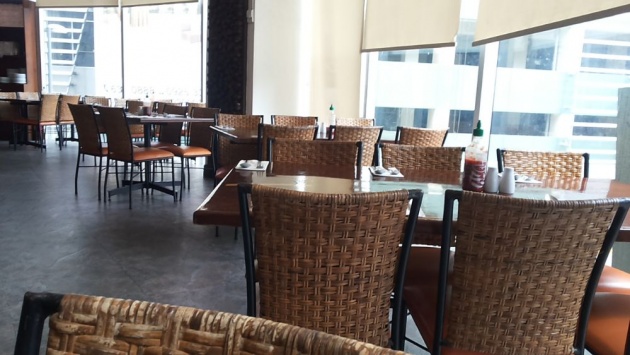 Photo credit: lapiz-lazuli
Chairs and tables are made of thick, heavy, sturdy and varnished wood. A table can accomodate 4 chairs, but there are bigger tables that can fit in 6 chairs--3 per side. If you're 5 in a group, you'll be ushered to a 6-chair table. If your group is more than 6 people, the staff will connect two 4-chair tables for your group to accomodate 8 seats. If you're more than 8, you'll probably be divided into two sets of tables, combined or not. I hope you get the drift.
Air conditioning isn't that strong, or probably it was just very hot and the sun is high up. Half of the walls were made of glass so I guess we were experiencing some greenhouse effect. The temps were getting in our nerves, so we asked the waiter to move us to a cozier area, which they did.
The Wait
The receptionist was responsive and amiable; we were attended the moment we faced the front doors of the place. We went at late lunch so we expected only few people inside, but they were only as few as 12 dining in. I guess the place was just new and only few people know about it.
Video credit:
lapiz-lazuli
We experienced long waiting time for our orders to be served. Is brick oven panizza that long to cook? It seemed like an hour (I'm exaggerating), and a few minutes more and the waiter told us that some of our orders weren't available and if we'd like to alternate it with something else available. Anyway, we were OK with that.
The Food
We only ordered 2 things on the menu: an East Meets West Panizza and the Uncle Ben's Platter. It was more than enough for us, we even had leftovers.
Video credit:
Unclecheffymagnolia
via
facebook.com
Panizza is a portmanteau of panini and pizza. The crust must be thin so you can roll it like a panini, and it is topped with various ingredients and oven baked like pizza.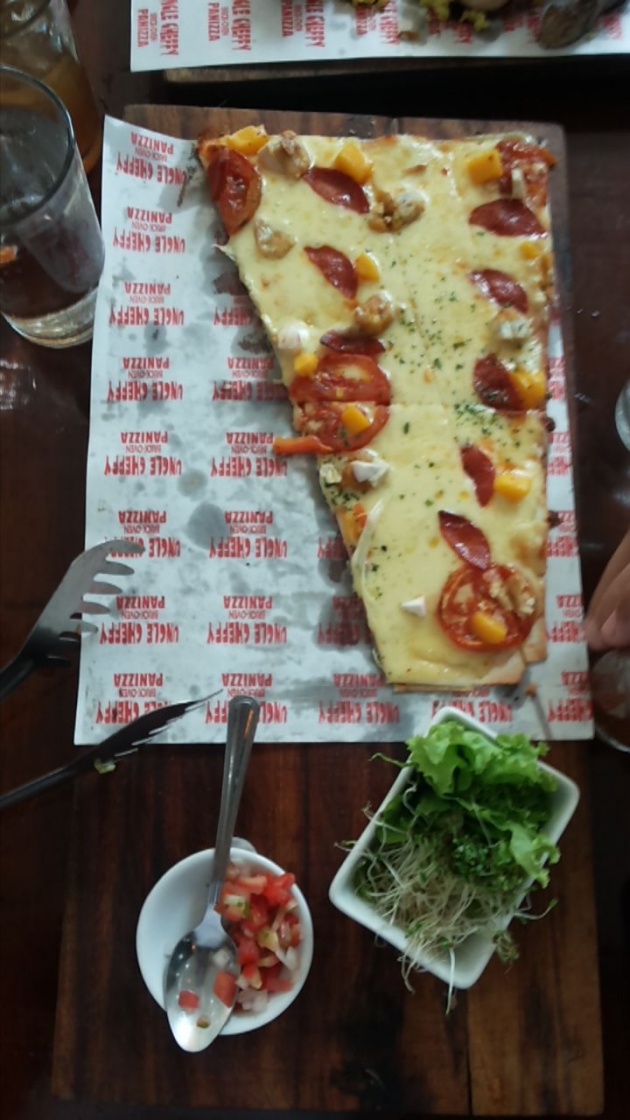 half eaten panizza. Photo credit: lapiz-lazuli
The Panizza was sliced diagonally, so dividing it equally within your group would be impossible. It was served with Alfalfa sprouts, lettuce (or was it arugula?) and chopped tomatoes. It was generally good but I wish it had more mangoes and salted eggs on top.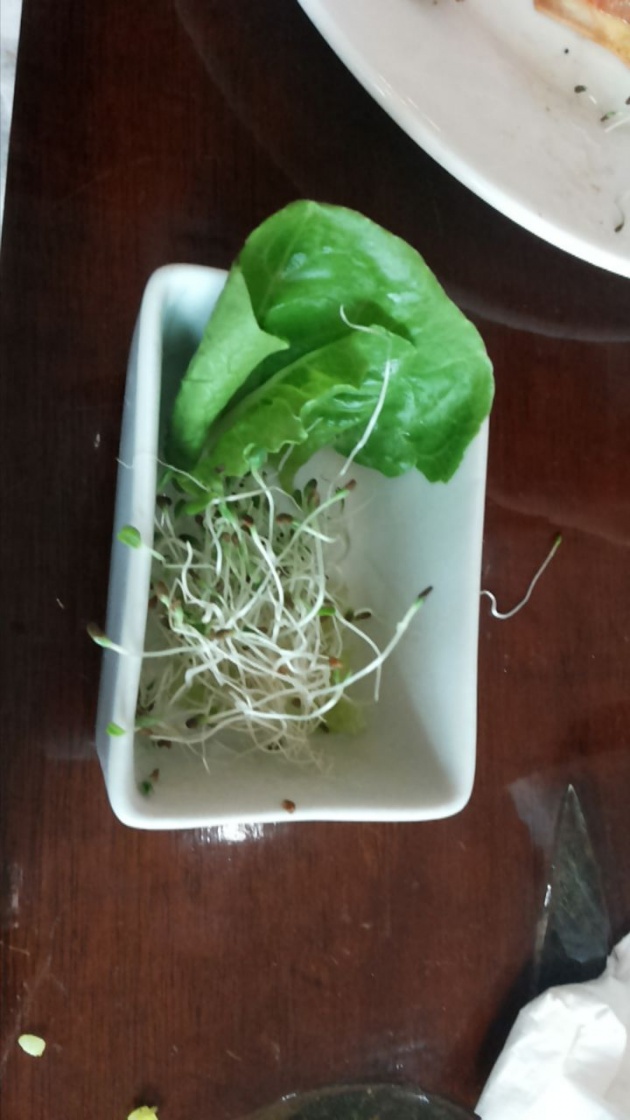 Photo credit: lapiz-lazuli
Rolling it was an easy feat, but the bottommost layer gets easily crumbled. But it had about 2-millimeter thick cheese that can serve as the layer to hold all the stuff together when the outermost crust is all cracked up. If you ran out of stuffing, you can go for refills for free. We were into the Alfalfa sprouts that we've gone for second serving.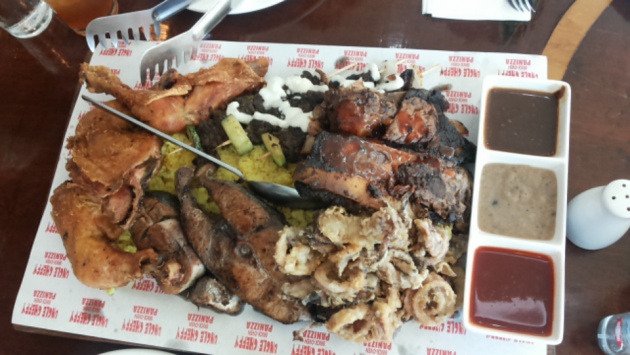 Photo credit: lapiz-lazuli
As for Uncle Ben's Platter, the Dory was unavailable so I cannot comment on how they do their Dory (what?). Anyway, the rice was very palatable and the pork ribs was tasty but a bit hard to chew on. Their chicken tasted almost exactly like Max's fried chicken, down to the texture and look. As for the calamares, it was timely cooked because it was very soft and didn't feel rubbery. The tuna was also nice especially when hot. What I didn't like on the platter was the barbeque. My tongue and teeth didn't like it, nuff said.
There were 3 sauces that came with the platter. I can't distinguish the last one but the first tasted like UFC Ketchup (a little spicy and sweet at the same time), and the other was Mang Tomas Sarsa. Still, the unknown sauce was the most delicious especially if you pair it with chicken.
There's 1-liter iced tea that goes with the platter. It really wasn't enough but thank God for the cold service water! The iced tea tasted like Nestea's; it was as sweet.
The Service
I would give it 3.5 stars out of 5. The waiters and attendants were very responsive and accomodating. Mom and sis have had many questions, especially on the menu, and they've answered every query well, with patience and respect. The reason why I only gave it a passing mark was because of the waiting tim--it would really test your patience. They might be lacking on chefs or cooks, so the lengthy prep and cooking time.
But they have service charge so I guess it was customary not to tip, even if you liked their service.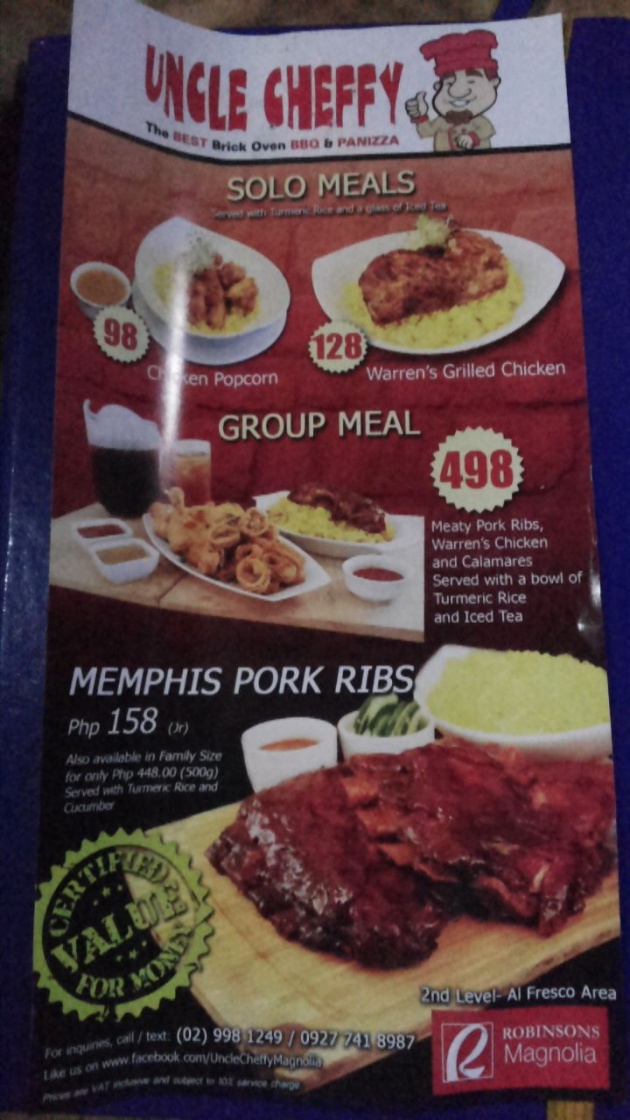 Photo credit: lapiz-lazuli
They give away flyers with their menu on the back. It also says that they accept in-house and off-site catering.
Ratings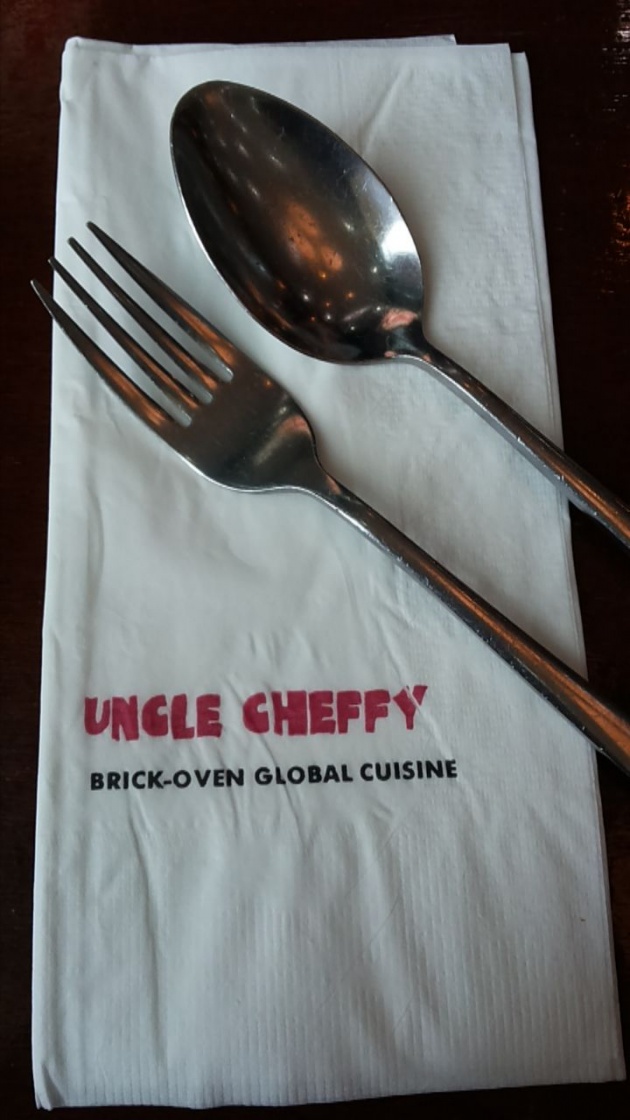 Photo credit: lapiz-lazuli
I've never been to any fine dining restaurant so my only point of reference are with fast food and lower middle class restos along the metro. Customers really gave low star ratings for Uncle Cheffy and I am puzzled. The food is good, if not, at least passable. For its price, you get what you really pay for. Don't expect much, and surely it will deliver. It is a place where you go on a casual family weekend dine out.
Before declaring that this is a wrap, you might want to answer one of Querlo's survey chats about restaurants:
Ok, so I guess that's a wrap! Thanks for reading!
Disclaimer: this is lapiz-lazuli's original writeup. All opinions herein are subjective.