Who wouldn't love to go to the beach especially if everything is free? I definitely loved almost every second of it. Lol.
Last April 24, our company had it's sales rally/awarding program and summer outing. We went to Subic and boy I really had fun swimming! It was of course an all expense paid trip by our beloved company. Thanks to them I finally got to go to the beach again after four years! Woooh!
We went there by tour bus early in the morning from the Metro. It was a 3-hr ride from Ortigas to Subic.
There were only 4 buses in total but somehow I didn't feel like we were too many because it was the beach where it's supposed to be filled with people. Lol.
♦ Camayan Beach Resort & Hotel ♦


I've never been to Camayan Beach Resort before and have never read or heard about it so everything was such a novel experience when we got there. After 3hrs of mostly sleeping in the bus we came to the place and the first thing I did was take a picture of the ocean! Oh happiness! I was finally at the beach after four long years!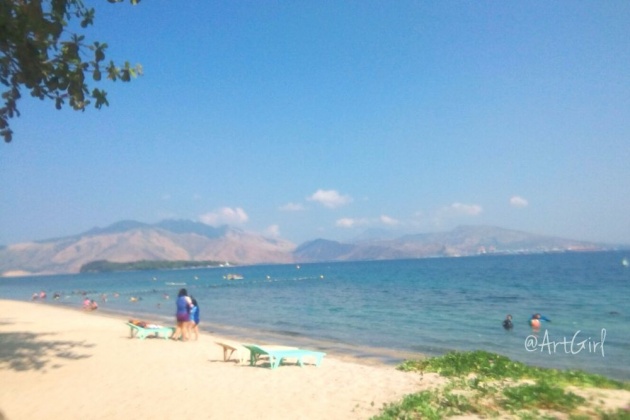 The event was already starting since we were in the last bus to arrive, a little past 9 am. We had to go to the stage/venue ASAP upon getting in. It was quite a long walk from the entrance to where we were situated. It felt like going from Station 1 to Station 2 if it was in Boracay.
♦ Sales Rally / Awarding Program ♦
The main reason for being at the venue was to pump us up to make more sales and for the achievers of this year's 1st quarter to be awarded. We were also updated on the new property promos and other stuff.
It was not all boring though because we had team building activities / games that the training team organized. There was the "Sexy Body" sand sculpting session, Trip to Jerusalem w/ a Twist, and i forgot the other game title, haha. My teammates encouraged me to join in sand sculpting but nah, I took a back seat at the games and let other people participate. Because if I was gonna join the sand sculpture session I might tell them all to let me do everything which won't be very much of a team effort eh? Having a perfectionist artist streak is sometimes a curse. Lol.
I wanted to join the other game I forgot the title of though, but this other teammate of mine wanted to have her pics taken so I went with her. If I hadn't, maybe I wouldn't have had any solo shot pic at this place.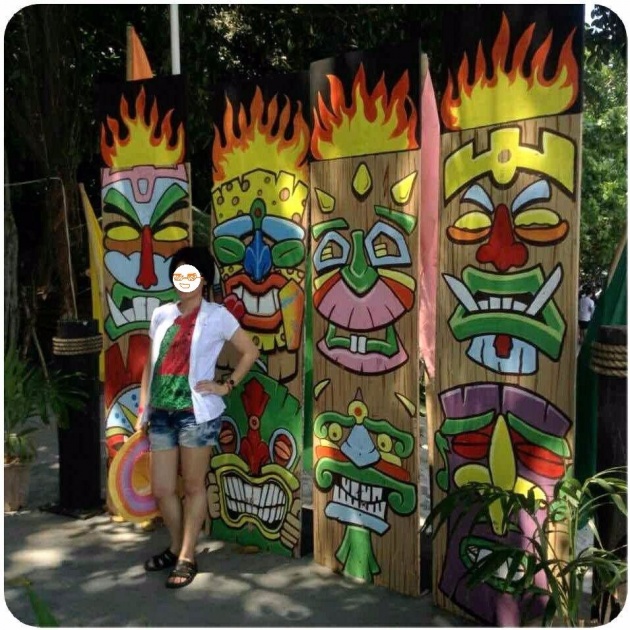 (Photo credit: Myrra Ponce [edited by ArtGirl] via Bitlanders.com)
They had colorful Tiki artworks at the beach and it was cool so I was down to having pics taken instead of participating in the game. It was refreshing to see the Hawaiian inspired art since it's not really that popular in the city. Of course, since we are near the ocean, this type of art is more appropriate to see here.
I only took a few sea shots before going home so it's all good. Didn't feel like using my smartphone that much in taking personal or people pictures. All I did was swim swim swim in the afternoon! Ah I loved every minute of it.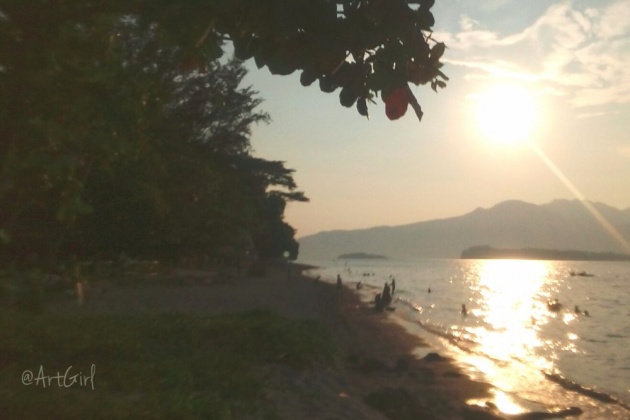 ♦ The Beach Experience ♦
Even though we did not stay at the hotel, each team had their own cabanas or huts along the seashore. It was only a one day outing after all so there was no need to book a room or stay in the hotel. The place was clean , cool and refreshing too since we were in the shade most of the time.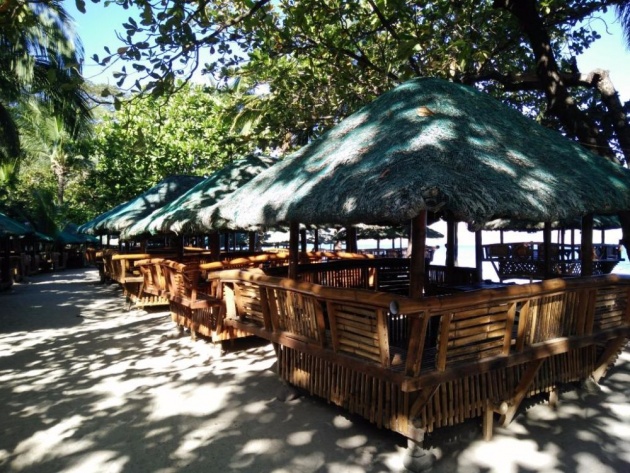 I wasn't aware that the Camayan beach was full of corals though. Around 2pm after having lunch and resting, we started swimming and the first thing I noticed upon stepping in the water were the the poor seaweeds we had to step on and sharp corals (ouch!!!) on the way to deeper water.
My feet got a few deep cuts from my first foray in the ocean in 4 years! Didn't take any pictures though. By the time I got out of the water my foot wasn't bleeding, nor was it too painful at all thanks to the healing power of the ocean. If it weren't for the healing property of the sea I would really complain to the management about this "dangerous" beach. It didn't have any signage to not swim in the area at all!
There's a first time to everything so they say: The next time I dipped in the ocean, I wore some rubber slippers (flip-flops) I borrowed from a teammate. It's just funny to swim and have to wear slippers because otherwise it's painful to go in the water! Especially since I am not someone who can really swim in deep waters so still being able to step on the ocean floor is important to me. Suffice it to say that I wasn't really able to swim much at our side of the ocean because of the slippers. Imagine swimming with slippers! My gahd!!!
I had to walk all the way to near the entrance to be able to swim properly! My goodness!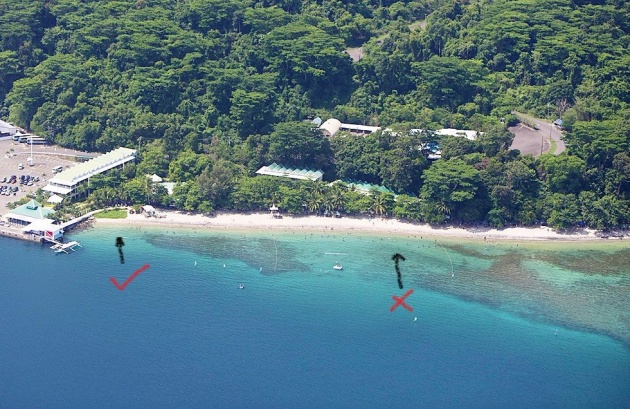 (Photo credit: Edited pic of Camayan Beach Resort via camayanbeachresort.ph)
See the x mark and the check I made on the pic above? I had to walk from X to the check mark area because that's the only area that wasn't too crowded and didn't have any painful corals or poor seaweeds to step on! The "clear" area in the pic near the x mark either had too many people/kids in it or it's kinda off limits. I think there was a sign of jellyfish or something near there so no way am I gonna swim along that area.
It's just sad when I think about how the great barrier reef is supposedly bleached and dead and we're damaging the corals we have here in our beaches due to commercialism. It's just really funny.
The resort website does say they take part in reef conservation. So does it mean the corals near the shore is not something to protect at all? They are still supposed to be where fish and other sea creatures can live but people are now swimming and stepping and damaging these while cutting their feet in the process.
Maybe they think shallow corals are less important than deep sea corals eh? I actually tweeted the Department of Environment and Natural Resources (DENR) about this.
(Photo credit: screenshot of ArtGirl's tweet via Twitter.com)
They did agree that corals should not be stepped on by people but what action can be taken towards preventing this? I don't think they even thought of doing something about my report. :(
Anyway, in the afternoon before going home, there were also monkeys that came out to "play". Didn't bother taking pics though I did see this.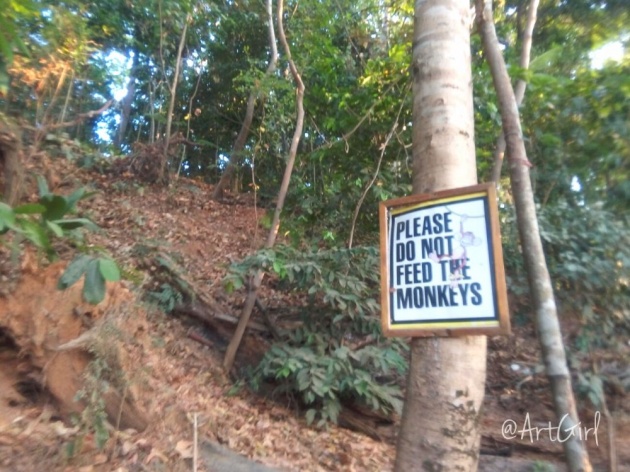 ♦ 3 out of 5 ★ Rating ♦
I would not recommend going to this resort for a day trip and if the hotel rooms are fully booked, especially if you're not a very good swimmer. Aside from the booking rates being higher than before due to the new management, I don't suggest anyone hurt themselves from the corals near the shore.
The resort has a big pool so it would be wise to use it instead if you book in the hotel and swim in the sea near the resort entrance if you are as concerned with ocean life as I am. They also have lifeguards looking out that area so it kinda feels safer to swim there.
Also, they are hard to get in touch with since they do not have a Metro Manila landline number. If you are like me and only have a mobile phone then calling their provincial number is an added expense. They have mobile numbers that are hard to reach too. Either the line is busy or no one answers it. They do not respond to any Facebook private message as well so clearly the new management has to step up their game.
The reason I tried to contact them was to ask if they saw the white polo shirt I was wearing at the pic I posted above. I lost and forgot about it due to the many people in the common shower area when it was almost time to leave. Lots of people were there and we just had to put our clothes on a bench beside other people's clothes so we could shower.
Can't believe I actually forgot about it but remembered to go back and get the stones and white corals I found along the shoreline. Haha. Talk about priorities eh? Had to take home the souvenir stones but forgot my top. Ah well, it was still a day to remember.
Check out my slight tan below! :D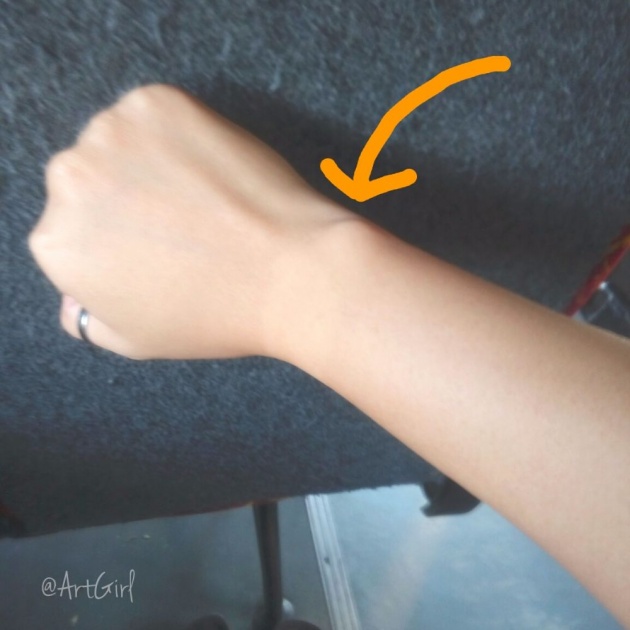 © Art x Stephanie Rue
All rights reserved.