source: Google
Cricket is a sport which is watched almost all over the world. And being a sportsman my favorite sport is also cricket. I have been watching, playing, listening, reading and studying this sport since I grown up. The British people are considered to be the forefathers of this game who first played this in sixteenth century or so. The governing body who maintains the rules and regulations for cricket is known as International Cricket Council (ICC) and it was formed in 1909 by the compound efforts of three countries South Africa, Australia and England. Nowadays the Headquarter of ICC is located at UAE, and its current President is Zaheer Abbas, who is a former cricket player of Pakistan.
WHY TO WRITE ON CRICKET ?
Because, World Cup T-20 (

Twenty-20, it is form of cricket in which both team have to play 20 overs in each inning, it is a shorter format in Cricket and it was introduced in 17th Feb-2005 when first T-20 International match was played between Australia and NZ.

) for Cricket is approaching in

March-2016

. So, Bitlanders is providing an opportunity to every user to share their knowledge about cricket and in response earning double reward. One who discuss about cricket and the accessories of cricket provided by bitlanders at shop in blog will earn

double reward

as announced by Micky in his Blog about Cricket and Avatars and Earn Double Rewards.
Being a Pakistani I am very happy to see the Avatars accessories about Pakistani cricket teams that are participating in Pakistan Super League پاکستان سپر لیگ (PSL), As a good gesture for promoting cricket and its knowledge, bitlanders is working very nicely. I would like to thank all the team of such a wonderful rewarding platform for providing such a rewarding activity to every user, this will not only promote cricket but will also boost the love for this sport among more and more people that do not know about this game or have less knowledge.
What is Cricket Match?
In cricket a cricket match is played between two teams at ground called cricket stadium and in stadium a pitch is prepared on which batsman play and bowlers bowl and the total length of pitch is normally 22 yards, every team tries to beat opposing team for winning the match and to WIN the match is the main target of this game. A cricket match starts with the flip of a coin and this term is called TOSS.

source: Google
What is Toss?
Toss is to spin a coin between the captains of two team at the pitch under the supervision of cricket officials, for commencing or starting of a match Toss is always done and its the mandatory part for starting a match.It decides that which team will play first or field first. Winner of the Toss holds the authority to choose between batting or bowling first. Hence, the cricket match starts.

source: Google 



What is a Cricket Team?
A cricket team is a group of 11 players who play different role according to their job. In this group of 11 players there is one wicket-keeper that is a very prominent for everyone because he stands behind the wickets always to catch balls. And the other man who is very important and major part of team is called Captain. A captain is that player who leads the team and make every decision in match. He decided who will bowl and bat at what place. The captain often is a senior player or having more experience than other team players. Captain of team is chosen by management of cricket board after reviewing his skills and abilities.
Cricket team is a combination of batsman's,bowlers,fielders,wicket-keeper and All-Rounders. Hence a team is categorized in these departments and their position are set. Normally a team consists of 5 batsman and 5 bowlers and 1 wicket-keeper. The first two batsman who start playing in cricket match are known as OPENERS.

Description of Batsman:
A player of cricket team who is known for playing ball with skill is called batsman. A batsman is known for hitting 4 Runs and 6 Runs. To hit a six is the most exciting thing in a cricket match. Spectators love to see batsman hitting sixes and fours.

source: Google

Description of Bowler:

A player of cricket team who bowls the cricket ball to batsman is called Bowler. Normally there are 5 main bowlers in a cricket team.

source: Google
Description of Wicket-Keeper:
A player of cricket team who stand behind the stumps to catch the ball thrown or bowled by bowler to batsman. A Good wicket-keeper always catch the ball and takes it in gloves very easily.
source: Google
Description of Fielder:
All the team players are refer to as fielder when they come to ground. The job of fielder to stop the ball when it comes to him and stop it from running towards the boundary line.
Description of All-Rounder:
A player of team who is capable of doing both batting and bowling at a good level. He plays a vital role in team and those teams who have good all rounders in their side have more chances of win a cricket match. Some famous All Rounders are Imran Khan, Wasim Akram, Shahid Afridi, Abdul Razzak, Jaques Kallis, Lance Klusener, Irfan Pathan. These players are very famous in playing all round cricket.
Best All Rounders
Source: Youtube
What is Winning in a Cricket Match?
A cricket match can be won in two types.
By Chasing Target:
If a team batting second then he chases a target to complete the runs in limited overs as set by the team batting first.
By Restricting the other team to complete target:
In this way a team who bowls second try to restrict the team who is required to chase the target set by team batted first. Hence in these two ways a conclusion of match is got.
Now, I will try to talk about the basics of cricket because this must have to be discussed. Before going to talk about cricket world cup that is coming I would like to talk about the departments of cricket that are necessary and everyone must know about those to learn cricket and to understand it. So, here I will try to summarize those departments shortly, every sport has many terms and categories and so the cricket is too,

Batting, Bowling, Fielding, Wicket-Keeping, Umpiring

, are the major categories of this wonderful game. So here I will try to explain these because for understanding cricket everyone must have knowledge about these categories and about their functioning.
Major Departments of Cricket:
BATTING

BOWLING

FIELDING

Wicket-Keeping

Umpiring
What is Batting?
Batting is category of cricket in which a player so called Batsman played against a Bowler who bowls a cricket ball to him and try to gets him out by his bowling. For batting or to play the ball a batsman needs a Bat to play or hit the ball.
Because the cricket ball is not a soft ball so Batsman has to wear some protective equipment like
Bat, Helmet, Pads, Gloves, Thigh Guard, Knee Guard, Cup, etc.
source: Google
Without these protective equipment a batsman can be hurt or injured. So, for precautionary measures every batsman wear all the necessary protective stuff for safety and then he plays the ball with full consideration and without any fear.
A batsman wearing all necessary equipment's
source: Google
There are many shots a batsman can play and which are listed as below:-
Straight Shot, Cover Drive, Leg Shot, Hook, Pull, Sweep Shot, Cut Shot,
Video of a Batsman Playing Different Cricketing Shots
source: YouTube 
source: Google
Batsman Playing:
source: YouTube
Cricket Accessories on Bitlanders Shop
BitLanders has introduced many cricket accessories. . We can see number of items at Shop and gems are required to buy those accessories. Here I Will show you some cricket accessories provided by bitlanders management on the coming occasion of World Cup. We can decorate our Avatar by these and hence show our love for cricket and can support our team and cheer for them.
Cricket Shirts and Trousers located on BitLanders Shop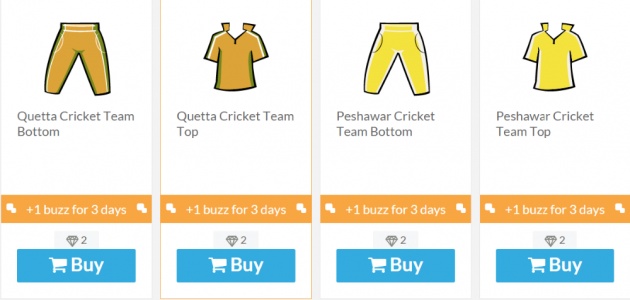 Image source: Screenshot



Image source: Screenshot




Image source: Screenshot
Cricket Bat for Avatar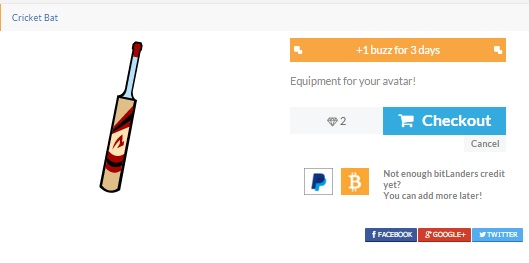 Image source: Screenshot
My Avatar wearing cricketing stuff that I got from Bitlanders shop

Image source: Screenshot
Benefit of Buying Cricket Accessories
Because bitlanders is a rewarding platform so if a user buy these items then in return he gets buzz bonus and this will increase the earning/rank of user. The buss bonus is given for a limited period of time so it does not last long. For keeping our rank and earning high we must buy these accessories.
Now, I will talk about the remaining departments of cricket.
What is Bowling?
Bowling is department which is totally depends on bowlers of cricket team. For example, in a One Day International or ODI match there are 50 overs. And five bowlers are used to complete these 50 overs. Each bowler bowls 10 overs each. If bowlers of the team bowl good balls and restrict batsman from getting runs then the bowling attack is supposed to be good.
Best Bowling by a Pakistani Bowler (WAQAR YUNIS)
source: YouTube

source: Google
What is Fielding?
Fielding is one of the most important part in cricket match. Every player of team is a fielder on ground and his job is to stop or catch the ball. If a balls fly through the air and the fielder catches it then the batsman is out and he has to leave the ground. South African team is very good in fielding and they have produced many many best fielders in cricket history. Jonty Rhodes is the best fielder of cricket history who created a history in 1992 world cup when he ran out a Pakistani Batsman Inzama ul Haq.
Jonty Rhodes runout Inzama ul Haq
source: YouTube
source: Google
What is Wicket-Keeping?
Wicket-Keeping is a very important part in cricket and every team works on it for producing a best wicket-keeper. He has to be very active and stay alert every-time. World's best teams have created many good wicket keepers and among those Ian Healy, Adam Gilchrist, Moin Khan and Sangakkara are very famous.
Some best catches by wicket-keeper
source: YouTube
source: Google
What is Umpiring?
Umpiring is a controlling and final authority of cricket match. There are two umpires on ground in a cricket match one stands on leg side of batsman and one stands at the bowler end to check the bowler for over stepping from the crease. He signals if the bowl is wide or no ball. The decision of umpire is final decision and its decision can only be overruled by the third umpire who is a TV umpire and check the matter in slow motion by computer technology. Hence in a cricket game for keeping balance a umpire is very necessary. Over the years many good umpires have come in cricket from which Steve Bucknor, Aleem Dar are very famous. They have done very good umpiring and won many many awards. Umpire signals for wide and no balls by some actions. which are shown below.
Umpiring in cricket
source: YouTube
Umpire raising finger which is sign of that batsman is out, so batsman has to leave the ground then

source: Google
Umpire is signaling that ball is No Ball.
source: Google
Umpire signaling that ball is wide
source: Google
............................................................................................................................................................................................
Hence I conclude here and hope you will get some understanding about cricket. In other blog I will try to explain things deeply and for better understanding. This is just a basic for knowing a little bit about this game.
Please comment about this if you found it healthy or not, provide me suggestions with your opinions so that I may do better work next time.
Thanks for your time!