Afghan food is completely unique in kind and also has different kind of features.
Cereal such as rice and wheat are most used in any Afghan meals, and there is lot of meals which are making especially with rice. Every meal is contain with rice and the basic thing which is fundamental in Afghan meal is rice, and it is because they like more rice and there is lots of recipe in rice that they are too delicious and tasty .
One of the most delicious and traditional recipe is (Qabooli Palow) and it is too delicious and also rich. This meal, is forming by red meat raisin, carrot and different condiment. This meal is more served in north of Afghanistan, but since it attracted the attention of all people of Afghanistan as well as other nations it also became famous in everywhere. There are lots of ways of cooking with rice and there is different kind of recipe in any of them.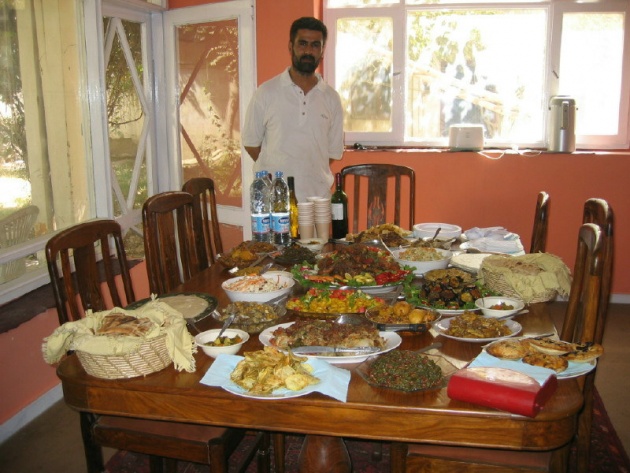 The other type of food which made by rice called (Kichiry) it is more common to serve in west of Afghanistan especially in Herat city. The fundamental materials which are used in this include, rice Mung, onion oil and salt. This meal also is traditional, it serves more in winter because it has warm property.
The Mung which is forming the basic rule of this meal is a kind of cereal which has green color and it contain heavy amount of protein. One of the other traditional food is called (Abgosht) Or (shoorba) but the rice is not included in this meal. (Ab) means (Water) and (goosht) means meat. It serves at least one time in a week, more common to serve as lunch, the basic Substance of this meal is lamb, onion, chickpeas, white beans and potato.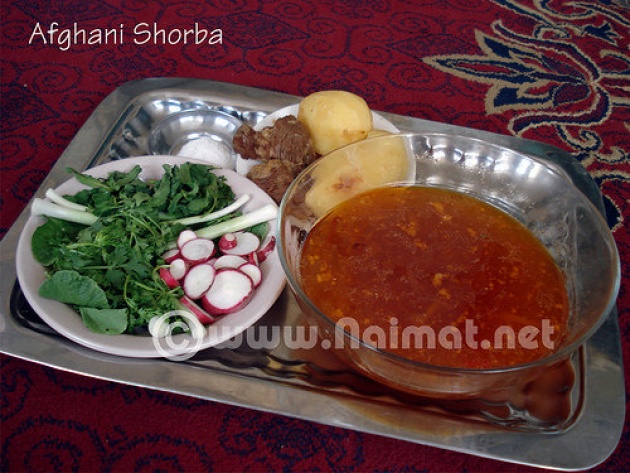 The ingredients are combined together and cooked until done, at which point the dish is strained. The solids are then mashed and served with the broth, but in a separate dish, along with flatbread. This food serves, in Iran the Niebuhr of Afghanistan as well, but in Iran usually they call It Dizzy, which refers to the traditional stone crocks it is served in. also the other food which is very delicious is called (Ashak) mostly used in south-west of Afghanistan especially in Kabul capital of Afghanistan. It is made with gradients such as, mince meat, leek, yoghurt, oil and dry mint. It is also a very rich meal because it contains with dairy and protein substances. In Afghanistan people use very rich food, because the majority people in this country are farmer and they do hefty jobs so that, they need to serve rich and tonic meals.