At a time when most foreign news is unremittingly grim, I have a good-news story to tell - about the first women-only restaurant in western Afghanistan, called the Scranton Restaurant.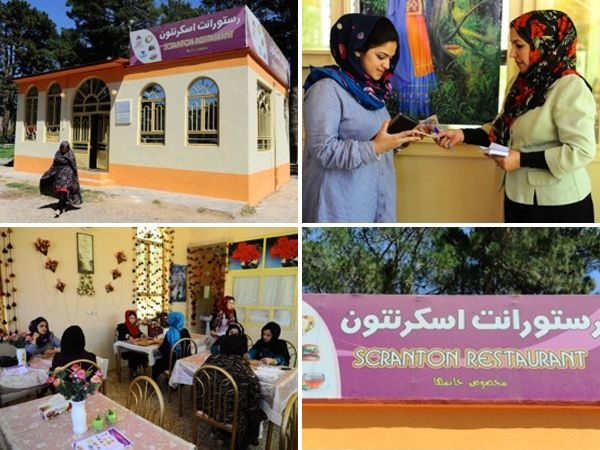 That name reflects the fact that the restaurant is a joint project of a noted woman activist in Herat, Afghanistan, and her counterparts in Scranton, Pa., who raised $20,000 to get the restaurant started. The Scranton Restaurant is a rare place where Afghan women, young and old, can socialize outside their homes in safety.
This project reminds us that those who care about the rights of Afghan women need to be vigilant as U.S. troops exit. Many cynics assume there is no way to help Afghan women retain the gains they've made, since the Taliban are making inroads. That's untrue. There are courageous Afghan women who will fight to keep those gains, as they have in Herat, especially if Western governments and citizens continue to help.
The Scranton Restaurant was the brainchild of Suraya Pakzad, who heads the Voice of Women Organization, which runs five shelters for battered or abused women in western Afghanistan. I have visited one of her shelters in Herat, near the Iranian border, and met her gutsy staff and the grateful women who have found protection inside its walls. It takes courage to run such a shelter, where the families of abused women may try to snatch them, or may threaten staff. Pakzad and her family have been threatened.
But she has continued her work, with her husband's support. She conceived of the restaurant, she told me by phone, as "one way to create jobs for the women in the shelter, who could come to the restaurant and learn skills." She obtained land from the city, and had help from the Finnish government in building a structure, but needed funds to equip, and start up the operation.
Enter the women of Scranton. Lawyer Judith Price was "enraged" when she saw a 2012 video of the Taliban executing a young Afghan woman. "I felt that we who are educated and empowered have to support those women," Price told me. She contacted Sondra Myers, a senior fellow at Scranton University, who, along with Sen. Bob Casey (D., Pa.), has a strong interest in Afghan women; both knew Pakzad, who had visited Pennsylvania and had won a State Department award. They made the Afghan connection, and Price organized two benefits that raised nearly $20,000 for the restaurant start-up. Voila! The women of Herat had a place to meet.