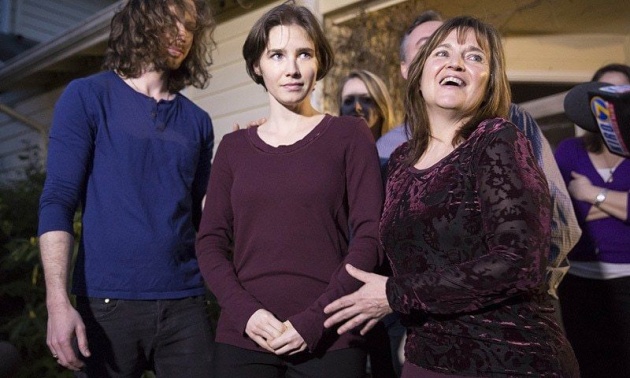 The overwhelming sense of relief was tangible in the statement the 27-year-old made within minutes of the verdict. -AFP
ROME: Amanda Knox has been given all sorts of labels over the eight years since Meredith Kercher's bloodied, half-naked body was found in the house they shared in Perugia.
Now she has a new one: as of Friday, Knox can call herself a free woman, the fear of a return to the Italian jail she spent four years in finally lifted by Italy's top court.
The overwhelming sense of relief was tangible in the statement the 27-year-old made within minutes of the surprise verdict being announced.
"The knowledge of my innocence has given me strength in the darkest times of this ordeal," she said.
The Court of Cassation's ruling brought relief for Knox and her relatives, but was greeted with dismay by Kercher's family.
And it seems unlikely that those who were convinced Knox was implicated in the murder will change their mind because of the latest U-turn by Italy's court, albeit the final one.
Nor is it likely that the discussion over Knox's true character, which helped to sustain the extraordinary interest in the case, will go away soon.
The face of an angel
Knox has spent the years since her housemate's death being praised and damned in equal measure for being everything from an all-American girl-next-door to a psychopathic "she-devil".
Numerous commentators have said the case would never have generated so much interest if it had not been for the beguiling looks of a young women the tabloids quickly dubbed "Foxy Knoxy".
Just 20 at the time of Kercher's murder, she had what was to become the title of a book about the case: The Face of an Angel.
Her critics claimed that those big-eyed, high cheekboned features masked a demonic soul.
From the outset of the case, prosecutors seeking a motive for her alleged crime sought to portray Knox as a young woman of unusually voracious appetites: for fun, for drugs, for sex.
They did not hesitate to describe her as lascivious and slovenly and a drug-using party goer who regularly brought recently-encountered men back to her room .
Initially the prosecution tried to suggest Kercher had been killed in some sort of drug-fuelled sex game.
But that scenario was later dropped in favour of a theory, accepted by judges in Florence last year, that it was a row with Kercher, 21, that had led to the killing.
Most Americans never accepted this depiction of their compatriot.
Now a journalist working in her home town of Seattle and reportedly engaged to a childhood friend, Knox was regarded as a victim of a miscarriage of justice long before Friday's verdict appeared to confirm that view.
Her family always maintained that their loving, soccer-playing little girl could never have done anything as evil as killing her friend.
In 2009, a New York Times editorial described her as "An Innocent Abroad", and Knox echoed that theme in her careful public pronouncements about the case.
"How is it possible that I could be capable of such violence?" she asked during her first, successful appeal against conviction. "How could I commit evil against a friend of mine? "Asked about the moniker "Foxy Knoxy", which she used herself on the social network MySpace, she insisted it was a childhood nickname earned for her football skills.
Slander charge stands
The strength of ordinary Americans' faith in Knox's innocence always appeared baffling to many who followed the trial and were aware of how, in the aftermath of the murder, she repeatedly changed her story and fabricated a tale trying to pin the crime on the Congolese owner of a bar where she worked.
At her first trial, Knox said she had made up a story out of panic and under pressure from "a steady crescendo" of abuse during long periods of questioning without a lawyer.
During her time in prison, the University of Washington student spent her time reading Dostoyevsky and Hemingway and praying, according to an Italian lawmaker who published a book based on his chats with her.
It depicts the imprisoned Knox as a thoughtful young woman who dreamed of working as a writer and longed to be a mother.
With Friday's ruling, she is now free to pursue her dreams.