MEDIA RELEASE – FOR IMMEDIATE RELEASE
American naval officer and Italian academic set to conquer Afghanistan and Italy - with Afghan Proverbs in Italian and Dari
Rome, Italy and Tampa, USA, March 15, 2014 – If someone had told U.S. Navy Captain Edward Zellem that his hobby in Afghanistan would one day make him the world's leading spokesman for Afghan Proverbs, he would have laughed out loud.
And if someone had told Lorenzo Ciolfi - a young Roman Ph.D candidate - that he would one day help an American to create the world's first book of Afghan Proverbs in Italian and Dari, Ciolfi would have laughed too.

But that's exactly what happened.
The result of their chance meeting in a small town in southern Portugal last fall has become the new book Proverbi Afghani Illustrati, published in March 2014 and available worldwide in over 40 countries.
Zellem, an Afghanistan veteran and Dari speaker who worked for a year inside Kabul's Presidential Palace, began using Afghan Proverbs both at work and socially after observing that Afghans use Proverbs often in their daily speech. He also noticed that many of the thoughts behind Afghan Proverbs are universal human messages found in every culture. So he started writing them down as an off-duty hobby.
His hobby soon turned into a personal crusade for better understanding between cultures, with Afghanistan's traditional proverbs as the vehicle. On Zellem's own initiative, he worked independently with an Afghan high school to illustrate his collection. It soon became two award-winning books that have since received international acclaim and a devoted global following. One of them, Afghan Proverbs Illustrated, is now published in 13 languages with more on the way.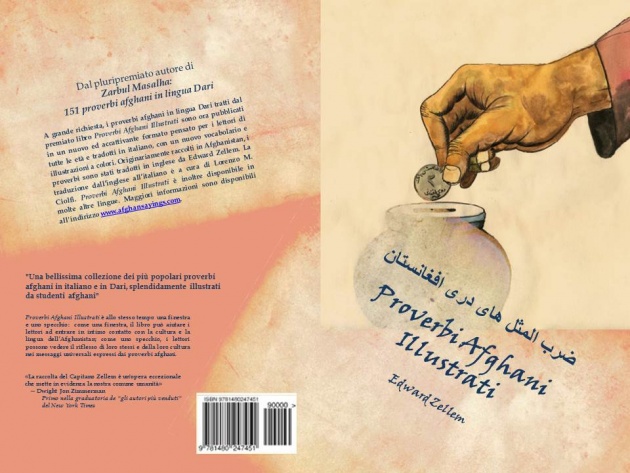 Zellem and Ciolfi met unexpectedly at an international Proverbs conference in Tavira, Portugal last fall. Both men were presenting papers on their respective projects. Ciolfi's own passion was his research on a 15th-16th century family of paremiologists, the Apostolis.
The Italian doctoral candidate and the American naval officer found common ground in Afghan Proverbs. At the time, Zellem's second book had been translated by volunteers into 10 other European languages, but not yet into Italian - an important language for Afghans. Italy has led NATO peacekeeping operations in western Afghanistan since 2002.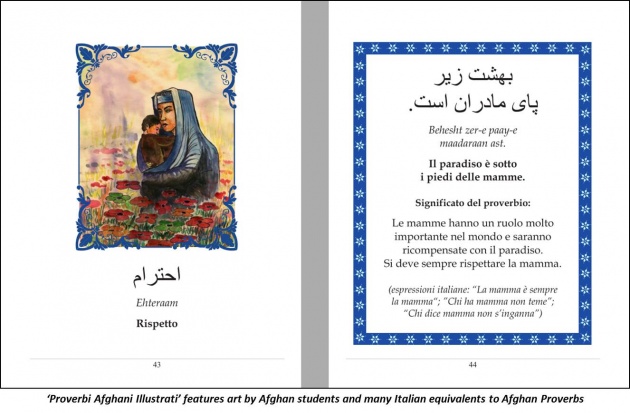 Ciolfi saw a way to help Afghans and Italians understand each other better. He also knew that much like Afghans, Italians have a history of using Proverbs that reaches back thousands of years. So the future professor of Byzantine philology offered to translate Captain Zellem's Afghan Proverbs Illustrated into Italian: a world-first.
The result of their unique collaboration is now an unprecedented book that both men hope will help Afghans - and the world - to achieve a better peace in Afghanistan through the common humanity found in Afghan Proverbs.
More information, recent media, and media kit at www.afghansayings.com.
###

About Edward Zellem
Edward Zellem is a 27-year U.S. Navy Captain currently serving at U.S. Central Command in Tampa, Florida. A veteran of several wars, he is known for his work on President Karzai's staff inside the Presidential Palace of Afghanistan and for his two award-winning books of Afghan Proverbs: Zarbul Masalha: 151 Afghan Dari Proverbs and Afghan Proverbs Illustrated. Zellem wrote the books "to show how Afghan Proverbs demonstrate our common humanity and the humanity of Afghans."
About Lorenzo Ciolfi
Lorenzo Ciolfi is a graduate of Sapienza University in Rome and is now a doctoral candidate at the famed École des Hautes Études en Sciences Sociales (EHESS) in Paris, where he specializes in Byzantine philology and literature. He is on the editorial board of the international journal of Byzantine studies Porphyra, and is an editor for the magazine Poiesis - Bibliography of Greek Poetry.

###