Gelato is an Italian word for ice-cream. It's made in Italian style. Gelato is made with base of milk, sugar, fruits, nuts and other flavors. Gelato contains less air and different kinds if frozen desserts.
Today, we went to the Gelato Vinto Restaurant, Paras Downtown Square Mall in Chandigarh, India. I can't express the taste in words. It's very soft and tasty. Gelato is only in 250 Indian rupees only. My friends are very excited to taste a new flavor. They are also like it and thanks to me because i share about Gelato dessert.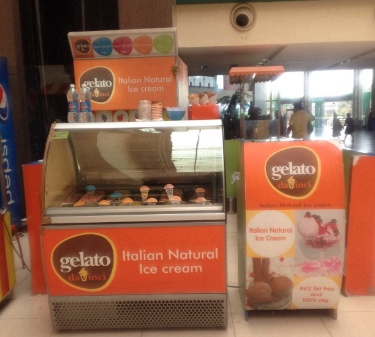 Credit: Google
Gelato must have at least 3.5% butter fat. It is a rich Gelato in Italian style.
If, I comparison Gelato and Ice Cream , so Gelato is totally different from other ice creams. It is a lightly shaded up and taste is very soft.
Use Over Time For: Gelato
Image credit : Google
The popularity of Gelato among larger shares of the population only increased in the 1920s–1930s in the northern Italian city of Varese, where the first Gelato cart was developed.
Gelato Survey with Sir MICKY-THE-SLANTED-SALERNO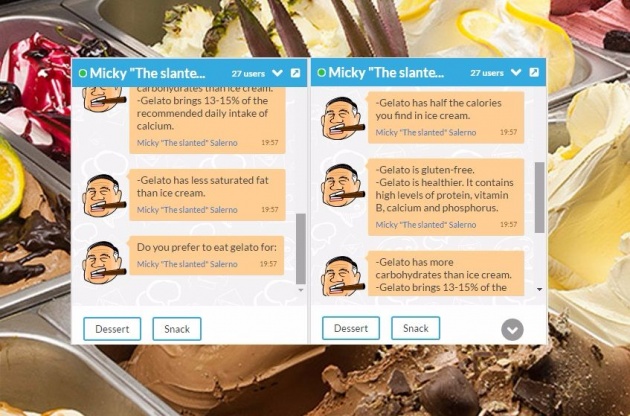 Today screenshot and edit by me ---
Italian Gelato: I'm very happy to chat with sir MICKY-THE-SLANTED-SALERNO about Gelato. It is my great experience to take a survey.
Difference between Gelato and Ice Cream :
1. Gelato has half the calories you find in ice cream.

2. Gelato is gluten-free.
3. Gelato is healthier. It contains high levels of protein, vitamin B, calcium and phosphorus.
4. Gelato has more carbohydrates than ice cream.
5. Gelato brings 13-15% of the recommended daily intake of calcium.


GELATO UNIVERSITY BOLOGNA :