Are you going to San Francisco?

City of San Francisco (cited: photo by: Christian Mehlführer)
A visit to one of the world's most unique, culturally diverse and visually stunning cities.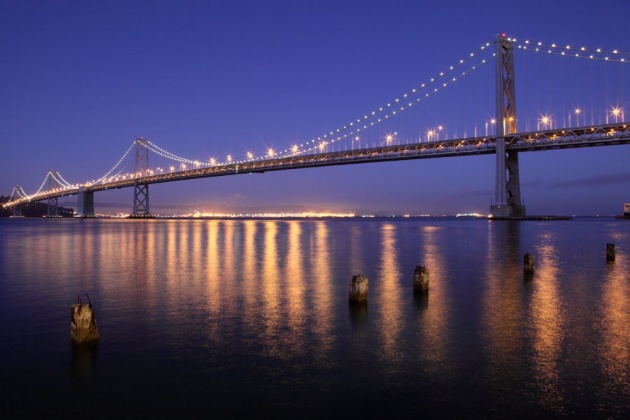 The San Francisco-Oakland Bay Bridge; connects Oakland to San Francisco (cited: By Caroline Culler (User:Wgreaves) - Own work, CC BY-SA 3.0, https://commons.wikimedia.org/w/index.php?curid=16563668)
In this post, we will be taking a look at what exactly makes the city of San">www.sftravel.com/">San Francisco so interesting and unique. From its steep, hilly streets, to its iconic historical landmarks, San Francisco is certainly a city that is unlike any other. As a Northern California native, San Francisco has always been one of my favorite cities to visit. Each visit is a unique experience on its own and no matter how many times I visit the area, the trip is always an adventure.
Check out the top 10 attractions in San Francisco in this video.
(cited source: https://www.youtube.com/watch?v=51umRiOZLe4 )
The Streets of San Francisco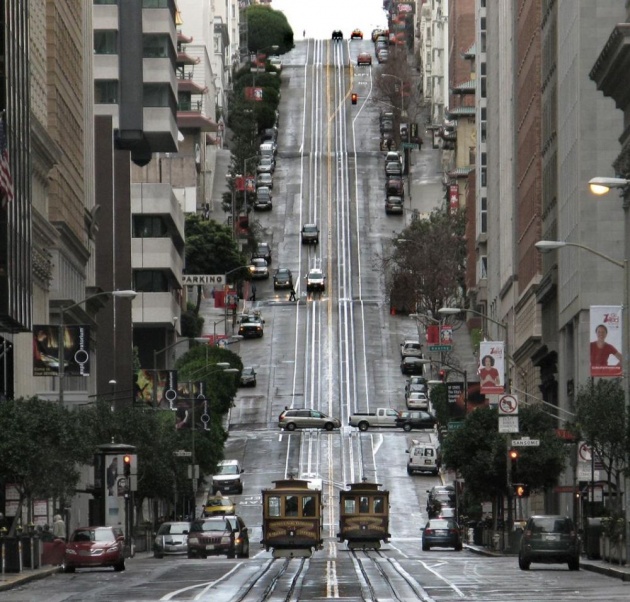 A view of Nob hill, one of the many streets in San Francisco with a steep gradient (cited: https://priceonomics.com/the-steepest-streets-in-)
One of San Francisco's most unique features is its geographical location. Nestled on a mountainous peninsula overlooking the San Francisco bay, San Francisco was constructed on a very active, topographical region. This caused many of the city streets in San Francisco to be constructed with a very steep gradient. Traversing the city on foot is not for the lighthearted (or anyone who is not a seasoned cross-country athlete) and traversing only a mere few blocks can be quite the daunting task.
The Golden Gate Bridge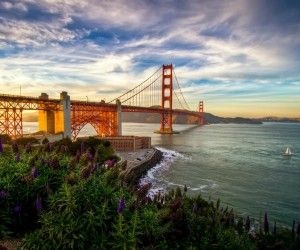 A view of the Golden Gate Bridge looking westward into the Pacific Ocean (Cited: http://wonderfulengineering.com/free-download-san-francisco-wallpapers-the-golden-area-through-the-golden-gate-bridge/)
A modern engineering marvel and architectural masterpiece, the San Francisco Golden Gate Bridge, stretches across the entry point of the Pacific Ocean to the San Francisco Bay. An iconic United States historical landmark, the Golden Gate bridge is open to pedestrians year round and offers a stunning view of the Pacific coastline and San Francisco Bay area. Interesting historical side note... "there have been over 1400 reported suicides since the bridge opened in 1937." (Cited: https://www.mercurynews.com/2018/01/22/golden-gate-bridge-reports-spike-in-suicide-deterrence/ )
The Sea cave and ocean viewpoint(s)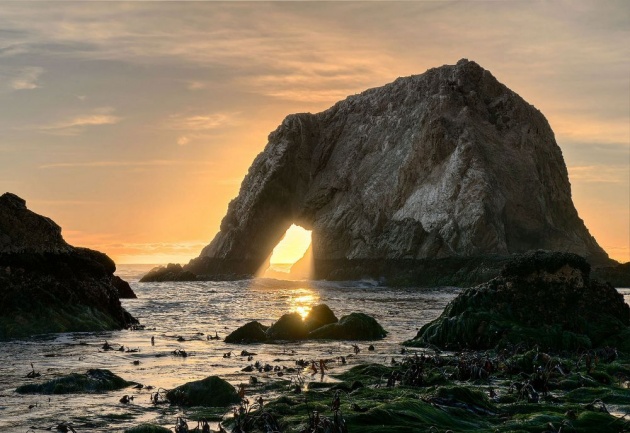 Stunning photo from the Pacific coastline in San Francisco (cited: https://www.flickr.com/photos/darkdenver/11185299866/)
My parents and I used to come to this area and have picnics when I was a kid. Aside from the obvious nostalgic reasons, I enjoy coming here for the amazing views of the treacherous Pacific coastline and the jaw dropping sunsets. Also, for those adventurous types, there is a sea cave that is open to the public, however, it is very dangerous to navigate due to the quick changes in the tide. Warning signs that read, "Explore at your own risk" can be seen all around the area.
Fisherman's Wharf/ Pier 39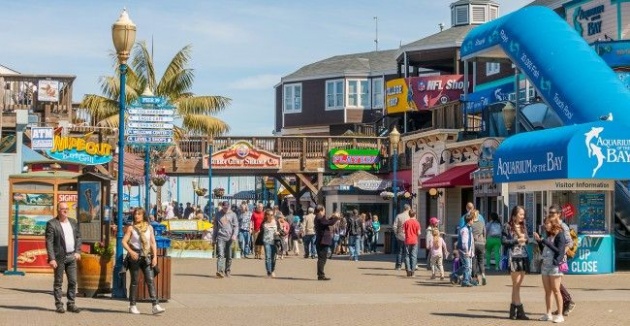 Fisherman's Wharf/ Pier 39: A popular shopping and dining spot. (cited: https://www.californiabeaches.com/attraction/fishermans-wharf-san-francisco/)
A very 'tourist' heavy destination in San Francisco, but for obvious reasons. The Fisherman's Wharf contains numerous fine dining restaurants and delivers a top class shopping experience with outlet malls and department stores. Come here when your hungry and want to shop. The local favorite dish: Fresh clam chowder in a sourdough bread bowl.
The world's most curvy street: Lombard St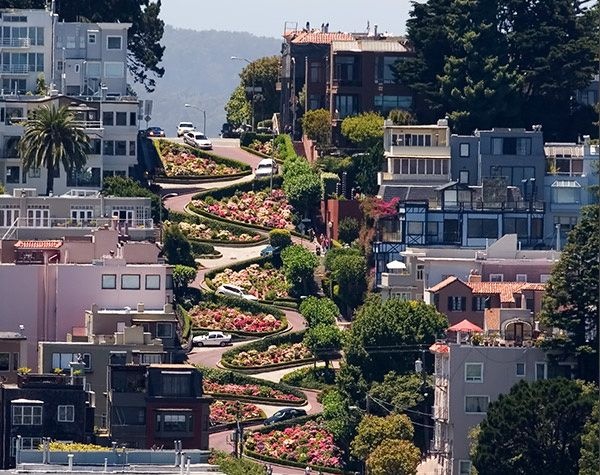 A view of Lombard St; the world's curviest street (cited:http://carolinejordanfitness.com/i-left-my-heart-in-san-francisco-hill-workout/)
A popular tourist attraction and engineering oddity, Lombard St. is in the Guiness book of world records for being the curviest street in the world. The residents of Lombard street have an impressive garden of beautiful flowers that help increase the aesthetic appeal of the street. Personally, I prefer to walk down the street and enjoy the flower gardens.
The Palace of Fine Arts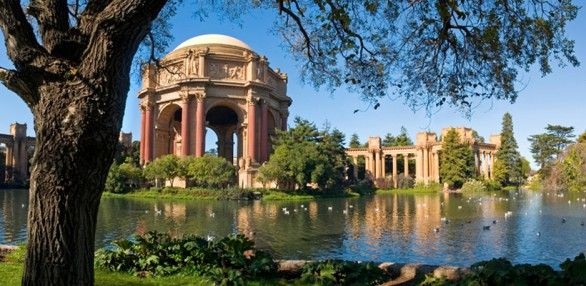 Visitors enjoy the ethereal beauty of the park setting. (Cited: http://sfrecpark.org/destination/palace-of-fine-arts/)
Another architectural masterpiece and inspirational experience, "the Grecco-Roman inspired Theatre was originally constructed for the 1915 Panama-Pacific Exhibition." (Cited: http://sfrecpark.org/destination/palace-of-fine-arts/) but now hosts modern art exhibitions and fine arts performances. Open to the public, I enjoy coming here just to view the stunning architecture.
Alcatraz island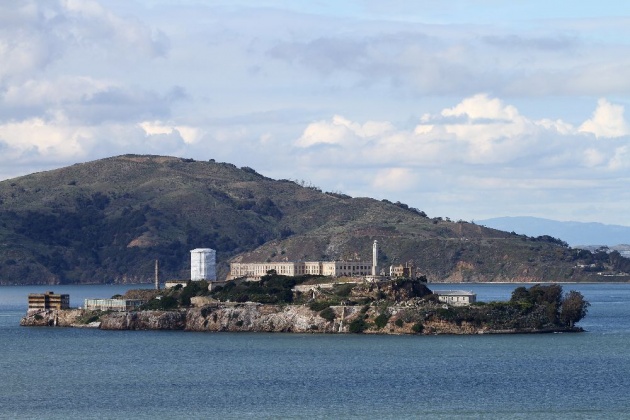 A view of Alcatraz island; former US prison. (Cited: By jjron - Own work, GFDL 1.2, https://commons.wikimedia.org/w/index.php?curid=19544686)
Former U.S. penitentiary Alcatraz is situated on an island in the middle of the San Francisco Bay and was the home to the nation's most notorious criminals of it's time. Daily tours are provided to the public. Tourist are ferried across the bay for an hour long guided tour through the dark and dingy cells of the former prison. For the truly brave, they also offer a night tour of the abandoned prison. (and yes, its truly frightening)
And that is certainly not all of the attractions that can be found in San Francisco, but these are definitely my personal favorite destination spots when visiting the city by the bay . Honorable mentions that I did not have time to discuss:
Haight-Ashbury district
Union Square
Coit Tower
Hall of Heroes
Trolly rides
Sausalito
Point Reyes
Thanks for reading!