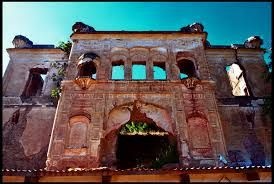 The famed Arki Fort is among the prominent landmarks of Shimla, Himachal Pradesh. This historical fort has witnessed many rulers. Initially this ancient fort was constructed by Rana Prithvi Singh. The Arki Fort withholds a big history of shedding of blood and the struggle for power. Till the year 1815, this fort was under the strong control of Gurkha rulers and from this place the Gurkhas led their battle against the Britishers. Once under the control of the former Baghai rulers, this fort displays its artistic grandeur & the historical brilliance to the visitors.

A blend of Mughal and Rajput architectural patterns, this Arki Fort is to a great extent impressed by the structural designs of Rajasthan. An exceptional pattern of painting called as Pahari pattern that adorns the murals of this fort, strives to display the modern way of life of the people of the hilly terrain. These paintings exhibit exemplary craftsmanship along with an ideal equilibrium of colours.

This fort is the personal possession of the offsprings of the rulers of Arki and they reside in one part of this fort. Presently, one part of this heritage fort is transformed into a resort. This resort is for the visitors who want to experience the majestic grandeur of Arki rulers by staying here. A stay in this resort is an everlasting experience. The stylishly decorated rooms of this resort houses beautiful paintings of the snow covered mountains and other brilliance of this terrain. While staying in this resort, the travelers can also explore the nearby hill stations such as Subathu, Kasauli and Shimla.