By RICCARDO COSTA
It is said that the best Italian chefs are those born in the kitchen watching the family cooking.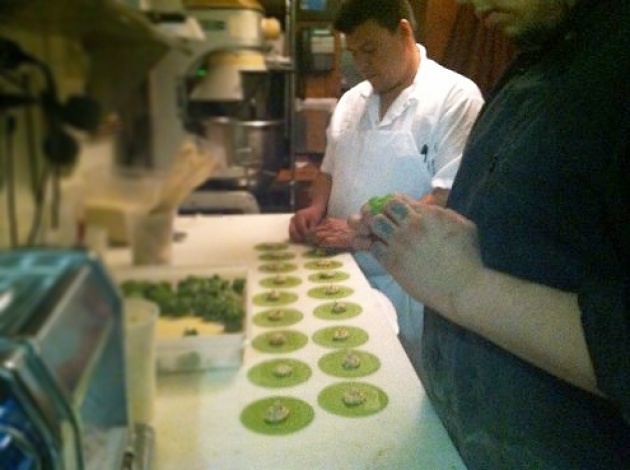 I do not know if it's always true, but chef Vito of Aroma Kitchen & Winebar certainly belongs to this category. I'm glad I listened to my friend Joe and his wife Judy who urged me to experience this restaurant.
The low-key interior is simple with a cozy décor. It looks like a nice, elegant restaurant of rural Italy with well used cookbooks that you can see on the wooden shelves, displayed old photos (not of celebrities, but of family), and a private room on the ground floor near the wine cellar. The place is perfect for private events. Aroma presents itself with a simple and tasteful character. The wine selection is stunning. You can find perfect pairings for each course such as a Ruché of Castagnole Monferrato, a cozy Morattina Sangiovese di Romagna or a full-bodied Sicilian eponymous Etna Rosso wine born on the slopes of that volcano. Cheer on meat selections with a recommended Petit Verdot of Lazio (French in name but of Italian production). Vito's skillful enological choices is a card to play for there is no gamble here. The cured meats, as an appetizer, are a rarity, as the cacciatorino shipped directly from Italy is made using local pigs, raised naturally. They eat what humans eat, and hence we know the quality of their nutrition. The farro and leek soup, served not too hot enhances the pleasure of sipping it. Simple and tasty, it is undoubtedly the best way to start such a rare culinary adventure.
What I noticed, and I respect and admire deeply is the inventiveness of the chef in changing traditional family recipes to find new ground. Vito's mom's meatballs made with 33% portions of veal, pork and beef, mixed with chopped smoked scamorza cheese, onions, cooked in a pan and served with a ragu that cooked for 6 hours, are the exact example of a renewed classic recipe the result of which is flawless. I don't usually eat meatballs, unless I or my family made them, but these are to try and enjoy repeatedly. The ravioli, made in the shape of saccottini (little purses), are stuffed with fresh ricotta from DiPalo and artichokes cooked in a white wine sauce. Served with a sauce of cream and guanciale ham which was sautéed in a white wine vinegar, they are surprisingly delicate and delicious. Through the thin green dough, you can taste all the various flavors that make this dish so delectable. The work that goes into a dish like this fully shows in the final tasty result. The Portuguese octopus, tenderest of its kind, need only to be cut with a fork. It's served with corona beans and a precious green olive oil. It works as a perfect appetizer for those who do not eat cured meats. I recommend that you try them both if you have an appetite and desire to combine meat and fish. The risotto with crescenza cheese and guanciale ham sounds like a dish from the north of Italy. However, Vito, proudly southern, created this dish "listening" to what his palate and creativity were suggesting to him. Served properly al dente, this risotto has the flavor of the soft crescenza cheese smoothing out the strong character of tasty guanciale ham. It is a perfect marriage on the palate.
As far as the desserts, I recommend the semifreddo with Nutella (you cannot have lived without Nutella) creation of Vito's, with a Florentine crust and gianduja ricotta cheese. Various fresh sorbets accompany it with the excuse that they aid digestion. The chocolate tart with a heart of creamy fudge and finally the Cinnamon raisin bread pudding that you can consider a reinterpretation of the classic Italian Zuppa Inglese are also palate worthy. The experience at Aroma's is not like going to just a simple Italian restaurant, but rather finding a particular eatery, where you feel as if you were welcomed into an Italian family and served their proud recipes of generations. Fortunately, for this genuinely Italian, homey restaurant you do not have to take the plane to get there; Aroma is quite at hand right here in NYC.
Aroma Restaurant
36 E 4th St
New York NY 10003
212-375-0100
aromanyc.com