If you're looking for a taste of Naples in the city of New York, then you must stop at PizzArte.
By Riccardo Costa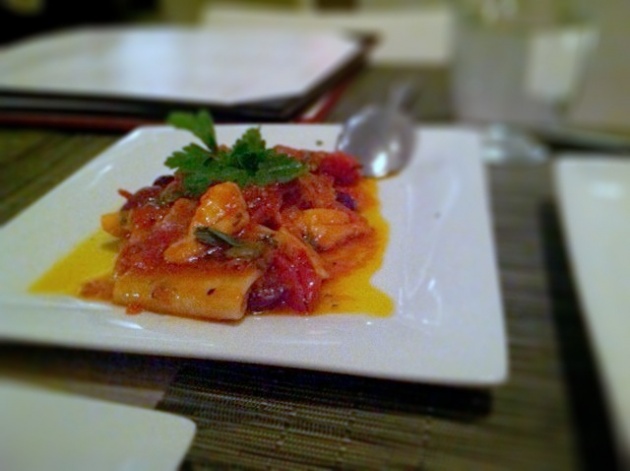 In Manhattan there's finally a restaurant devoted to the tradition of Neapolitan cuisine. The owners Bruno Cilio and Dario Cipollaro de l'Ero, one a lawyer, the other a fashion executive, have in common the love for the splendid city of Naples and an indomitable passion for food. PizzArte offers not only memorable pizzas, but has a sophisticated menu that includes Neapolitan delicacies, and so is becoming the go-to place to enjoy a cuisine that has become rare in NYC. I started my experience tasting Polpettine Passi & Pinoli (home-style Neapolitan Italian meatballs with pine nuts and raisins), soft but with a nice consistency; without being dry as often happens when you eat meatballs, they had a slightly spicy taste accompanied by an aftertaste of honey, thanks to the sweetness of raisins that acts (I don't understand the choice of "master') as a master in a fresh tomato sauce.
I could not pass up the traditional Eggplant Parmigiana with fresh mozzarella imported from Italy. The presentation of this small "tart" naturally communicates its pleasant taste with eggplant sliced thin as prosciutto, making it lighter, not greasy, so that you can appreciate the precise equilibrium between the freshly made tomato sauce and mozzarella.
It's sweetness, like puff pastry makes it even a possible choice for dessert. For a first course, I recommend I Paccheri al Baccala (tube shaped pasta with cod fish in a cherry tomato sauce with Gaeta olives and capers from Sicily) as a must try. You will not find this elaborate and traditional dish in Italian restaurants. I Paccheri are cooked to perfection, velvety with a light sauce of cherry tomatoes, and the taste of cod fish is delicate, never bitter, softened by the tenderness of capers.
The whole wheat Fettuccine with chestnuts, porcini mushrooms, sausage and pecorino cheese is a dish that combined together make for an excellent dish, typical of Italian homemade traditional cuisine. The presentation of the dish is superb, and the match of the mushrooms with chestnut is a perfect marriage, just like sausage and pecorino cheese. As an entreé I had Polpo alla Griglia (grilled Mediterranean octopus with olives, lemon dressing and mashed potatoes), the nice sized plate was very well presented and the delicacy and softness of the octopus didn't require the use of a knife; just a fork was sufficient. It wasn't greasy or mushy nor did I feel the slippery texture that octopus skin sometimes can have.
The flavor brought me back to a Sicilian summer, eating on the beach in the local fish restaurant. If you're vegetarian or vegan, the variety of vegetables offered like Friarielli (broccoli rabe with garlic and hot pepper) or Zucchine alla Scapece (with mint and garlic) or Melanzane with cherry tomatoes and basil, are all exquisite and you can definitely eat a full plate as an entrée. The restaurant décor is eclectic; every two months there are new art works exposed featuring new upcoming international artists. This makes PizzArte not just an excellent and unique Neapolitan restaurant in the heart of Manhattan but also a place to look at new interesting art. After all food is an art and the two go well together.
PizzArte
212-247-3936
69 West 55 Street
New York, NY 10019
Website